This post may contain affiliate links. Please read my disclosure policy.
This Halloween Smoothie recipe features oranges, peaches, and a boost of protein from yogurt is a healthy, festive way to celebrate! Ready in just minutes, decorating the cups is fun for all ages, too!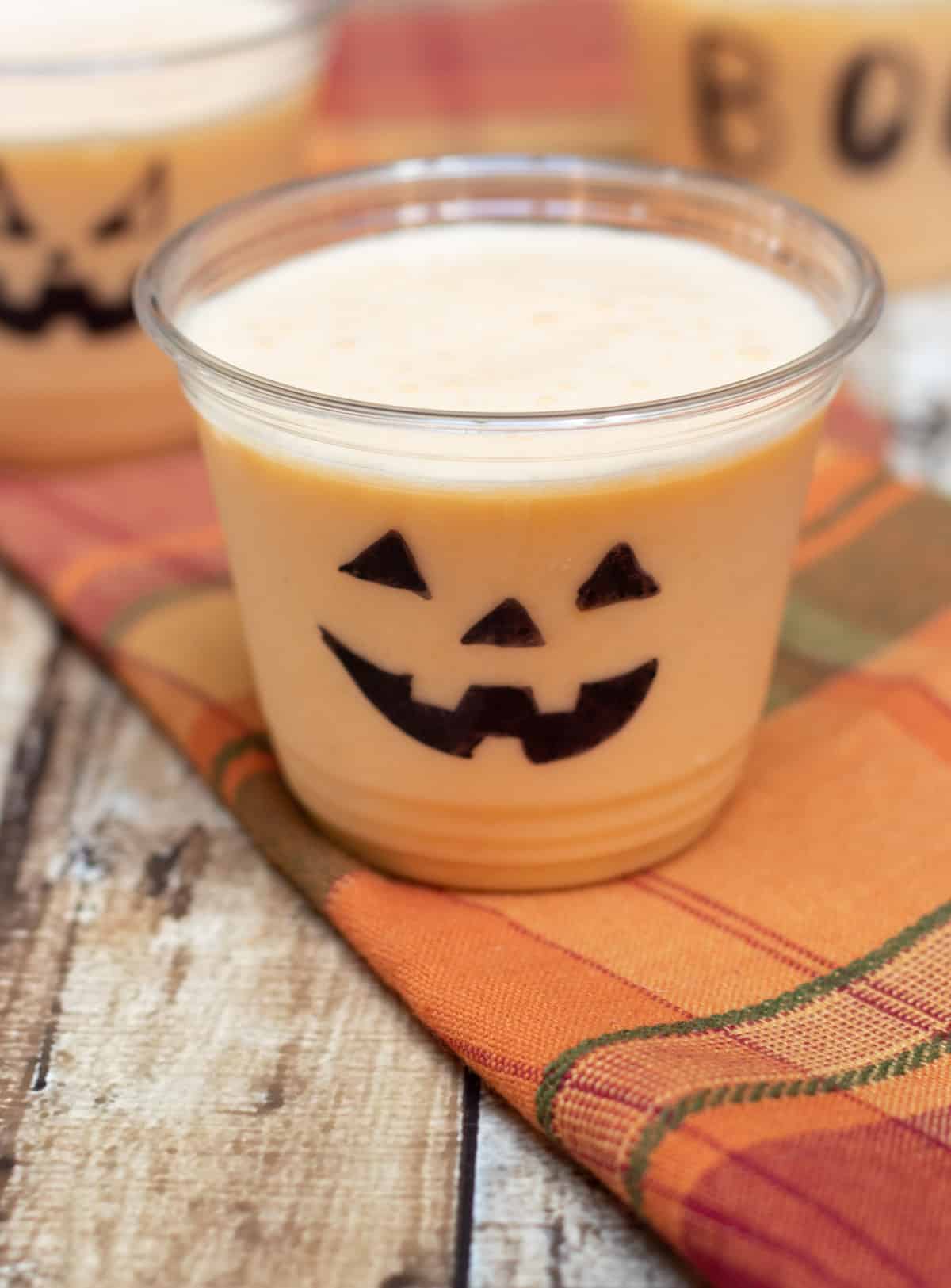 Why We Love This Smoothie
Halloween is one of our all-time favorite holidays. From hosting community haunted houses, to dressing up to hosting parties, we love all the fun!
But Halloween can also mean lots of candy at trick-or-treating time. With this delicious Today I've got a more naturally sweet alternative that still has lots of Halloween fun! With a variety of frozen fruits available at the grocery stores year-round, it's easy to whip up this orange peach Halloween smoothie anytime.
With the extra ripe banana and honey paired with the orange juice, my kids say it reminds them of a sweet tart. The addition of the milk gives it a slightly frosty feel that is bursting with flavor!
For Halloween fun, have kids decorate clear plastic cups with a permanent marker and make fun faces or sayings on the cup. Great for parties—everyone can decorate their own cup! Or fun for your family too.
This Halloween smoothie is delicious any time of the year, but it is also a great way to have fun and eat well at the same time.
Ingredient Tips For This Recipe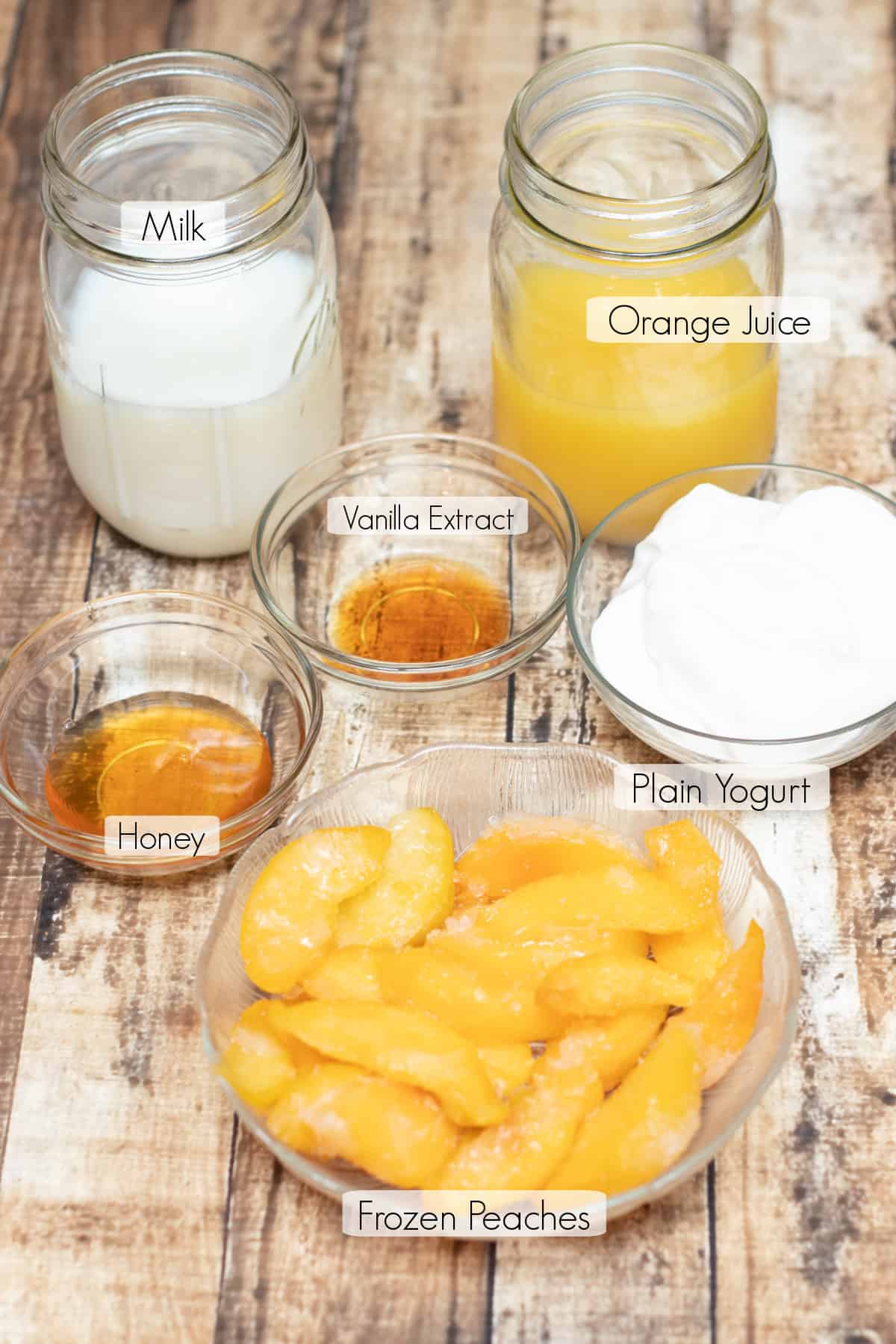 All of the ingredients for this Halloween smoothie can easily be found at the grocery store. I do have a few tips on what to look for with some of the ingredients.
The bananas that get the brown spots are great for smoothies because they get sweeter as they ripen! A natural way to add sweetness to the smoothie.
Frozen Peaches can be found in the frozen foods aisle of most grocery stores. Sometimes I can find these at our local warehouse club but they seem to be available only seasonally. However, I can usually find a bag of them at any grocery store.
This recipe calls for one tablespoon of honey but if you like your smoothies a little sweeter, add up to two tablespoons.
We use a variety of milk types depending on what we have on hand and are in the mood for!
The orange peach smoothie will come out a paler orange color so if you want it a brighter color, you can add a few drops of food coloring. I like to use an all-natural food coloring (affiliate link) when I can.
Easy Steps To Make This Smoothie
It only takes about 5 minutes to make this easy Halloween smoothie! Add the frozen peaches, banana, yogurt, and milk in the jar of a blender. I have a Vitamix blender (affiliate link) that is pretty powerful (my splurge a few years after my 20 year old blender died) but even less expensive blenders (affiliate link) do well with frozen fruit to make smoothies.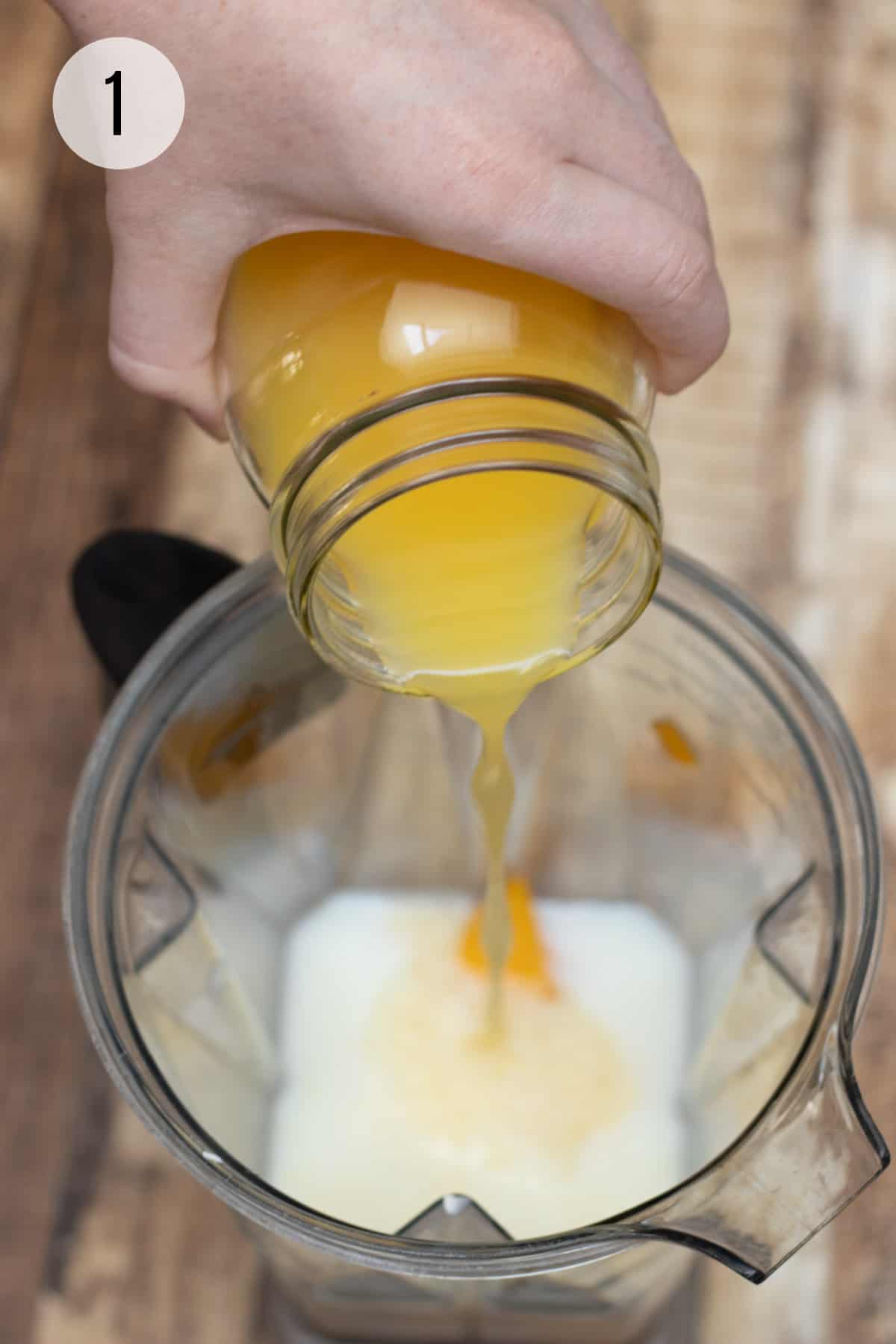 Add the orange juice (1) and then the honey (2). Really, it doesn't matter what order you add the ingredients before blending it up.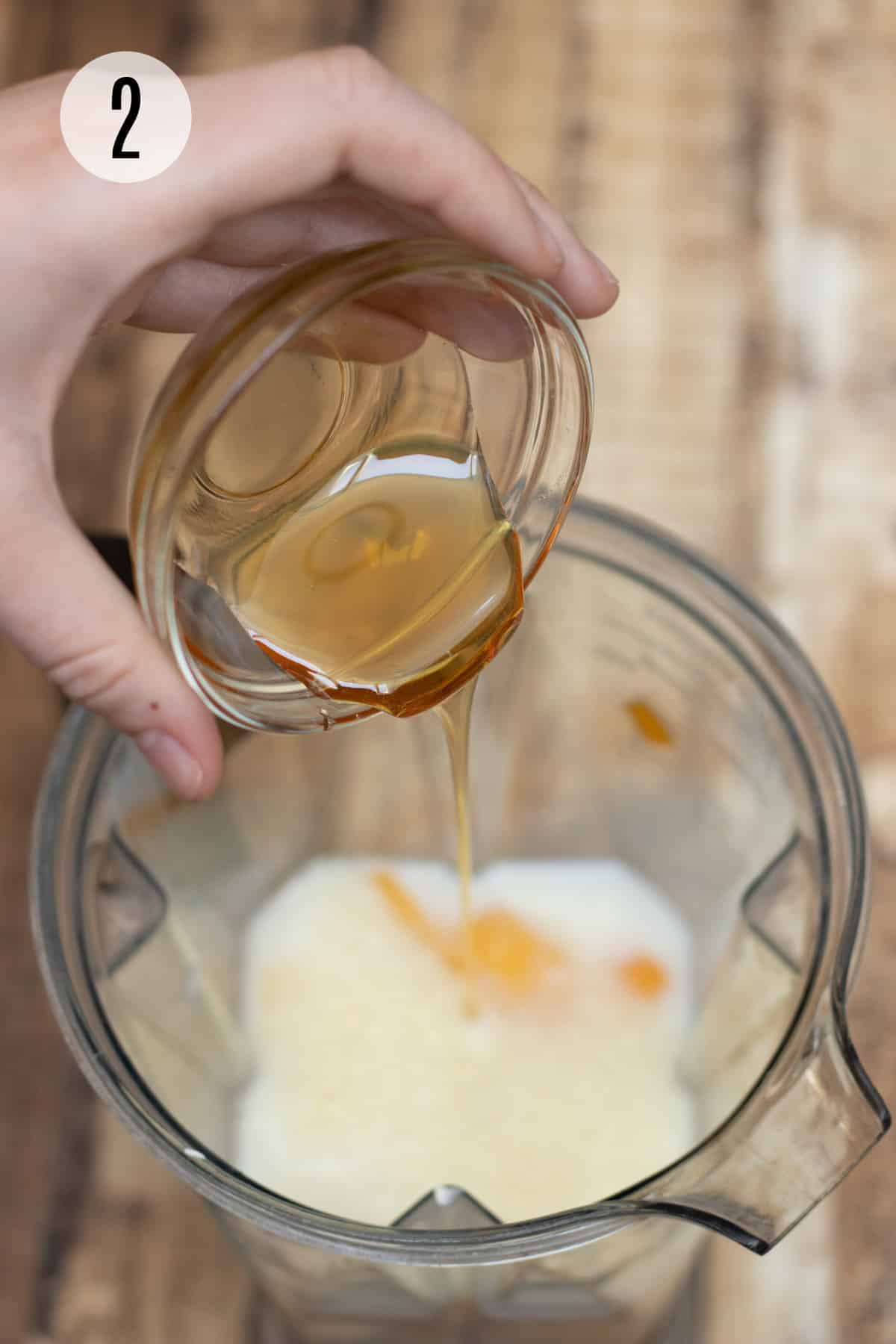 Next, decorate the cups if you choose to do so and fill them up with the orange peach smoothie mixture (3). See below for some make ahead tips on prepping the cups ahead of time.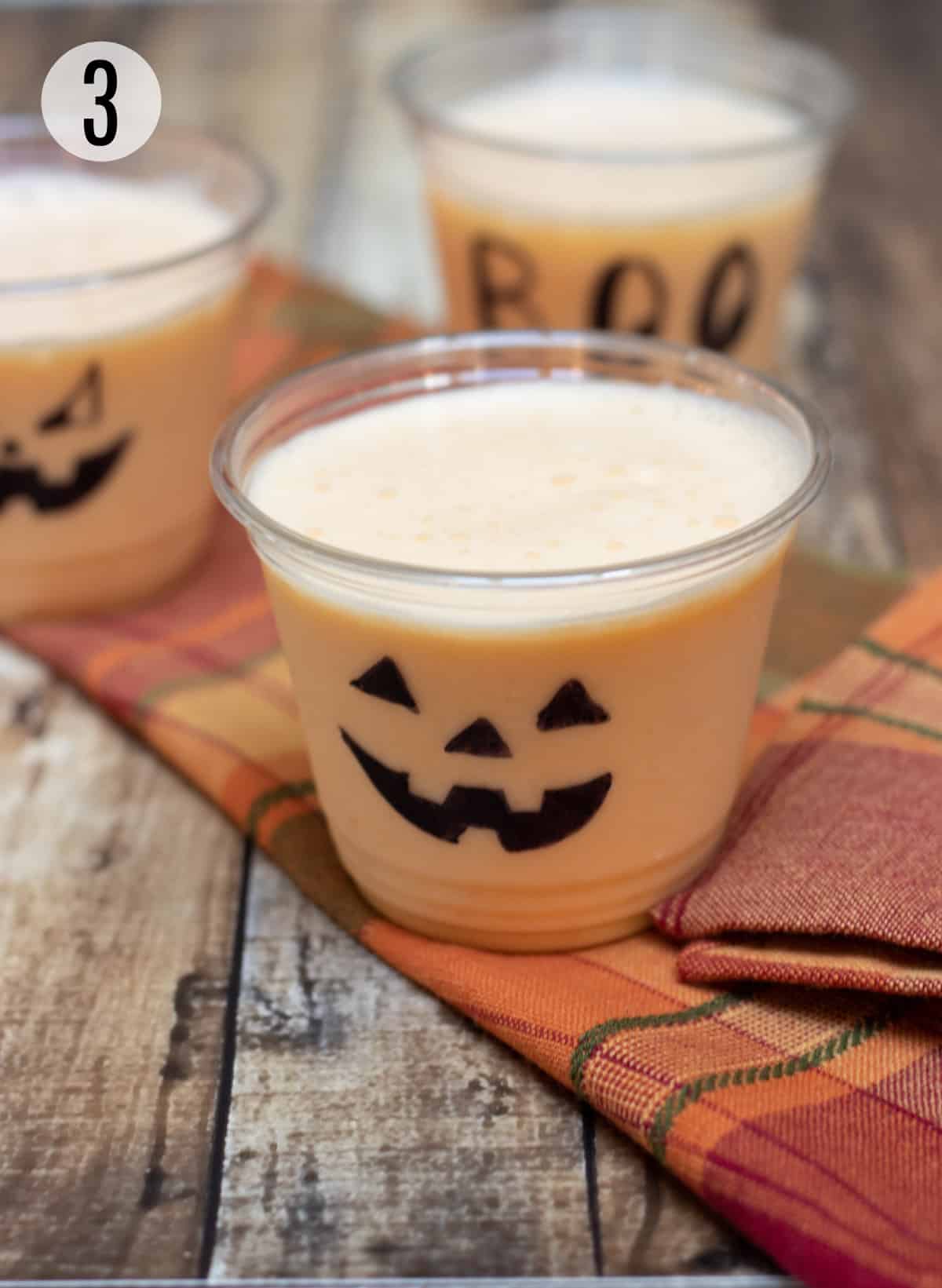 Smoothie Make Ahead Tips
Yes, sort of! You can make up smoothie kits with the ingredients but leave out the liquid.
What is a smoothie kit and how do I freeze it?
Take a freezer safe container or bag and add the frozen peaches, banana, yogurt, honey and vanilla.
Label and date and store in the freezer for up to three months. When ready to prepare, take out kit and let it thaw for about 5 minutes in the pitcher of a blender. Add liquid ingredients and then blend.
Depending on the type of blender you have, you may need to let it thaw a bit longer. I have a Vitamix blender which is pretty powerful so it works ok for me. Sometimes I will do this while I'm preparing other breakfast or snack items. Just find what's right for you!
More Festive Halloween Recipe Ideas
I've got several fun Halloween recipes here on my blog that you may want to check out too!
This recipe was originally posted in October 2014 but updated in October 2020 with new photos, video, and content.
Be sure to check out my Amazon Shop to discover the many items I use in my own kitchen. Meal Planning Magic is a participant in the Amazon Services LLC Associates Program, an affiliate advertising program designed to provide a means for sites to earn advertising fees by advertising and linking to Amazon.com. Ordering products mentioned here are at no extra cost to you. Thank you for your support.