This post may contain affiliate links. Please read my disclosure policy.
This Homemade French Onion Dip with Greek Yogurt is made with fresh ingredients, including Vidalia onions, making it a healthier version the classic dip you love. It's make ahead too!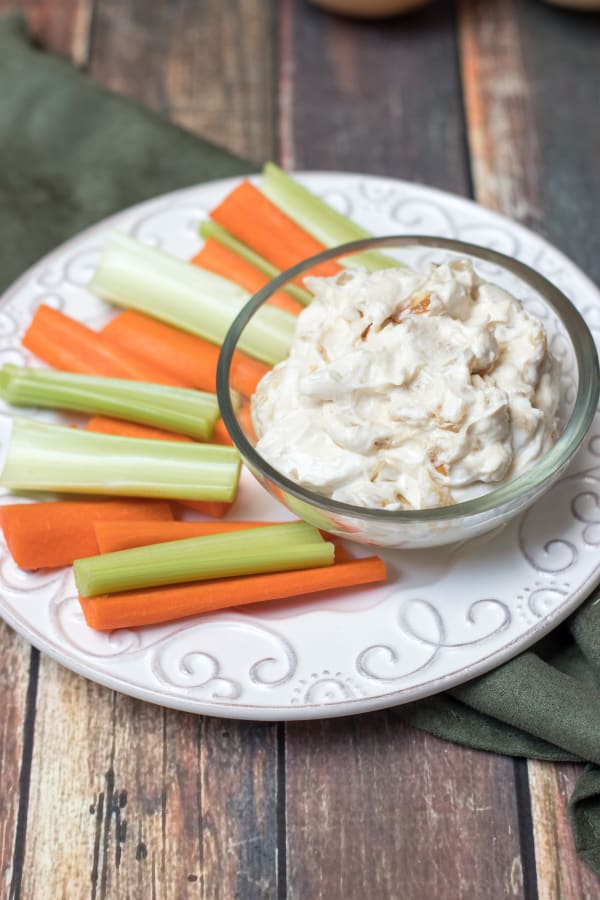 New Twist On An Old Classic
As a kid growing up, I remember that classic onion dip made with a packet of the dry onion soup mix. My sister liked to make it and it was always a hit no matter what!
Served with fresh veggies or potato chips, it usually disappeared quickly. It was that dip that was the inspiration for me to create this lighter version of Homemade French Onion Dip with Greek Yogurt.
Even to this day, my sister is the one who's famous for making onion dip. Seems like it's a staple at most family gatherings.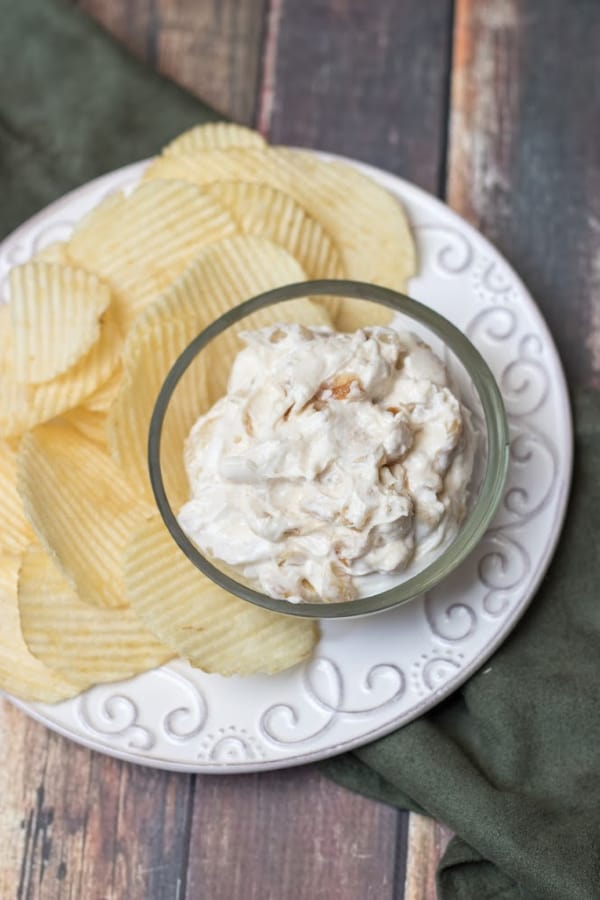 Versatile Sweet Vidalia Onions
Recently, my husband and I attended a cooking class at Central Market in Houston. The theme of the class featured Vidalia onions in all the recipes.
We learned a lot from the instructor, Chef Shannen Tune. He was the first Houston chef to win on the Food Network's Chopped competition! He's also the creator of Craftburger restaurant (and food truck for catering).
I am excited to partner with Produce for Kids and Shuman Farms Real Sweet Vidalia Onions to learn more about the onions. This means I've been compensated for this post, but all ideas and opinions are my own. There are so many ways to enjoy them in recipes.
Vidalia onions are sweet onions that are only available for a short time of year. Starting in the spring, around March and April, farmers in southeast Georgia in the southern United States harvest the onions.
Grown in 20 different counties including Vidalia county and surrounding counties they are given that special name. These special onions are sent to stores and available through August.
In addition to the Homemade French Onion Dip recipe I'm sharing with you today, you might also like to check out this recipe for Savory Onion Bread . It would be so delicious warm out of the oven! Looking for something simple? Then this Roasted Tomatoes and Onions Pasta with Burrata is just the thing. And this Farro Salad with Creamy Vidalia Poppyseed Dressing is perfect for a fresh, light lunch or side dish. You can even use the dressing on its own for a dip for fresh vegetables. Each of these recipes feature sweet Vidalia onions!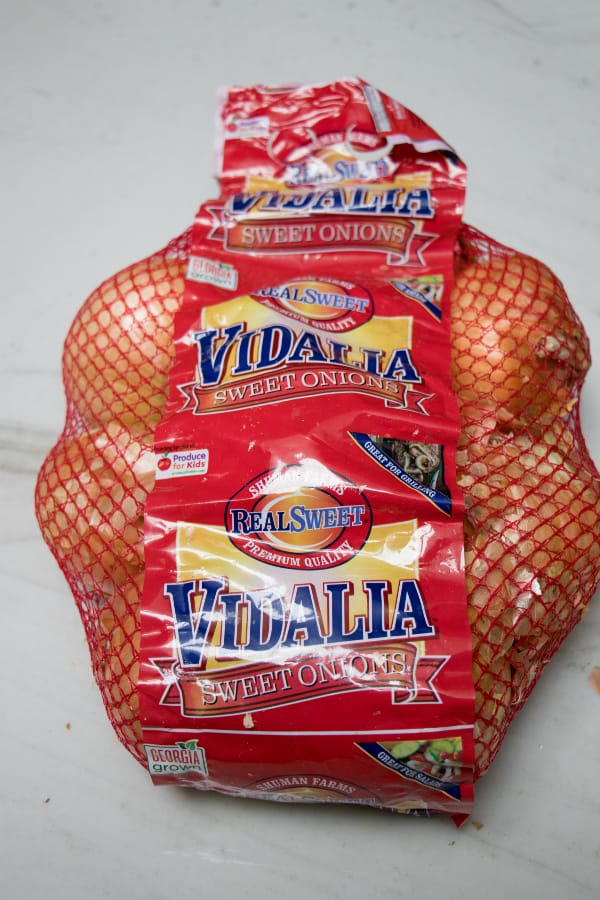 Sweet Vidalia Onions
Vidalia onions have lower sulfur content because of the sandy soil they grow in which makes them a much sweeter onion. Chef Tune also partners with Shuman Farms and said, "Vidalia onions are the onions for people who don't like onions," because they are so sweet!
Now, don't get me wrong, they're not sweet like an apple or other piece of fruit that you may take a bite out of and eat. And they certainly gave me some tears when I was chopping them up. But they are a nice mild onion which makes them super versatile too.
In the cooking class, sampled a Caramelized Vidalia Onion Vinaigrette, some delicious French Onion Bites with Crispy Gruyere Cheese, homemade onion rings and a Bourbon-Vidalia Steak Sauce. But what totally blew us away were the Mexican Chocolate Vidalia Cupcakes with Tequila Cream Cheese Frosting. Yes, onions in a cupcake! They were so good!
My Bistro Style Steak and Onion Sandwich or Slowcooker French Onion Soup are two other delicious ways to enjoy onions like Vidalia onions!
Easy Make Ahead Recipe
The Homemade French Onion Dip with Greek Yogurt that I'm sharing with you today is so easy to make! It's made with just a few simple ingredients that once you try it, I bet you'll never go back to the powdered mix. When I can, I prefer using ingredients that I know rather than those made with ingredients I can't even pronounce!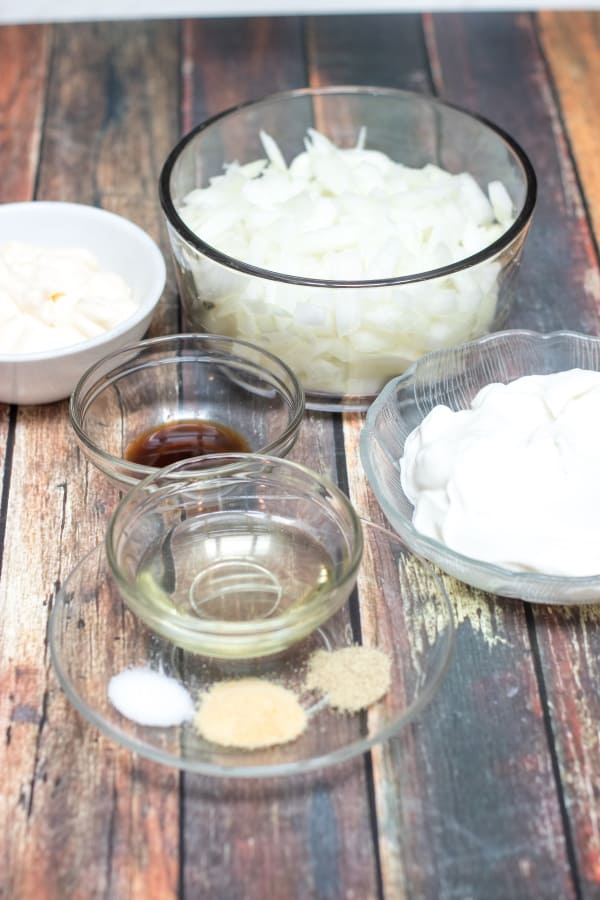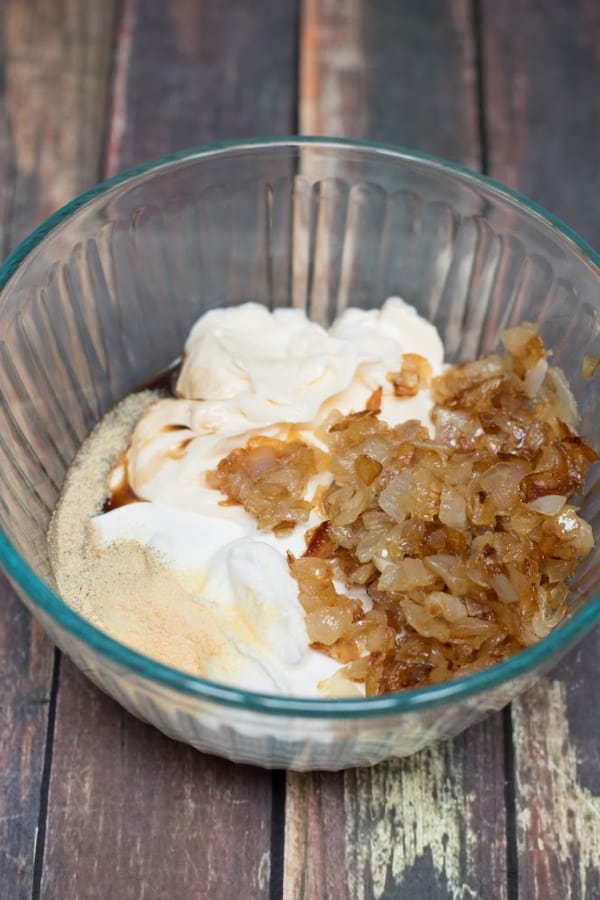 A couple of bonuses with this dip are that the onions can be caramelized ahead of time (at least a day or also frozen). The dip itself requires at least two hours of refrigeration, so it's naturally make ahead too. I love make ahead recipes so that I'm not rushed when I'm getting ready for company or going somewhere with a dish.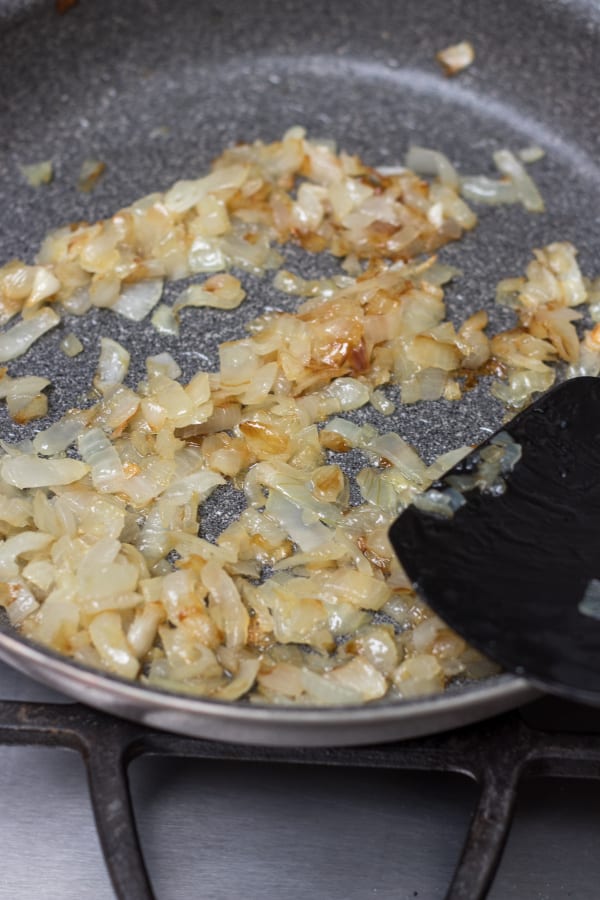 Healthier French Onion Dip
My Homemade French Onion Dip is healthier than many other onion dips as I made it with plain Greek yogurt and mayonnaise. I cut the amount of mayonnaise in half from my original recipe using the mix and it tastes just as yummy. The addition of Worcestershire sauce adds a nice depth to this dip.
You can make this dip up to three days in advance and the flavors will deepen even more. I recently brought it to a family get together and it was gobbled up in no time! Serve it with fresh vegetables or potato chips–your choice!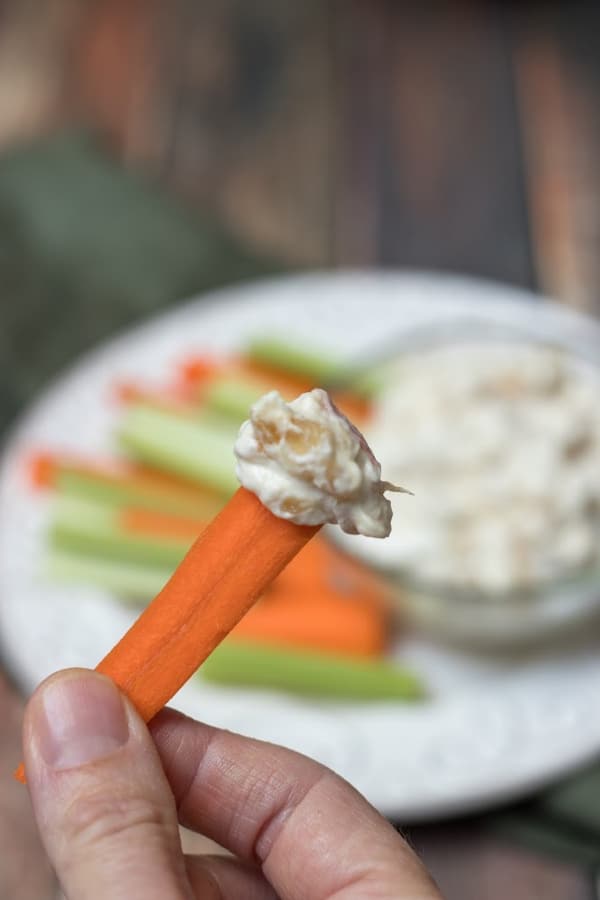 I hope you give this Homemade French Onion Dip with Greek Yogurt a try!
Sign up to receive an email in your inbox for each new recipe and get a FREE menu plan printable: FREE EMAIL SUBSCRIPTION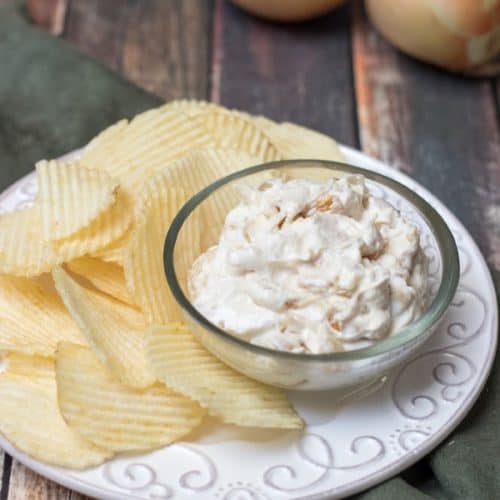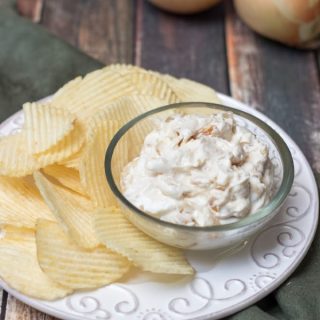 Homemade French Onion Dip with Greek Yogurt
This Homemade French Onion Dip is made with fresh Vidalia onions,
Greek yogurt and spices which makes it a healthier version the classic dip you
love. It's make ahead too!






Rate this Recipe
Print Recipe
Pin Recipe
Ingredients
2

tablespoons

olive oil

2

cups

Vidalia onions

chopped

¼

teaspoon

salt

1

cup

plain Greek yogurt

½

cup

mayonnaise

½

teaspoon

garlic powder

¼

teaspoon

ground white pepper

1

teaspoon

Worcestershire sauce

½

teaspoon

salt
Instructions
To Caramelize Onions
In large skillet, heat the oil over medium heat. Add the chopped onions and ¼ teaspoon of salt.

Cook and stir often until the onions are caramelized to a golden brown color. About 30-40 minutes.

Remove onions from heat and cool to room temperature.
To Make Dip
In small bowl, combine Greek yogurt, mayonnaise, garlic powder, ground white pepper and salt.

Stir in cooled onions.

Cover and refrigerate the dip for at least 2 hours or overnight before serving.

Serve with fresh vegetables or potato chips.
Notes
MAKE AHEAD TIP:
This recipe is make ahead! Because you have to chill it for at least two hours to let the flavors blend well. You can also make the caramelized onions the day before and add to the rest of the ingredients when you are ready.
MONEY SAVING TIP:
Look for store brand Greek yogurt to save money. I like to buy the Kirkland Organic plain Greek Yogurt from Costco as it seems to be the best value per ounce but my local grocery store has some good options too.
Nutrition
Serving:
0.25
cup
|
Calories:
103
kcal
|
Carbohydrates:
3
g
|
Protein:
2
g
|
Fat:
9
g
|
Saturated Fat:
1
g
|
Cholesterol:
5
mg
|
Sodium:
218
mg
|
Potassium:
59
mg
|
Fiber:
1
g
|
Sugar:
2
g
|
Vitamin A:
5
IU
|
Vitamin C:
1.3
mg
|
Calcium:
24
mg
|
Iron:
0.1
mg
If you've tried this Homemade French Onion Dip or any other recipe on the blog please let me know how much you enjoyed it by leaving a comment below and a rating. I love hearing from you! You can also Facebook, Twitter, Pinterest , or Instagram to see more delicious food and other ways to save time and money in the kitchen!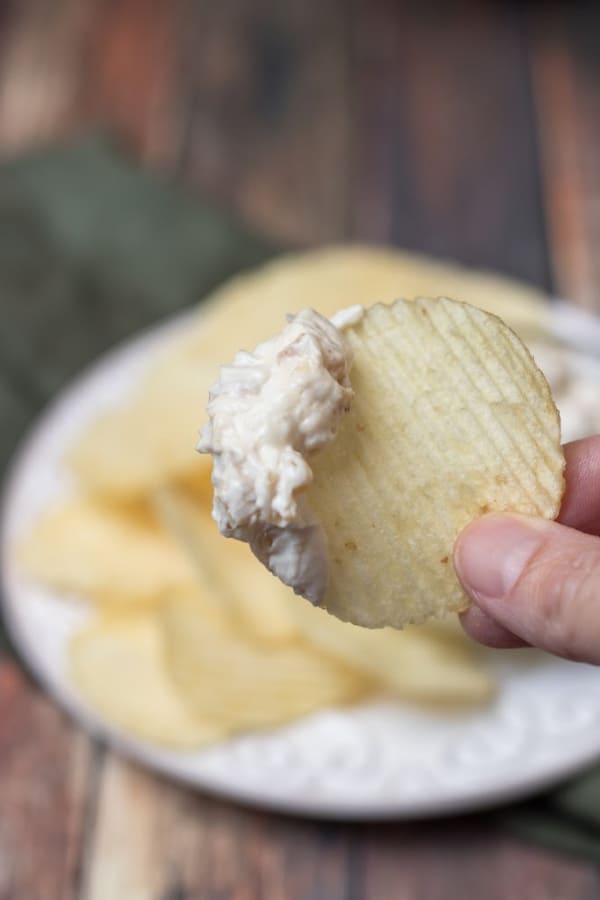 Connect With Me!

Have a question or want to share recipe ideas with others? Then join my private Facebook group, Meal Planning Magic Community Table here. If you've already joined, be sure to add your friends that may find it helpful too!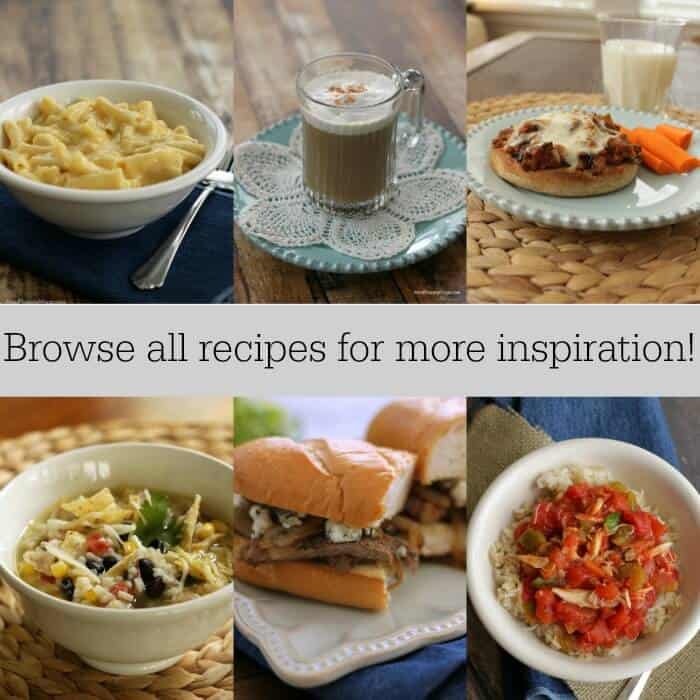 Click on the photo below to browse more of my recipes!
And don't forget you can always follow me on Facebook, Twitter, Pinterest , or Instagram. And don't forget to sign up for my email list here so you never miss a new post! They are a great way to stay in the loop on new menu plans, recipe ideas, giveaways, organizing tips and more!
Discover many of my favorite items to make this recipe by clicking here to browse my Amazon shop. Meal Planning Magic is a participant in the Amazon Services LLC Associates Program, an affiliate advertising program designed to provide a means for sites to earn advertising fees by advertising and linking to Amazon.com. Ordering products mentioned here are at no extra cost to you. Thank you for your support.