This post may contain affiliate links. Please read my disclosure policy.
Only five minutes is all you need to whip up this tasty Peach Smoothie with Yogurt! The cinnamon and oats (yes!) make it taste just like a peach pie. The perfect twist on the classic summer dessert for a breakfast or snack on the go!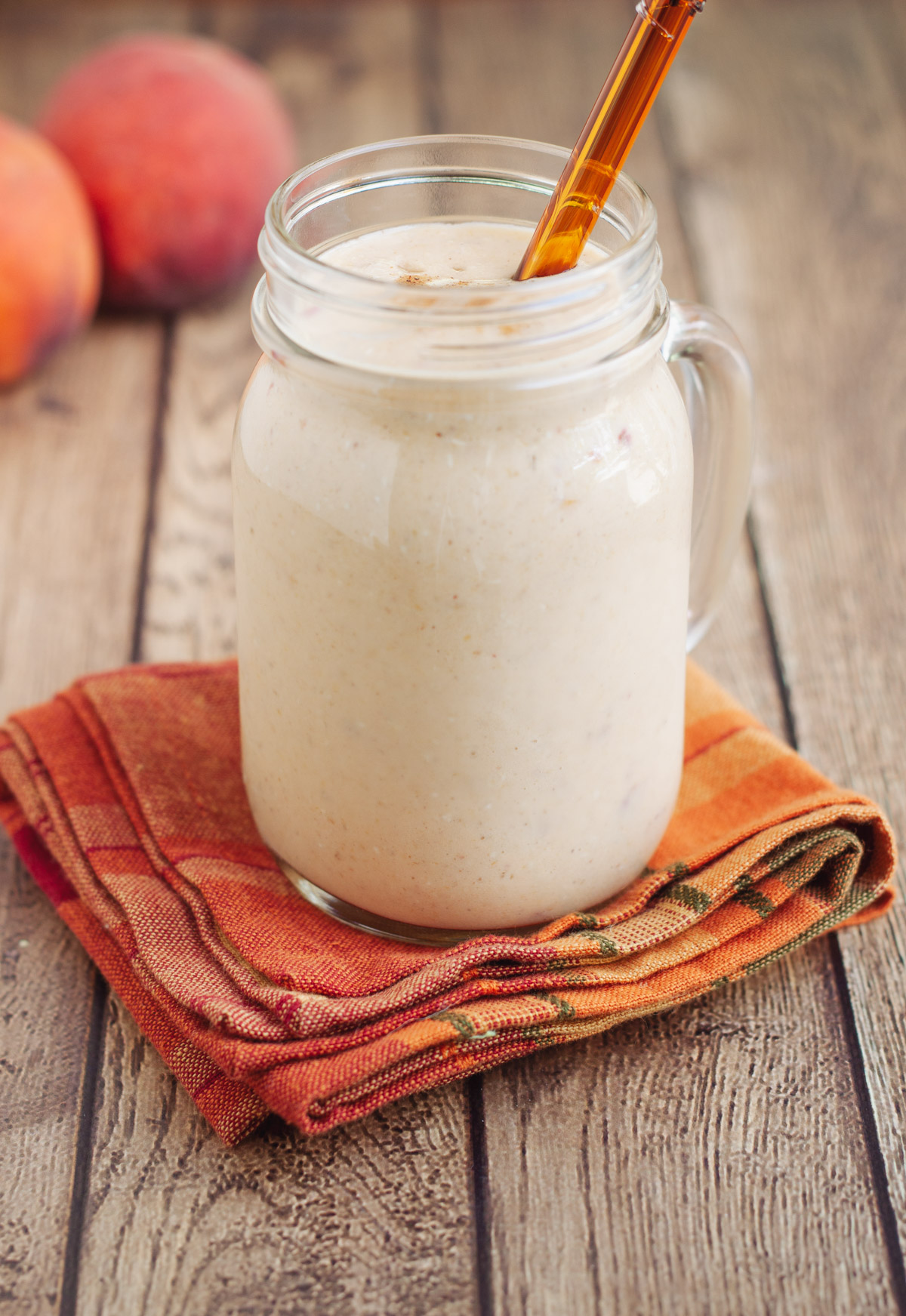 Why We Love This Recipe
I don't know about you but anything with peaches just scream summer to me! My whole family loves a good, juicy peach and my famous peach pie! A few years ago, I shared this recipe for a Peach Pie with Yogurt Smoothie and it's still a favorite around here.
It only takes six ingredients to whip up this peach smoothie recipe so it's super simple too!
With the blend of peaches, spices and a touch of oatmeal, this smoothie tastes just like a peach pie! Creamy and full of protein, it's perfect for breakfast or snack on a warm summer day.
What Ingredients Are Needed To Make This Recipe?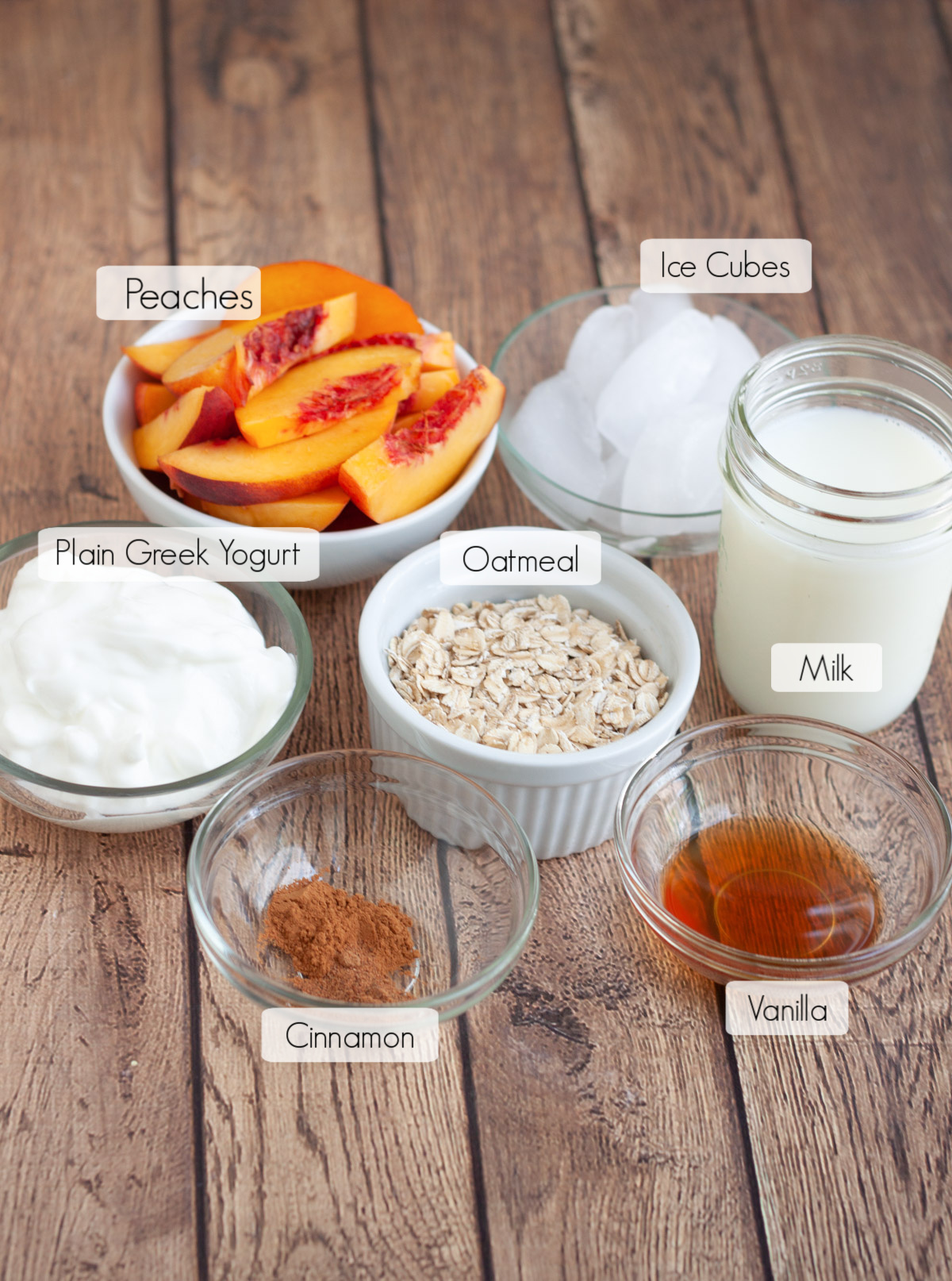 Most of these ingredients you may already have on hand. Look for fresh peaches in the grocery store during their peak summer season. Or this peach smoothie can also be made year round with frozen peaches.
While this recipe calls for almond milk, you can substitute any type of milk you prefer.
We like to buy the plain Greek yogurt from Costco but again, choose your favorite brand for that.
It may sound strange to put rolled oats in your smoothie but I promise it totally works! The blender blends them up fine enough that it lends that unique flavor without all the bulk so your mouth won't even notice! I do find that the oats also help thicken the smoothie a bit too.
You may notice that it calls for ice cubes too. At first, I thought that seemed strange but it's just enough to make this smoothie nice and cold and also a great smoothie consistency!
The original recipe called for one tablespoon of honey but I've omitted that since the peaches are usually sweet enough on their own. But if you like smoothies a little sweeter, consider add that honey!
How To Make This Smoothie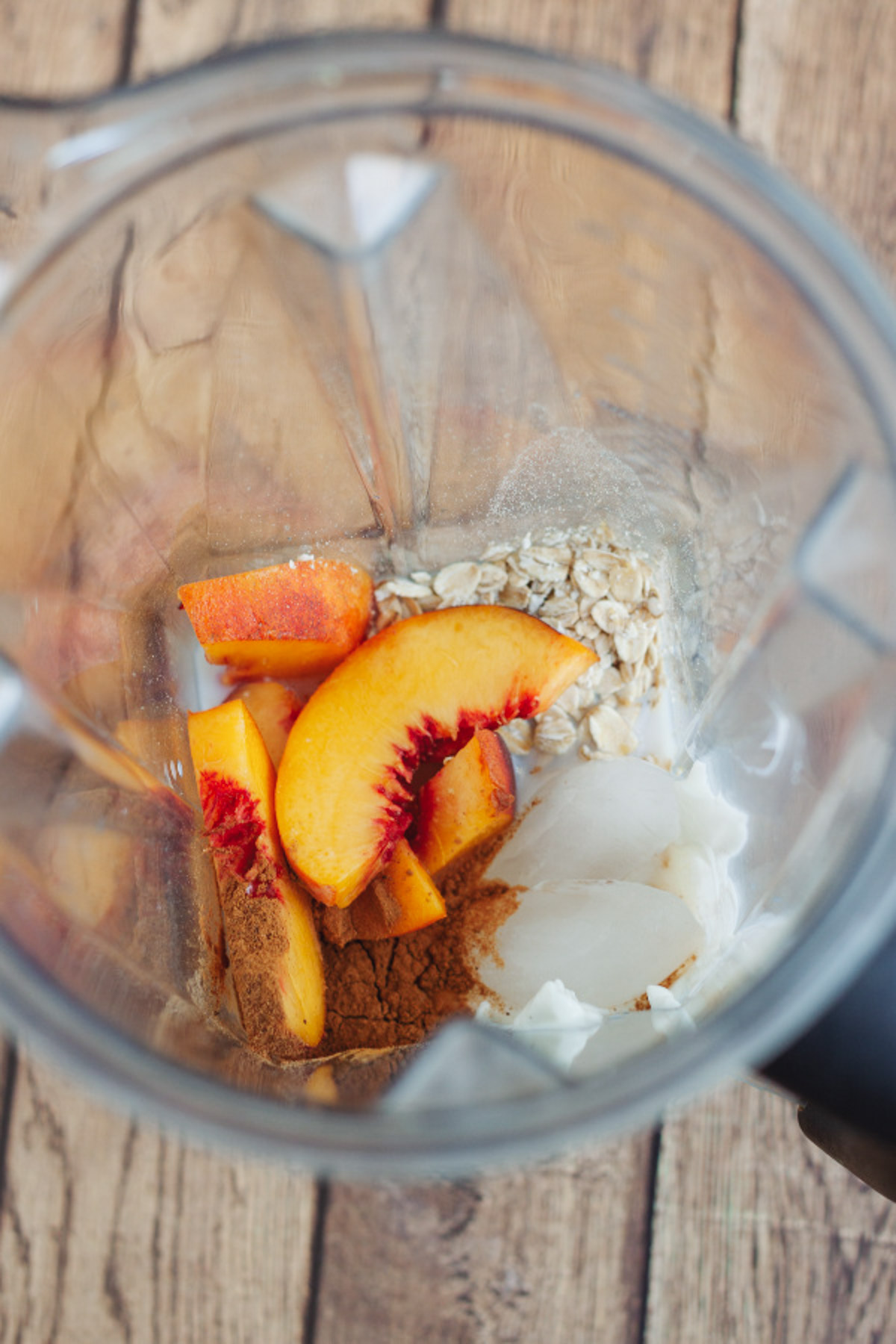 Smoothies are pretty simple so I don't have much to share here but I suggest adding all your ingredients to your blender jar (affiliate link) then adding the ice last so it doesn't start to melt too soon.
I do like to let everything blend for a bit longer than usual so that the cinnamon is well blended otherwise it can sometimes float on top of the mixture and I prefer for it to be IN the smoothie.
Serve these smoothies immediately so they don't become too watery. My son and I love drinking our smoothies through glass straws (affiliate link) like the one shown in the pictures!
Make Ahead Prep Tips
Did you know smoothies can be made ahead? There are a few ways to do this. Like I mentioned above, these peach smoothies are best enjoyed when served immediately after making them fresh.
But if you want to save some time in the morning, consider making a smoothie kit. Just add all of the ingredients to an airtight container or bag and store in the refrigerator up to one day ahead of time. Then dump everything in the blender and blend away!
Can you freeze these smoothies?
There are a couple of ways to freeze these peach pie smoothies. Blend up all of the ingredients and then pour into freezer safe containers or bags. I like to use SouperCubes (affiliate link) because they measure into perfect ½-cup, 1-cup or 2-cup portions (affiliate link) and freeze and stack well.
You can also make smoothie kits by freezing all of the ingredients ahead of time (minus the ice) in a similar way. I start by adding the creamy ingredients first like the yogurt and vanilla. This creates a "base" for the other ingredients to freeze into. Then add the dry ingredients–the cinnamon and oats. Lastly, add the peach slices.
If you are using a freezer bag (the quart size works well), kind of "mush" the ingredients together. If you are using Souper Cubes (affiliate link) or another freezer safe container, then use the back of a spoon to press those ingredients down a bit.This will create your smoothie kit "block" and make sure that the ingredients freeze together well.
I also usually leave out the milk from the kits and make a note how much to use per kit when I'm ready to enjoy the smoothies. When you're ready, dump the contents of your smoothie kit into your blender jar (affiliate link) plus the ice and milk and blend away! You may not need the extra ice when you are making a smoothie from a frozen smoothie kit so jus experiment based on your preferences.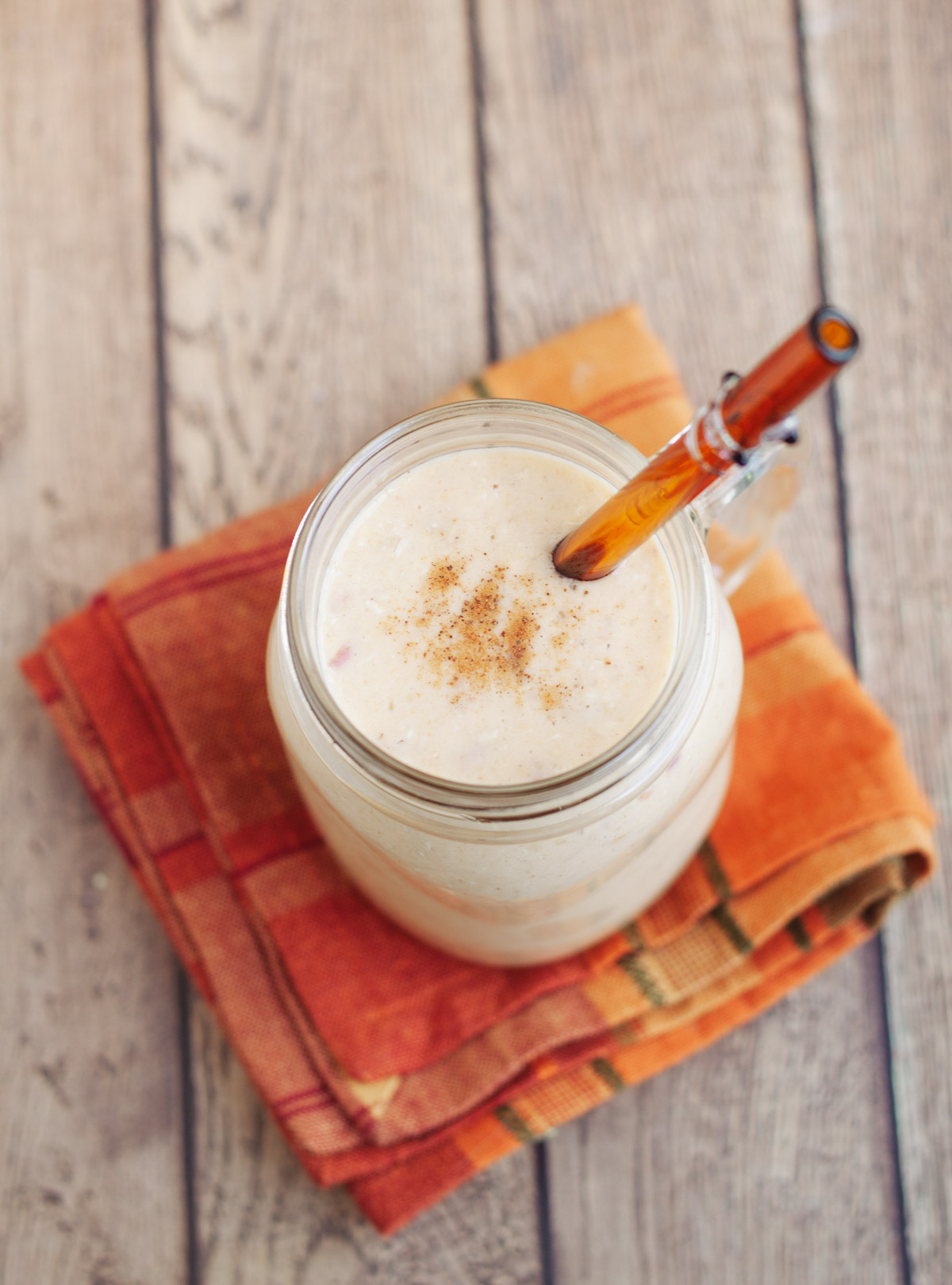 Do you love smoothies? I do too!
I'm a big fan of smoothies! You can fill them with so many healthy and delicious ingredients and feel better about enjoying them. Smoothies make a great breakfast or snack.
A few of my favorites are my Peanut Butter & Jelly Smoothie, Simple Triple Berry Banana Green Smoothie and Green Monster Banana Spinach Smoothie. You can usually substitute fresh fruits, too, so you can enjoy seasonal smoothies year round.
Sign up to receive an email in your inbox for each new recipe and get a FREE menu plan printable: FREE EMAIL SUBSCRIPTION
If you've tried this recipe, let me know how much you enjoyed it by coming back and leaving a comment below and a rating. I love hearing from you!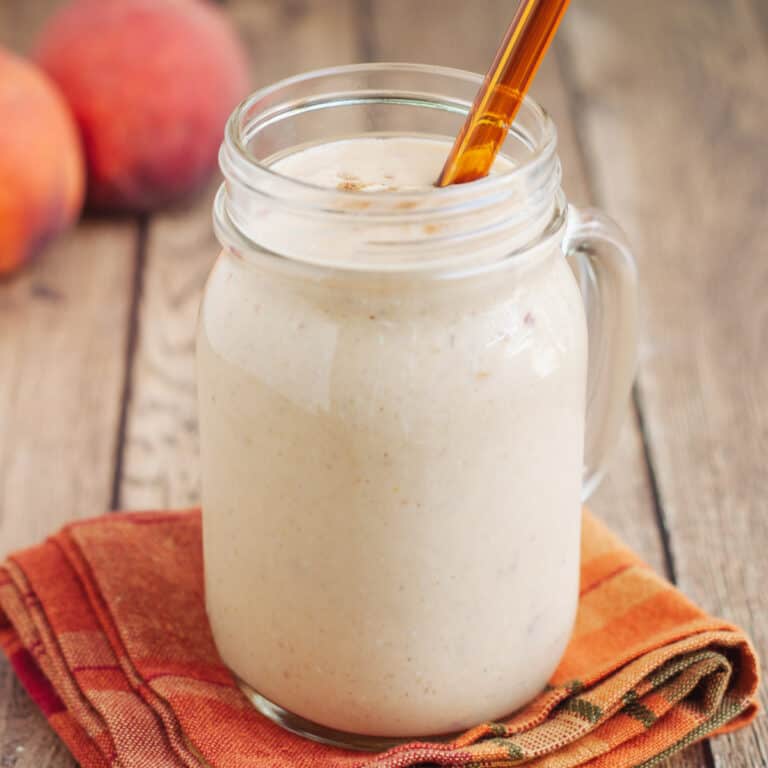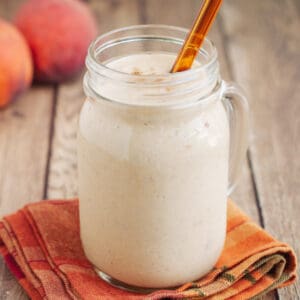 5 Minute Peach Smoothie With Yogurt
Only five minutes is all you need to whip up this tasty Peach Smoothie with Yogurt! The cinnamon and oats (yes!) make it taste just like a peach pie. The perfect twist on the classic summer dessert for a breakfast or snack on the go!
Rate this Recipe
Print Recipe
Pin Recipe
Ingredients
¾

cup

unsweetened almond milk

1

cup

peaches

chilled and sliced

⅓

cup

rolled oats

½

cup

crushed ice

½

cup

plain lowfat Greek yogurt

¼

teaspoon

vanilla extract

½

teaspoon

ground cinnamon
Instructions
In blender combine milk, peaches, oats, yogurt, honey, vanilla, cinnamon, nutmeg and ice.

Blend until smooth and serve.
Notes
MAKE AHEAD TIP:
Combine all ingredients except milk and ice. Store in labeled freezer safe zip top bag. When ready to use, thaw slightly at room temperature (about 10 minutes) and break up slightly before dumping ingredients in your blender. Add milk and ice and blend. You can make up multiple smoothie "kits" to have on hand in your freezer to save you time in the kitchen!
MONEY-SAVING TIP:
Purchase some ingredients in bulk like larger containers of plain Greek yogurt (I like the organic yogurt from Costco) or frozen peaches and make up smoothie "kits". When you buy in bulk you can save money in the long run!
Nutrition
Serving:
1
cup
|
Calories:
126
kcal
|
Carbohydrates:
19
g
|
Protein:
8
g
|
Fat:
2
g
|
Saturated Fat:
1
g
|
Cholesterol:
3
mg
|
Sodium:
144
mg
|
Potassium:
266
mg
|
Fiber:
3
g
|
Sugar:
8
g
|
Vitamin A:
251
IU
|
Vitamin C:
5
mg
|
Calcium:
175
mg
|
Iron:
1
mg