This post may contain affiliate links. Please read my disclosure policy.
Burrito Bites are filled with tasty and healthy ingredients like brown rice, lots of vegetables and a kick of taco seasoning and are vegetarian, too. Perfect for an appetizer or lunch box option, they can also be made ahead!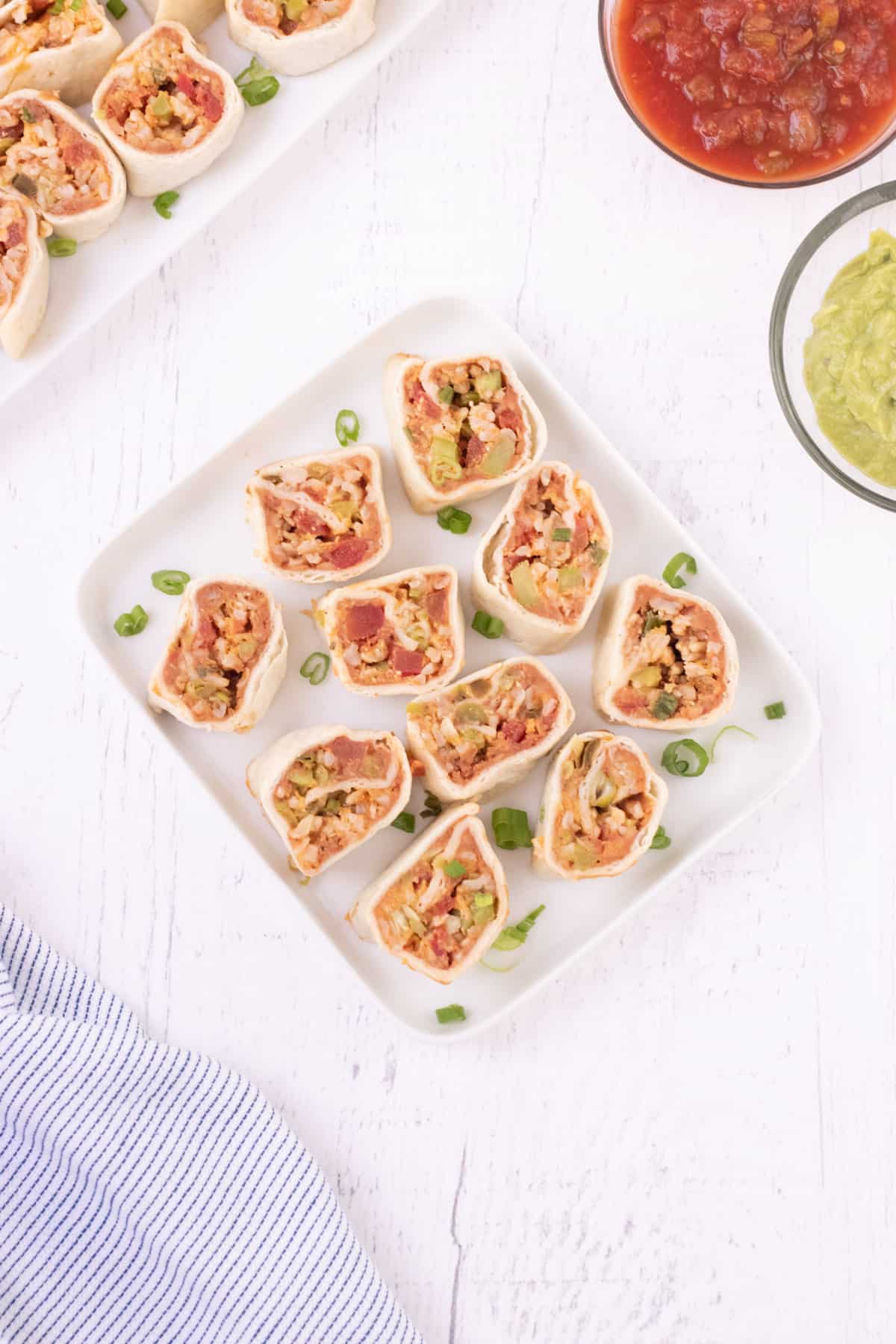 Why We Love This Recipe
I don't know if it's a regional thing or not but I feel like I've been eating pinwheels like these Burrito Bites for as long as I can remember. Tortillas are a staple in my part of Texas so I guess we'll find any way to serve them!

I originally found this recipe for Burrito Bites in one of those old church/community cookbooks. I shared it as part of the annual Power Your Lunchbox campaign from Healthy Family Project because they are a perfect option for the lunch box but also make a great appetizer or snack.
Filled with nutritious ingredients, they're also vegetarian! I changed up that original recipe a bit to include whole grain brown rice and a few of the steps to make it easier to prepare.
They are like miniature versions of the burritos you might get at a Chipotle Mexican Grill because they are bite size and perfect to pop in your mouth! I like to serve them with guacamole or salsa for dipping or sometimes even sour cream.
You can easily add a meat protein to them too. I think fajita steak would be delicious but even browned ground beef or chopped cooked chicken would be tasty too.
Ingredient Tips for This Recipe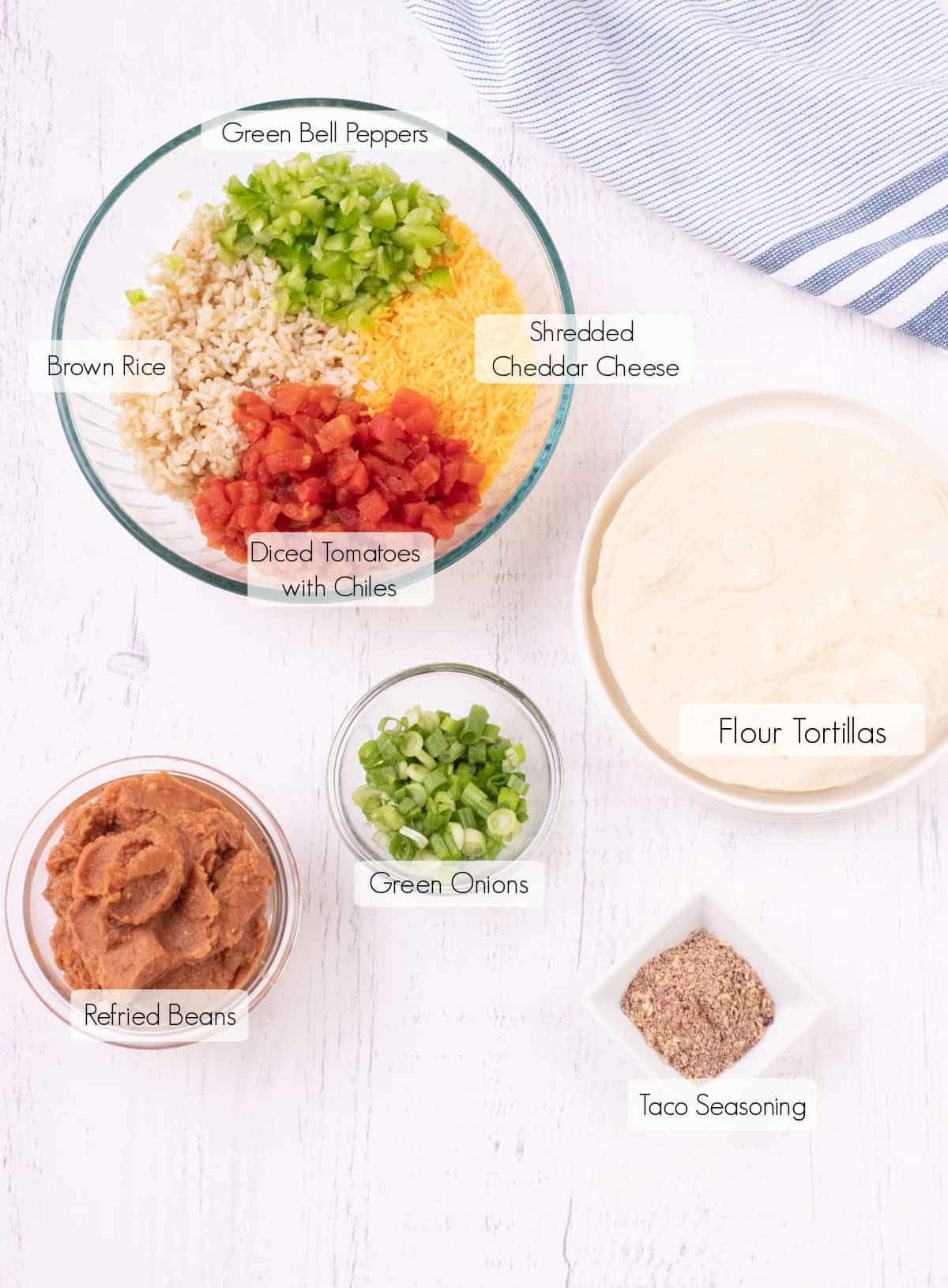 All of the ingredients for this recipe should be easy to find at your local grocery store but I have a few tips for you.
The recipe calls for canned diced tomatoes with green chilies. This is basically Rotel (brand name) but I usually buy the store brand when I can to save a little bit.
I like to make my own taco seasoning mix , but if you purchase the packets of premade seasonings, you can use the whole package (or use to taste if the whole packet is too spicy). Believe it or not, even living in Texas, I'm kind of wimp when it comes to spicy food.
Sometimes I will use whole wheat tortillas but my family is kind of picky on this so it usually just depends on my mood what I buy. Again, we like the store brand version but use what you can find.
How to Make This Recipe
These Burrito Bites are super simple to put together! Start with a large bowl (affiliate link) and combine all the ingredients except for the refried beans and tortillas.
Then lay out the tortillas on a cutting board, cutting mat (affiliate link), large plate or just a clean surface. I like to do two at a time but if you have a larger space you can do this in an assembly line fashion.
First spread out the refried beans and top with the rice and vegetable filling mixture (1). I like to use a rubber spatula (affiliate link) because it makes it so much easier to evenly spread the ingredients.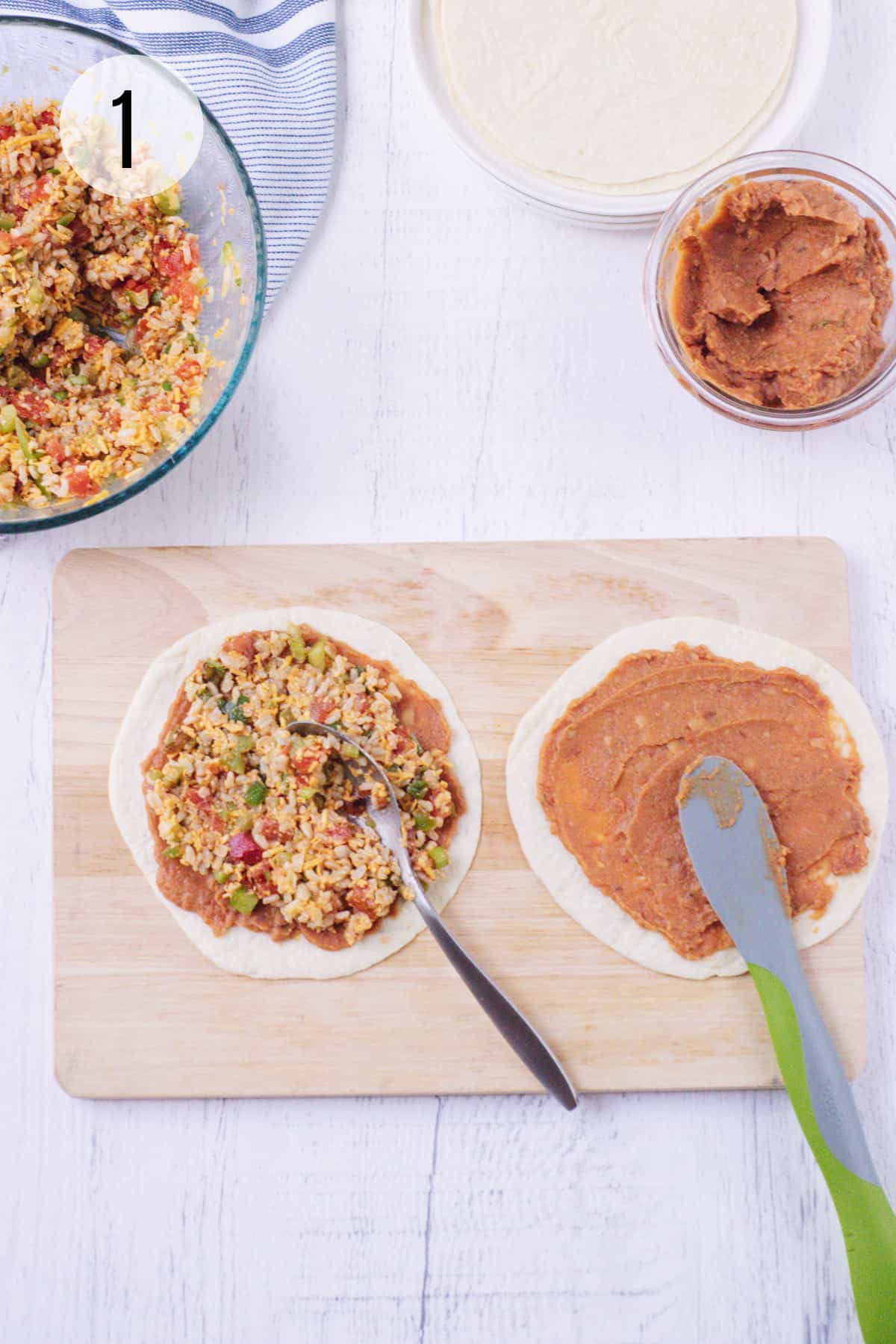 Next, rollup the filled tortillas (2) and place in a 9"x13" baking dish (affiliate link).Repeat until all of the mixture and beans are used up.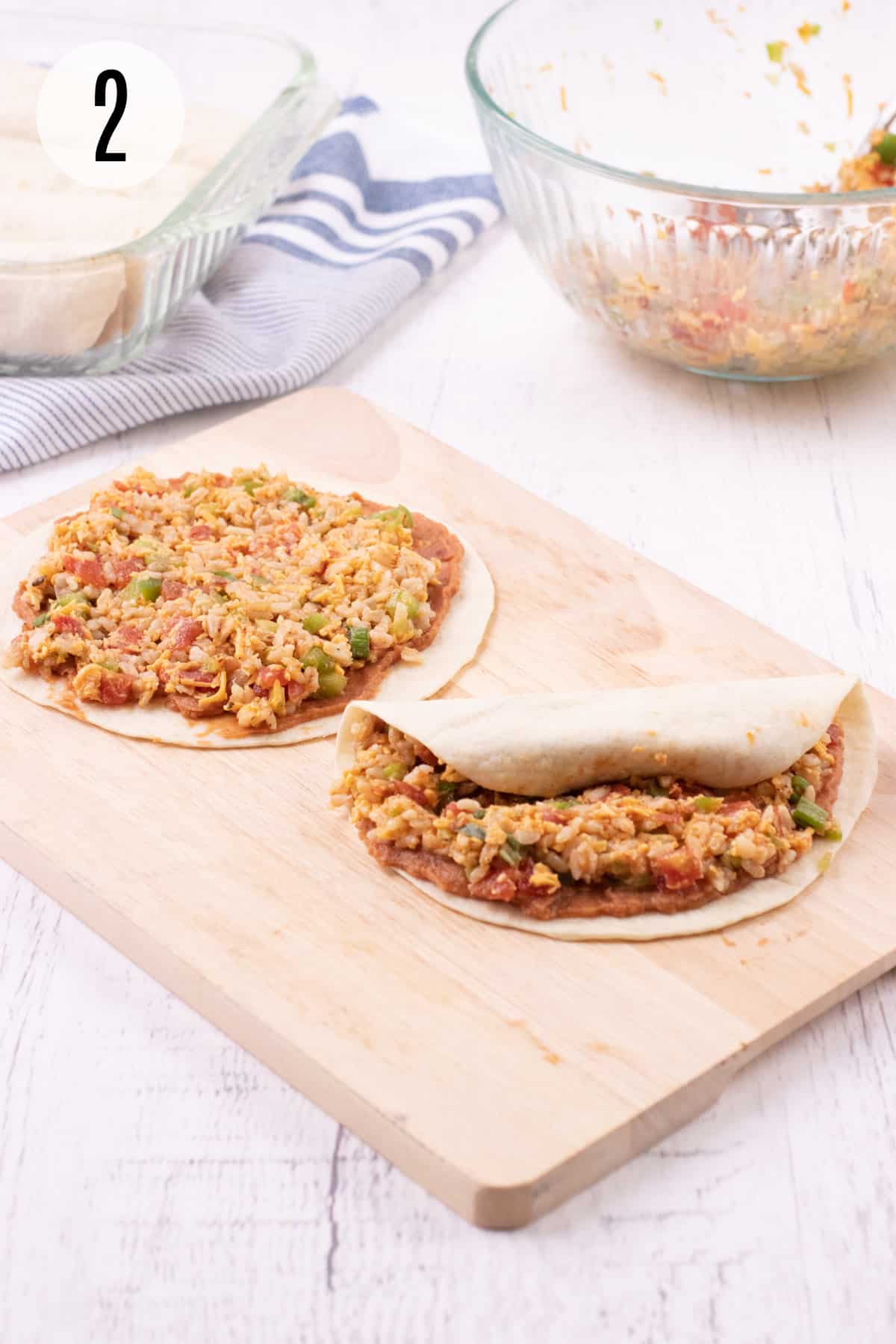 When you're ready to serve these pinwheel appetizers or bites, bake the rolled up tortillas for thirty minutes or until cheese is melty (3). Let them cool a bit so they are easy to handle and then slice into pieces about an inch wide.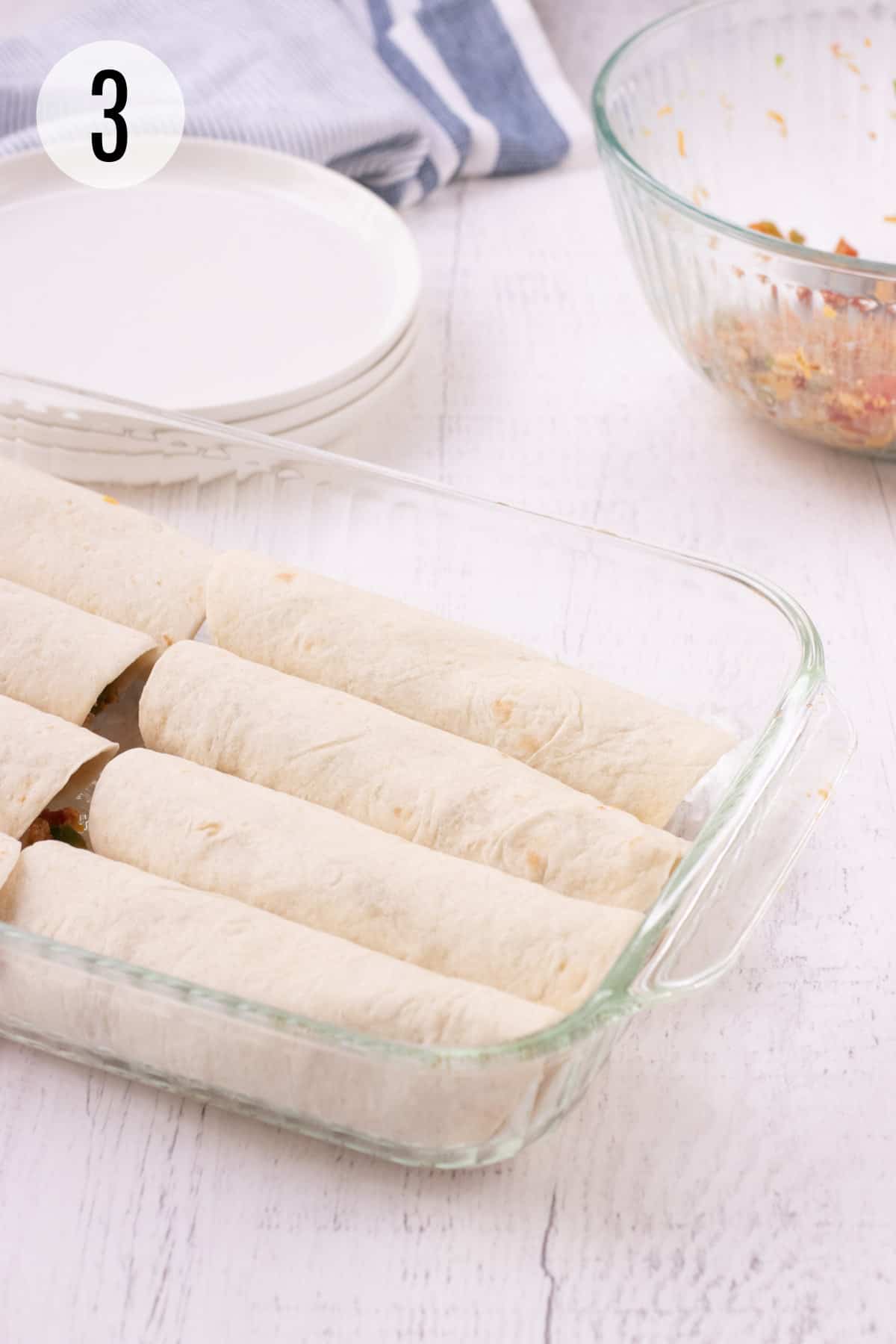 If you're serving to a crowd, they look nice stacked on a platter (4). Serve with your choice of dipping "sauces" like guacamole, salsa or sour cream.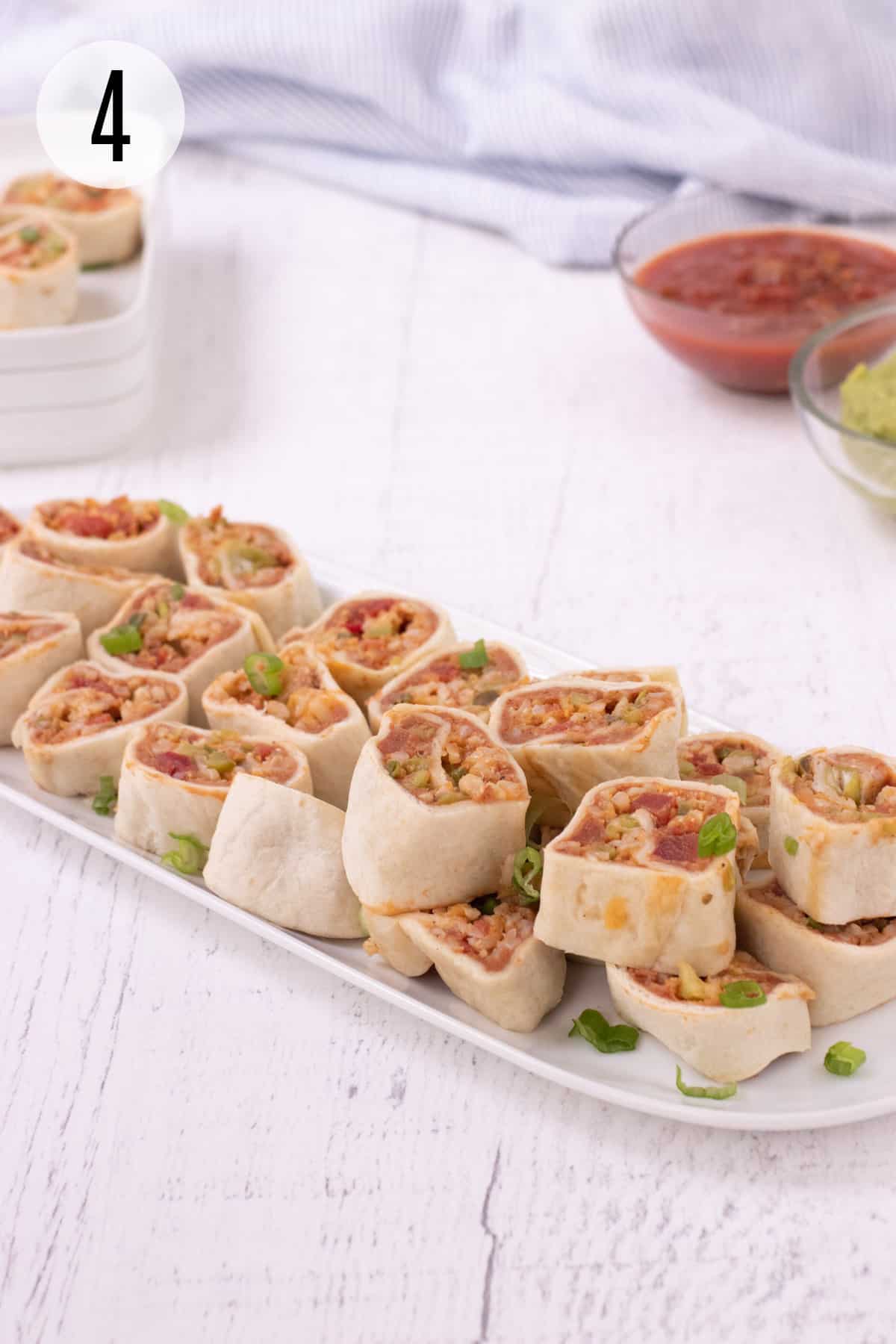 Make Ahead Preparation Tips
You know I'm always looking for ways to save time in the kitchen! There are a couple of ways you can make these burrito bites ahead of time. You can combine all ingredients except the refried beans and tortillas and store covered in the refrigerator for up to a day.
You can take it one step further and assemble the tortillas but do not bake them. I find that if I bake and refrigerate them afterwards that the tortillas get soggy. If you're assembling them ahead of time, you can do this about 6-8 hours in advance but the longer they sit, the more likely they will get soggy.
Are these pinwheels freezer friendly?
I do not recommend freezing these ahead of time. You can freeze the rice, vegetable and cheese mixture but keep in mind that the vegetables will change texture slightly. They still may taste ok but the texture may be a little funky.
Other Recipes Like This
I like quick and easy snack, lunch or appetizer recipes! Here are a few that you might like to try too!
This post was originally published in August 2019 and updated in November 2020 with new photos, video and content.
Be sure to check out my Amazon Shop to discover the many items I use in my own kitchen. Meal Planning Magic is a participant in the Amazon Services LLC Associates Program, an affiliate advertising program designed to provide a means for sites to earn advertising fees by advertising and linking to Amazon.com. Ordering products mentioned here are at no extra cost to you. Thank you for your support.