This post may contain affiliate links. Please read my disclosure policy.
I've gathered up my favorite no-waste products for coffee and tea lovers–most of which I use in my own kitchen! There's something for everyone and most items are under $25!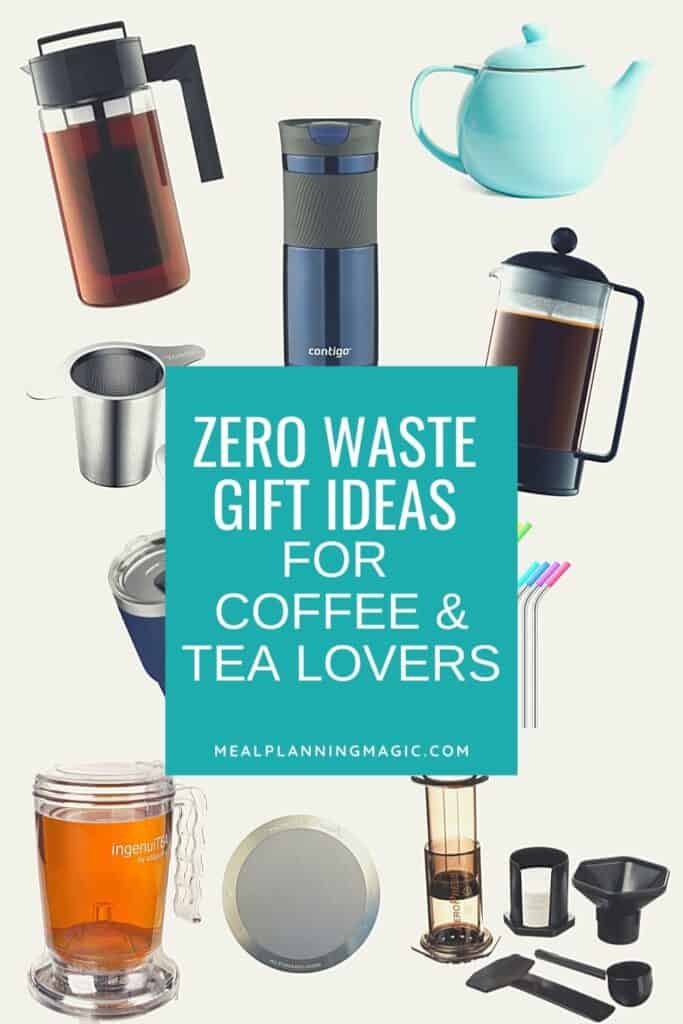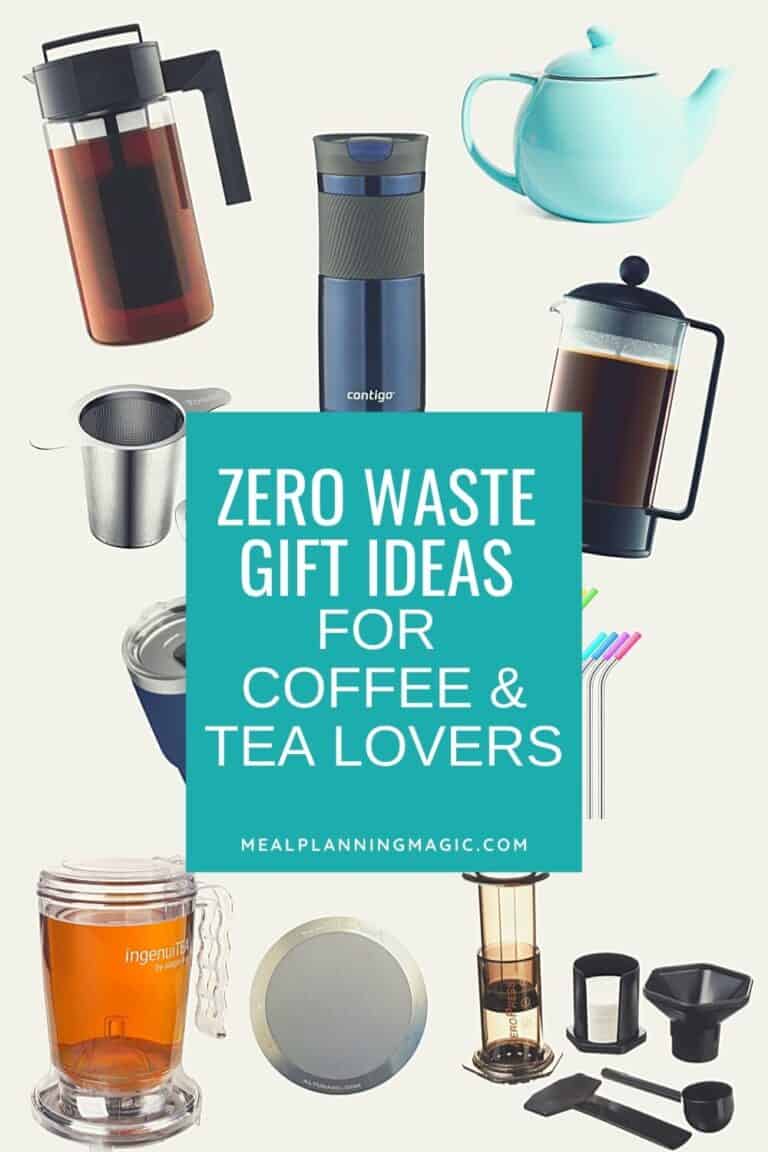 Jump to:
I've been a tea drinker for as long as I can remember. When my kids were little, I used to have a warm cup of green tea every evening after they went to bed. But it was only when I was in my thirties that I started drinking coffee. It was at a scrapbooking retreat so we could stay up all night!
But we're also big on living a minimal waste lifestyle when we can so I've collected a fair number of tools to help me make my own at home. Today I'm sharing my top 10 favorite Zero Waste Gifts for Coffee and Tea Lovers.
Most of the items are $20 or less with the exception of a couple of them. All of the links here lead to online shopping but I've picked up several of these items at locally owned stores too or places like Target or Walmart and even Costco. (Read my disclosure policy here for details on affiliate links).
You might notice that some of these items are more geared towards individuals or just a couple of people. While most of us enjoy coffee or tea at some time, we're not big drinkers so making smaller servings of them works just right. Plus, they take up less space in our kitchen!
Whether you're looking to treat yourself or someone else who enjoys coffee or tea, this Zero Waste Gift Guide for Coffee and Tea Lovers should help you get started!
Coffee Gear
Aeropress System – My daughter actually bought our AeroPress in the spring when we were all stuck at home. Someone had listed it for sale as new-in-box on our neighborhood for sale & free page so we got a good deal on it! I really didn't know much about them but am a big fan now! The AeroPress' filtration and brewing naturally removes some of the bitterness and acidity that can sometimes come with drip coffee makers. It takes about 5 minutes total to make our cup of coffee and it's easy to clean too!
Aero Press Mesh Filter While the AeroPress initially comes with a set of paper filters, once they're gone you will need to buy more. I found this reusable mesh filter online over the summer and have been using it ever since. I like knowing that we are reducing waste by using this filter. It's also really easy to clean!
French Press I've had a French press coffee maker like this for as long as I can remember. It's the first way that I ever started making coffee at home. It's budget friendly and can be used anywhere–no electricity required as long as you have hot water! What I like about it that it makes a little more coffee and it's less concentrated that the type that the AeroPress makes. It's handy when we have company and only takes a few minutes to brew plus, yes, also easy to clean as it's dishwasher safe too!
Cold Brew Pitcher – This is actually something I have on my own wish list. I have made cold brew before using a strainer bag but it's kind of messy and I like the idea that this pitcher has a built in filtration piece that makes it easy to do.
Cold brew coffee also removes some of the acidity in coffee compared to other methods and is a great way to make up a big batch of coffee that you can drink from all week. Or you can even freeze it in cubes. I like to use my SouperCubes as they are perfectly portioned for a cup of coffee but an ice cube tray works fine too.
Tea Time Gear
Over Cup Loose Leaf Tea Infuser I have a lot of different tea infusers but I wish I had this one! I saw one like it at a local tea shop and I think it's great! I like that the loose tea has enough space float in the water so that all the flavor is released. It will also fit over most cup sizes which makes it versatile too.
Perfect Teamaker I first saw a tea maker like this when a friend used it at our book club one time. It is so cool! I prefer loose leaf tea over bags and this teamaker makes it so easy to prepare. Simply put the tea in the container and then add your warm water. Let it brew and the neat thing is that you place the teamaker on top of a cup and it pushes up a little piece on it that lets the brewed tea flow right out into your cup!
Porcelain Tea Pot with Stainless Steel Infuser This is another item on my wish list! There is a really cool local tea shop, Tea Sip, that makes their own blends of loose tea. They also have lots of neat tea making supplies and accessories like this tea pot. The infuser is built into the pot and make a few cups of tea at a time.
This particular pot is made by Sweese and I have a few other items from them and I love their quality. It also comes in a few different colors.
Take Your Coffee Or Tea On The Go
Contigo Insulated Travel Mug I received a mug like this a few years ago as a Mother's Day present and I love it! It's just the right size to bring in the car but I also like using it at home so my drink doesn't get cold.
My son also likes to borrow it when he makes tea or hot cocoa (maybe I should get one for him!). This way he can bring the drink anywhere in the house and not have to worry too much about it spilling by accident.
Reusable Metal Straws with Silicone Tips, brushes and travel case Yes, we are those people that bring our straws where ever we go. But it's actually pretty easy and we like knowing that we're doing just a small part to reduce single waste items like plastic straws. I've tried several different types over the years–metal, glass, silicone–but we like these metal ones the best.
The nice thing about this set is that there are a variety of lengths and sizes so they work in a lot of different types of cups. The silicone tips are handy so that the cold metal is not so cold on your lips as you sip. The brushes make it so easy to clean them as well and the bag lets us easily throw them into a purse or bag for when we head out to eat somewhere.
Yeti 30 ounce Tumbler – I got one of these years ago when they first came out. In our hot Texas summers, it's nice to have a beverage cup that can keep drinks cold more than a half hour when you're outside! I like this larger size because it's easy to add an iced coffee or tea and it will stay cold for up to 24 hours! They come in lots of different colors and sizes, too. We like this style because it has the slider opening option or you can also add a reusable straw to drink out of it instead.
Try These Delicious Coffee and Tea Recipes
I've got a few recipes that you might enjoy trying to jazz up your usual coffee or tea too!
My Vanilla Cinnamon Creamer has been one of the most popular posts on my site for years! It's so easy and can be made ahead. The Peppermint Mocha Creamer is simple too and so delicious. If you're part of Team PumpkinSpice, then be sure to check out my All-Natural Homemade Pumpkin Spice Creamer.
My Homemade Chai Concentrate is a delicious way to enjoy a special tea. It is also make ahead and can be enjoyed either warm or cold!
Be sure to check out my Amazon Shop to discover the many items I use in my own kitchen. Meal Planning Magic is a participant in the Amazon Services LLC Associates Program, an affiliate advertising program designed to provide a means for sites to earn advertising fees by advertising and linking to Amazon.com. Ordering products mentioned here are at no extra cost to you. Thank you for your support.