This post may contain affiliate links. Please read my disclosure policy.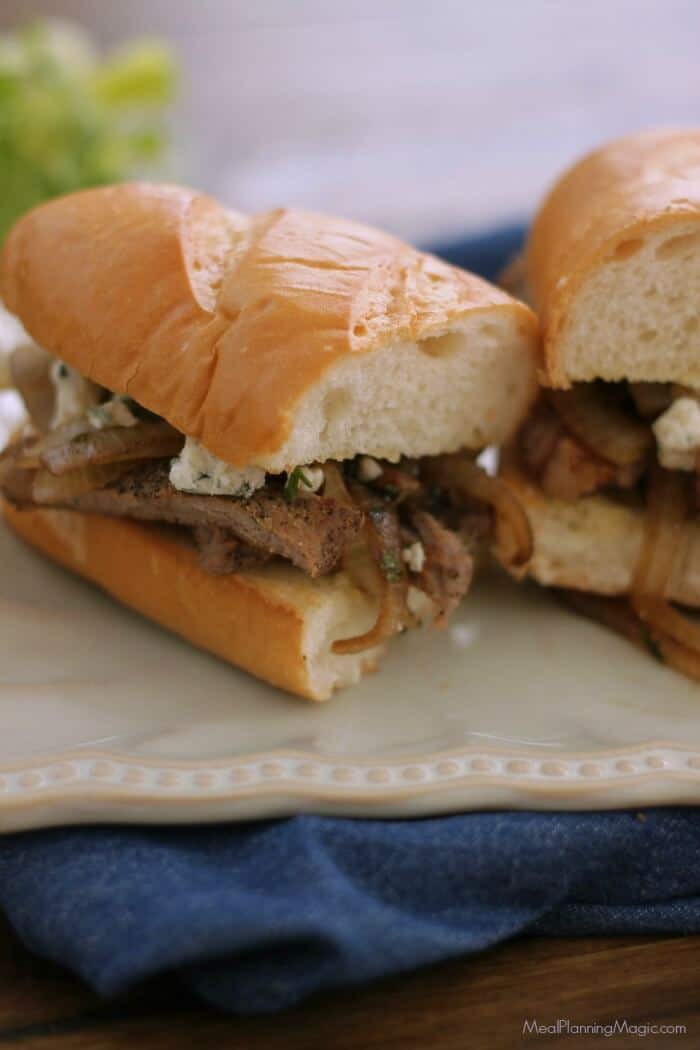 When it comes to weeknight meals, I try to keep things super simple! Even if we don't have a ton of activities going on in the evenings (although, many days we DO), it's nice to be able to enjoy our time together around the table with a homecooked meal. I try to create a balanced plate that very often includes a lean protein, veggies and whole grains.
That's why I'm excited to share this recipe for Bistro Style Steak and Onion Sandwich with you all. Inspired by a Pampered Chef recipe I came across, I've tweaked this recipe to make it a little healthier than the original and it's still super simple! It starts with a delicious lean cut of New York strip steak that is pan seared. Sliced onions with balsamic and blue cheese add a depth of flavor that make this meal a tasty weeknight meal that you'll be surprised you can create so quickly. Pair it with a garden salad or deli style potato chips and you've got a meal that will make you feel like you've gone out to eat but for far less money.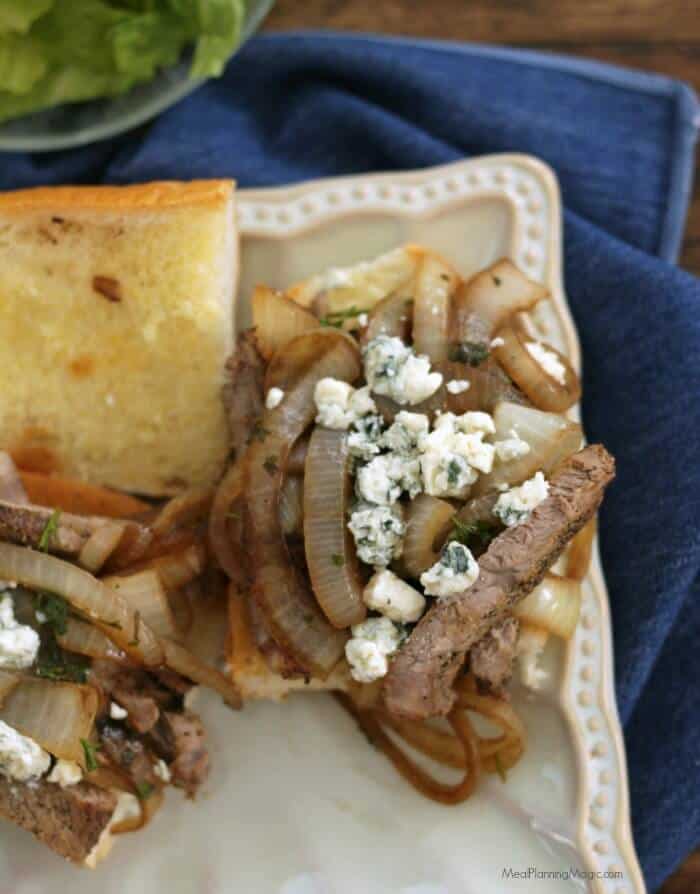 Here's my recipe for the Bistro Style Steak and Onion Sandwich: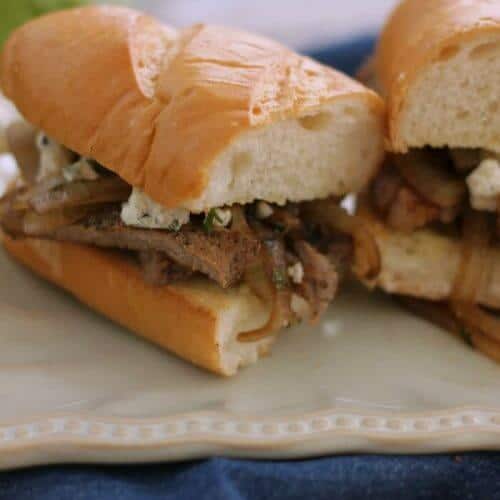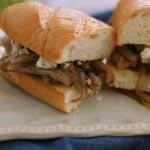 Gourmet Steak Sandwich with Caramelized Onions
Skip the restaurant and make this Gourmet Steak Sandwich with Caramelized Onions at home in under 30 minutes! Balsamic vinegar and blue cheese make all the flavors pop!
Print Recipe
Ingredients
4

tablespoons

butter

softened (or use spreadable butter), divided

2

teaspoons

garlic powder

4

cups

onions

thinly sliced (about two medium)

1.25

pounds

boneless New York strip steaks

cut into ¾ inch thick strips

1

teaspoon

ground black pepper

1

teaspoon

garlic

minced

¼

cup

parsley

chopped

3

tablespoons

balsamic vinegar

¼

cup

blue cheese

crumbled

4

hoagie-style buns
Instructions
Heat large skillet over medium-high heat, about 5 minutes.

Season steaks with black pepper and garlic.

Cook steaks 5-10 minutes on one side or until browned.

Turn steaks over and cook an additional 5-10 minutes or until temperature registers 140° for medium-rare doneness.

Remove steak from pan to a plate and cover lightly with foil and set aside.

Slice buns and spread the 2-3 tablespoons of butter evenly on each side of each bun. Sprinkle evenly with garlic powder.

Place buns, open with butter mixture facing up, on a baking sheet and broil under low broil setting for 2 minutes or until lightly golden brown (be sure to watch it so it doesn't burn!) Remove sheet from oven and set aside.

In same large skillet you used to cook the steak with drippings remaining, melt remaining tablespoon of butter.

Add sliced onions and cook until softened, translucent and slightly browned, about 5-7 minutes.

Add parsley and vinegar to pan and cook 3-4 minutes or until onions are caramelized.

Place steak and onion mixture evenly over one half of each toasted garlic bread buns.

Sprinkle with blue cheese and top with remaining garlic bread bun half. Serve with chips or garden salad.
Notes
How To Make A Delicious Steak and Onion Sandwich
Are you convinced yet that this gourmet sandwich is really that simple as simple as it sounds?
It totally is!
A couple of extra tips:
Look for the steak when it goes on sale. Make sure you buy the boneless strip steak to save you time and hassle when it comes time to slice the meat for the sandwich.
I use a non-stick, non-toxic sauté pans to cook the steak and onions. It's a set I bought at Costco last year and they are made of Granitium and the brand is Henckels.
I only mention this because you may notice it's different looking coating but you can use any non-stick pan, a ceramic coated cast iron skillet or even aluminum sauté pan.
Just be sure to watch the temperature so that you adjust it to prevent burning by cooking it too fast. Different types of materials cook slightly differently.
Can this Delicious Steak and Onion Sandwich  Be Made ahead?
Yes! Well, parts of it anyway.
To prep ahead, you can slice the steak before cooking and store in an airtight container in the refrigerator until you are ready to cook it (up to a day ahead is ok).
You can also slice the onions the day before and store in the refrigerator as well.
Slice your buns the day before then put both halves back together so they don't dry out and put back in the bag you purchased them in, seal and set aside until ready to prepare the sandwich.
These small steps may not seem like much but even just a few minutes here and there can add up.
Can You Freeze This Sandwich?
Well, yes and no. You wouldn't want to assemble it then freeze but you can freeze some of the different prepped ingredients. For example, cook the steak and store in an airtight freezer container up to three months or do the same for the onions.
When ready to serve, thaw in the refrigerator the day before. Then reheat in the saute pan over medium heat to warm through. You'll want to watch it so that you don't over cook the steak and it becomes tough.
Nutrition
Serving:
1
sandwich
|
Calories:
578
kcal
|
Carbohydrates:
52
g
|
Protein:
41
g
|
Fat:
23
g
|
Saturated Fat:
11
g
|
Cholesterol:
123
mg
|
Sodium:
505
mg
|
Potassium:
792
mg
|
Fiber:
4
g
|
Sugar:
13
g
|
Vitamin A:
730
IU
|
Vitamin C:
17
mg
|
Calcium:
139
mg
|
Iron:
14
mg