This post may contain affiliate links. Please read my disclosure policy.
It's easy to add fresh, seasonal fruits and vegetables to your menu. This list of Top 10 Fruits and Veggies for Spring can inspire you to try a few-or all!
Be sure to sign up for my email list to get new recipes and ideas in your inbox!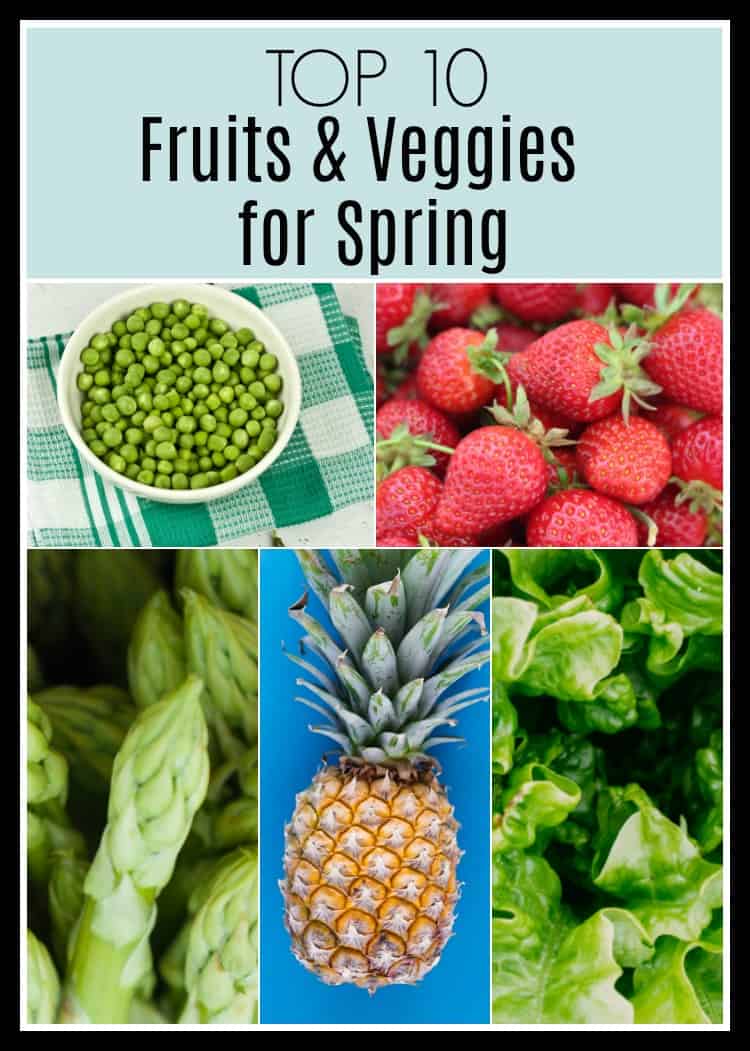 I originally published this post for the Top 10 Fruits and Veggies for Spring on the Produce for Kids website several years ago. I'm sharing it with you here in case you missed it there!
Springtime means more social gatherings, the start of youth sports season and road trips as families are anxious to get out and about after a cold winter. Preparing fresh fruits and vegetables for these activities is easy and tasty. Here are my top 10 fruits and veggies for spring:
ARTICHOKES
Packing a powerful punch, this vegetable contains essential nutrients for a healthy body including Vitamins C and K, potassium, folate and magnesium. Not as difficult to prepare as they may seem, they do require a bit of prep time but have a delicious payoff. They can be enjoyed steamed and eaten plain or cooked, marinated and used in salads.
ASPARAGUS
High in folate, an anti-inflammatory, and other vitamins this vegetable is one of my favorites of spring! Whether steamed, grilled or blanched, they make a great addition to any plate or as great cold finger food on-the-go.
BROCCOLI
Another nutrition powerhouse full of Vitamin C and other essential nutrients, this vegetable can be roasted in a little olive oil and garlic or chopped up with sunflower seeds or toasted chopped nuts, raisins and a light dressing for a delicious side salad that's great for picnics. Try this Simple Ham and Broccoli Pasta Salad for a delicious way to incorporate broccoli into your lunch or dinner.
STRAWBERRIES
Warmer climates begin to see these red beauties popping up in gardens and markets in early spring. Enjoyed on its own, this fruit travels well. This versatile fruit is delicious in baked goods, sliced onto salads, made into jam or even as a salsa. Keep strawberries from ripening by washing only right before you're ready to eat them.
LETTUCE
Lettuces are often available year-round, but spring is their peak season and you can taste the difference. The tender leaves are perfect for fresh salads or used in wraps and sandwiches to take out to the ball fields. Lettuce provides essential fiber our bodies need to stay healthy. Choose lettuce with dark leaves for the most nutritional benefit. I have a few favorite ways to use lettuce like this Delicious Chicken Caesar Pasta Salad, Mandarin Tossed Salad, or Delicious Beef Tenderloin Pear and Cranberry Salad with Honey Mustard Dressing.
MANGO
Low in calories, high in fiber and vitamins like C and A, this is fruit not to miss. The trick to cutting a mango is to learn how to work around the seed. We like to use mango in smoothies or in these Easy Grilled Mango Poblano Quesadillas—a unique blend of flavors!
PEAS
The taste of fresh peas just out of the garden seems to shout spring! Their slightly sweet flavor and crunchiness are delicious. Filled with antioxidants, fresh peas can be tossed in salads, included in stir-fries or steamed and enjoyed as a side for many meals.
PINEAPPLE
This sweet and juicy fruit can be enjoyed cut up as an after-school snack or anytime you need a sweet treat. When purchasing pineapple, look for green fruits that have a little orange or red on the bottom, then allow it to fully ripen at home. It should be firm with no bruises or soft spots and have a sweet aroma.
RHUBARB
Often considered a fruit, rhubarb is actually a vegetable. Full of antioxidants it is naturally tart so is usually paired with sweet fruits like strawberries, apples or peaches, often in baked goods. Easy to grow and prepare, it's a must-try for everyone!
SPINACH
Spinach is such a versatile vegetable! Loaded with Vitamin K and high in many other vitamins and fiber, this mild tasting green is easy to add to salads, soups or casseroles. We even like to add fresh spinach to our smoothies for an extra nutrition boost. Check out the Green Monster Banana Spinach Smoothie or Simple Triple Berry Banana Green Smoothie recipes and I promise, you probably won't even taste it!
See how easy it is to add fresh, seasonal fruits and vegetables to your menu? I hope this list of Top 10 Fruits and Veggies for Spring inspires you to try a few new or old favorites today!
Sign up to receive an email in your inbox for each new recipe and post and get a FREE menu plan printable: FREE EMAIL SUBSCRIPTION


Have a question or want to share recipe ideas with others? Then join my private Facebook group, Meal Planning Magic Community Table here. If you've already joined, be sure to add your friends that may find it helpful too!
And don't forget you can always follow me on Facebook, Twitter, Pinterest , or Instagram. And don't forget to sign up for my email list here so you never miss a new post! Each of these ways to connect all offer a little something different and are a great way to stay in the loop on new menu plans, recipe ideas, giveaways, organizing tips and more! Want to know what items I'm using in my own kitchen to help streamline my time there? Then check out my Amazon Shop (see disclaimer in footer below this post)
Click on the photo below to browse more of my recipes!