This post may contain affiliate links. Please read my disclosure policy.
My Loaded Baked Potato Dip gets devoured every time I make it–it's one of our all-time favorites! With only five ingredients, it's a cinch to make up and can be made ahead too!
Be sure to sign up for my email list to get new recipes and ideas in your inbox!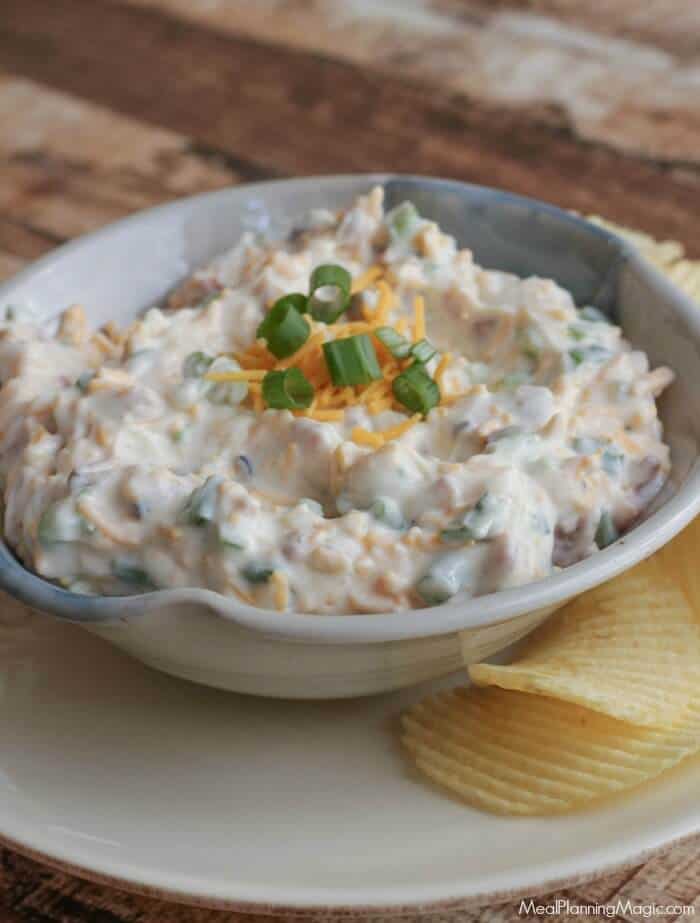 CLICK HERE to save this recipe to Pinterest so you can remember to make it later too!
Many years ago, I worked in a bank in the marketing department and that's when I was first introduced to this Loaded Baked Potato Dip. Part of our job was to provide food for the company meetings and my boss at the time made this dip for EVERY meeting. Apparently it wasn't just a tradition, it was an expectation.
Even nearly two decades later I know why. It's SO delicious and super addictive! I started making it for my friends and at family gatherings and before long it became "Brenda's Baked Potato Dip". I couldn't go anywhere without someone requesting I bring this dip! People asked for the recipe. They started making it. Then it became known as "their" dip.
Let it be known, I may not have invented this Loaded Baked Potato Dip, but I'll still claim it as my own and the original sharer in my local neighborhood. I even shared it on AllRecipes many, many years ago so if you search there, you'll find my name alongside one of the recipes!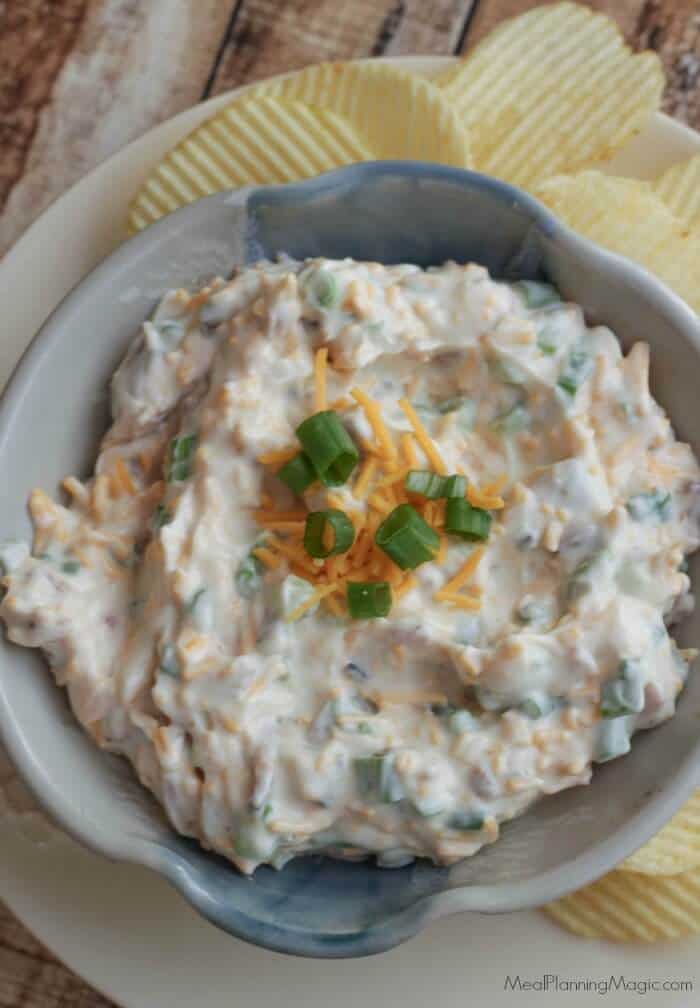 Now some of you may be saying "But Brenda, how can it be called Loaded Baked Potato Dip if there are no potatoes in it?" I actually get this question a lot! But here's where you use your imagination and think of this dip as all the yummy toppings you might put on a baked potato that are now dip-able (is that a word) because you eat it with potato chips! (there's your potato–and where you might need to use your imagination). I promise, the flavor is still super yummy and you've now got yourself a new way to enjoy an old favorite!
I've lightened it up over the years using plain Greek yogurt for some of the sour cream. If you have a mild, creamy yogurt (I like the Greek yogurt from Costco), you can substitute all of the sour cream with yogurt if you like.
Sign up to receive an email in your inbox for each new recipe and get a FREE menu plan printable: FREE EMAIL SUBSCRIPTION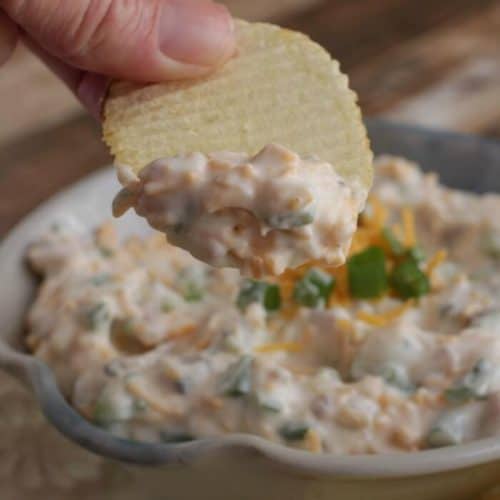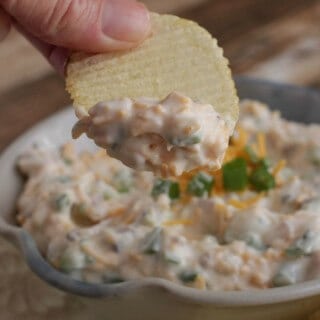 Ingredients
Loaded Baked Potato Dip

16

oz

container sour cream

16

oz.

container plain Greek yogurt

1

cup

chopped cooked bacon

2

cups

shredded cheddar cheese

1

cup

chopped green onions

Potato chips
Instructions
Combine sour cream, yogurt, bacon pieces, cheddar cheese and green onions in a mixing bowl; stir well. Refrigerate, or serve immediately with potato chips.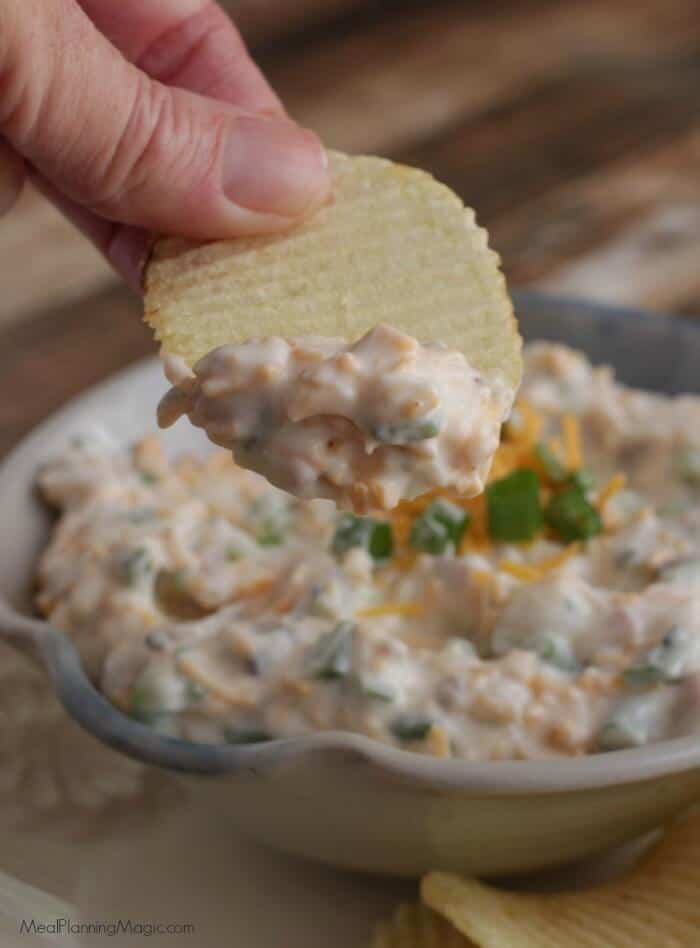 There were so many great cooks at that bank…I got so many great recipes from coworkers! One of my other favorites are these Soft and Chewy Molasses Ginger Cookies. This Loaded Baked Potato Dip is super simple to whip up and now my teenage daughter even makes it herself. It's great for any occasion but especially during the holidays or for tailgating. I hope you'll give it a try!

Have a question or want to share recipe ideas with others? Then join my private Facebook group, Meal Planning Magic Community Table here. If you've already joined, be sure to add your friends that may find it helpful too!
And don't forget you can always follow me on Facebook, Twitter, Pinterest , Instagram or Google+. And don't forget to sign up for my email list here so you never miss a new post! Each of these ways to connect all offer a little something different and are a great way to stay in the loop on new menu plans, recipe ideas, giveaways, organizing tips and more! Want to know what items I'm using in my own kitchen to help streamline my time there? Then check out my Amazon Shop (see disclaimer in footer below this post)
Click on the photo below to browse more of my recipes!