This post may contain affiliate links. Please read my disclosure policy.
These Cracker Jack Cookies have a hint of caramel with a slight crunch from the peanuts and a secret ingredient. Make a double batch for the freezer so you'll always have some to enjoy!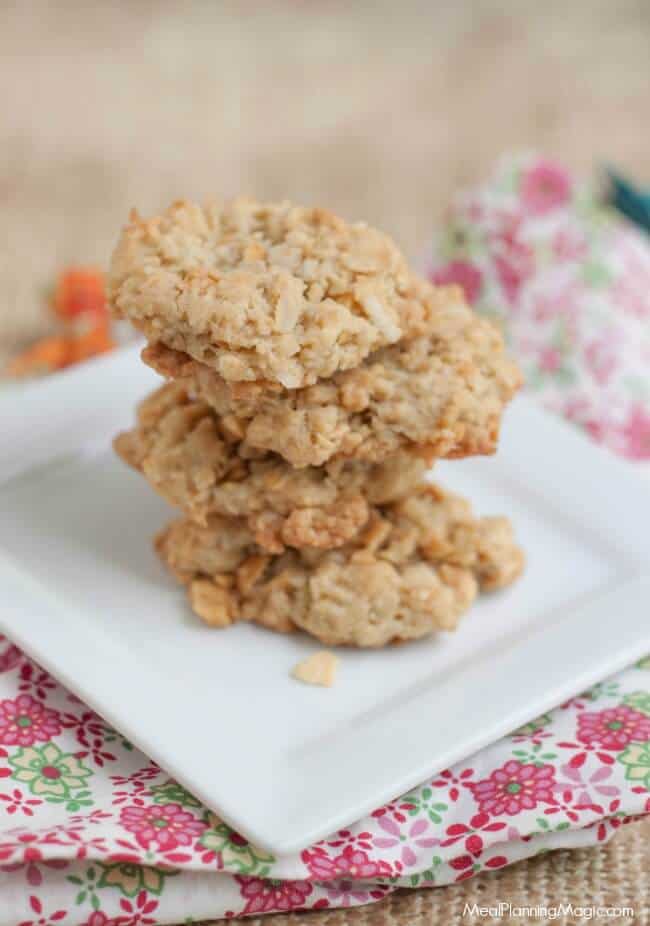 If you've been around the last few months, you know I've been going through my recipe box and old cookbooks looking for inspiration for new recipes to try. Or maybe new-to-me type recipes and these Cracker Jack Cookies are one of those new-to-me recipes. I'm not totally sure if this is a recipe from my mom or where exactly it came from but I found the recipe card in my handwriting so I know it's been there awhile.
As I can't remember ever having them, I'm so glad I decided to give these cookies a try! Just like the popular snack with caramel coated popcorn and peanuts, these Cracker Jack Cookies are a huge hit in my house. Did you know the Cracker Jack snack has been around since 1896? That's a pretty popular snack!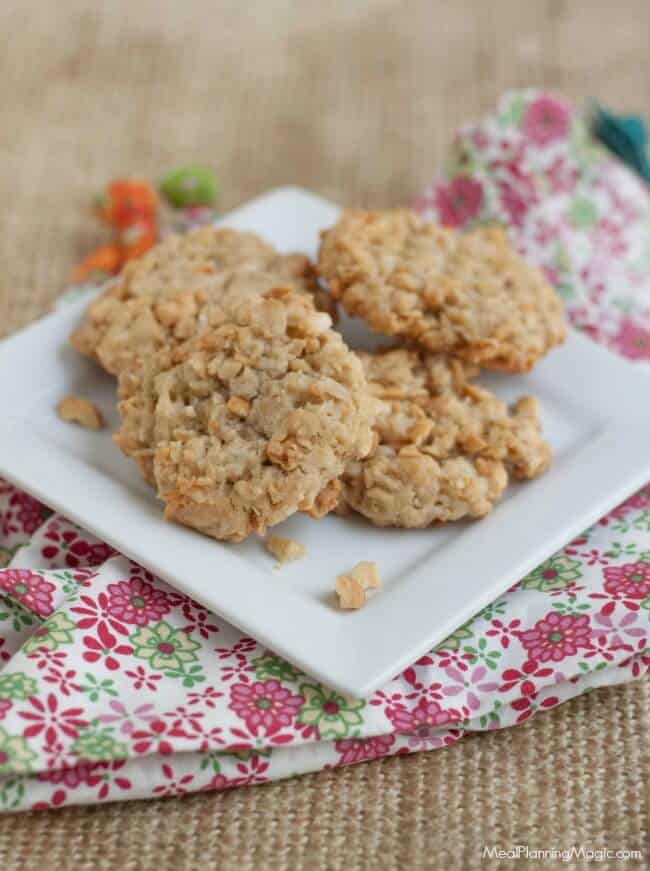 My whole family cannot get enough of these Cracker Jack Cookies. I like to make a double batch to put some in the freezer to enjoy any time!
With a hint of caramel and the chopped peanuts they seem like a blend between a peanut butter cookie and a chocolate chip. There are a few secrets to this cookie recipe that make up the unique flavor and I think one of them is the amount of brown sugar—it's a little bit more than many other similar cookie recipes that use a combination of brown and white sugars. And the addition of TWO teaspoons of vanilla bumps up the flavor! It makes the cookies taste a little more "caramelly" to me.
But the extra secret ingredient (now, not really a secret!) is the addition of crisped rice cereal (like Rice Krispies) . It's tough to explain the texture of these cookies…they are a firmer cookie than the Classic Chocolate Chip Cookies but still not too hard. I don't like cookies that make me feel like I'm going to break a tooth! The crisped rice adds a unique texture to the cookie without being too obvious. It also includes oatmeal and shredded coconut. It seems like that would be a lot going on in a cookie but somehow it all works!
Since the original Cracker Jack snack includes peanuts, this recipe calls for chopped peanuts. But if someone in your family has a peanut allergy, you can easily leave them out and still have a delicious cookie treat.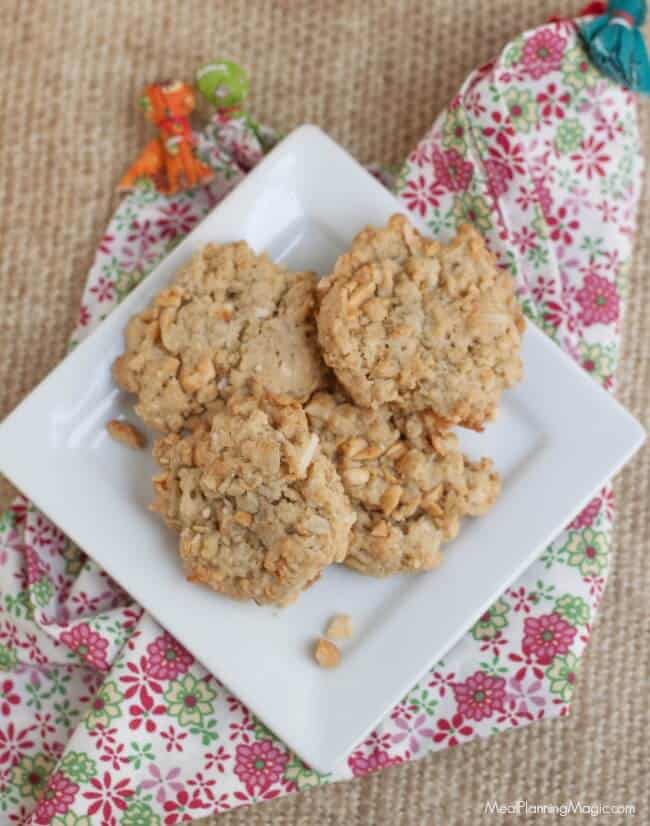 These Cracker Jack Cookies have a hint of caramel with a slight crunch from the peanuts and a secret ingredient–sure to be a hit in your house!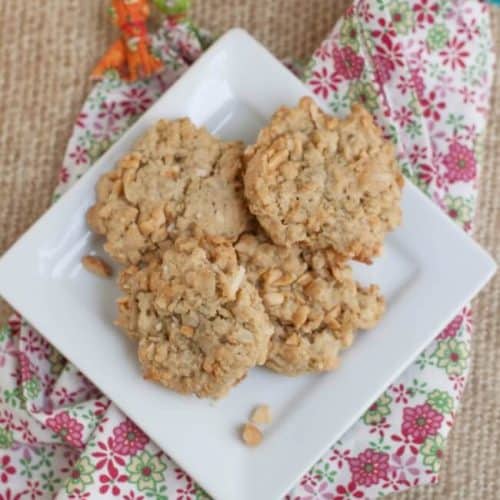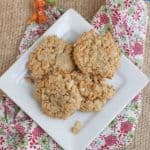 Cracker Jack Cookies with Secret Ingredient
Print Recipe
Ingredients
1

cup

butter

softened

1

cup

sugar

1

cup

lightly packed brown sugar

2

eggs

2

teaspoons

vanilla

1 ½

cup

all-purpose flour

1

teaspoon

baking powder

1

teaspoon

baking soda

2

cups

oatmeal

2

cups

crisped rice cereal

1

cup

shredded coconut

1

cup

roasted

salted peanuts, chopped
Instructions
Preheat oven to 350◦F .

In a small bowl, combine flour, baking powder and baking soda. Set aside.

In a large bowl, cream the butter and sugar. Add eggs and vanilla and mix well. Add flour mixture and mix just until blended.

Add oatmeal, coconut and crisped rice cereal. Mix just until blended.

Drop dough by heaping tablespoons on a greased baking sheet (or use parchment paper or silicone baking mat). Flatten cookie slightly with bottom of a cup or just using the back of the spoon.

Bake for 10-12 minutes or until cookies are slightly brown around the edges. Cool for one minute on baking sheet then remove cookies to a wire cooling rack to continue cooling.

Store cookies in an airtight container for up to one week—if they last that long!