This post may contain affiliate links. Please read my disclosure policy.
This Easy Grilled Chicken recipe is great to make up in a large batch to make ahead to use in recipes later. Freeze whole, cubed or shredded to save time and money!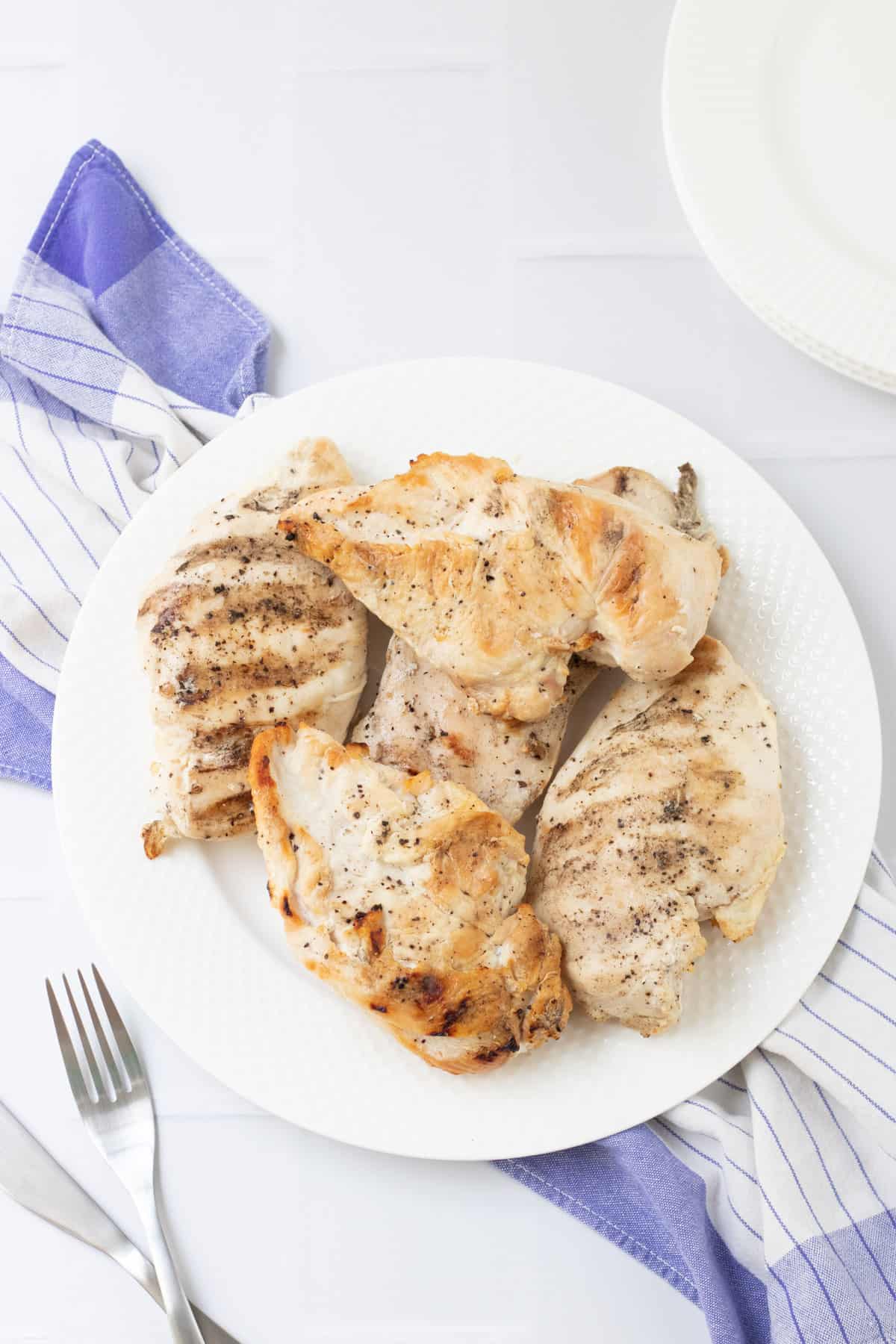 In most part of Texas and especially where we live (Houston area) we're lucky enough to use our grill year round as the weather is mild enough for most of the year. One thing I especially love is cooking grilled chicken. And this Easy Grilled Chicken Recipe is perfect because it really is so simple.
I will often make a big batch then divide it up different ways so I can use it in recipes all year round. This really saves me a lot of time and when I buy the chicken on sale or in bulk, it makes it even better!
Simple Grilled Chicken like this recipe is also paired well with 10-Minute Spinach Parmesan Couscous or Simple Stovetop Brown and Wild Rice Pilaf.
What Ingredients Are Needed To Grill Chicken?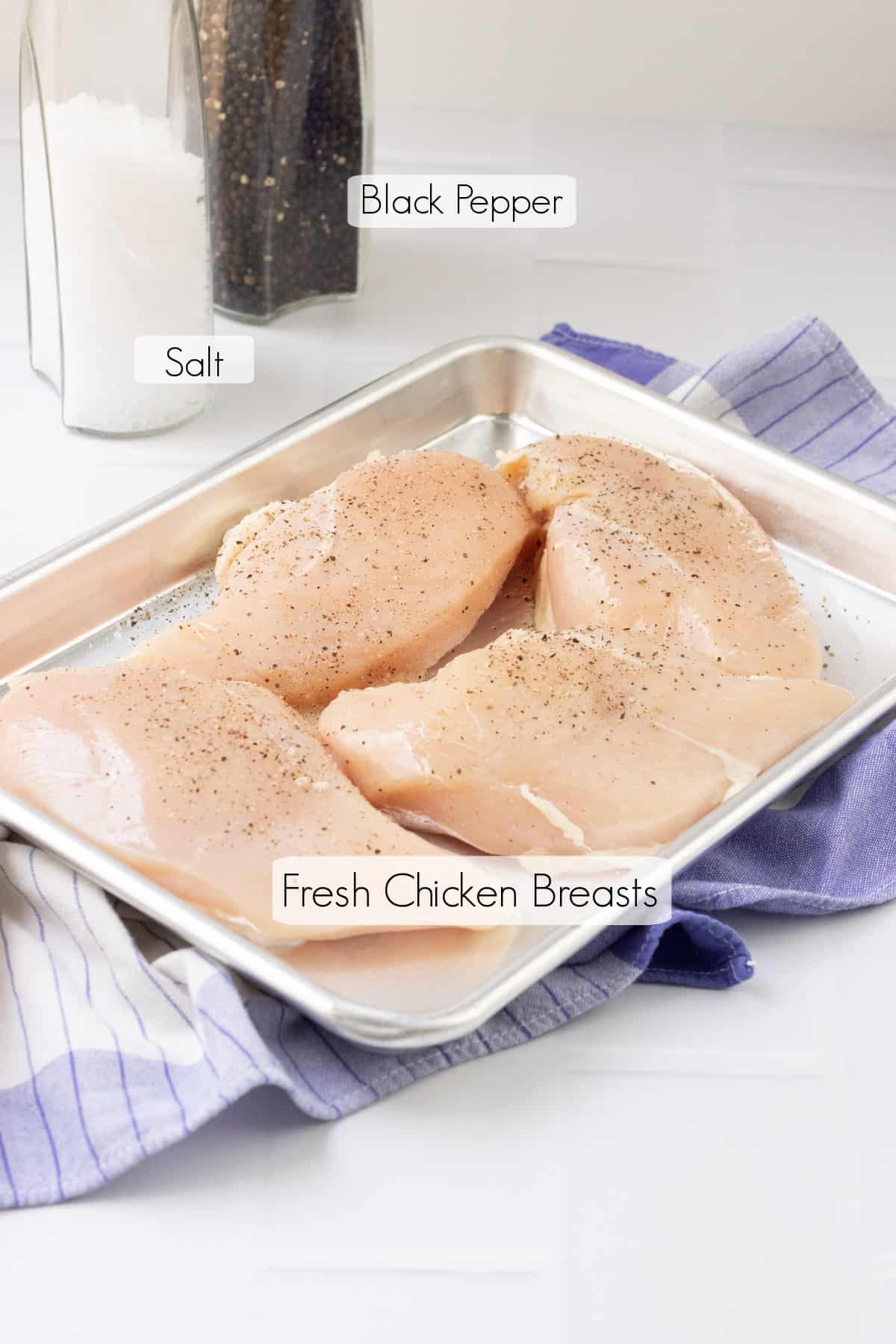 You'll see that I only season the chicken with salt and pepper. That makes it so versatile and a healthy grilled chicken recipe, too. I like to add the grilled chicken to recipes like Chicken Rice and Black Bean Tortilla Soup , Chicken Caesar Pasta Salad , or BLT Chicken Salad Sandwich. My kids also like to take either a whole chicken breast or the cubed or shredded chicken in their lunches to top a simple garden salad too.
I like to use the freshly ground salt and pepper form the grinders I got at Costco, similar to these (affiliate link). But you can also make up a mixture of equal parts table salt and ground black pepper, then sprinkle lightly and evenly on the chicken breasts.
Easy Steps To Make Grilled Chicken
It's really so easy to grill a big batch of chicken. We have a gas grill but you can of course, use a charcoal grill. Once you reach the proper cooking temperature (about 375°F) then it's all the same. In our hot Texas heat of the summer, I like that I'm keeping our kitchen cool, too, by cooking outside keeping all that heat outdoors!
Start by salt and peppering your chicken on both sides. I like to prep it on a half or quarter sheet baking pan (affiliate link) so it's easy to bring from the kitchen to the grill. Be sure you wash the platter or tray that you use before putting the cooked chicken back on it so you wash off those raw chicken juices and potential for bacteria and not reintroduce it onto the chicken you will be consuming.
Then, place all the chicken breasts on the hot grill and cook for 6-7 minutes on each side (1) or until the internal temperature reaches 165°F.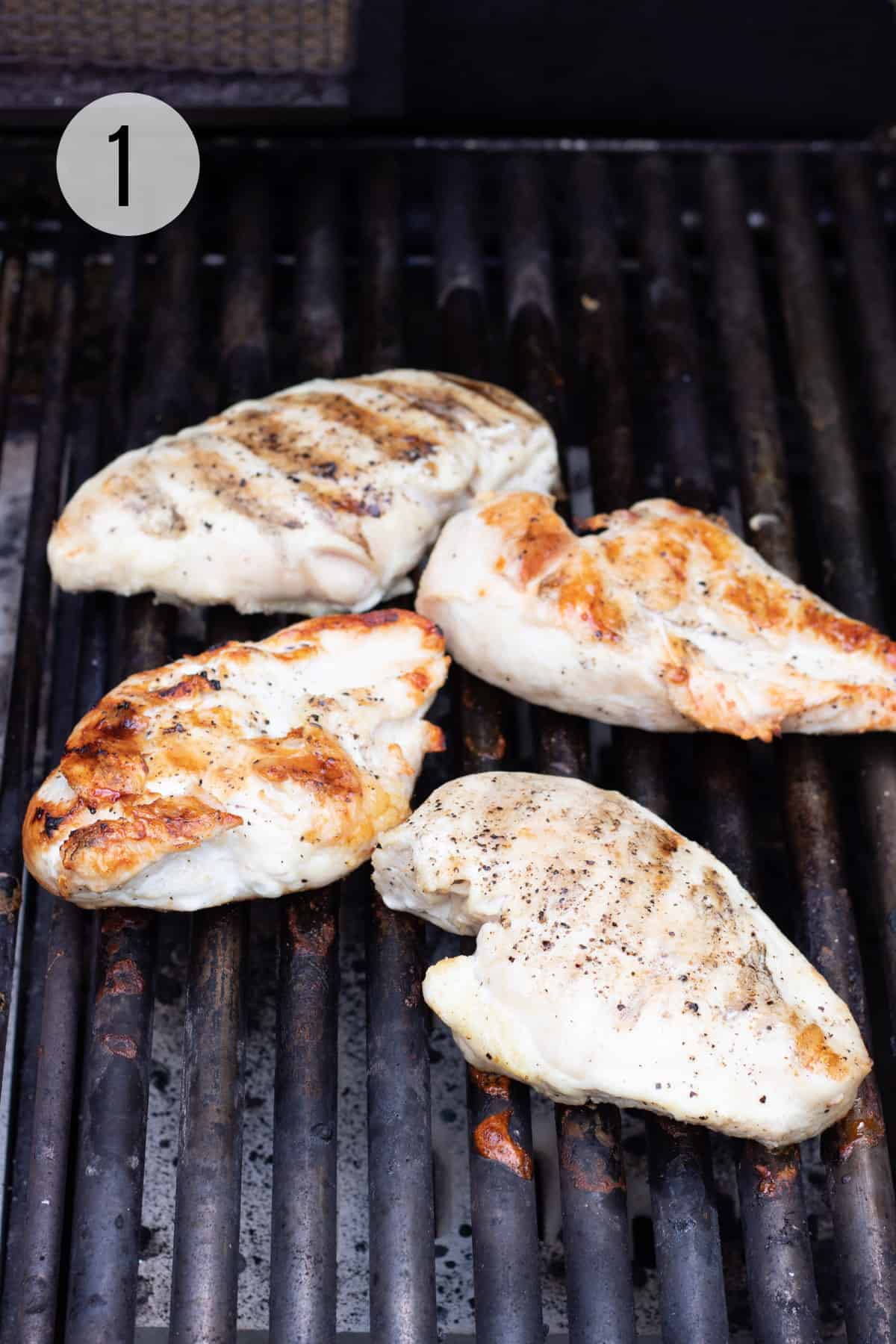 I really like this digital thermometer (affiliate link) to check the doneness of meat and other foods (2).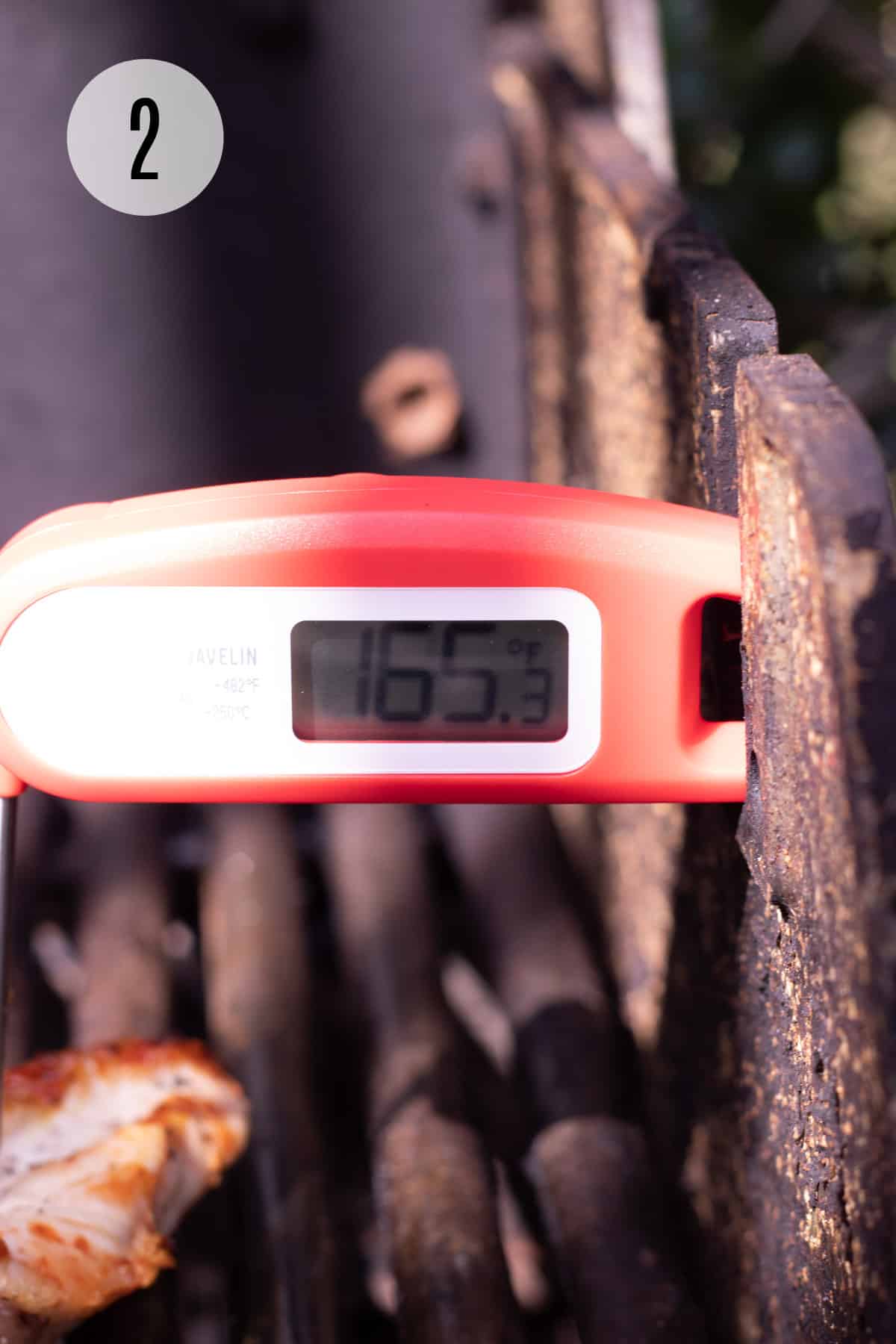 Make Ahead Preparation Tips
Here's where the meal prep part of making grilled chicken really shines! Once the chicken is cooked, let it cool slightly or until it is no longer too hot to handle. You can also let it cool slightly and keep it in the refrigerator for up to three days.
At this point, divide out the grilled chicken breasts and decide how many you want to keep whole, chopped or shredded (3). I sometimes wing it a bit and just divide it out on my large cutting board (affiliate link) until I have what I want.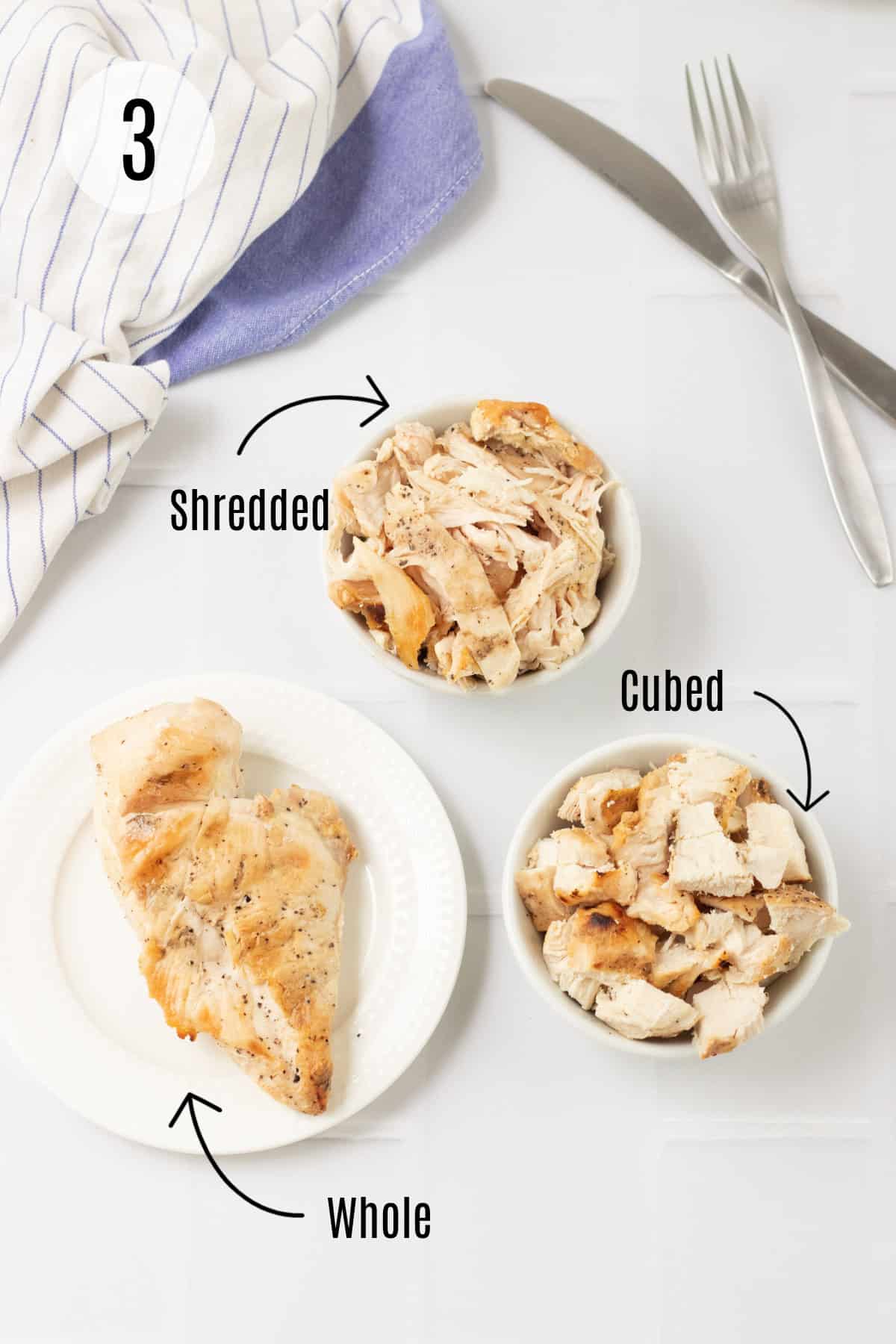 You can use the chicken right away or freeze for later.
How To Freeze Grilled Chicken
Once you've got your chicken prepped how you like it, transfer the different amounts to a freezer safe bag. You can also use reusable silicone food storage bags like these (affiliate link).
I like to store mine in Souper Cubes (4) (affiliate link) because they freeze in equal portions and stack easily helping my freezer stay organized. They come in ½-cup, 1-cup and 2-cup styles so you can mix things up to use what works best for you!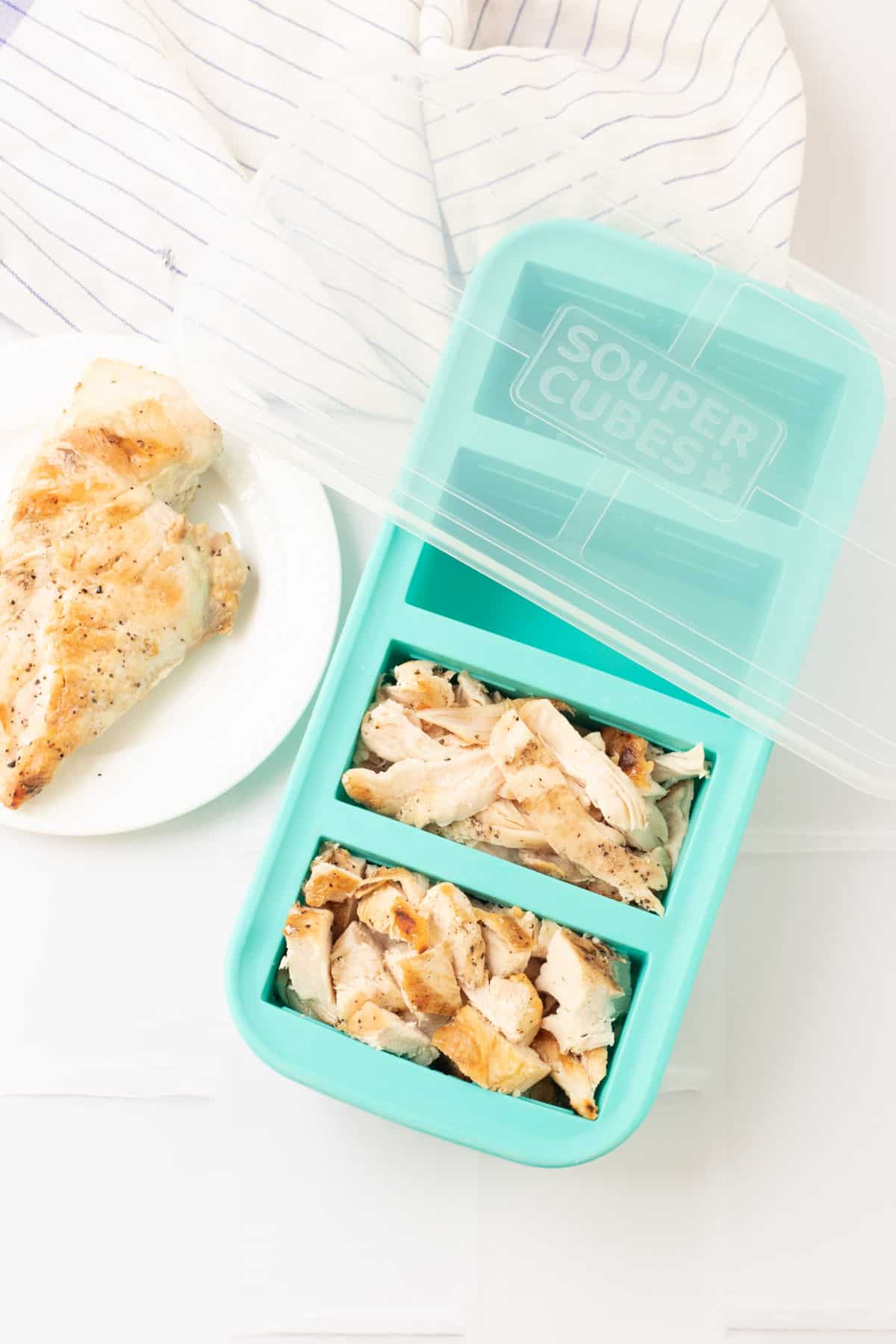 Use Grilled Chicken In These Recipes
Once you have your prepped chicken, you can use it in lots of recipes. In addition to the Chicken Rice and Black Bean Tortilla Soup , Chicken Caesar Pasta Salad , or BLT Chicken Salad Sandwich recipes I mentioned above, we also like to use it in these easy recipes:
Roasted Vegetable Chicken Noodle Soup
Simple Mediterranean Quesadilla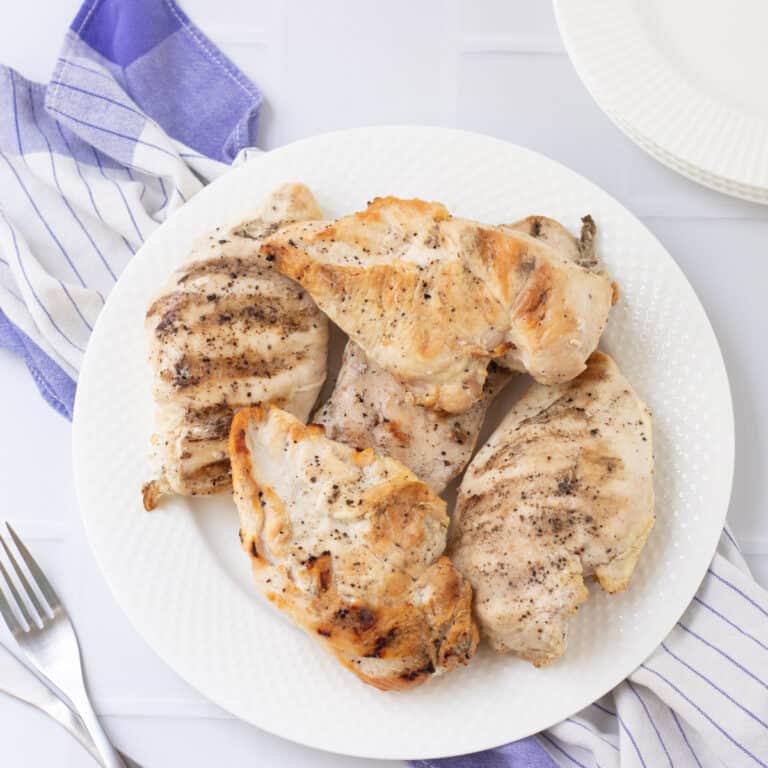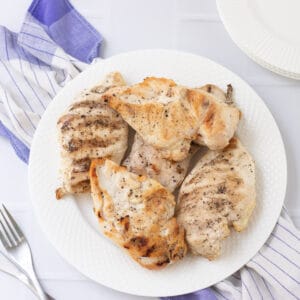 Easy Grilled Chicken Recipe
This Easy Grilled Chicken recipe is great to make up in a large batch to make ahead to use in recipes later. Freeze whole, cubed or shredded to save time and money!
Rate this Recipe
Print Recipe
Pin Recipe
Ingredients
4

boneless, skinless chicken breasts

1

teaspoon

salt

1

teaspoon

ground black pepper
Instructions
Heat gas or charcoal grill to 375°F.

Salt and pepper each chicken breast evenly and on both sides.

Place each chicken breast on hot grill using metal tongs or metal spatula.

Cook for 6-7 minutes on each side for a total of about 15-20 minutes or until internal temperature reaches 165°F for each chicken breast.

Remove from grill and allow to cool slightly.
To Prep For Freezer
On a large cutting board, cut chicken breast(s) into small cubes or using a fork or your hands, shred into small pieces.

Place each type of prepared chicken into freezer safe container or bags. Seal, label, and freeze.
Nutrition
Serving:
1
breast
|
Calories:
130
kcal
|
Carbohydrates:
1
g
|
Protein:
24
g
|
Fat:
3
g
|
Saturated Fat:
1
g
|
Cholesterol:
72
mg
|
Sodium:
713
mg
|
Potassium:
418
mg
|
Fiber:
1
g
|
Sugar:
1
g
|
Vitamin A:
34
IU
|
Vitamin C:
1
mg
|
Calcium:
6
mg
|
Iron:
1
mg
Be sure to check out my Amazon Shop to discover the many items I use in my own kitchen. Meal Planning Magic is a participant in the Amazon Services LLC Associates Program, an affiliate advertising program designed to provide a means for sites to earn advertising fees by advertising and linking to Amazon.com. Ordering products mentioned here are at no extra cost to you. Thank you for your support.