This post may contain affiliate links. Please read my disclosure policy.
This Delicious Chicken Caesar Pasta Salad is a huge hit in my house! Everything is made from scratch and I love that most of it can be made ahead too.
Be sure to sign up for my email list to get new recipes and ideas in your inbox!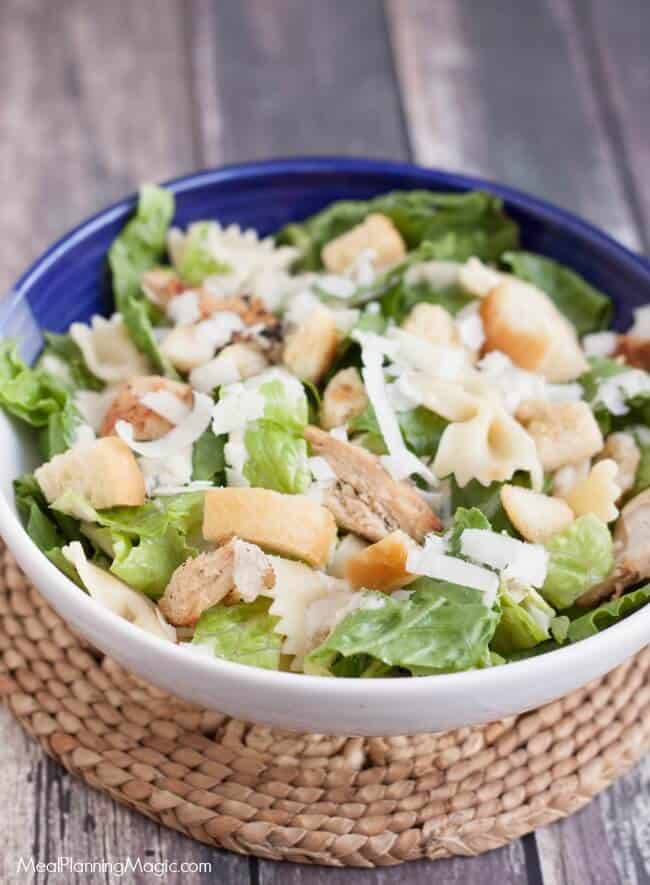 CLICK HERE to save this recipe to Pinterest to remember to make it later too!
Don't you just love a good salad? I sure do! And the classic Caesar salad is one of my favorites. Recently, we were out to eat at Cheddar's and on the menu was a Chicken Caesar Pasta Salad. I was intrigued so gave it a try. It has now become one of my favorite things to get there. I love it so much I decided to try making it at home and it was so easy. Pasta combined with the lettuce in a salad sounded strange to me at first but it really works.
My version of Chicken Caesar Pasta Salad was an immediate hit with my family the first time I made it at home. I used homemade dressing (instructions included in recipe below) and I think that makes a huge difference! I had never made my own Caesar salad dressing before now because to be honest, I was a little intimidated by the whole adding the egg part. I don't know why I waited so long because it is SOOOO easy.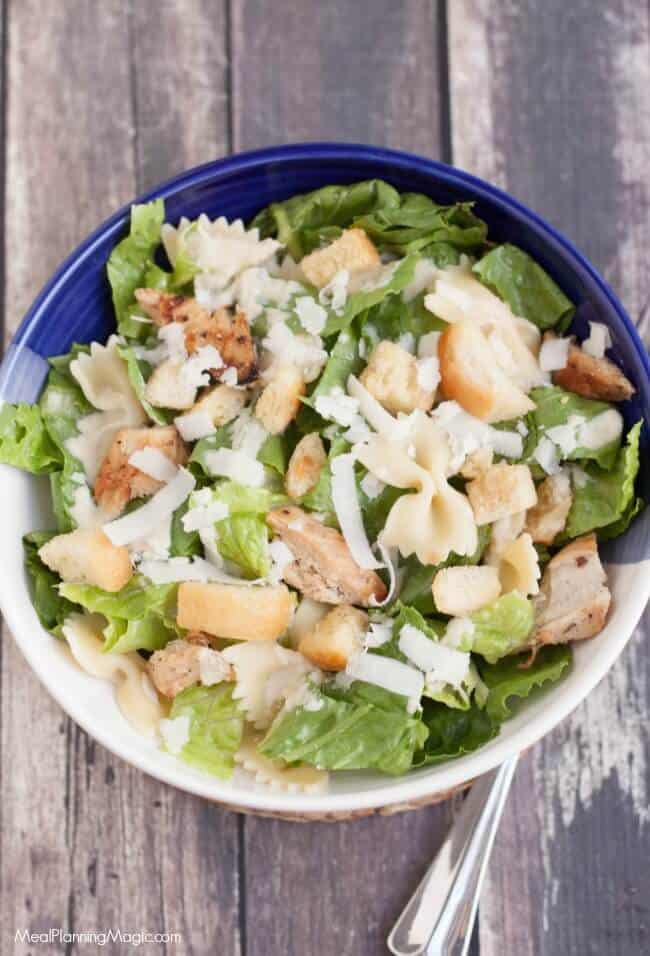 I originally found the recipe for the dressing in an old Tupperware cookbook that I've had for years (from my days of selling Tupperware decades ago—just aged myself right there!) It calls for dried anchovies but those can be hard to find or when you do find them, you have to buy a whole big bag (like in an Asian grocery store, which is where I've found them before). So instead, I used anchovy paste. Did you know such a thing existed? I never did until I made a different recipe that called for it. You can find anchovy paste in the canned meat/seafood section of the grocery store. I usually find it by the canned tuna.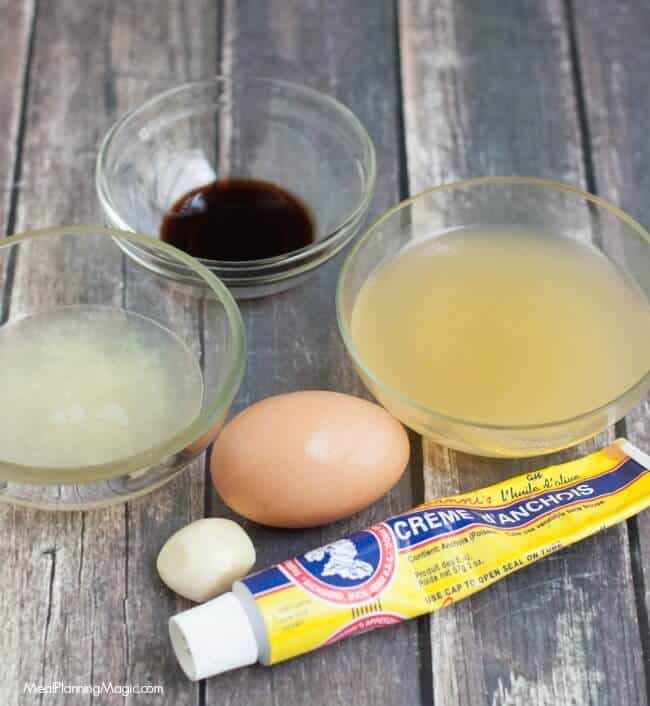 The homemade Caesar dressing needs to be made at least two hours in advance to refrigerate and let the flavors blend. Any extras (if you have any) will keep for up to a week in the refrigerator—that is if it doesn't disappear before then. My teenage daughter especially likes taking it on salads she brings to school.
Make Ahead Salad Tips
After making the dressing, the salad comes together quickly. I like to shred up a whole head of romaine lettuce and wash in my salad spinner. I keep any extras in the refrigerator in a produce storage container or bag. You can even make the pasta ahead of time and store it in the refrigerator until you're ready to assemble the salad for serving. I also like to grill up a bunch of boneless chicken breasts to have on hand in the freezer for recipes just like this (or in other recipes like my Chicken, Rice and Black Bean Tortilla Soup.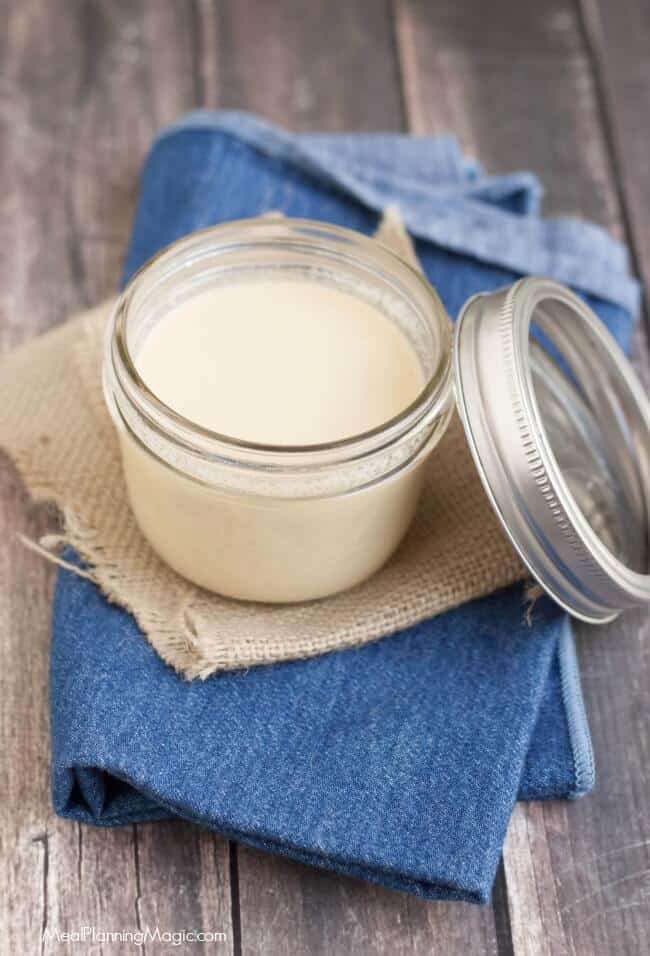 Chicken Caesar Pasta Salad is great any time of the year—it's light yet filling and perfect for lunch or dinner. If you like the flavors of Caesar salad, be sure to check out my Super Simple Chicken Caesar Salad Wrap too!
Sign up to receive an email in your inbox for each new recipe and get a FREE menu plan printable: FREE EMAIL SUBSCRIPTION

Have a question or want to share recipe ideas with others? Then join my private Facebook group, Meal Planning Magic Community Table here. If you've already joined, be sure to add your friends that may find it helpful too!
And don't forget you can always follow me on Facebook, Twitter, Pinterest , Instagram or Google+. And don't forget to sign up for my email list here so you never miss a new post! Each of these ways to connect all offer a little something different and are a great way to stay in the loop on new menu plans, recipe ideas, giveaways, organizing tips and more! Want to know what items I'm using in my own kitchen to help streamline my time there? Then check out my Amazon Shop (see disclaimer in footer below this post)
Click on the photo below to browse more of my recipes!