It's funny how we food bloggers tend to flock together. It seems like just a little while ago I came upon the Mac 'n Cheese Crazy Cooking Challenge hosted by Tina at Mom's Crazy Cooking. There were nearly 60 bloggers participating in the challenge and little did I know that it was actually the FIRST challenge ever!
http://momscrazycooking.blogspot.com/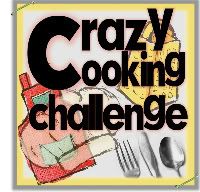 So how does this Crazy Cooking Challenge work you ask? Well, once month (on the 7th specifically), a group of food bloggers get together to feature one food item for that month. We all make that item, in our own kitchens and in our own way, but add our own special touches. I thought it sounded like fun and in my quest to find homemade recipes for many convenience items I was in on this month's challenge for Mashed Potatoes! And what perfect timing with Thanksgiving just around the corner. I love mashed potatoes with a good pot roast or flank steak too any time of the year! Ironically this is an extra challenge for me because up until a few years ago I was very potato-challenged–meaning I pretty much couldn't get it right. Baked potatoes? Undercooked. Mashed potatoes? Too lumpy. You name it, I pretty much messed it up. But with practice I have gotten much better. And thanks to the notion of "smashed" potatoes on menus these days, I figure it's ok if I have a few lumps.
The other unique twist on the Challenge is that we don't just make a recipe from our personal files. We are to choose an all-new recipe found on another blogger's blog! Surprisingly I found this to be a bit more of a challenge (no pun intended) than I realized. But thanks to Pinterest and some good Googling, I came up with the recipe that looked good to me.
I chose this recipe because:
–I wanted one that included garlic and creaminess since my family likes that
–I wanted one that was simple to prepare
–I wanted a recipe that would be good to freeze the leftovers (yes, you can freeze mashed potatoes!)
And the added bonus? I found two blogs that were new to me and that I'll definitely be checking out more regularly!
CREAMY GARLIC MASHED POTATOES
found on Real Mom Kitchen which she adapted from a recipe from Picky-Palate

1 bulb garlic (about 12 cloves) *see my note below–I used jarred garlic instead
2 ½ lbs russet potatoes *I used Yukon Gold potatoes–we like their creaminess
½ Cup whole milk *I used skim instead
4 oz softened cream cheese
1 Cup sour cream *I used fat free
½ stick butter
2 teaspoons salt
1 teaspoon fresh ground black pepper

1. Preheat oven to 350 degrees F. Place bulb of garlic with skins on, wrap lightly in tin foil and bake for 1 hour. Remove from foil and let cool for 15 minutes. Remove garlic from skins, place in a bowl and mash with a fork until completely mashed. Set aside.

2. Peel and cube potatoes and boil for 15-18 minutes or until fork tender. Drain and transfer to a stand or electric mixer. Mix potatoes on low until combined. Add cream cheese, sour cream, butter, salt, pepper and mashed roasted garlic. If necessary add milk to make desired consistency. Top with a pad of butter or your favorite gravy. Enjoy!

Makes about 8 servings
This recipe did not disappoint. My whole family loved the flavor and my husband especially liked the extra garlicky flavor! I chose not to peel the potatoes since the Yukon Golds have a soft skin and can easily become 'smashed' potatoes saving me time in the kitchen. Plus, when you leave the skins on the extra vitamins and minerals stay in boosting their nutritional value too–bonus!
A Couple of Notes: it did seem a little on the salty side to me so I will cut back on that next time. Generally, I don't use a lot of salt in our cooking so perhaps our palates are just not too used to the salt. Also, I used jarred garlic instead of roasting my own. I had some on hand that needed to be used up and it was obviously way easier!
I actually doubled this recipe because I had a 5 lb. bag of potatoes (since I can rarely buy potatoes by the pound any more unless they are a baking potato or small red potato). I put the extra serving in a foil tin and covered in foil, labeled and put in the freezer. Then all I need to do is thaw it and bake it for about 30 minutes on 350º until heated through. Sometimes the potatoes will seem watery. All you need to do is stir them up a bit and maybe add a little milk to create that creaminess again. Simple and a great timesaver on busy weeknights!
You can visit all the other Crazy Cooking Challenge participants through the links below. And the extra twist? If you like my recipe, please click the 'like' by my entry to vote for me. Enjoy!