This post may contain affiliate links. Please read my disclosure policy.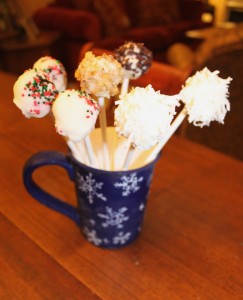 Here we are at the 7th week in the 12 Weeks of Christmas Cookies Blog Hop! I have to admit that although I had planned to keep my baked stash of cookies primarily for the Christmas holidays, I found them to come quite in handy recently! Last night I hosted a committee celebration/get together last night and pulled out some of my Cherry Chocolate Kiss Cookies from the freezer and to add to a plate of goodies for everyone to munch on. Love it!
This week I made Cheesecake Pops, a recipe I found in Taste of Home's Fall Baking book.
http://www.amazon.com/gp/product/B006584RGY?ie=UTF8&tag=meaplamag-20&linkCode=xm2&camp=1789&creativeASIN=B006584RGY
I saw these and knew I had to try them! I LOVE cheesecake and since my cake pop efforts had been pretty sad, I thought these would be easier. And other than the extra time involved, I'd say they were much easier and totally worth it for the yummy little bites.
I did learn a few things along the way though….here are my lessons learned from this week's adventure:
1) Always read the whole recipe through and pay attention to how long things will take. Ok, unlike last week I DID know that I needed to give myself some extra time to get these made. But what I didn't realize was the amount of in and out of the freezer time.
2) Do not try to make these when you have a lot of distractions. Or during busy after school/homework/dinner time. I thought I could do that a little bit. It didn't work so great.
3) Try to make these when your hand are cool. Run them under cool water if you need to. My hands were warm and they got a little gooey when rolling the balls. Still ok, just a little messier than I thought.
4) Even if something doesn't turn out exactly like you think they should (i.e. mine were not perfectly round), they can still taste delicious—which these did!
All in all, although these take some time to make, if you like cheesecake you'll love these sweet and festive little bites!
CHEESECAKE POPS
recipe from Taste of HomeS

Ingredients
3 packages (8 ounces each) cream cheese, softened
1 cup sugar
1 cup (8 ounces) sour cream
1 teaspoon Spice Islands® pure vanilla extract
3 eggs, beaten
1 cup graham cracker crumbs
45 lollipop sticks (4 inches long)
3 packages (10 to 12 ounces each) vanilla or white chips
3 tablespoons shortening
Toppings: grated coconut, grated chocolate, assorted sprinkles and chopped nuts

Directions
Line the bottom of a 9-in. springform pan with parchment paper; coat paper and sides of pan with cooking spray. In a large bowl, beat cream cheese and sugar until smooth. Beat in sour cream and vanilla until blended. Add eggs; beat on low speed just until combined. Pour into prepared pan.

Place pan on a baking sheet. Bake at 350° for 45-50 minutes or until center is almost set. Cool on a wire rack for 10 minutes. Carefully run a knife around edge of pan to loosen; cool 1 hour longer. Cover and freeze overnight.

Remove from the freezer and let stand for 30 minutes. Place cracker crumbs in a shallow bowl. Working quickly, scoop out 1-in. balls of cheesecake; roll each in cracker crumbs and insert a lollipop stick. Place on waxed paper-lined baking sheets. Freeze for 1 hour or until firm.

In a microwave, melt vanilla chips and shortening at 70% power; stir until smooth. Place toppings in shallow bowls. Dip cheesecake pops in vanilla chip mixture; allow excess to drip off. Roll in toppings. Place on waxed paper; let stand until set. Store in the refrigerator.

Yield: 45 cheesecake pops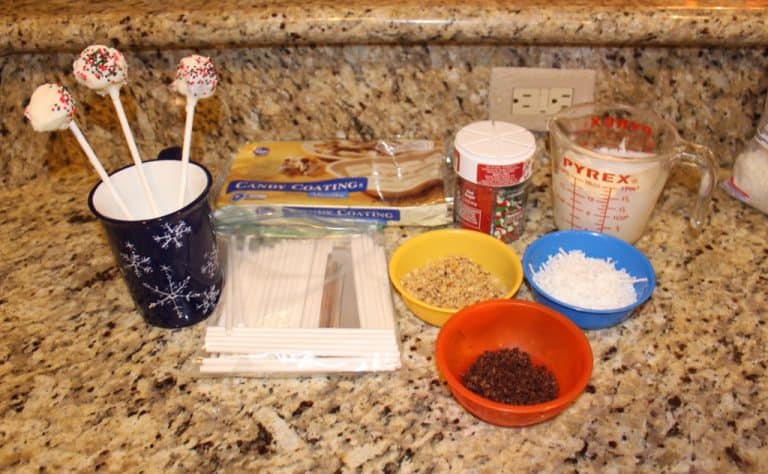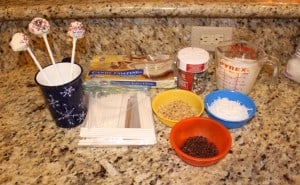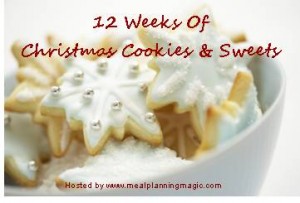 Are you a blogger that would like to join our blog hop? Then join us every Thursday (or any Thursday you can make it!) from now until December 15th. And if you're not a blogger or just not up for blogging about it, then join us anyway and fill your freezer.
Each week we'll be bringing you lots of new inspiring recipes. Put on your baking cap and collect all those recipes from your recipe box, magazine cuttings, cookbooks or online. Now is the time to make those cookies you've always wanted to. And feel free to make a bar or even a candy—any sort of sweet treat will do!
TO JOIN/LINK UP: Add your link using the linky tool below. Link-ups require approval so if you don't see your link appear right away, that is why. When adding a link it MUST be a post dated 2011 and your post must mention the 12 Weeks of Christmas Cookies blog hop. No links from previous years to any old random Christmas cookie recipe just to get extra traffic to your blog, sorry! If you want to join the blog hop for future weeks and add the thumbnails to your blog for future weeks, please email me and I will send you the code and .jpg image to use. Thanks so much!
Be sure to visit all the other bloggers shown below to see what they've baked up today!