This post may contain affiliate links. Please read my disclosure policy.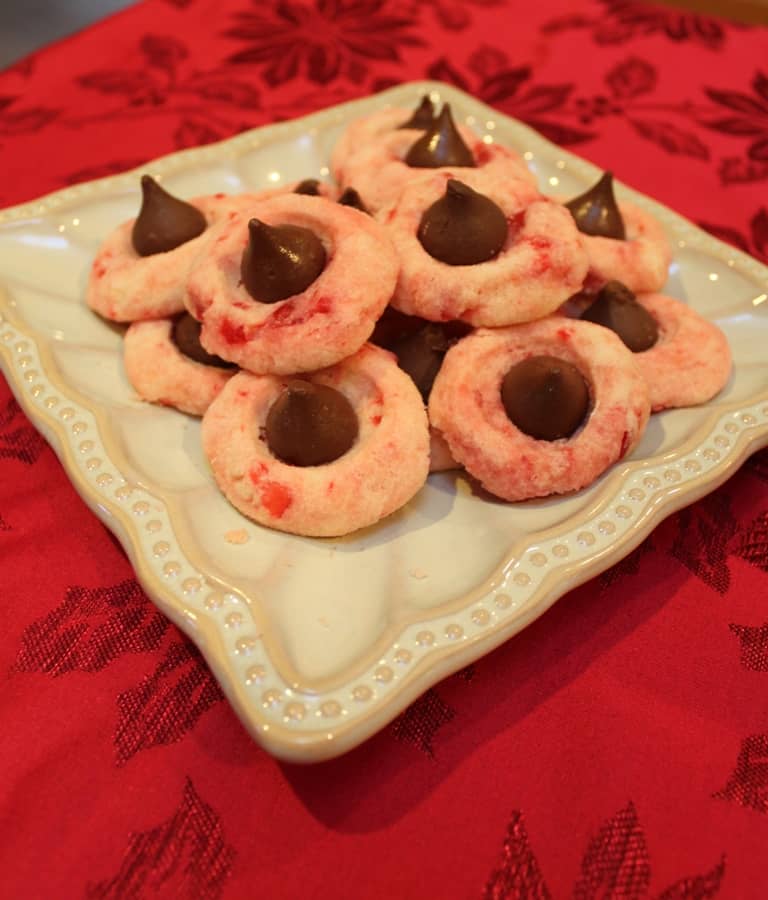 Seriously, I cannot believe we're halfway into the 12 Weeks of Christmas Cookies Blog hop! What I am especially loving is the fact that I'm filling my freezer with these yummy treats. A friend today just asked me if I was hosting my annual cookie exchange again. You bet. And I thought to myself I might actually be able to attend one of the other ones I'm usually invited to but stress out about making cookies the night before!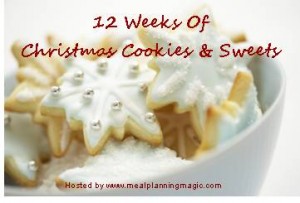 This week's cookie is Cherry Chocolate Kiss Cookies. It's another recipe from one of those seasonal grocery store cookbooks. I'm noticing a cherry trend considering the last three things I made had cherries in them! I think it must be a subliminal craving since I didn't really plan it. Although I was glad to be able to use up that leftover half jar of cherries from the Merry Cherry Swirl Brownies I made a couple of weeks ago. Yay for me for meal planning without really planning! Although I did learn a couple of things this week:
1) always read the recipe the WHOLE way through (because these required 30 minutes of chilling which I did not plan on)
2) because of not doing #1, I had to push back dinner which was supposed to also bake in the oven for about 30 minutes—ooops!
3) And another because of not doing #1, do not put the kisses on BEFORE you bake…do it after like it says to do. Although they still turned out ok.
Just like the Chocolate Cat Face Cookies I told you about last week, this week my daughter pretty much took over and made these cookies herself. I was right there but she wanted to do most if it alone. I could get used to this baking-for-me trend. Although there are cherries in the dough, the flavor is subtle and I'd say these are more like a shortbread cookie. The chocolate kiss on top is just the right touch. A few years ago, Hershey's would sell unwrapped kisses during the holidays. I've not been able to find them in about four years so I think they stopped making them. Boy, were they handy for cookies like these! With their festive color and the kiss, I sometimes make these cookies for Valentine's Day too. I hope you like them!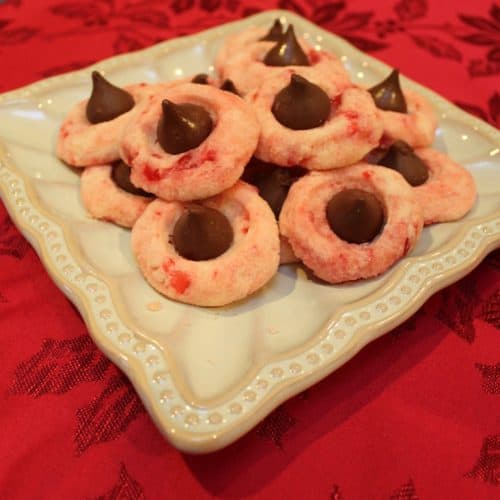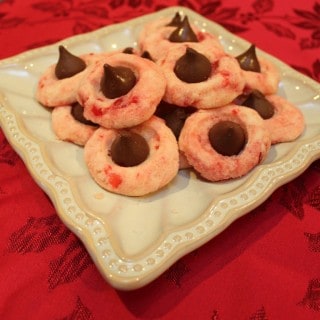 Ingredients
1

cup

unsalted butter

softened

1

cup

powdered sugar

sifted

⅛

teaspoon

salt

2

teaspoons

cherry juice

¼

teaspoon

almond extract

2 ¼

cups

flour

¾

cup

maraschino cherries

chopped

1

cup

granulated sugar

12

ounces

Hershey's chocolate kisses
Instructions
In large bowl, beat butter, add sugar and salt. Beat in cherry liquid and almond extract. Beat in flour. Fold in cherries.

Refrigerate dough for at least 30 minutes (you don't have to, but dough is easier to work with when cold).

Roll dough into balls, coat in sugar and place on cookie sheet. These cookies will flatten on their own, but I typically put a thumb print in the center to flatten some.

Bake at 325 degrees for 14 minutes. Let cool on pan for 1-2 minutes.

Add Hershey Kiss/Hug to center of the cookies. (Hugs melt especially fast, you may want to let the cookies cool a little longer before adding Hugs, but cookies should still be warm so chocolate can melt into the cookie).
Nutrition