This post may contain affiliate links. Please read my disclosure policy.
These chocolate fruit pizza cookies have taken a classic favorite and made them mini! With an added twist using a no-chill chocolate sugar cookie dough, cream cheese marshmallow frosting and fresh, seasonal fruit, they're sure to become a new favorite!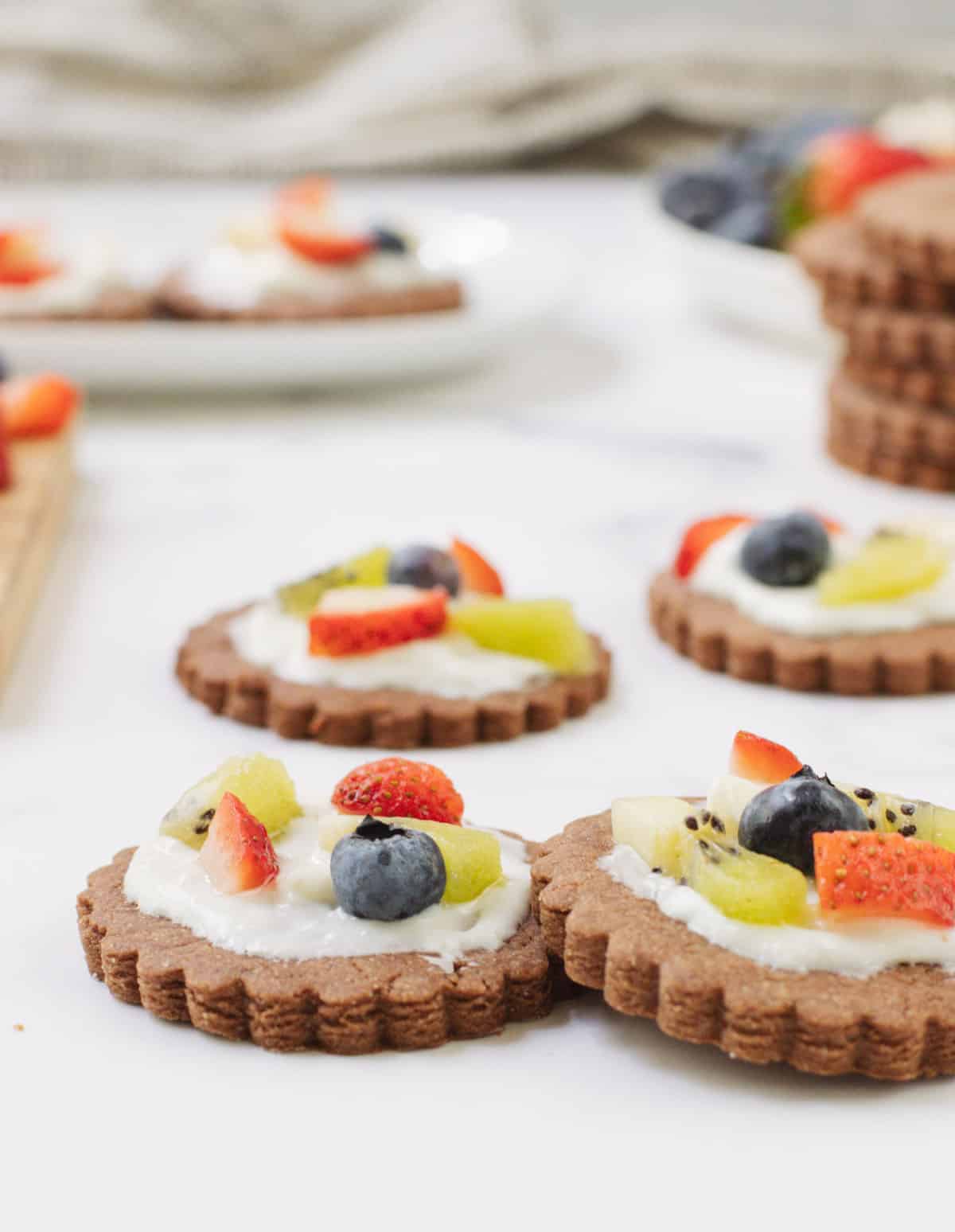 Why We Love This Recipe
I remember having sugar cookie fruit pizza for the first time years ago and at the time thought it was such a delicious and fun idea! These Fruit Pizza Cookies using a chocolate sugar cookie are my twist on that recipe from long ago.

Most often, the cookie pizzas are sliced into wedges like a traditional pizza. What I wanted when I came up with this variation was a miniature version that was easier to eat, make and store. And chocolate sugar cookies are a favorite of ours so I thought I'd give it a try. It was a great combination.
What's great about these mini fruit pizzas is that you can control the sweetness and the cookies themselves are not overly sweet. Using fresh, seasonal fruit allows for customization throughout the year.
These are also a fun cookie recipe to make with kids. Make the cookies and prep the marshmallow cream ahead of time to help things go together more easily. Chop up the fruit just a few hours before your get together and store in the refrigerator until it's time to assemble to cookies. Having the cookies, cream cheese mixture and fruit divided out into individual bowls and trays makes things easier. Or have guests use spoons to put the fruit on the cookies.
Another thing I love about these cookies is that the cookie dough is NO-CHILL making them even easier to make. They are a variation on my delicious Cherry Chocolate Chip Sugar Cookies.
Ingredient Tips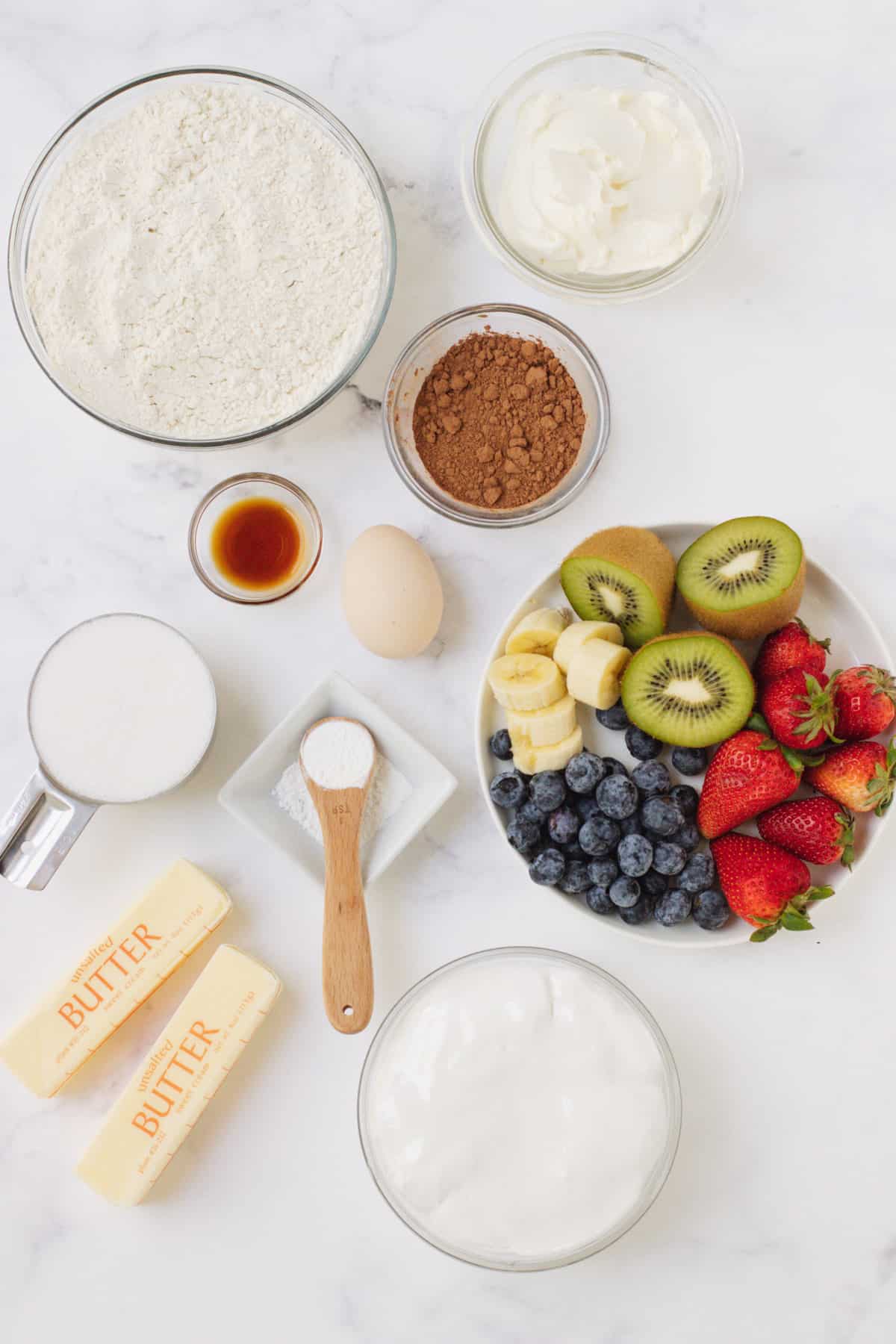 Most of the ingredients for these fruit pizza cookies can be found at your local grocery store but I've added some tips here for a few of them.
Unsweetened Cocoa Powder – You will find this on the baking aisle of the store near the flour and sugar. Make sure you're not using the cocoa powder that is used to make the hot chocolate drink. (I've had this question before so I try to add this tip now).
Marshmallow Cream – Sometimes called marshmallow fluff, you can find this near the marshmallows. At my local store, they are found in the baking aisle and I often find the marshmallow cream either on the lowest or highest shelf. The is usually only one name brand version and a store brand so they're pretty much all the same.
Fresh Fruit – Choose seasonal fresh fruit for your cookies. I've listed some that works well but you can also branch out and use other fruit like pineapple, mango or other berries. Avoid "wet" fruits like watermelon though.
How to Make These Mini Fruit Pizzas
These cookies are so simple! As I mentioned, the dough is no chill and you can also make them ahead! Start by creaming together the butter and sugar (1) in a large bowl (affiliate link). I use a handheld electric mixer (affiliate link) or my stand mixer (affiliate link) to make it easier.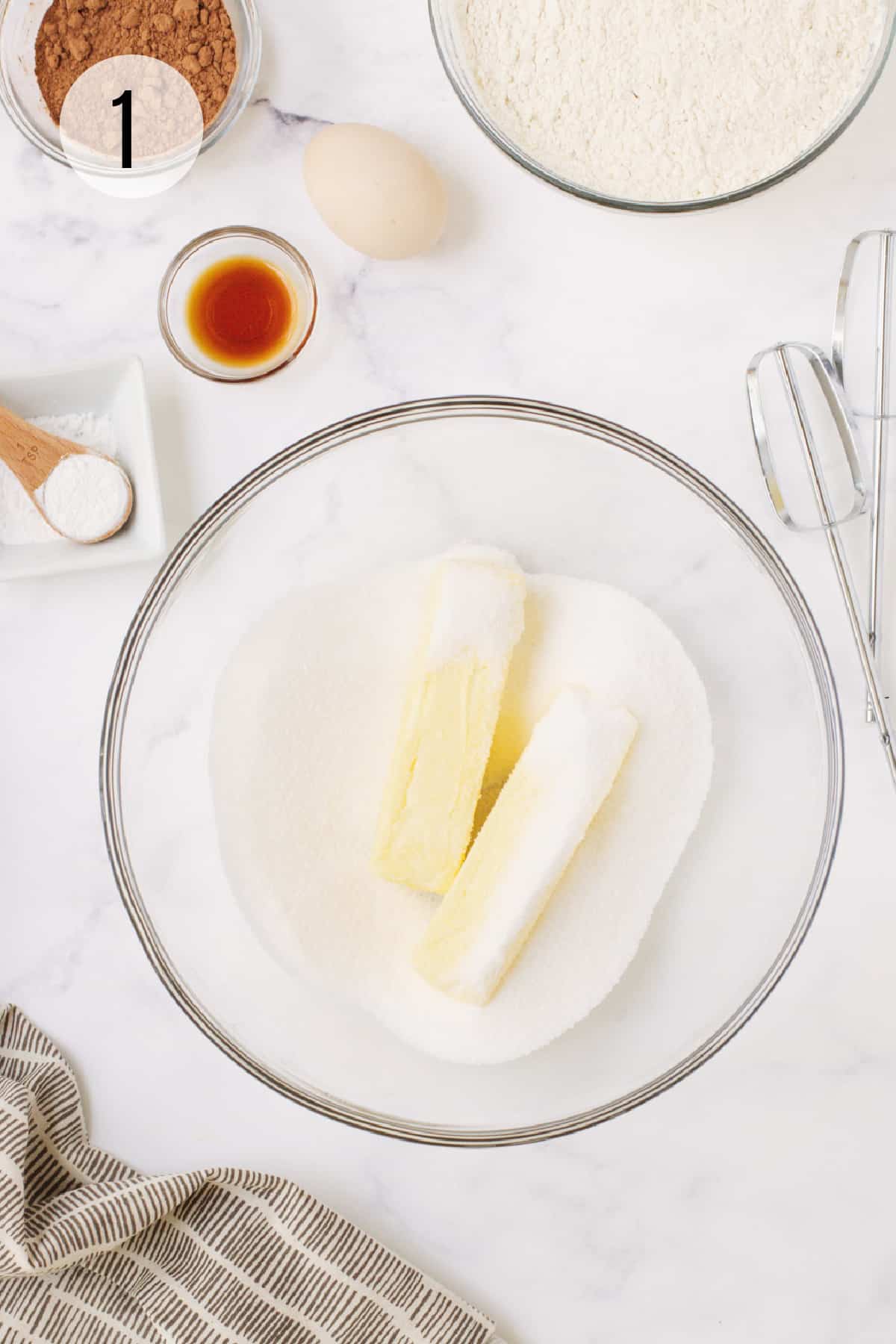 Add the vanilla and eggs (2) and mix until just blended.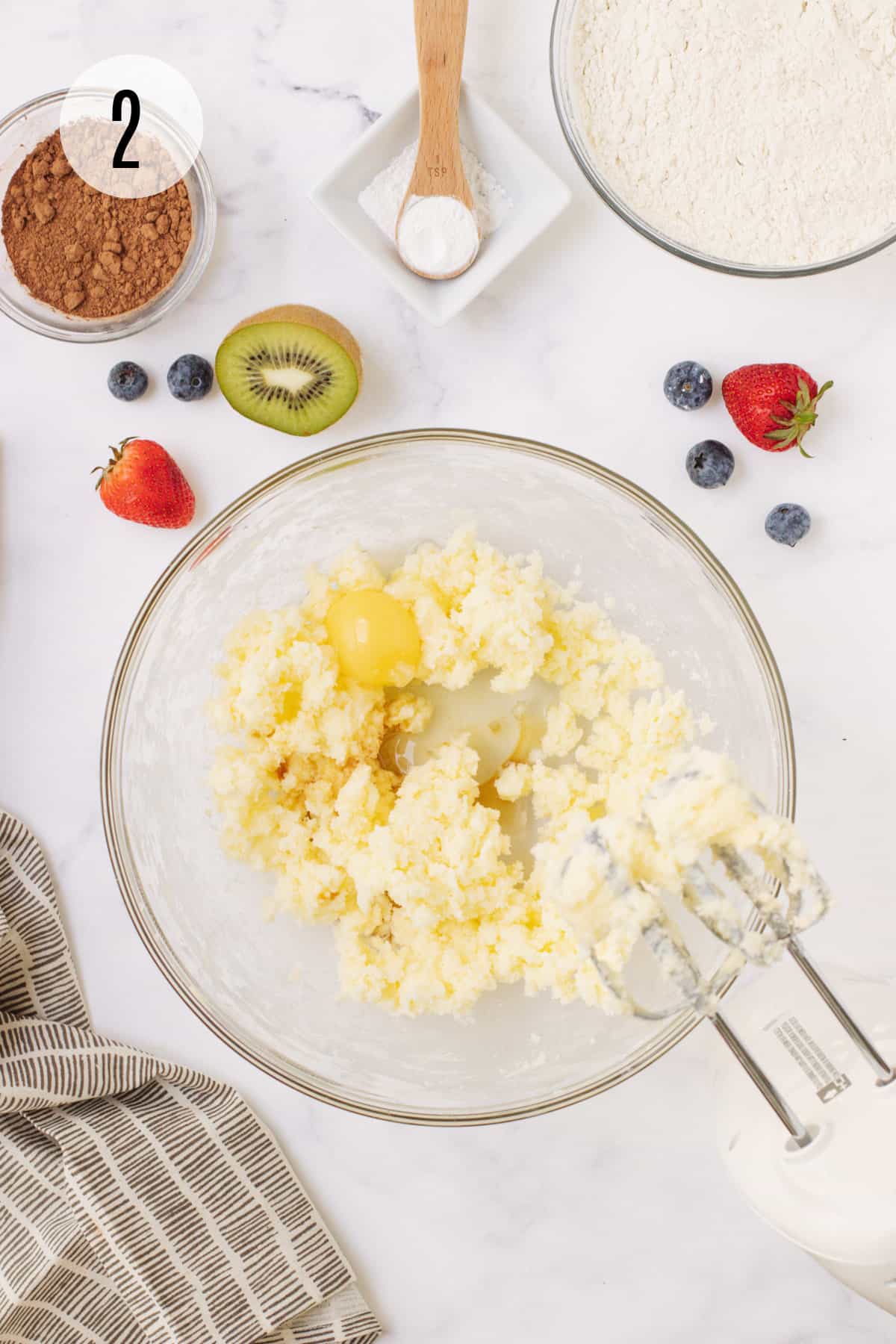 The recipe calls for combining the dry ingredients in a bowl but that is up to you. Sometimes I'll add the flour, baking soda, salt and cocoa powder just in bits to work it in (3). The dough will be crumbly, and you may need to form it into a ball using your hands.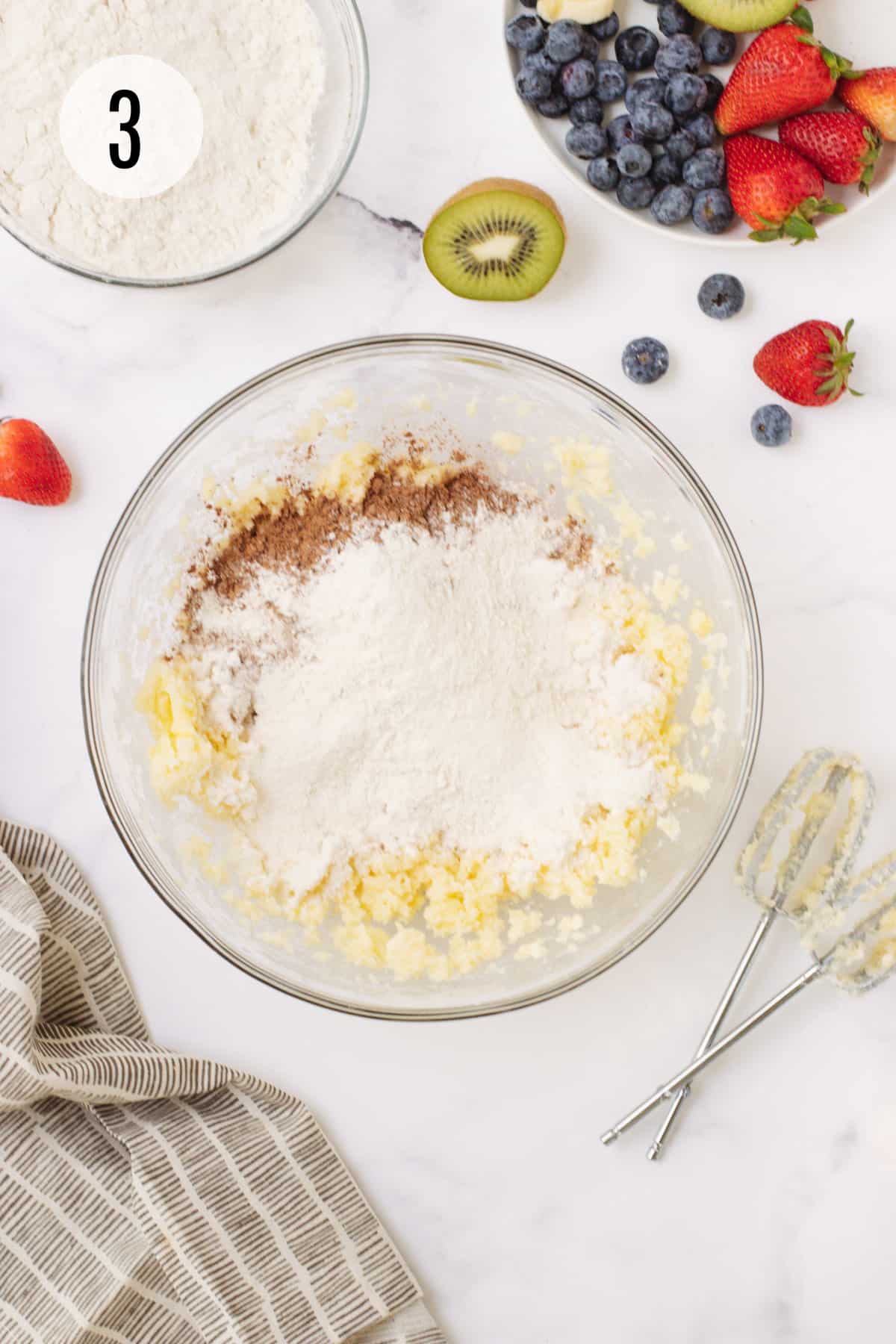 I love my non-slip silicone mat (affiliate link) to roll out the dough (4) because it stays in place on my kitchen counter. But I've also used a large cutting board (affiliate link) to roll it out before I had my mat.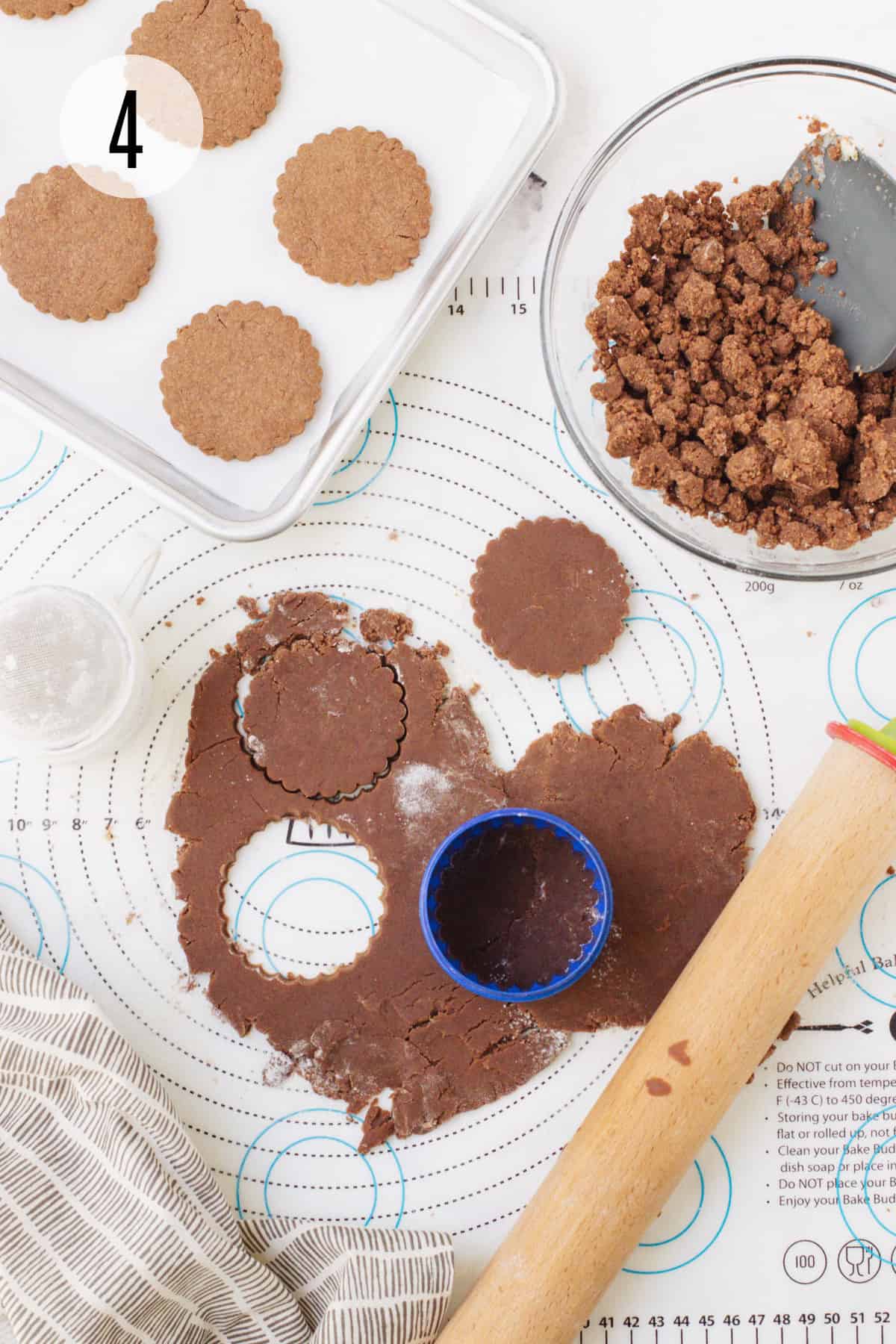 In a sugar cookie decorating class, I learned a trick to flour the surface before rolling out my dough and that is to use a small shaker (affiliate link). It lightly flours to surface so that it will still blend in well before baking. I have found that rolling out the cookies to about ¼-inch is just the right thickness.
A few years ago, I got a new rolling pin (affiliate link) that has different discs on the end that you can change out for different thicknesses. I also learned in the cookie class to use wooden dowels on either side of the dough to help roll it out more evenly. Of course, you can always eyeball it too!
To finish up the cookies, spread the marshmallow cream cheese mixture on a cookie then top with your favorite fruit cut into bite sized pieces (5).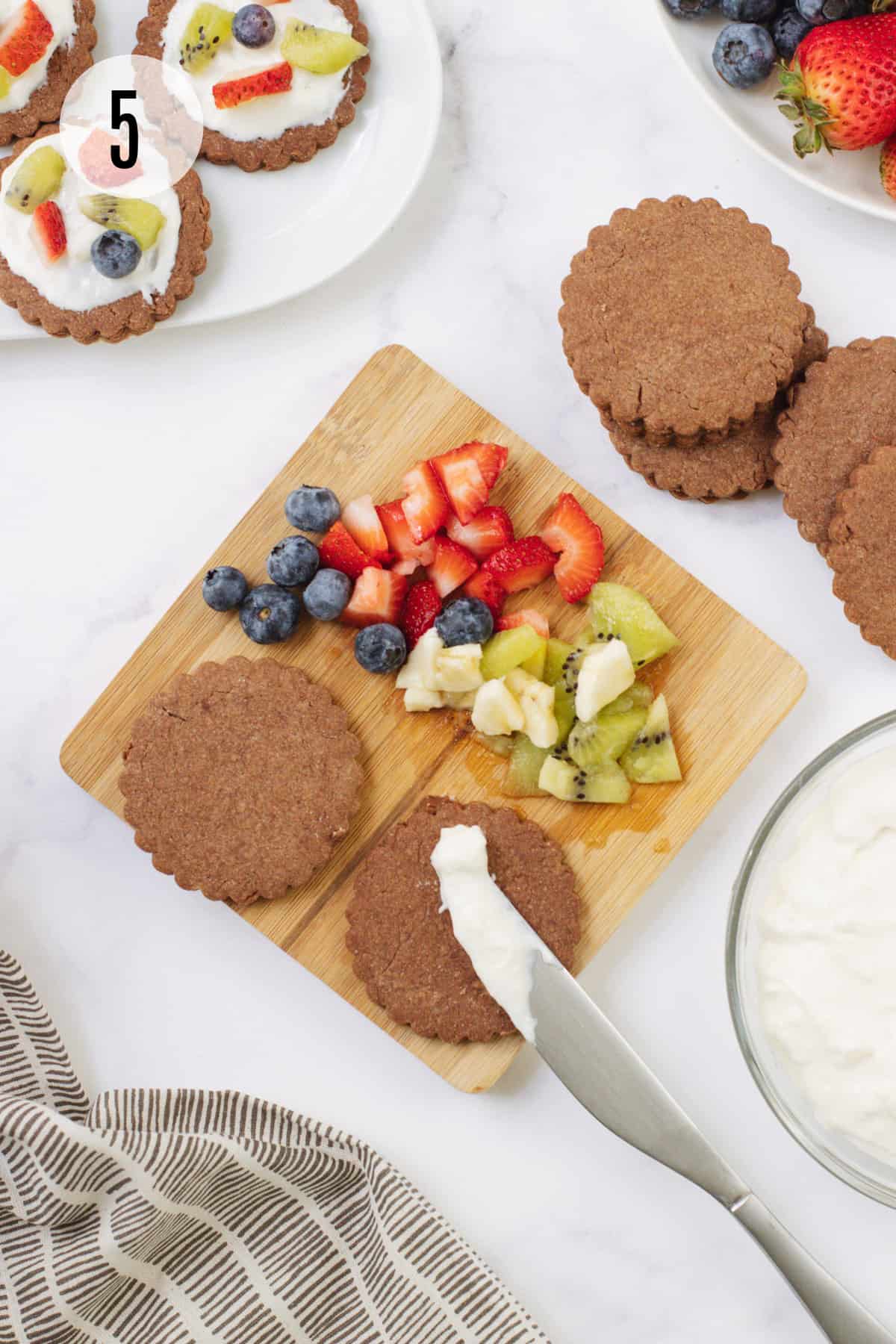 Make Ahead Tips
The cookies for this recipe can be made ahead! They can be stored at room temperature up to three days in an airtight container (affiliate link) or in the freezer for up to three months. Don't forget to date and label (affiliate link) the container.
You can also make up the marshmallow cream cheese mixture and store in the refrigerator for up to a day. Just let it come to room temperature before you plan to assemble the cookies.
For the fruit, you can chop it a few hours ahead of time and store in the refrigerator. Some fruit does better when cut up ahead than other types (like berries are better than bananas) so use your discretion on deciding what to prep ahead.
Are These Cookies Freezer Friendly?
While the assembled cookies cannot be made ahead of time, as mentioned, the base cookies can be made and frozen up to three months in advance.
More Easy Cookie Recipes
Need an easy, flavorful cookie recipe? Be sure to check out a few of these favorites including some other variations on sugar cookies!