This post may contain affiliate links. Please read my disclosure policy.
Ready in just 30 minutes, this Ground Beef and Taco Quinoa Skillet is a nutritious and delicious meal idea! Filled with healthy quinoa, kidney beans, spices and more, it's a family favorite!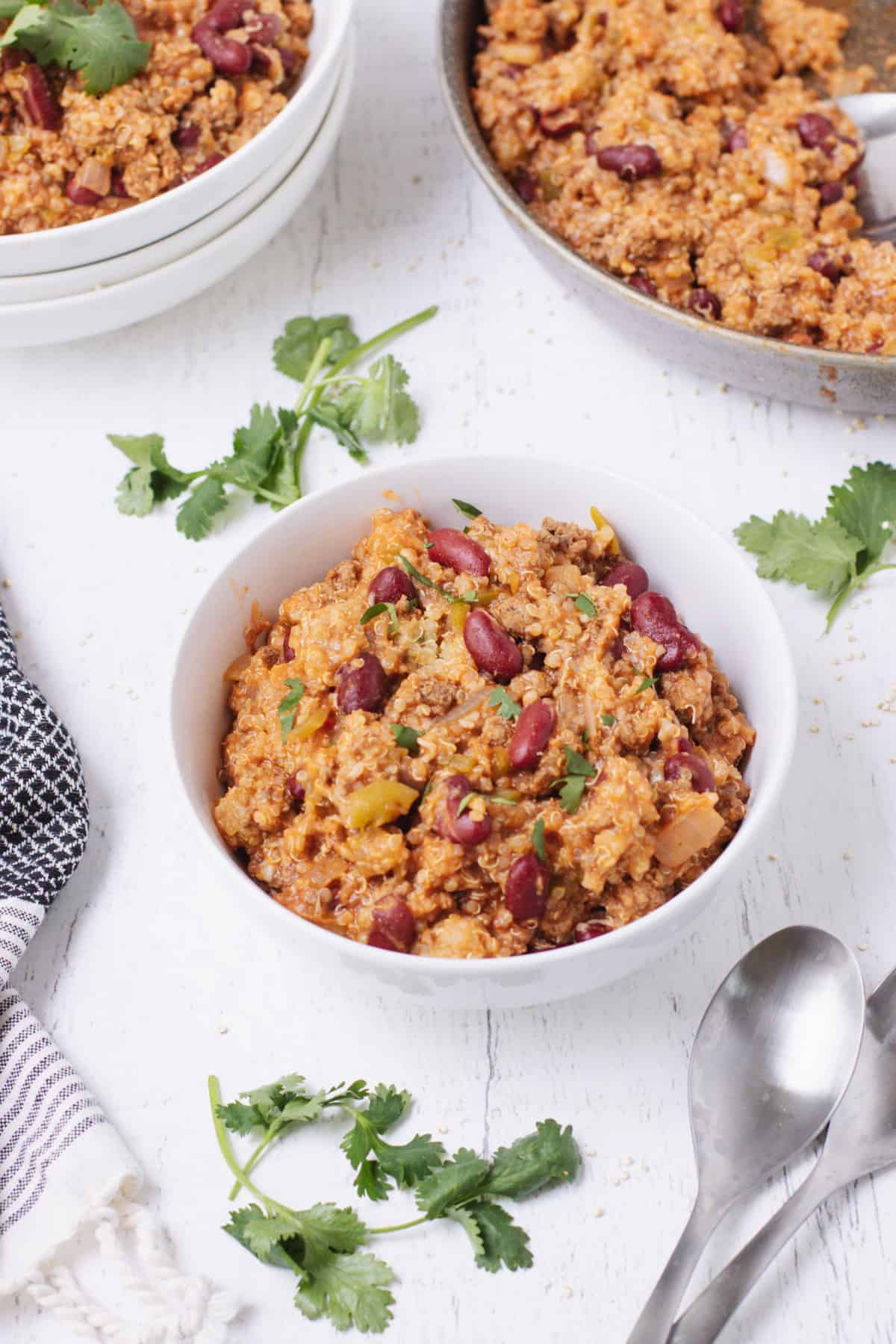 Jump to:
Why We Love This Easy Recipe
I came across a version of this Ground Beef and Taco Quinoa recipe when I was going through some old cookbooks. It was in one of those charity type cookbooks. You know the kind? The kind where members of a group share their favorite recipes to make up the cookbook. You know they're good because people usually send in their family favorites and this one did not disappoint! I made a few modifications and that is the recipe I'm sharing with you here.
One appeal of this recipe is that it's ALMOST a one pan meal and it's so super easy to put together. It has just the right amount of spice, plus I liked the addition of the kidney beans to add some additional healthy protein. You could even double up on the beans and leave out the ground beef to make it a vegetarian meal!

It was an instant hit with my family! But after the first time serving it we thought it needed a little something extra. The next time I made it, the addition of quinoa was just what it needed. The original recipe includes nacho chips but I swapped that for the healthier quinoa. Quinoa is a nutritious, healthy whole grain.
Did I mention how easy this recipe is? It literally takes 30 minutes (or less) from start to finish and also makes great leftovers. Ground Beef and Taco Quinoa is also good served in a tortilla also for a one-and-done soft taco option.
Ingredient Tips & Tricks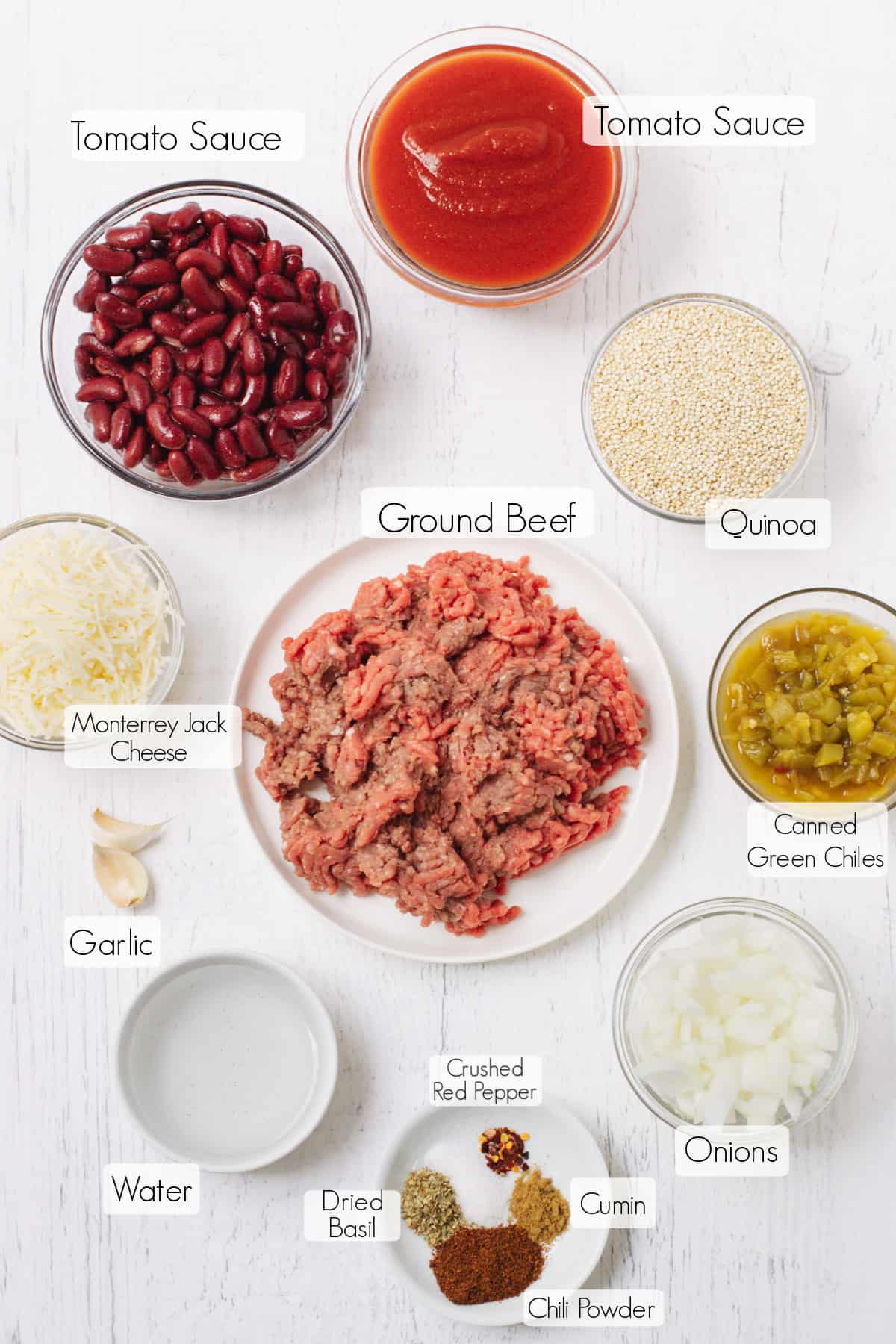 You can find all of the ingredients called for in this Ground Beef and Taco Quinoa easily at the grocery store. I do generally buy store-brand ingredients often to help save some money on our grocery bill.
Here are a few other ingredient tips:
Onion – With fresh onions, I like to use my handheld food chopper (affiliate link) because it makes chopping onions so much easier and with fewer tears! A hack though is that I keep keep at least one bag of frozen onions on hand, too. They're perfect for adding into dishes like this or soups and sauces like Homemade Crockpot Spaghetti Sauce or Simple Rustic Italian Tortellini Soup.
Garlic – When I have fresh garlic on hand, it's easy to mince it using a garlic press (affiliate link) for my favorite that I use in my own kitchen!) But another hack of mine is that I keep a jar of minced jarred garlic on hand in the refrigerator. You can find it in the produce section of the grocery store. Sometimes I just want it to be super quick and easy and this works great!
Chopped Green Chiles – These are sometimes tricky to find depending on the store. At one of the grocery stores I shop at they are found in the canned vegetable aisle. In another store though, there is a whole Mexican foods section of one aisle (remember, I'm in Texas where Tex-Mex food is popular!) and that's where I find the canned green chiles.
Quinoa – The quinoa is usually in the same section as rice and dried beans. I sometimes find it on an upper shelf. Look for it to come in a bag or a box and and white or ivory in color.
The other ingredients are pretty self-explanatory and are easily found at the grocery store.
What Is Qunioa?
Despite it's funny name (it's pronounced KEEN-wah), quinoa has become quite has become quite popular in recent years. However, quinoa has actually been around for thousands of years! Originating from the Andes Mountains in South America, many assume that quinoa is a grain (I did at first!) but it is actually a seed. But because of the way it is normally prepared and served, the nutrition world considers it a whole grain.
Compared to other grains or seeds, quinoa is packed with nutrition as it contains a ton of protein and fiber per serving. It also includes all nine essential amino acids making it an even healthier option than rice. It is also naturally gluten free!
Quinoa is also super easy to make and I like to include it in salads or as a side. Quinoa is ready in less than 15 minutes so it's an easy addition to many menus, too.
There are over 120 different varieties of quinoa but the most common type in American grocery stores is white (or like a light tan/ivory).
How to Make This Taco Skillet
Before I brown the ground beef, I chop the onion (1). I LOVE my handheld food chopper (affiliate link)! With a few pulls of the handle that's all I need to have chopped fresh onions for my recipes.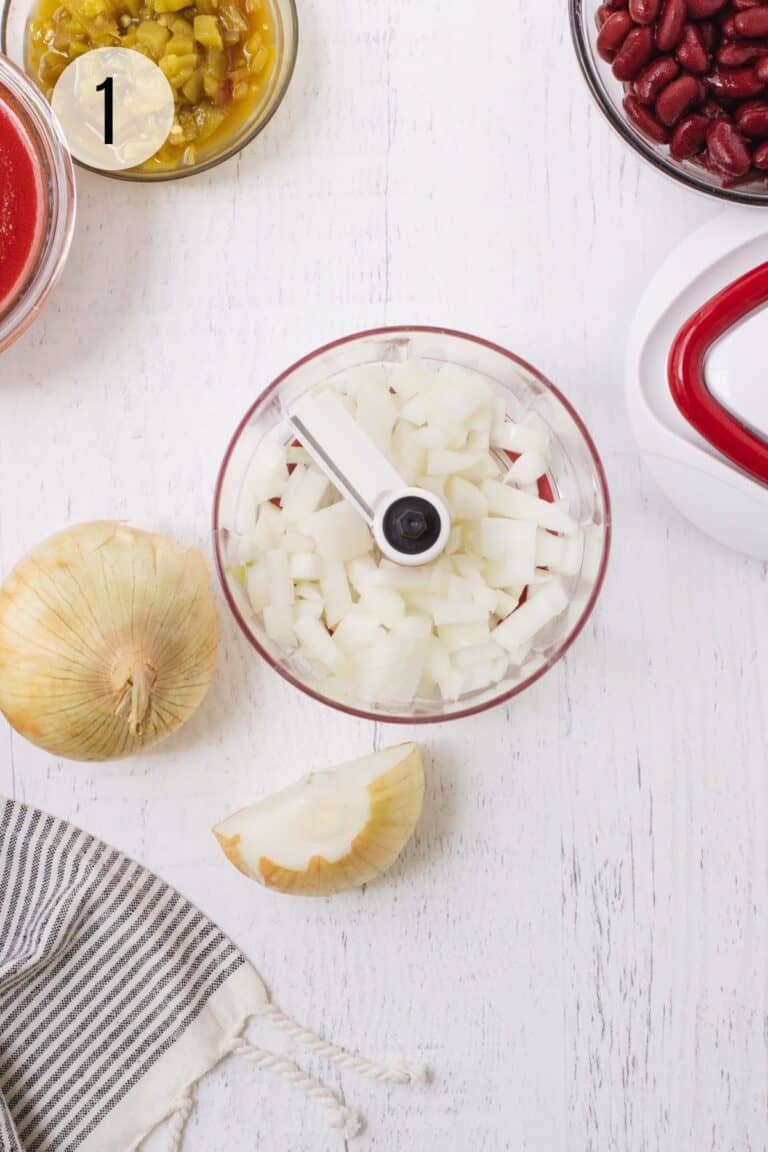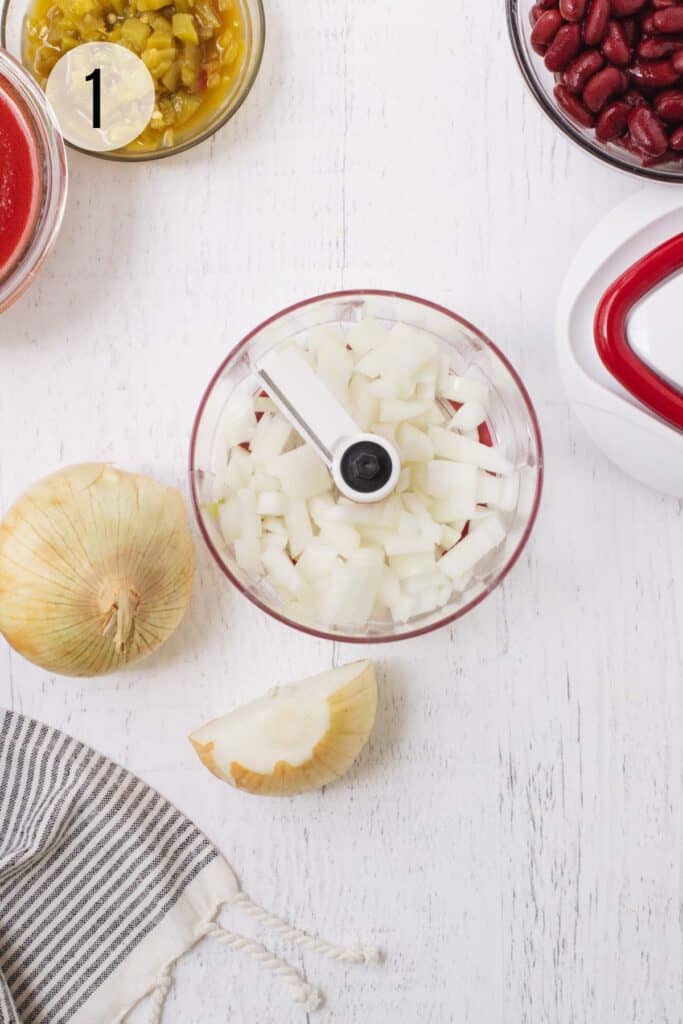 In a large skillet (affiliate link), brown the ground beef and onion until onions are tender and beef is brown on all sides (2).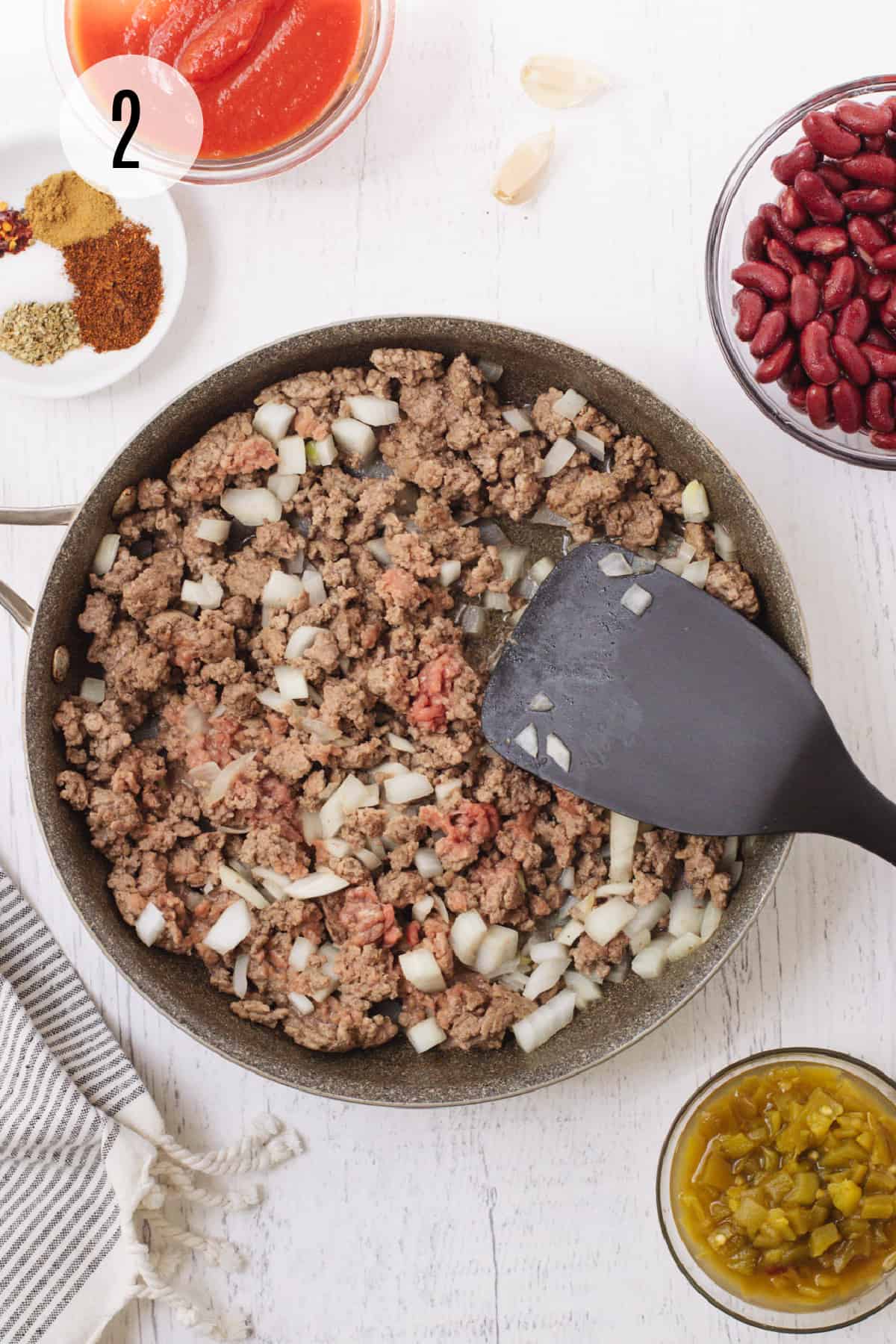 Next, I add all the other ingredients (3) EXECEPT the quinoa and shredded cheese. Those will be added just before serving.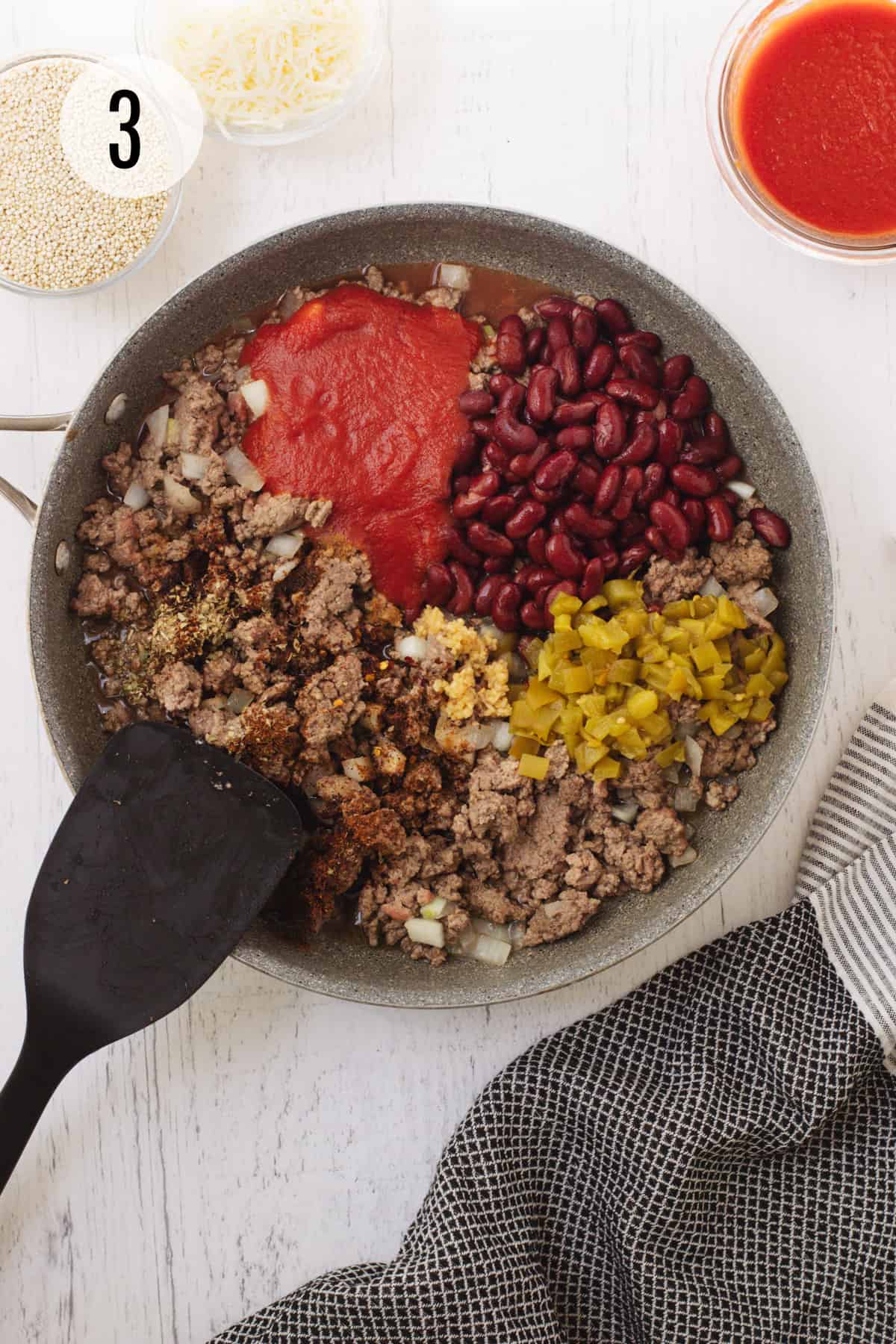 Making the quinoa is quick and easy. In a medium saucepan, stir the water and quinoa together and then bring to a boil (4). Read the instructions on the package but it simmers for about 10 minutes, mainly until all the water is absorbed.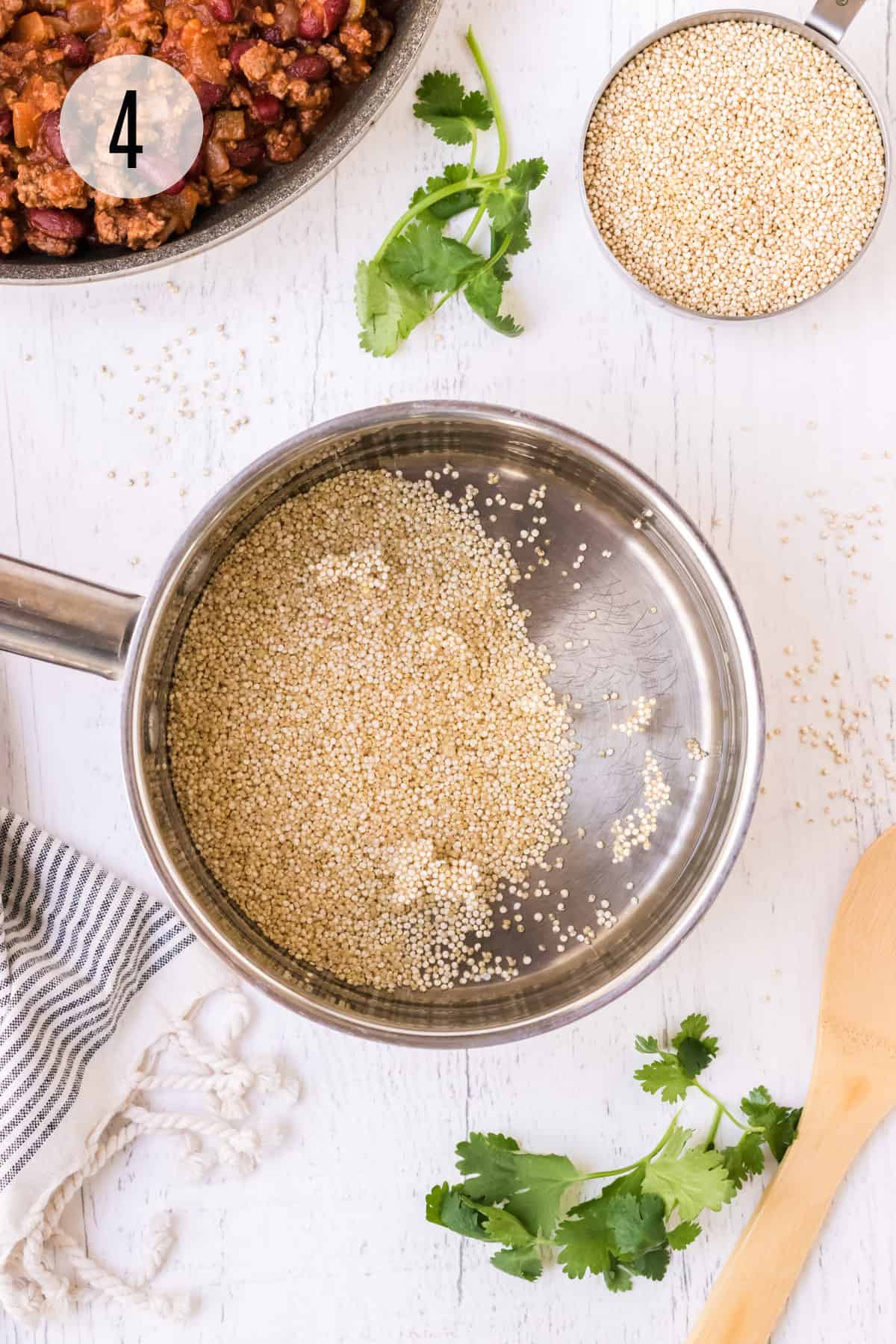 Finally, add in the cooked quinoa and shredded cheese (5) to the pan and stir together until cheese is just melted and evenly distributed.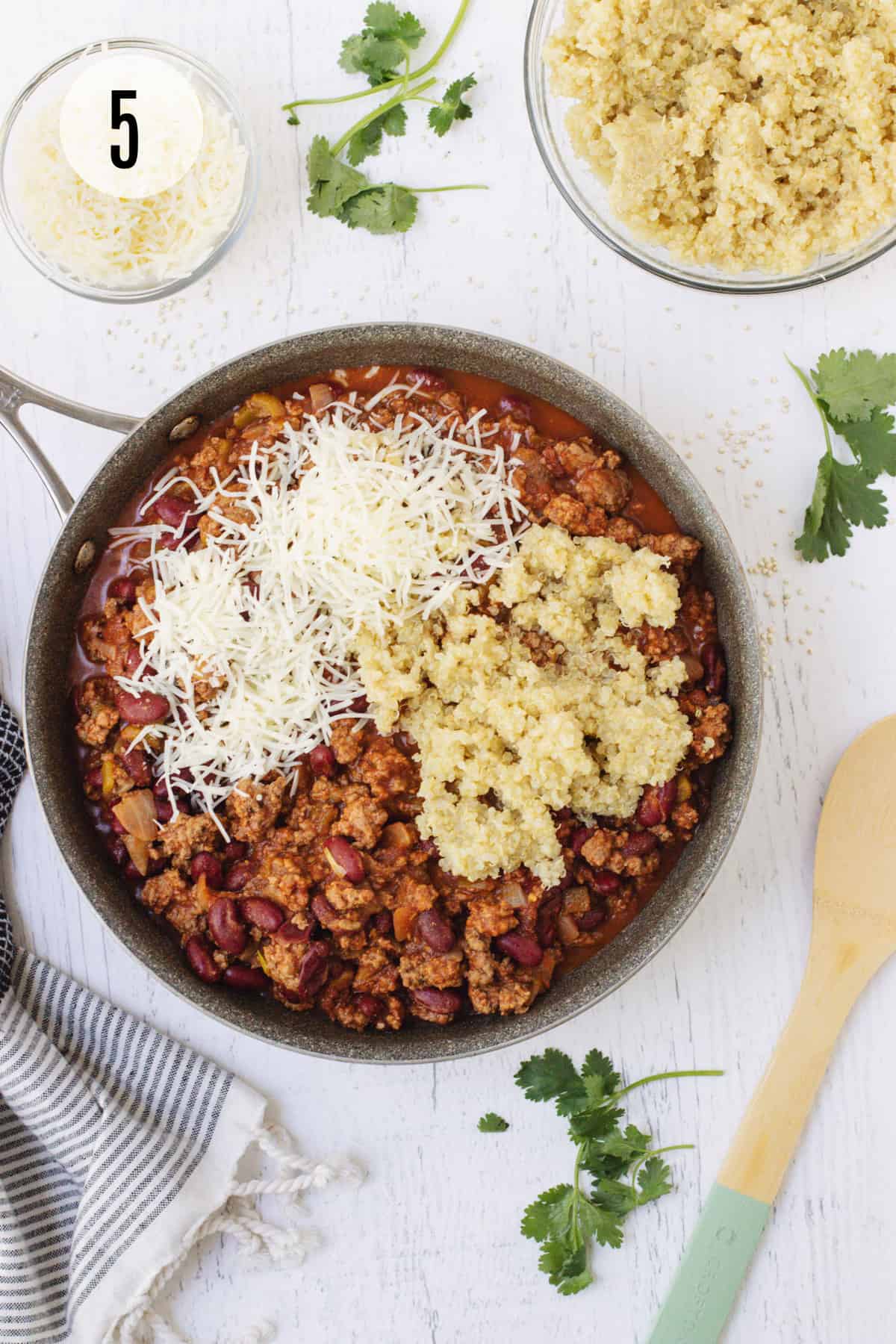 Then it's ready to serve!
Make Ahead Tips
A few make ahead meal prep steps makes this recipe even easier come dinner time.
While the ground beef and bean mixture is simmering, I cook the quinoa in a medium saucepan. The quinoa can also be made up to a day in advance and stored in the refrigerator in an airtight container (affiliate link) until ready to use.
Another idea is to make a spice "packet". That means to measure out all the spices and store them together in a small container so that all you need to do is add them to the pan during the rest of the recipe assembly.
Is this ground beef and taco quinoa freezer friendly?
While I've not frozen this ground beef and taco quinoa, I have frozen similar dishes and they freeze really well! People will sometimes ask me how well the beans freeze and I find that they come out just fine. Make up the entire recipe and then divide out and store in reusable food storage bags (affiliate link) or other freezer safe container. Don't forget to date and label (affiliate link).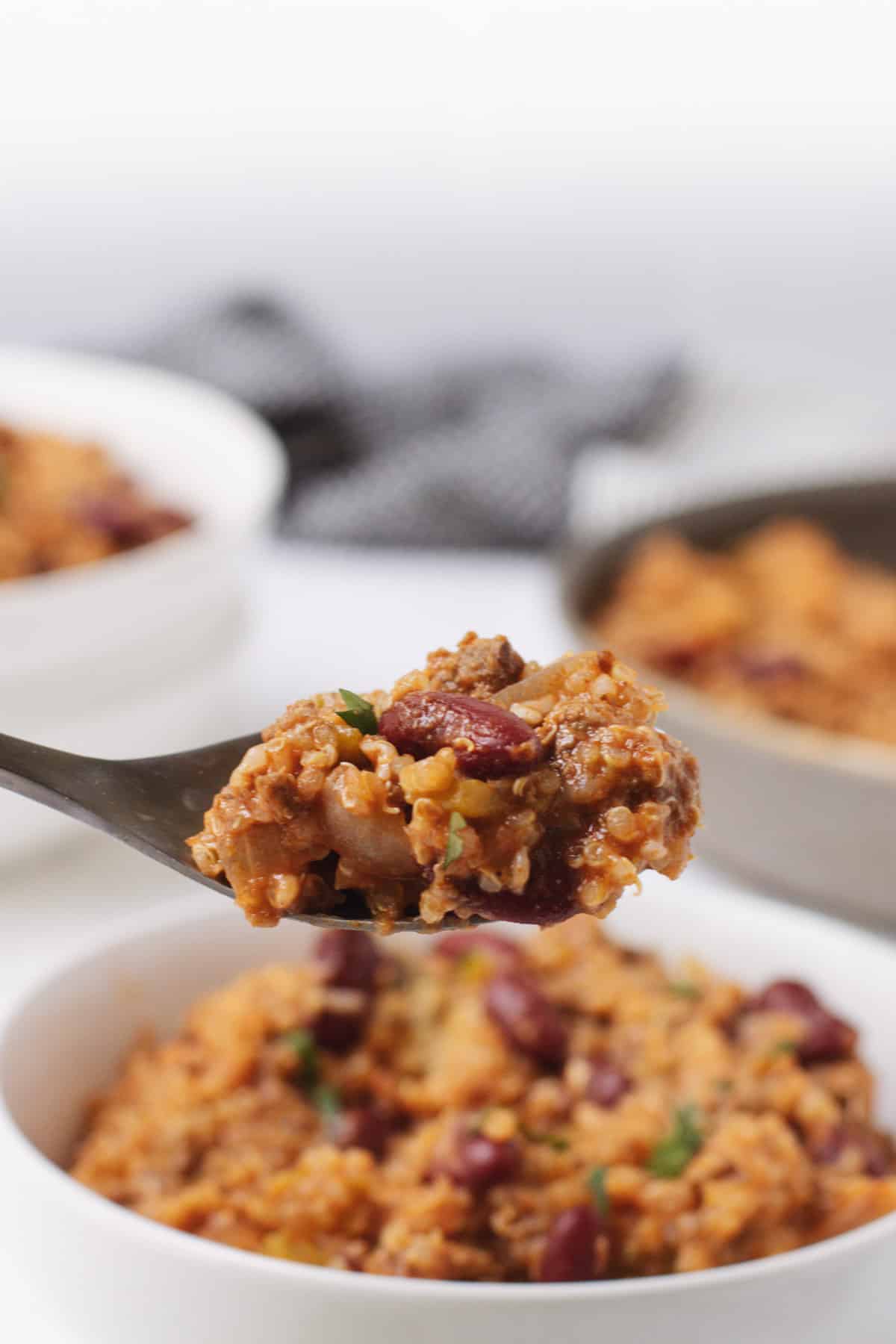 More 30 Minute Meal Ideas
Don't you just love a quick and easy meal when it's the end of the day and you need to cook dinner? Be sure to check out these other recipes on my blog like:
Sign up to receive an email in your inbox for each new recipe and get a FREE menu plan printable: FREE EMAIL SUBSCRIPTION
If you've tried this recipe, let me know how much you enjoyed it by coming back and leaving a comment below and a rating. I love hearing from you!