This post may contain affiliate links. Please read my disclosure policy.
Tortilla chicken cilantro soup is a homemade chicken soup recipe, packed with flavor! It's easy to make, delicious, and just like traditional chicken noodle soup, the perfect cure for a cold!
Disclosure: I have been compensated by H-E-B to promote the Holiday Meal Pin to Win Sweepstakes, but my experience and opinions are my own.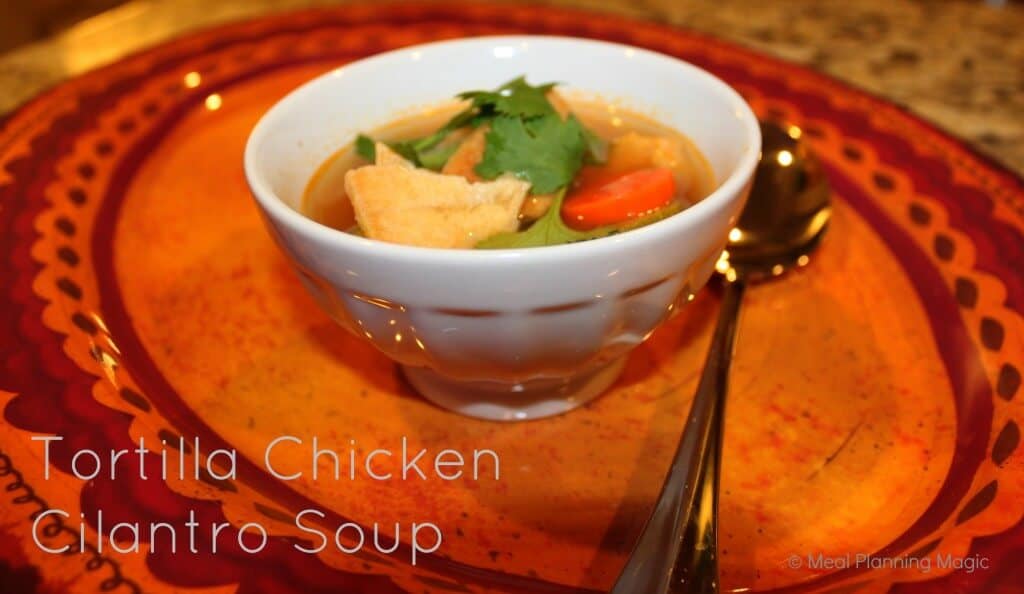 For the last few days our family has been battling some sort of illness. Thankfully nothing super major, but enough to make us move a little slower than usual. So I've been trying to keep meal time simple. When I came across this recipe for Tortilla Chicken Cilantro Soup, I knew it would be perfect. I also happened to have most of the ingredients on hand (including the zucchini & carrots) plus some leftover grilled chicken to substitute the chicken that is called for, so I knew it would be even easier. I substituted their other store brand (Central Market) organic chicken broth for regular chicken broth, and could not find a decent avocado on the day I shopped.
But in all, I think this tortilla chicken cilantro soup recipe comes together well!
This soup was done and in our bowls in just about 30 minutes. It is the perfect thing to warm our bodies as we try to get over our stuffy noses and sore throats. Next time, I will probably cut the zucchini into smaller chunks, as I think the kids will eat them more readily then, but otherwise this soup is good.
I found the recipe when I was on Pinterest and pinning for the H-E-B Holiday Meal Pin to Win Sweepstakes. You can pin to win too for a chance to win one of five $1,000 H-E-B gift cards! Just enter your information in the Facebook application, pin this contest image and re-pin 5 unique images from the Holiday Meal Pin to Win board. I promise you won't have any trouble finding things to pin—there are SO many delicious looking recipes, I got a little crazy re-pinning more than five!
UPDATE: The contest ended December 31, 2012.
Regardless of the contest, you can count on this easy homemade soup recipe to be a delicious way to get dinner on the table quickly! And be sure to check out the H-E-B website for some delicious recipe ideas!