This post may contain affiliate links. Please read my disclosure policy.
Family friendly Easy Italian Sloppy Joes are ready in less than 30 minutes—perfect busy weeknights! Make a double batch for the freezer to have on hand for another meal.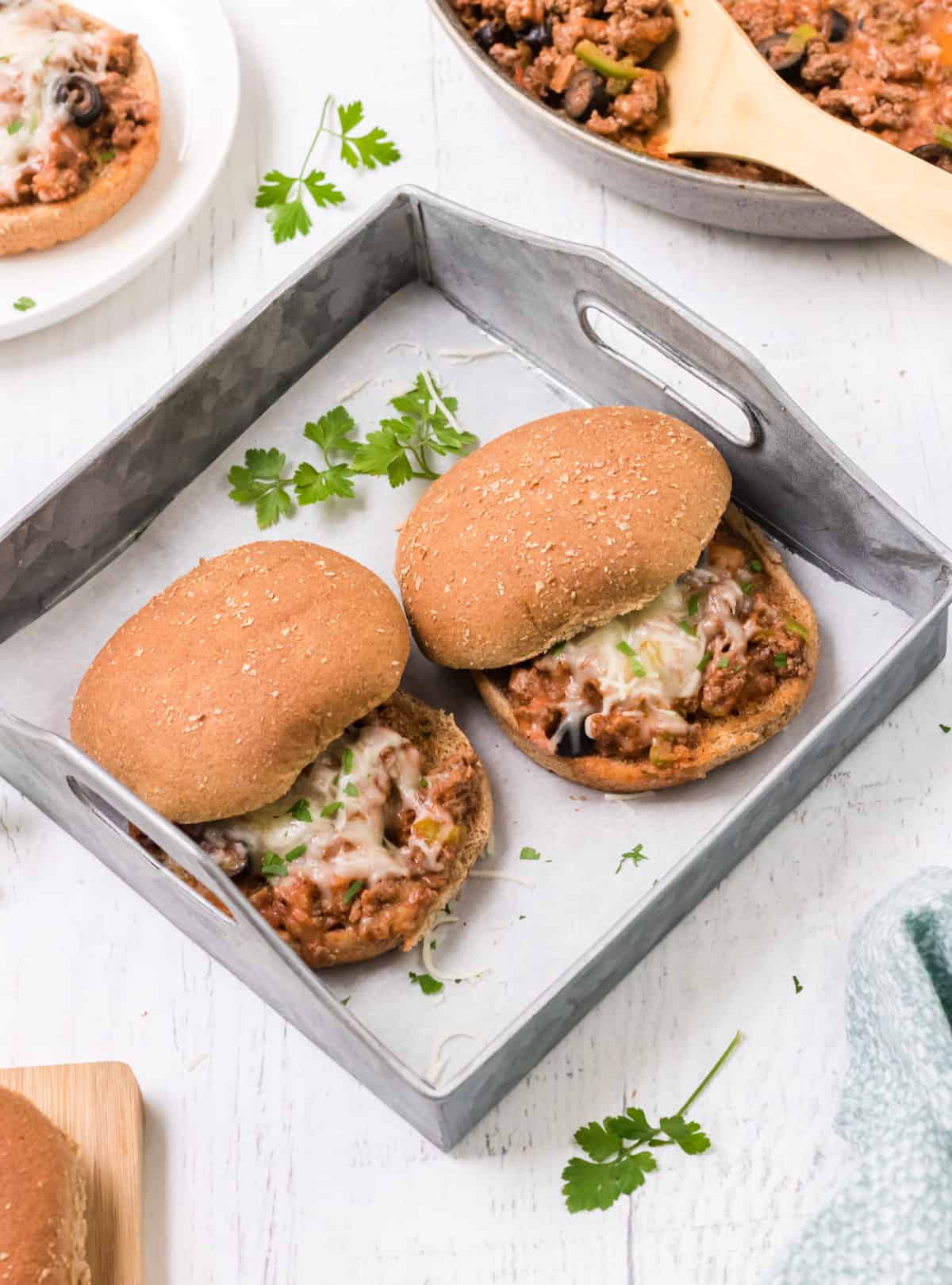 Why We Love This Recipe
I've been making these Easy Italian Sloppy Joes for over 15 years and they are a true family favorite! I originally received the recipe from a friend but have tweaked it just a bit over the years to make it our own.
With the addition of Italian inspired flavors like oregano, basil and Italian blend cheese, these are a delicious twist on a favorite comfort food!
This simple sloppy joes recipe is ready in under 30 minutes making it a perfect option for busy weeknights. I like to make big batches to freeze some for later and use on future extra busy nights.
We often like to enjoy these Italian Sloppy Joes as an open-faced sandwich. I serve with a side salad or just sliced fresh vegetables like carrots or cucumbers for an easy dinner option. But it can also be served like a more traditional sloppy joe sandwich with the top bun too.
These sloppy joes are also a great lunch option! To take it to go, we heat up a single serving size of the mixture in the microwave for a few minutes and then keep it in an insulated food container (like these Thermos Funtainers (affiliate link)). Pack the bun(s) separately and when ready to eat, just assemble and enjoy!
Ingredient Tips and Tricks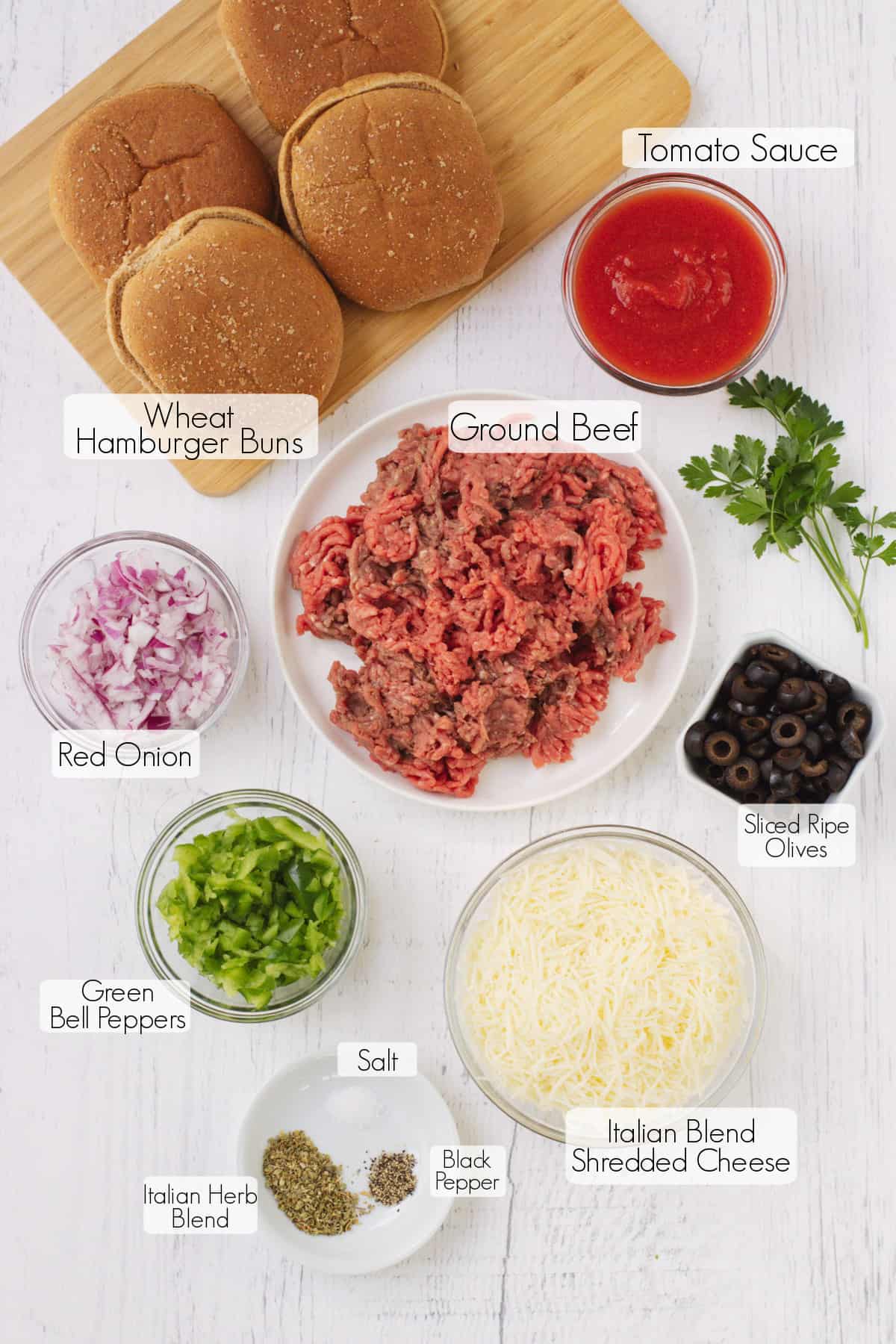 The ingredients for these simple sloppy joes are easy to find at the grocery store but here are some extra helpful tips:
Ground Beef – We like the lean ground beef but sometimes substitute ground turkey instead for a slightly different flavor. Choose what your family likes!
Sliced Black Olives – Look for these on the aisle with the green olives but they are in a can. I usually find them on the lower shelves and they come already sliced. I sometimes use canned chopped black olives if I want them to blend in a bit more.
Red Onion – Sometimes called purple onions, these are a milder onion that blend well in this recipe. I like to use my handheld food chopper (affiliate link) to make chopping them a breeze!
Green Bell Peppers – When I buy fresh green bell pepper, it's so easy to chop them using my handheld food chopper (affiliate link). I also always keep a bag of frozen chopped green bell peppers in my freezer to easily add to recipes.
Often, the frozen peppers are less expensive than fresh and the chopping is already done! I add them to other recipes like Slow Cooker Classic American Chili, Skillet Stovetop Lasagna or One Pan Spanish Rice and Ground Beef.
Italian Herbs – Look for this in the herbs and spices aisle of your grocery store. If you can't find it, you can make your own. Use an an equal mixture of 2 tablespoons dried oregano and two tablespoons dried basil, one tablespoon dried rosemary and one-half tablespoon dried thyme. Then measure out from this mixture the amount called for in this recipe.
Italian Cheese Blend – You can find this (and other delicious cheese blends) in the shredded cheese section of the grocery store. If you can't find it, you can substitute shredded mozzarella.
How To Make This Recipe
These truly are so simple to make. Like I mentioned above, I love to use my handheld food chopper (affiliate link) to chop the onions and green bell pepper (1) first thing so they're ready to add to the skillet (affiliate link) when it's time.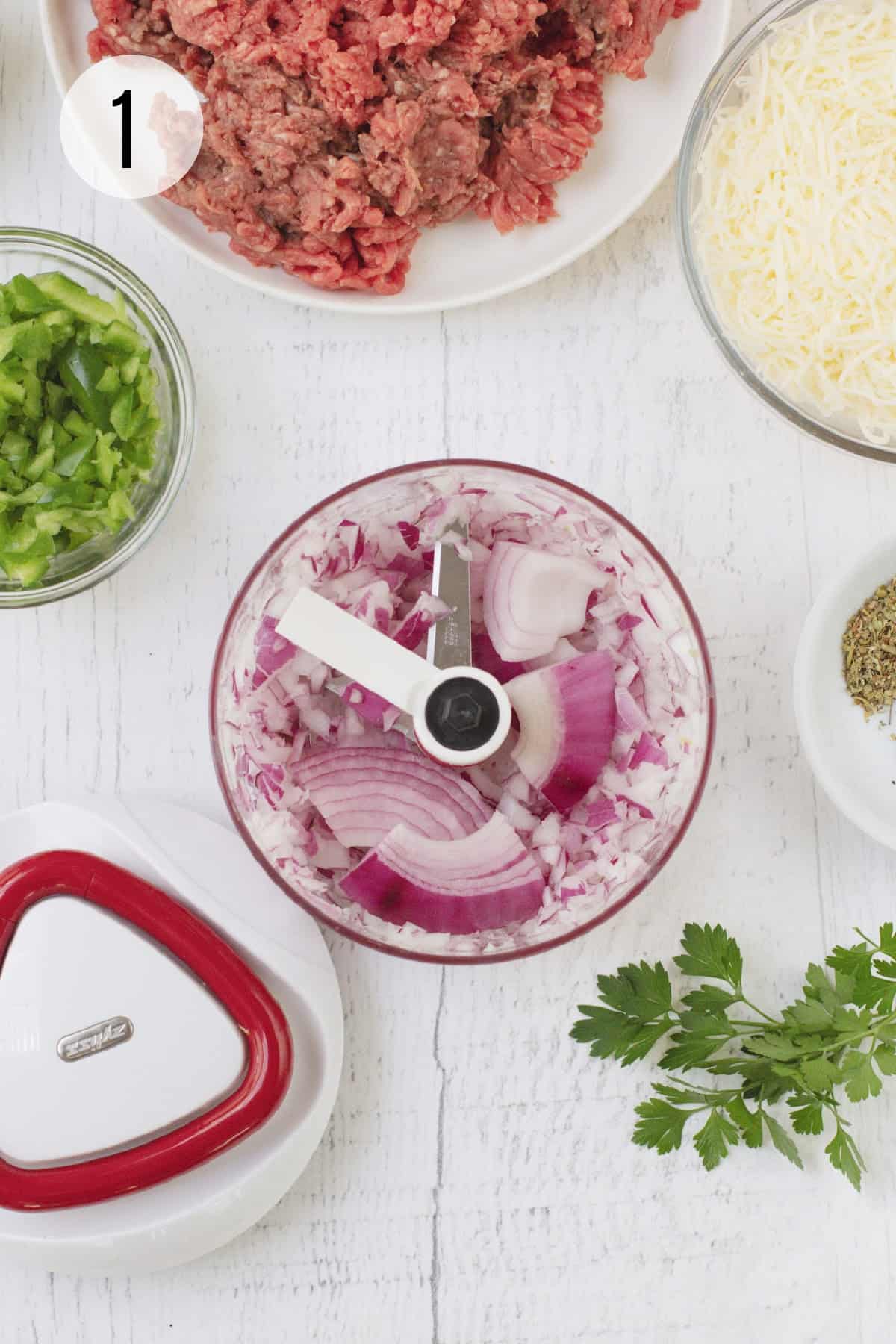 After I've browned the ground beef, I add all the remaining ingredients (2) except for the cheese (and buns) to my heated skillet (affiliate link) and simmer on medium low heat for about five minutes, or until all ingredients are heated through.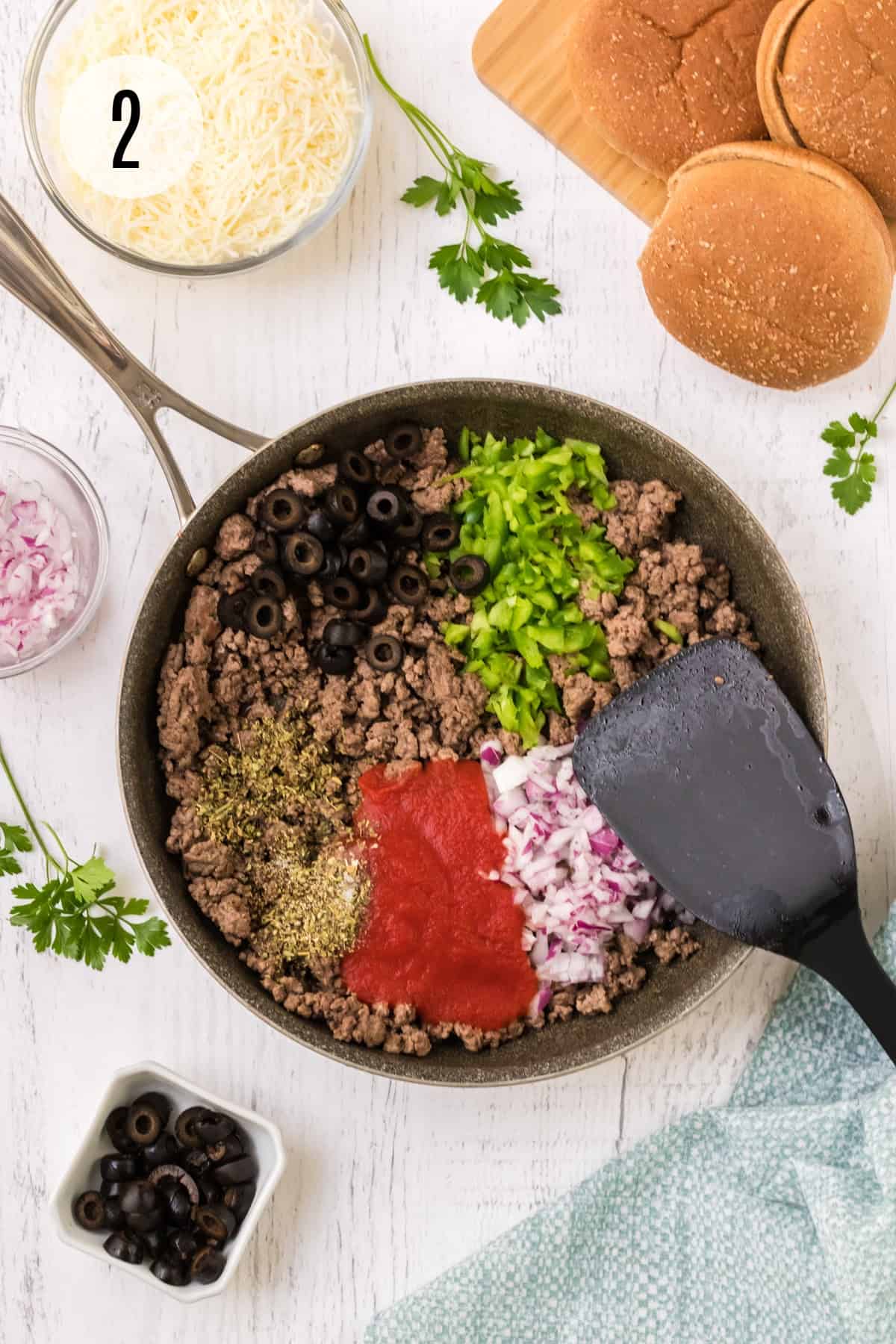 Next, I sprinkle the cheese on the sloppy joe mixture and stir it in until it's just melted (3).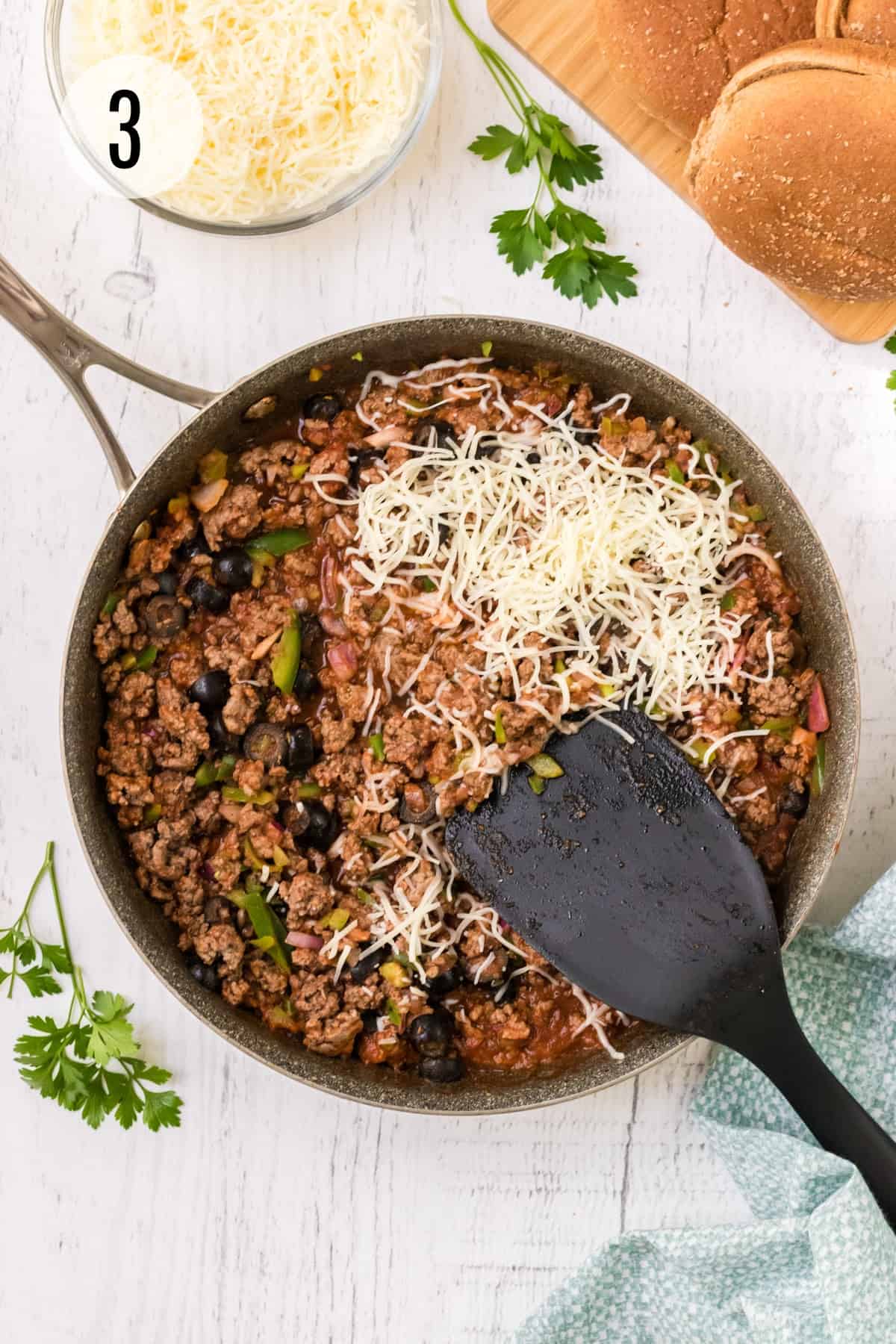 Then I remove from the heat and assemble the sloppy joes on to the buns and if desired, sprinkle with a bit more shredded cheese to broil in the oven for a minute or two if serving open faced or top with bun top and serve. So easy!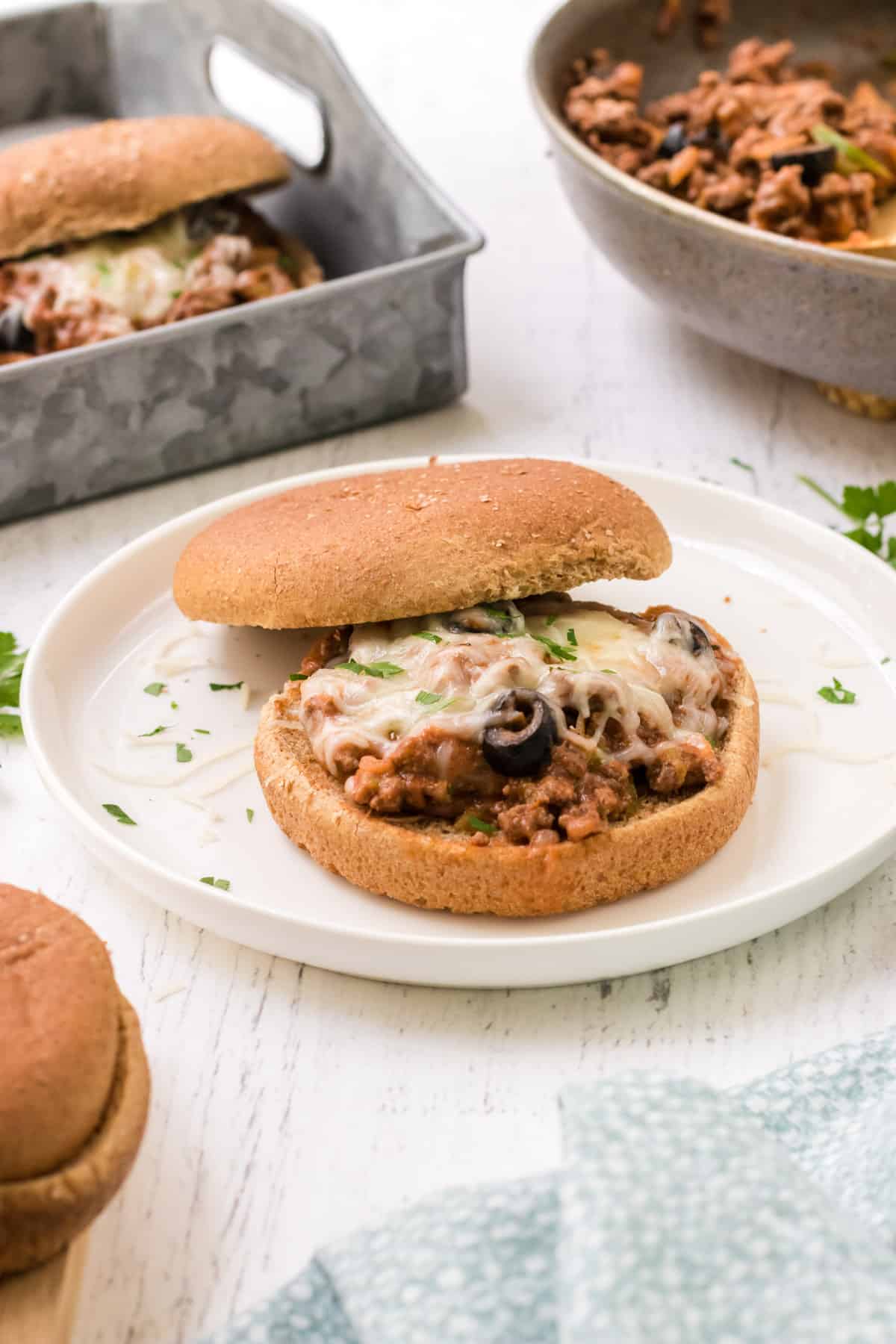 Make Ahead Tips
The mixture for these Italian Sloppy Joes is easy to make ahead a few different ways. You can start by just browning the ground beef in advance and store in an airtight container (affiliate link) in the refrigerator for up to two days.
Chopping the onions and green bell peppers up to a day in advance is also a good timesaver. Just store in an airtight container (affiliate link) in the refrigerator until you're ready to assemble.
Sometimes, in the morning of the day that I plan to prepare these sloppy joes, I will pull out the non-perishable ingredients such as the canned olives or tomato sauce. Then I just gather them up on the counter so that all I need to do is open, measure and add ingredients to the pan. These little minutes can add up, especially when we're hungry and ready for dinner!
Is this freezer friendly?
Yes! This sloppy joes mixture freezes very well. I often make a double batch and then portion it out in freezer safe containers like my 2-cup Souper Cubes (affiliate link). Then I transfer to an freezer safe container (affiliate link) and label (affiliate link) and freeze to pull out later for an even easier dinner or lunch option. I will just buy the buns fresh when I'm ready to serve it again.
More Italian Inspired Recipes
We love Italian and pizza inspired food in our house! If you do too, be sure to check out these recipes too.
This post was originally published in September 2014 but updated in August 2021 with new photos, video, and content.
Be sure to check out my Amazon Shop to discover the many items I use in my own kitchen. Meal Planning Magic is a participant in the Amazon Services LLC Associates Program, an affiliate advertising program designed to provide a means for sites to earn advertising fees by advertising and linking to Amazon.com. Ordering products mentioned here are at no extra cost to you. Thank you for your support.