This post may contain affiliate links. Please read my disclosure policy.
Choosing reusable food containers not only saves you money, it also helps protects our planet. Check out these 5 tips for choosing the best for your family's needs!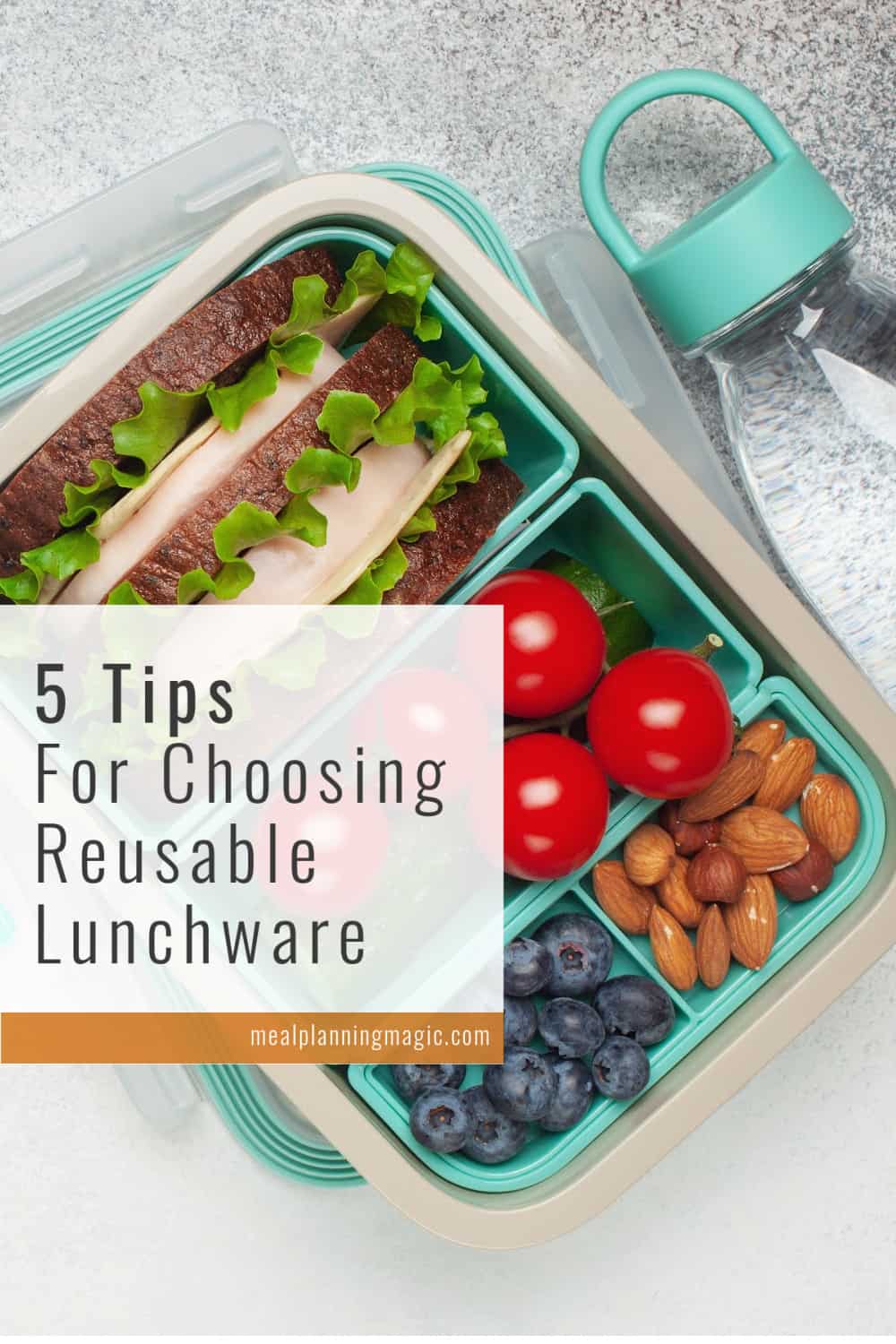 Packing nutritious lunches every day can seem especially daunting when you add in the options of what to pack them IN. For us, choosing reusable lunch containers that are earth friendly just makes sense. Not only will you save money in the long run, you'll also be helping the environment by creating less waste.
But the choices can be overwhelming! We have several types at our house and as our needs change. Our lunch containers change too which helps make bringing lunch to school a bit easier. If you ask my kids, they'll tell you I have a bit of a lunch container obsession, so I've seen and purchased ALL types of containers over the years.
Today I'm sharing five tips of things to look for to help make your search easier.
What to Look For When Choosing Reusable
Now that my kids are older, we have tried A LOT of different types of reusable food containers for packing lunch. There are even more options now at different price points than there were when they were little. Over those years, I've discovered a few qualities to look for when choosing what's right for your family. Here are a few tips to get you started:
Durability. With nearly daily use and washing, durability is key. Look for how easily lids come on and off or how hinges work. Check the seals also. Do they seem like they will be leak proof?
Ease of use. Little hands don't always have the strength or dexterity as adults. Finding a container that is easy to open is a must. Are lids easy to twist or take on and off? Do they snap closed so that leaks are less likely to occur? Do zippers or snaps on lunch bags seem easy to open and close? Are lunch totes large enough to hold the basics but also fit in a backpack? Bring your child to store to have them test things out.
Easy to clean. Most reusable lunch containers are dishwasher safe. And even though I don't have babies any longer, I held on to our bottle brush and small brush. They work great for cleaning out drink bottles (the smaller brush is especially good for straws). For bags, a daily wipe on the inside is good and tossing in the washing machine every couple of weeks can help keep things fresh, too.
Keeps food hot or cold. My kids love to bring leftovers to school for lunch. Our thermal food containers keep food hot or cold for hours—definitely until lunchtime. For hot foods, I put boiling hot water in the empty container to heat it up, then dump out the water before adding the heated leftover food. Use ice water for cold foods. It works great!
Availability. This time of year, many stores have an expanded selection of lunch containers and bottles. I've seen them at our discount stores like Target, sporting goods stores and even office supply stores in their Back-To-School display areas. But during the rest of the year, I often find them in the camping section of many of those stores, at stores like The Container Store, TJ Maxx or Homegoods/Marshall's. Some of our favorites have come from the latter two) and of course, you can always order online. You can find a selection of reusable lunch containers and items that my family uses in my Amazon Shop here.
With all the fun colors and designs, your kids can take their lunch to school in style. Now what goes into the containers is up to you but with a few different options, bringing homemade lunches to school or work is just a tad easier when you have the tools for choosing reusable lunch containers!
Our Favorite Containers
There are so many different reusable food containers to choose from and even more than when my kids were little. Yay! I'm sharing some of my favorites here to help you get started on a search.
All of the links here lead to online shopping, but I've picked up several of these items at locally owned stores too or places like Target, Walmart, Costco, Sam's Club or Home Goods, etc. . (Read my disclosure policy here for details on affiliate links).
Insulated Food and Beverage Containers
Keeping foods hot or cold until lunchtime was helpful to my kids as they did not always have a microwave available to use to heat up their food like soups or pasta. Also, keeping beverages cold is key in warm weather, especially here in southeast Texas! These are a few of our favorites from over the years as needs changed as they grew.
Thermos Funtainer
Swell Water Bottle
Simple Modern Kids Water Bottle Thermos with Straw Lid
Lunch Bags and Containers
Insulated Lunch Bag
Bentgo Kids 5-Compartment Bento-Style Kids Lunch Box
Sistema Lunch Collection Lunch Cube
Sistema To Go Bento Collection
Rubbermaid LunchBlox Sandwich Kit
Reusable Snack or Sandwich Bags
Lunchbox Recipe Ideas
Looking for some delicious ideas to add to that lunchbox? Here are a few of my kids' favorites to bring to school:
Easy Homemade Tomato Basil Parmesan Soup
Delicious Chicken Caesar Pasta Salad
Be sure to check out my Amazon Shop to discover the many items I use in my own kitchen. Meal Planning Magic is a participant in the Amazon Services LLC Associates Program, an affiliate advertising program designed to provide a means for sites to earn advertising fees by advertising and linking to Amazon.com. Ordering products mentioned here are at no extra cost to you. Thank you for your support.