This post may contain affiliate links. Please read my disclosure policy.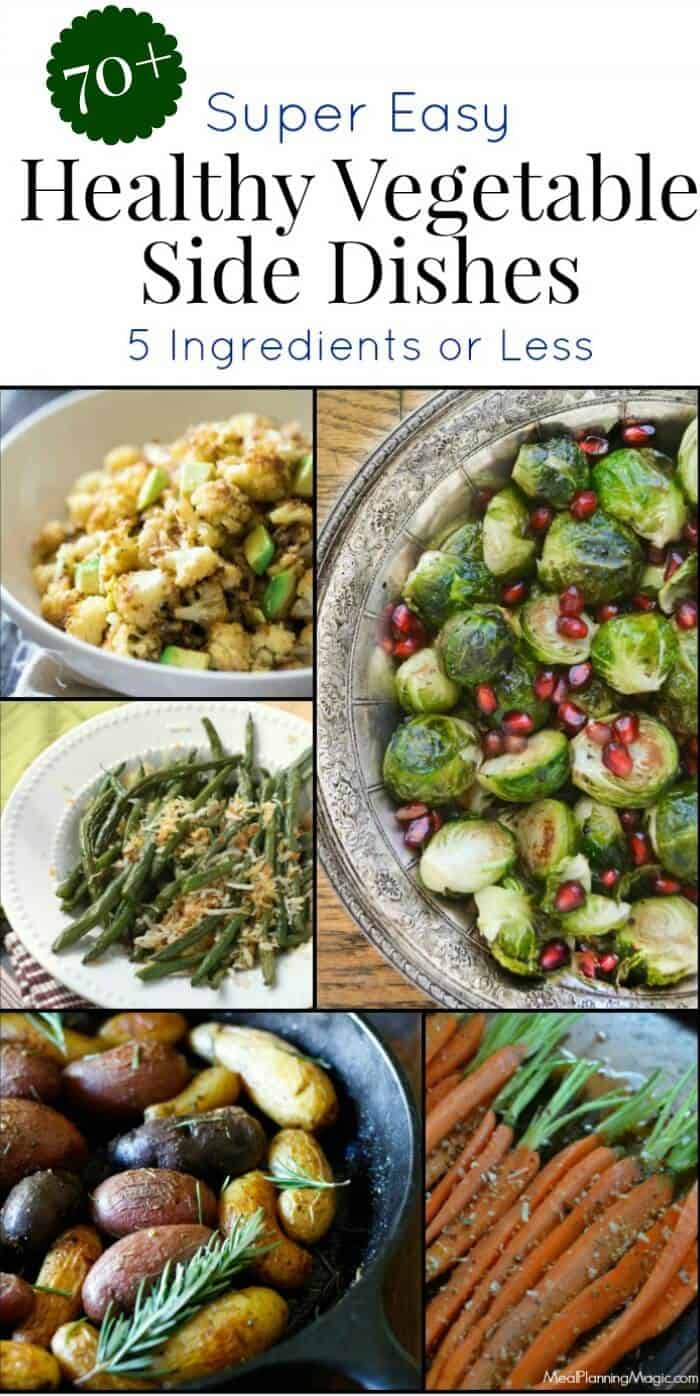 Have you ever noticed that when I post a Weekly Menu Plan for our dinners, it very often includes a garden salad or something simple like green beans or roasted broccoli? I have a little confession… I'm a bit challenged when it comes to creative side dishes to go along with our dinners. Even just having more variety would be nice. But the other confession is that when dinner time rolls around, even if I've got it planned out and it's ready and cooking, who knows what kind of day or evening it is or has been. Very often we're rushing from one activity to the next or getting home from an activity or working around kids' homework so I just don't have the energy to get a side dish going on top of everything else. So I fall back on the easy, familiar basics of a garden salad or roasted broccoli (a family favorite at least). Am I alone in this? In talking to some of my friends, I know they face the same challenges!
So I called upon some of my food blogger friends to come up with some new ideas. My criteria was that they needed to be simple so I asked for side dishes that are five ingredients or less (minus salt and pepper or other basic seasoning). AND I wanted them to be healthy so I asked for only vegetable sides.
All told, I was able to gather up more than 70 different Simple Healthy Vegetable Side Dishes. I hope some of these inspire you to break out of your side dish rut and try something new!
ROASTED, BAKED OR GRILLED
Oven Roasted Garlic Green Beans ~ Persnickity Plates
Roasted Zucchini ~ Persnickity Plates
Roasted Cauliflower with Ranch and Avocado ~ Food Faith Fitness
Parmesan Roasted Cauliflower ~ Very Culinary
Zaatar Roasted Carrots & Green Beans ~ The Lemon Bowl
Asian Roasted Broccoli ~ Tasting Page
Caesar Roasted Broccoli with Orzo ~ The Muffin Myth
North Indian Spiced Roasted Sweet Potatoes ~ Eats Well With Others
Bacon Fat Roasted Brussels Sprouts With Balsamic Glaze ~ Amees Savory Dish
Kettle Corn Grilled Sweet Potatoes ~ The Big Man's World
Toasted Coconut Green Beans ~ Wine and Glue
Grilled Garden Scallions ~ Cooking on the Weekends
Roasted Cauliflower with Annato Seed Oil ~ Cooking on the Weekends
Balsamic Ginger Grilled Portobello Mushrooms ~ The Roasted Root
Rosemary Roasted Fingerling Potatoes ~ The Roasted Root
On the Stalk Roasted Brussels Sprouts ~ Nutmeg Nanny
Pan Roasted Brown Butter Radishes ~ Nutmeg Nanny
Roasted Brussels Sprouts with Bacon ~ A Healthy Life for Me
Honey Roasted Carrots ~ Floating Kitchen
Roasted Radishes ~ Floating Kitchen
Roasted Asparagus with Basil and Pistachios ~ Cook the Story
Whole Oven Roasted Broccoli ~ Cook the Story
Oven Roasted Radishes with Peas and Dill ~ Around My Family Table
Pear Blue Cheese Roasted Brussels Sprouts ~ The Cookie Rookie
Curry Roasted Acorn Squash ~ The Lean Green Bean
Roasted Acorn Squash Pomegranate Parsley ~ Foxes Love Lemons
Lemon Rosemary Grilled Artichokes ~ Ari's Menu
Lemon Garlic Roasted Green Beans ~ Sarah's Cucina Bella
How to Roast Carrots ~ Wonky Wonderful
Roasted Brussels Sprouts with Pomegranate ~ The View from Great Island
Roasted Easy Herby Spiralized Vegetables ~ Fit Foodie Finds
Crispiest Sweet Potato Fries Ever ~ Fit Foodie Finds
SALADS AND SLAWS
Easy Side Salad ~ Wine and Glue
Asian Veggie Noodle Salad ~ The Muffin Myth
Farro Salad with Honey Roasted Garlic Tomatoes, Asparagus and Kale ~ Eats Well With Others
Maple Tahini Grilled Sweet Potatoes ~ Food Faith Fitness
Quick and Easy Cucumber Salad ~ Tried and Tasty
Carrot Salad ~ My Catholic Kitchen
Grilled Zucchini with Feta ~ Farm Fresh Feasts
Roasted Whole Cauliflower Petite ~ Allergy Treats
Grilled Corn Salad with Non-fat Chili Lime Dressing ~ Two Healthy Kitchens
Greek Yogrut Coleslaw ~ Two Healthy Kitchens
Pesto Green Bean Salad with Walnuts ~ Sarah's Cucina Bella
Green Bean Potato Salad with Sun Dried Tomato Pesto ~ Flavor Mosaic
SAUTEED, STEAMED AND SUCH
Simple Garlic and Parmesan Green Beans ~ Meal Planning Magic
Ginger Lime Brussels Sprouts ~ Spabettie
10 Minute Marinated Mushrooms ~ Peas and Crayons
Garlic Butter Edamame ~ Peas and Crayons
Amazing Broccoli ~ Amees Savory Dish
Leaner Green Beans ~ Noshing With the Nolands
Simple Garlic Parmesan Green Beans ~ A Cedar Spoon
Smoked Paprika Popcorn Cauliflower ~ Busy In Brooklyn
Skillet Zucchini Matchsticks ~ Very Culinary
Maple Whipped Sweet Potatoes with Orange Zest ~ The Lemon Bowl
Waffle Iron Winter Squash ~ Apron Strings Blog
Browned Butter Whipped Butternut Squash ~ Cupcakes and Kale Chips
Baked Cauli-Tots Casserole ~ Cupcakes and Kale Chips
Lemon Green Beans ~ A Healthy Life for Me
Green Beans with Lemon and Feta ~ Rachel Cooks
Slow Cooker Curried Tomato Soup ~ Seasonal and Savory
Pumpkin Sage Mashed Sweet Potatoes ~ Big Bears Wife
Lemony Green Beans ~ Cooking on the Front Burners
Parmesan Broccoli ~ The Cookie Rookie
Cheesy Broccoli ~ The Lean Green Bean
Seven-minute Sauteed Zucchini with Garlic Basil ~ Kitchen Treaty
Caramelized Onion Cauliflower ~ Ari's Menu
5-ingredient Hickory Smoked BBQ Cauliflower Wings ~ The Plant Strong Vegan
Honey Balsamic Brussels Sprouts ~ That Skinny Chick Can Bake
Honeyed Parsnips ~ The View from Great Island
Browned Butter Whipped Butternut Squash ~ Cupcakes and Kale Chips
Horseradish Cheddar Cauliflower Gratin ~ Cupcakes and Kale Chips
Waffle Iron Winter Squash ~ Apron Strings Blog
Maple Glazed Sweet Potatoes with Peaches ~ Back for Seconds