This post may contain affiliate links. Please read my disclosure policy.
Imagine a pepperoni pizza made into a bite-sized muffin and you've got Pepperoni Pizza Muffins. They're perfect for lunch, snack or appetizer and freezer friendly, too!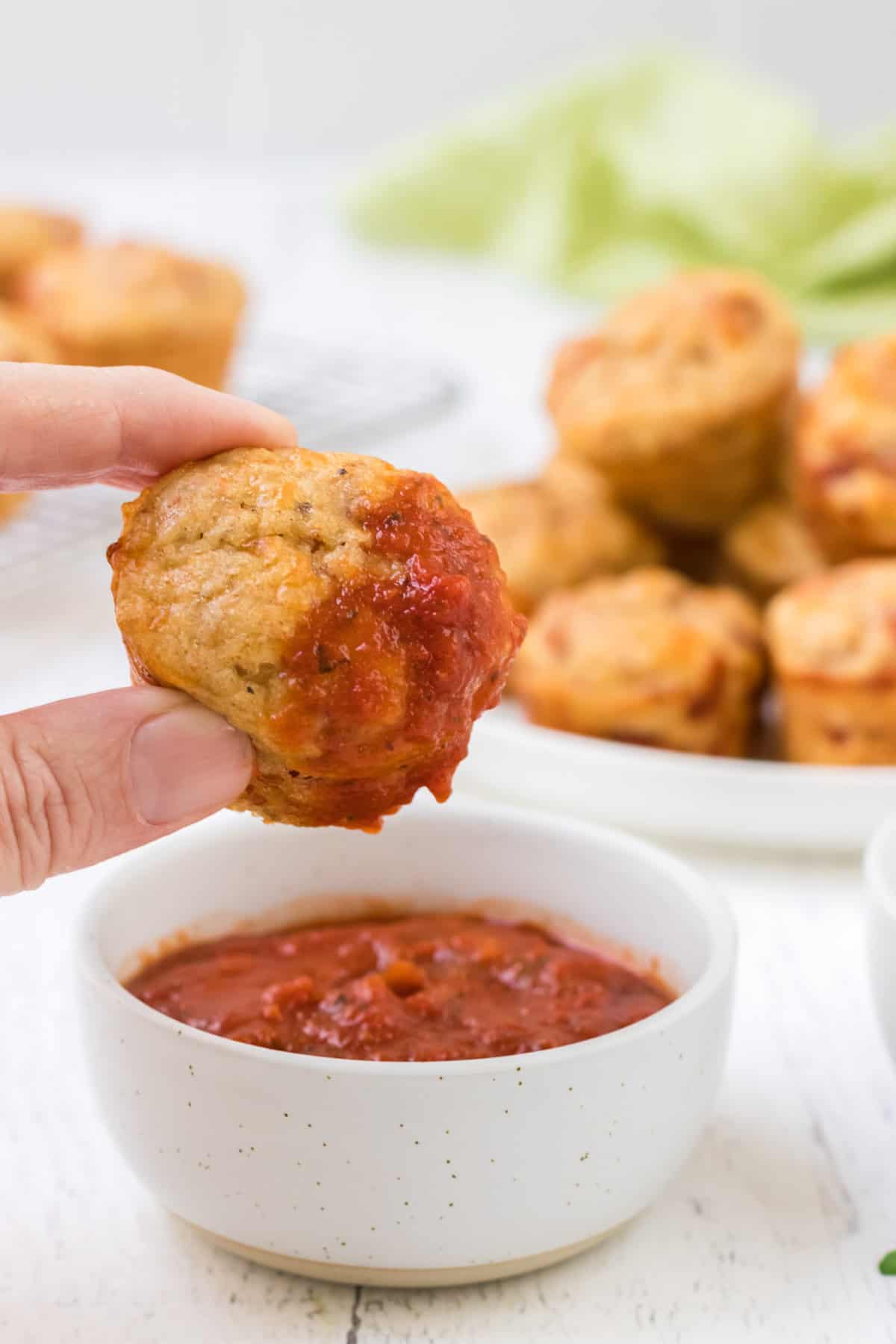 Why We Love This Recipe
I've been making these mini Pepperoni Pizza Muffins for over a decade and they are still a hit with my family! They are like a little piece of pepperoni pizza wrapped up in a mini-muffin sized snack.
Made from just a few simple ingredients and a few changes from the original recipe, they're so much better for you than the store-bought varieties.
I usually have most of the ingredients on hand so it's easy to make a batch for snacks or appetizers. Paired with some fruits and vegetables, these pizza muffins even make a great lunch. They freeze well, too, so I will sometimes make a double batch to always have them on hand.
We like to dip them in pizza sauce or ranch dressing. Yep, ranch dressing! This is a holdover from my college days when I first had pepperoni rolls and they came with ranch dressing. I've been hooked ever since and now my own family enjoys pizza flavored foods with ranch dressing.
But they are also delicious dipped in pizza sauce, too. You can buy prepared pizza sauce (usually in a jar) or sometimes I'll just use Homemade Spaghetti Sauce. I've also made up a quick sauce using canned tomato sauce and stir some garlic salt, dried oregano and basil to jazz it up a bit.
I used to call these pepperoni puffs because they are so light and fluffy. Whatever you call them, they are delicious!
Ingredient Tips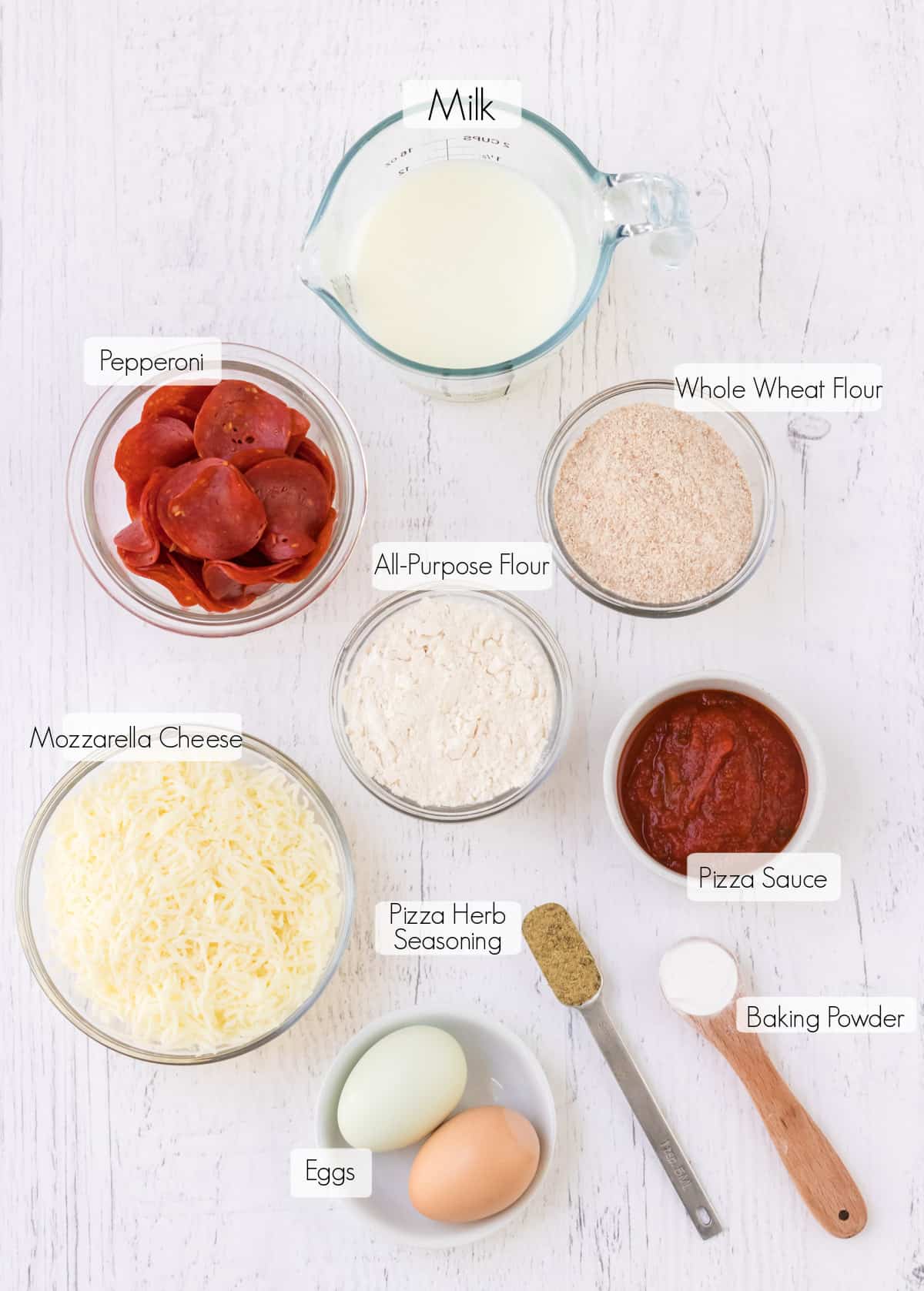 All of the ingredients to make these Mini Pepperoni Pizza Muffins are easily found at the grocery story but I have a few tips to share for some of them.
Whole Wheat Flour – The original recipe called for using only all-purpose flour but I changed it up by substituting some whole wheat flour and they're just as delicious. Keep whole wheat flour in an air-tight container in the refrigerator so it will last longer. With the whole grains, they can get rancid if left at room temperature too long.
If you don't normally use whole wheat flour, my Soft and Chewy Ginger Molasses Cookies, Whole Wheat Banana Bread, Pear Walnut Muffins and Homemade Buttermilk Biscuits all use whole wheat flour so give them a try!
Pizza Seasoning Herb Blend – Find this on the herb and spices aisle of your grocery store. I like to buy my spices at Penzey's but you can also find this online. Or, if you prefer, substitute equal parts oregano, basil and garlic salt.

Shredded Mozzarella Cheese – When I have the time, I prefer to buy cheese in blocks and shred it myself in the food processor (affiliate link). It not only seems fresher but it can save a little money too.
To store, spread out the extra on a baking sheet lined with a silicone baking mat (affiliate link) and flash freeze until frozen. Then remove the frozen shreds and store in a reusable silicone bag (affiliate link). Don't forget to date and label (affiliate link) the bag! Then you can just measure out what you need to use in other recipes.

Turkey Pepperoni – We prefer the turkey pepperoni because it's a little better for you and lower in fat than traditional pepperoni and it tastes just a good! It's found in the grocery store next to the regular pepperoni and I'll often buy the store brand to save a little bit of money. It seems like most of the grocery stores I shop at have a store-brand version.
How To Make These Mini Muffins
With only a few ingredients, these pepperoni muffins really are so quick and easy to make!
First, I start by chopping the pepperoni (1). I like to use my handheld food chopper (affiliate link) but chopping with a knife works fine too!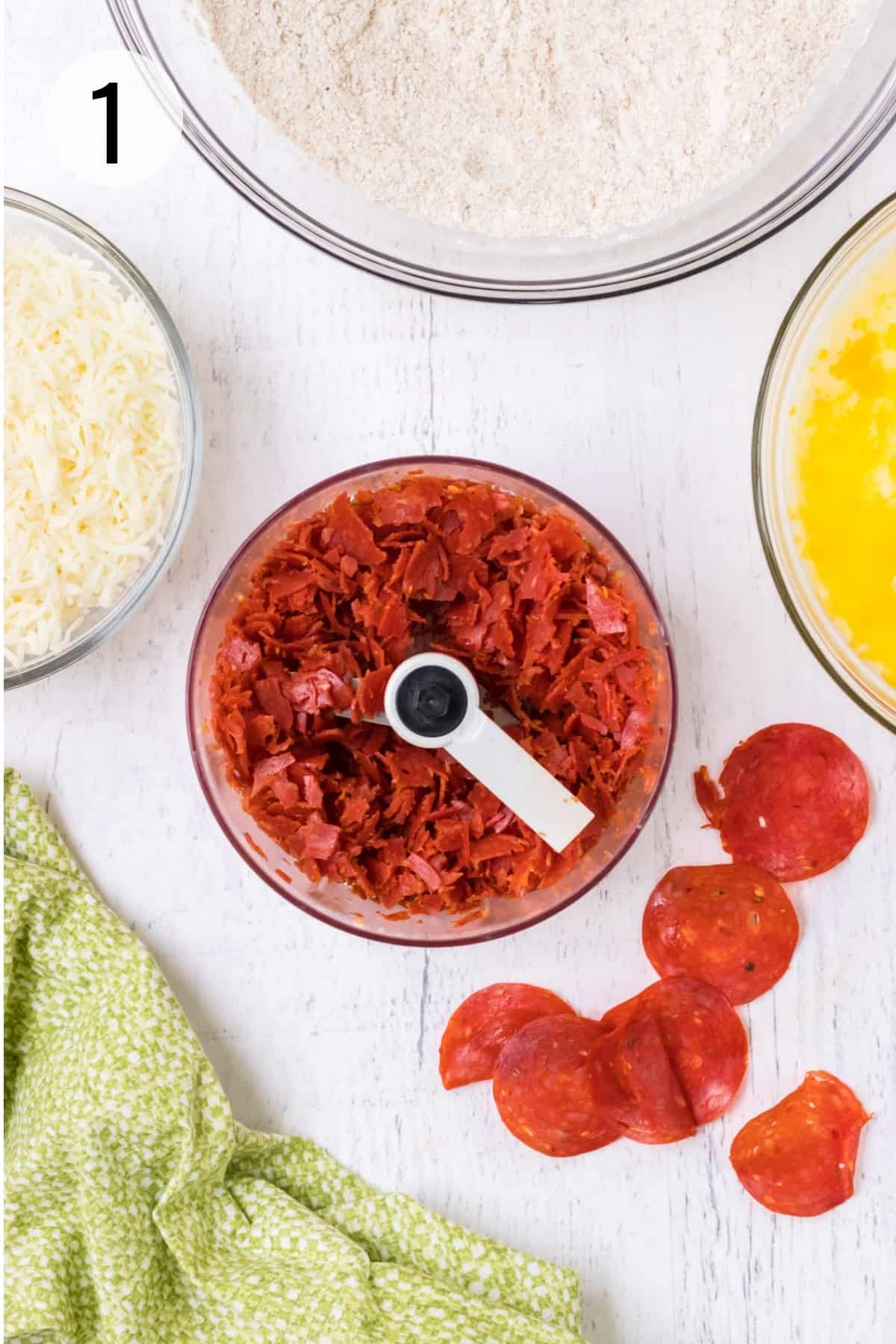 Next, combine the eggs and milk in a small bowl and whisk (affiliate link) together (2).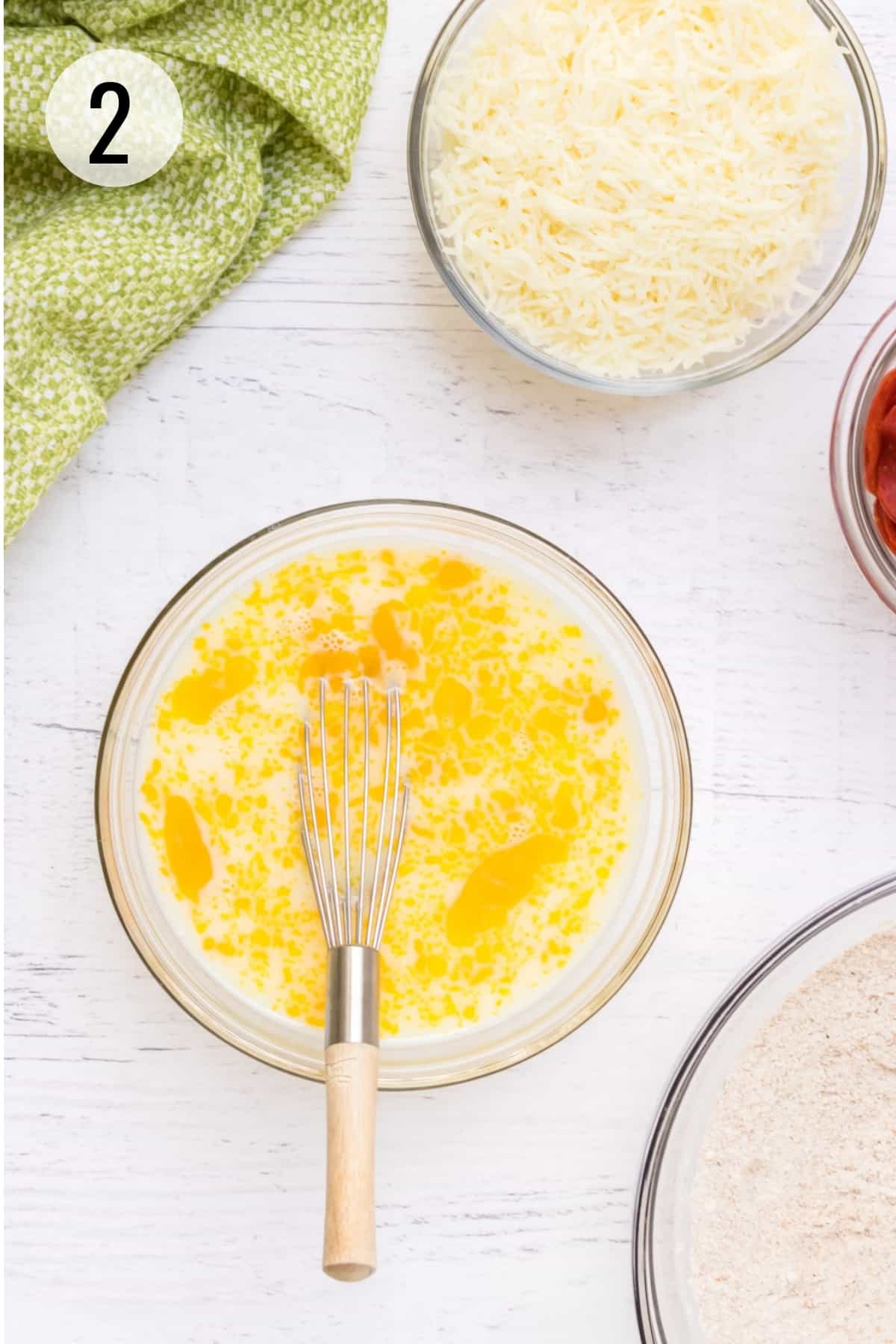 Then, in a separate large bowl, combine the dry ingredients—the flours, herb seasoning and baking powder (3).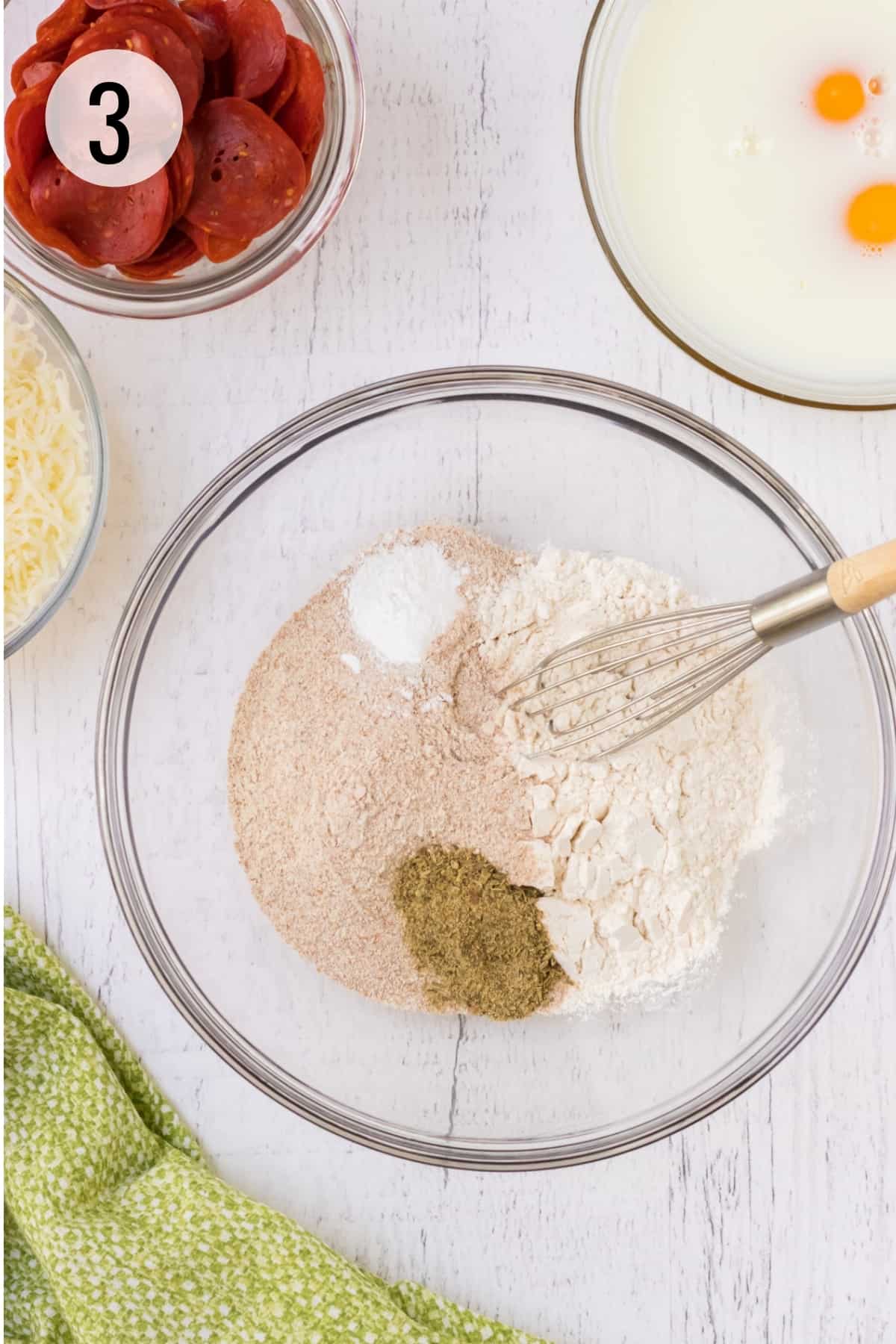 Next, it's time to add everything together! Add the milk and egg mixture to the dry ingredients and stir just until combined. Then, add the shredded cheese and chopped pepperoni (4) and fold those ingredients in to the batter.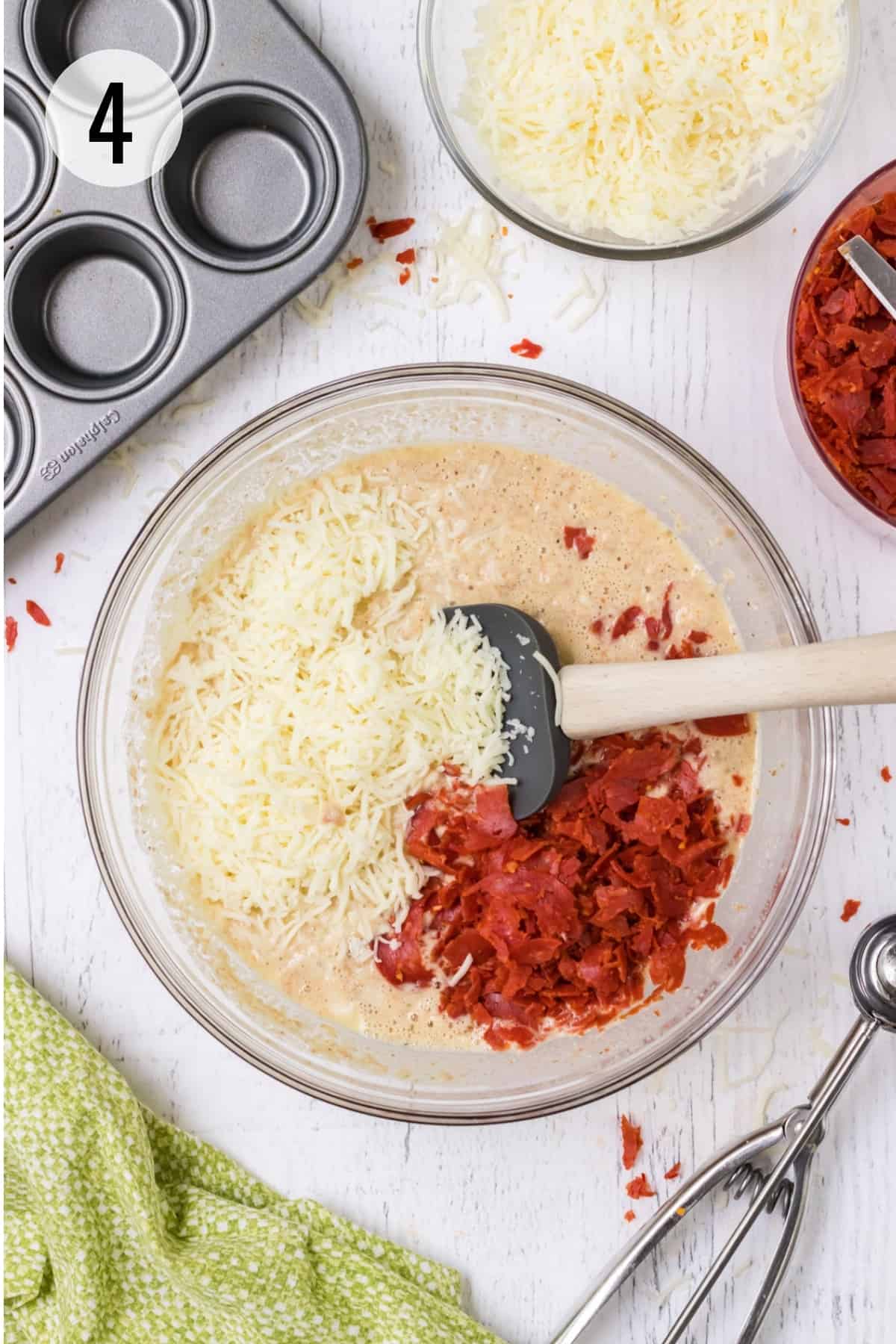 Then, let the batter sit for 10 minutes. This lets the baking powder do it's work and helps make the batter light and fluffy.
I spray my mini-muffin pan (affiliate link) with non-stick baking spray to prevent the muffins from sticking. Even with muffin liners, the muffins can stick.
Next, I use a mini-scoop (affiliate link) to evenly add the batter to the muffin cups (5). I use my mini-scoop ALL the time for things like cookie batter or making snacks like No Bake Peanut Butter Oatmeal Energy Bites.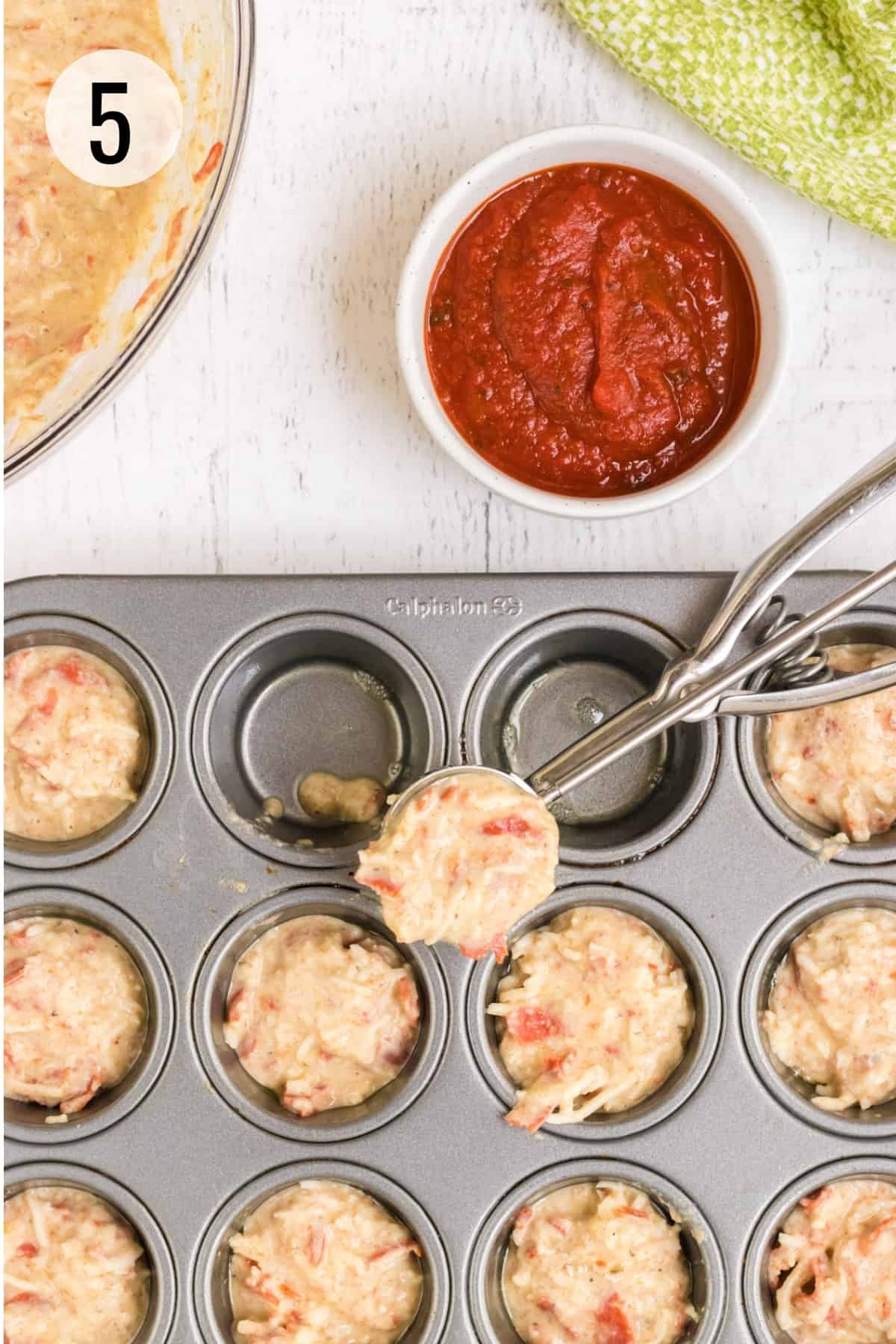 TIP: I sometimes need to use a mini rubber spatula (affiliate link) around the edges to pop them out. Don't let the pepperoni puffs sit too long in the pan and cool before removing otherwise they will be tougher to remove all in one piece!
Make Ahead Preparation Tips
You know I'm all about shortcuts to save time in the kitchen and there are a couple of steps you can do to prep the ingredients for these pepperoni pizza muffins. As mentioned in the ingredients section above, I like to shred the cheese in bulk when I buy it as a larger piece.
This can be done a few days before and keep the cheese in an airtight container in the refrigerator or stored in the freezer for up to three months.
The pepperoni can also be chopped and stored in an airtight container in the refrigerator up to a week in advance.
Combining the dry ingredients into a "kit" will help save time when you're ready to make this recipe.
Are these mini muffins freezer friendly?
These pizza muffins freeze wonderfully! After they have cooled completely, put them in an airtight, freezer-safe container (affiliate link). You may want to use some wax paper between layers to keep them from sticking together but I don't find it to be a problem too often. I'll sometimes store them in a reusable silicone storage bag (affiliate link). Don't forget to date and label (affiliate link) the containers!
The muffins can be frozen up to three months in advance. To enjoy, microwave frozen muffins for about a minute on 70% power or warm them up in the oven at 300°F for 5-10 minutes. Make sure you watch them though as reheating them too long will make them tough.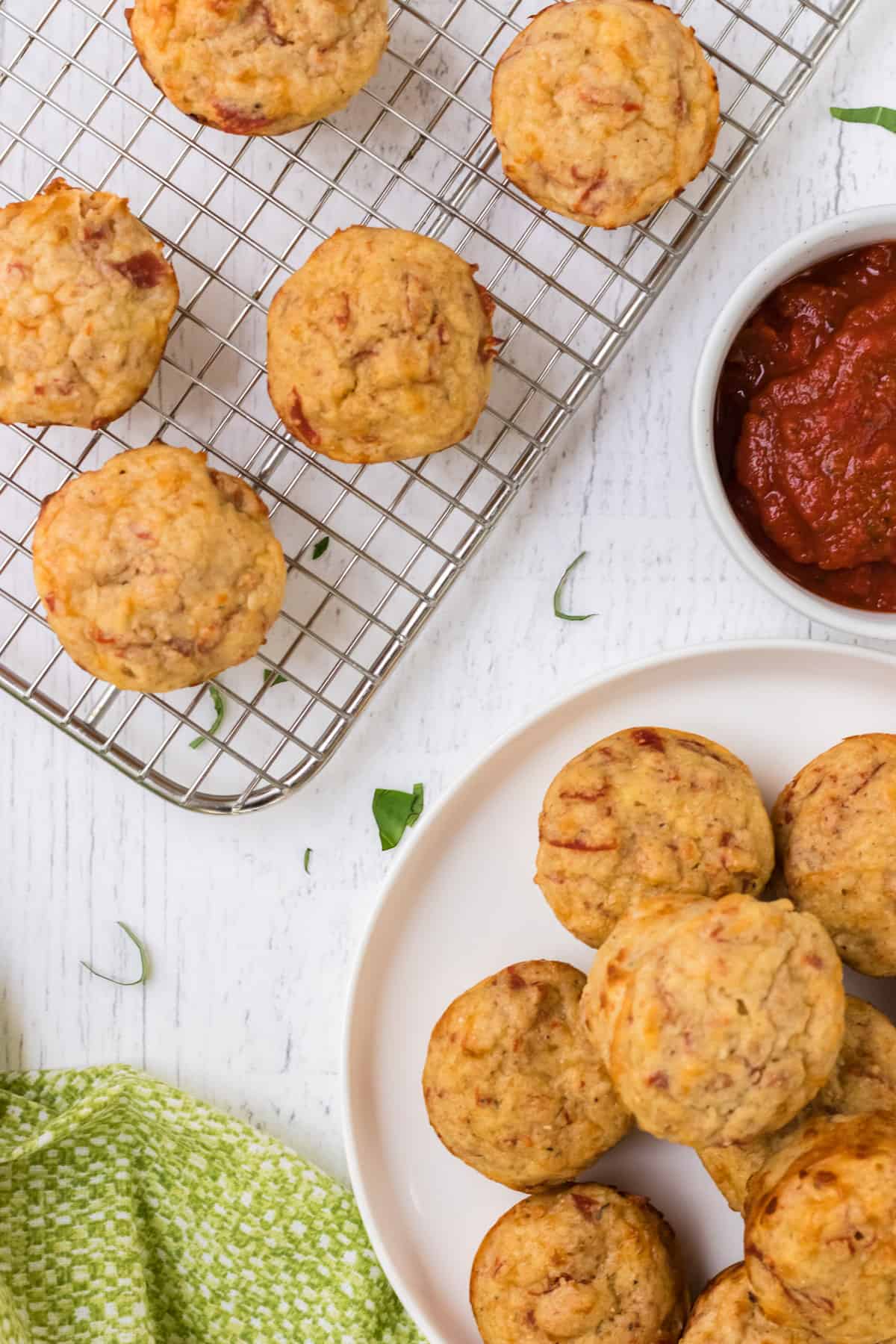 More Pizza Lovers Recipes
We're big fans of pizza flavored foods even if they're not actually pizza! Here are a few other recipes to check out!
This post was originally shared in February 2014 and updated in June 2021 with new photos, video and content.
Be sure to check out my Amazon Shop to discover the many items I use in my own kitchen. Meal Planning Magic is a participant in the Amazon Services LLC Associates Program, an affiliate advertising program designed to provide a means for sites to earn advertising fees by advertising and linking to Amazon.com. Ordering products mentioned here are at no extra cost to you. Thank you for your support.