This post may contain affiliate links. Please read my disclosure policy.
My 5 Favorite Buffet Setup Ideas will help you save time and stress so you can enjoy the party with your guests too!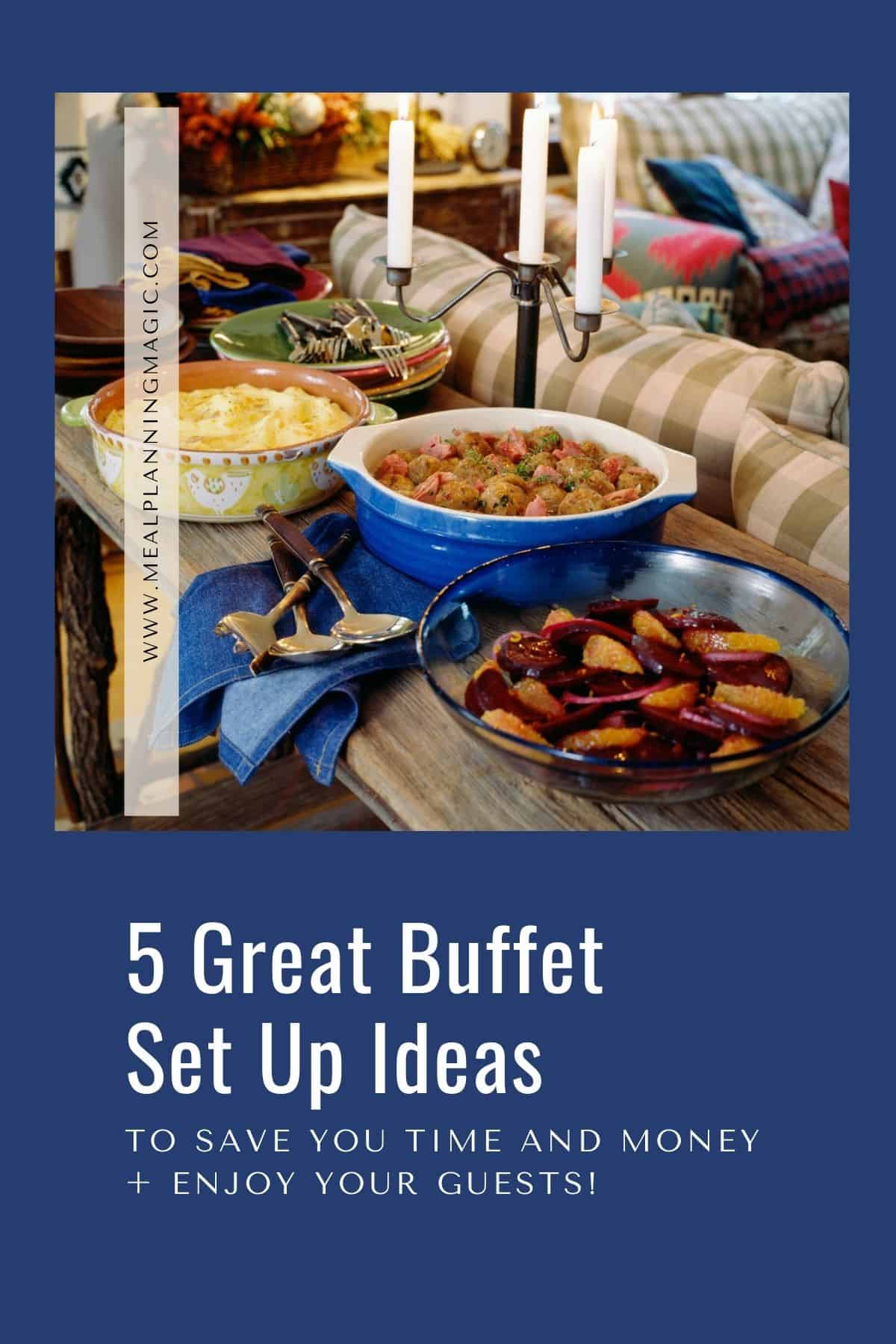 Entertaining friends and family at our home is something we enjoy and it's one reason we chose to purchase the house we're living in now. The layout is great for hosting guests.
When it comes to deciding on a menu, I almost always have a buffet set up as it just works well with flow and people can easily serve themselves. We've got a couple of tables inside for seating but we also entertain a lot outside, too, so a buffet table setup allows everyone to spread out and sit where they are most comfortable.
Over the years, I've gathered a few buffet set up ideas that not only helps assure everyone has a good time but saves me time and stress during set up, too. My 5 Favorite Buffet Setup Ideas will hopefully help you also!
Decide On Your Budget and Menu
When planning the menu, consider what items are make ahead to save you time on event day. Additionally, think about safe serving temps to help decide what can sit out for awhile or other and also what might be ok to sit out for awhile. When serving foods that need to be kept hot, using a slow cooker (affiliate link) is a great option. Freezable party mats (affiliate link) are great for keeping platters and other dishes cold–perfect if you are serving food outside, or just to keep cold foods cold.
I usually like to have a few appetizers or dips like this Cucumber Avocado Salsa or Loaded Baked Potato Dip. Depending on what we're serving, I also have a couple of side dishes to choose from as well as the main dish. A couple of our favorite company friendly meals Slowcooker Classic American Chili or Simple Slow Cooker Steak and Chicken Fajitas.
Keep Location and Flow In Mind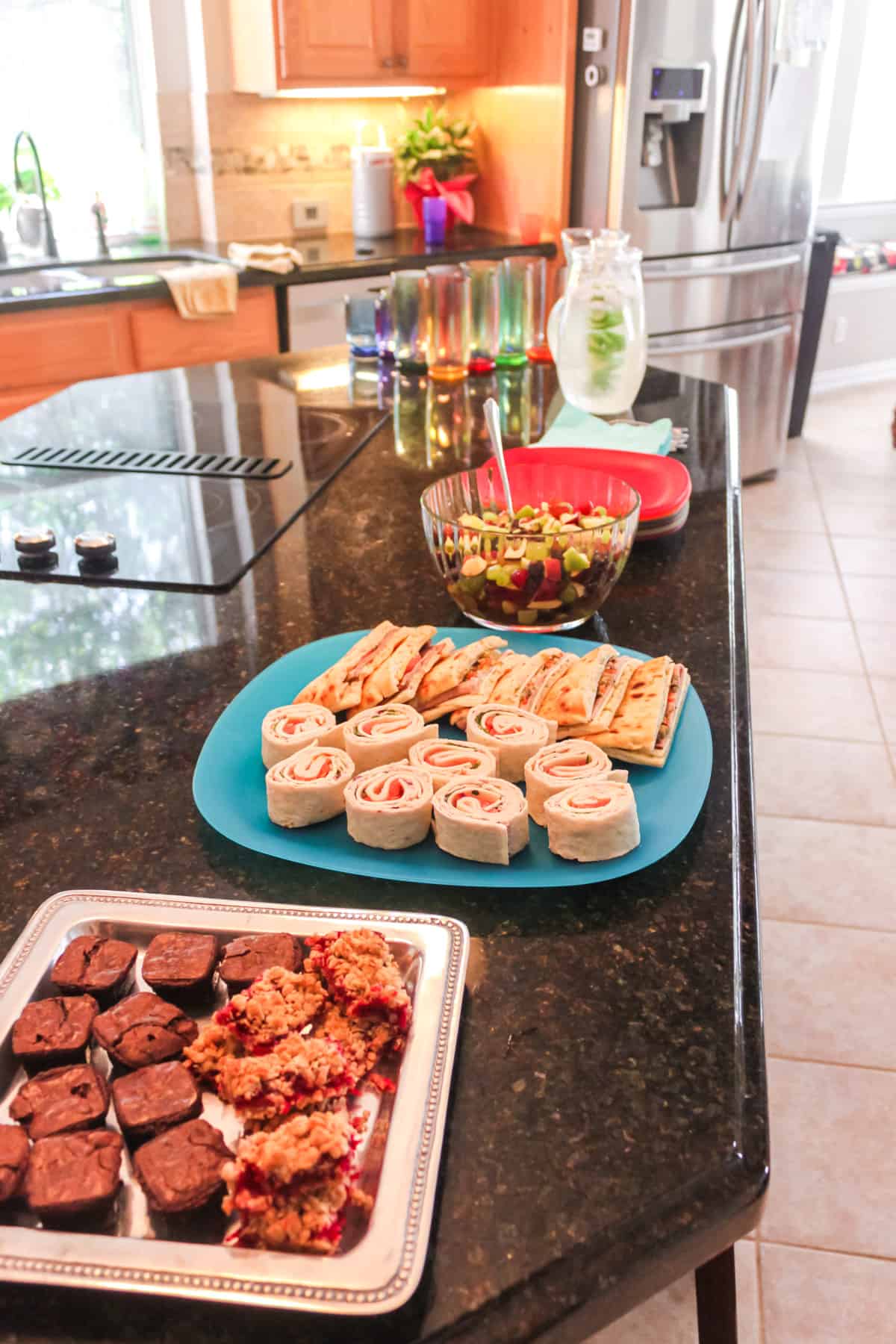 Choosing the right location is key to avoid bottlenecks and assure good flow of guests who are serving themselves your yummy food. Oftentimes I will set up different stations. For example, we have a big island in the kitchen that normally has the main meal and sides. But I often use a different counter or table for the desserts and another one for beverages.
For the beverage station, I try to have it near the sink or refrigerator to make for easier cleanup and serving (especially if ice is coming from the icemaker on the refrigerator).
Set Up the Buffet Tablespace Early
The day before, or even a few hours before, I pull out all the serving platters, bowls and baskets that I'll be using and stack them on a counter or somewhere else a little out of the way. This helps me figure out what I might need to purchase more of and also determine what I'm missing.
Sometimes I'll try to borrow what I need, purchase something new or just decide to use a different serving option. Don't forget to pull out the napkins and silver or plastic ware you're using and also the serving spoons and forks.
I recently hosted a party and realized during setup that I was out of forks! Thankfully I had time to get some together before guests arrived.
Label Your Buffet Table Setup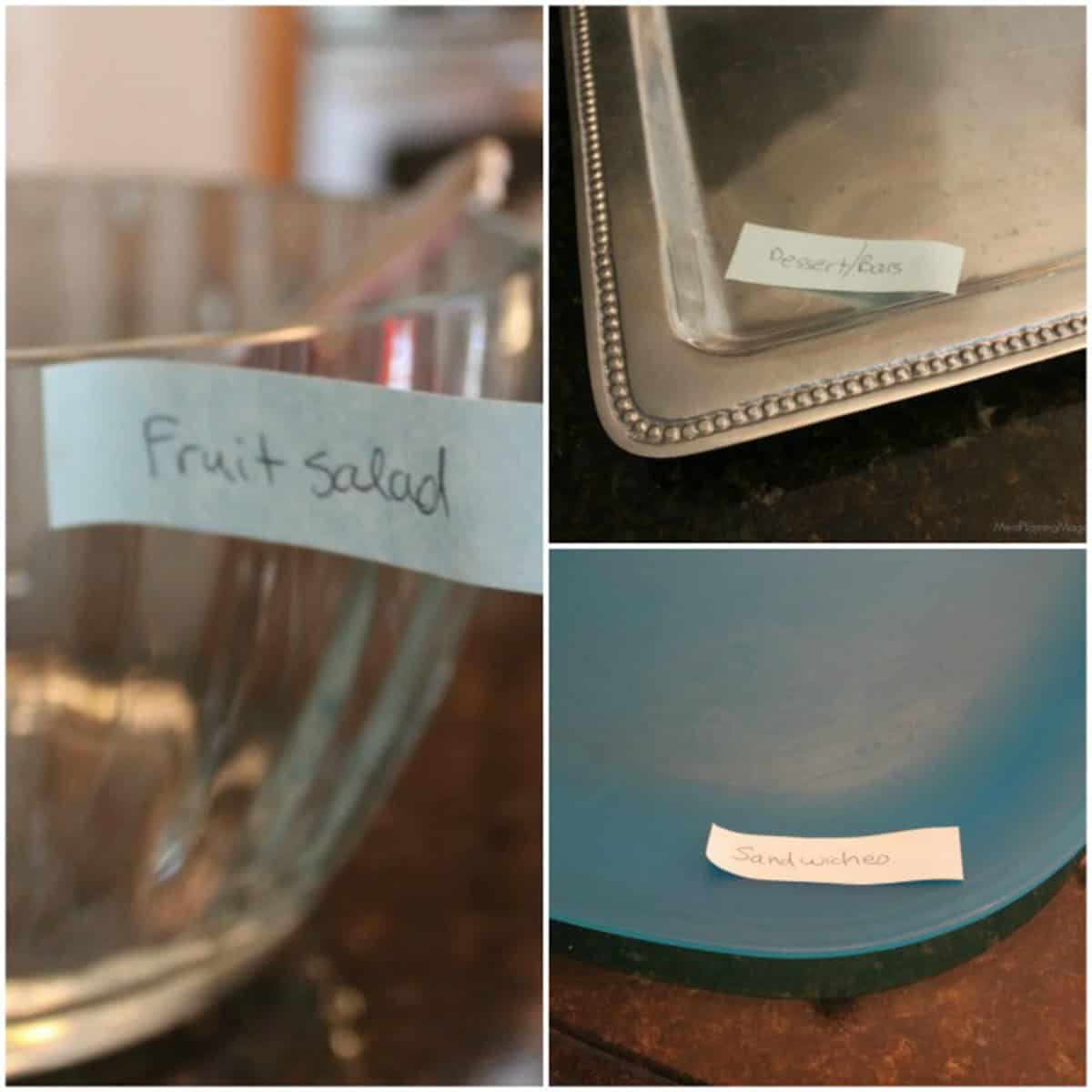 On the day of your party or get-together, lay out the platter, bowls, serving ware, napkins, etc. in the order you've decided makes the most sense for good flow. I like to start with the plates or bowls and then go with the appetizer or sides and main meal then end with the napkins and utensils.
Then I label each platter, tray or pitcher, etc. with sticky notes that I've cut up in to smaller strips. I write the name of the dish or food item that will be in each. Not only does this help me double check I have what I need for serving but it's also an easy way for helpers to know where things should go saving everyone time.
Consider Offering Individual Servings
One way to not only help with the flow of the buffet but also help prevent the spread of germs is to prepare individual servings. For example, dips and vegetables can be made up in to individual cups or small bowls can contain scoops of pasta salad or other side dishes. Using something like these reusable baking cups for snack mixes or individual paper boats for larger items.
Keep Location and Flow In Mind
Choosing the right location is key to avoid bottlenecks and assure good flow of guests who are serving themselves your yummy food. Sometimes it makes sense to set up different stations. In my kitchen, I have a big island that I normally set the main meal and sides up around but I will usually have a separate counter for desserts and another for beverages (I like to have this close to the sink or refrigerator).
I hope these tips will help your next Buffet Setup go smoothly and easily!
This post was originally published in December 2016 but updated in December 2021 with new photos and content.
Be sure to check out my Amazon Shop to discover the many items I use in my own kitchen. Meal Planning Magic is a participant in the Amazon Services LLC Associates Program, an affiliate advertising program designed to provide a means for sites to earn advertising fees by advertising and linking to Amazon.com. Ordering products mentioned here are at no extra cost to you. Thank you for your support.