This post may contain affiliate links. Please read my disclosure policy.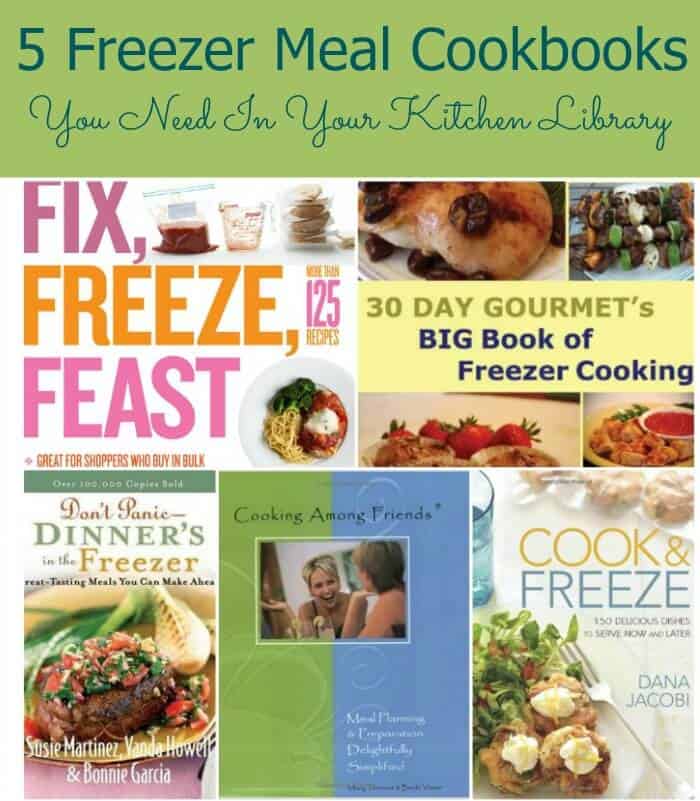 Whenever I do my meal planning presentation for groups, one of the questions I get asked most often is what resources do I use for my freezer cooking sessions. Well, a lot of it is trial and error and the result of those efforts appear here on Meal Planning Magic in the Freezer Friendly section of my recipe index.
But sometimes it's just nice to know that someone else has done the testing and has the tips to help your meal a success! I have a few in my own library that I go back to over and over again so I'm sharing those with you here. Whether your stocking the freezer for the holidays, to have meals on hand for friends in need or just to help you out on busy weeknights, having a few (or more) meals stashed away in the freezer are like gold!
Here are my top Five Favorite Freezer Meal Cookbooks: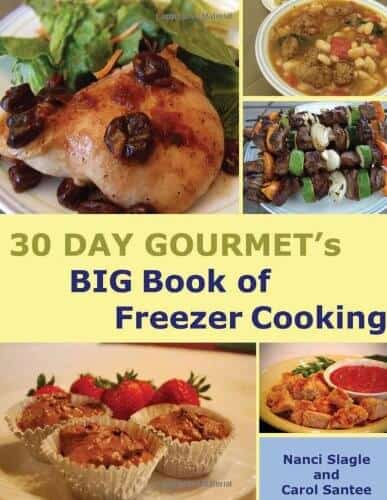 The 30 Day Gourmet BIG Book of Freezer Cooking
Find it on Amazon here.
You can read my full review of this book HERE but I love, love this book. The original edition of this book was one of my very first freezer cookbooks and when the BIG book came out, I loved it even more. Not only does it have recipes (almost all of which we have tried we've loved), but it also has worksheets and more to help you plan your freezer session. Another bonus is inside the book is a code for book owners that will let you access even MORE recipes from the authors' website (you can get tons of free recipe too by clicking here).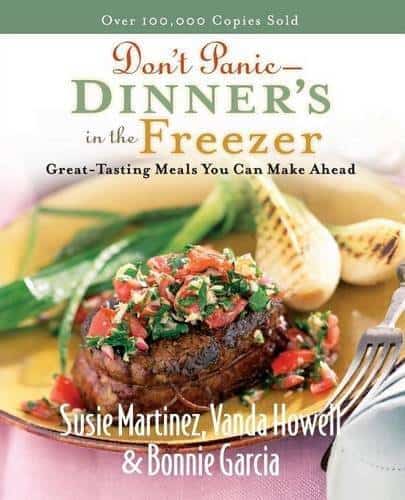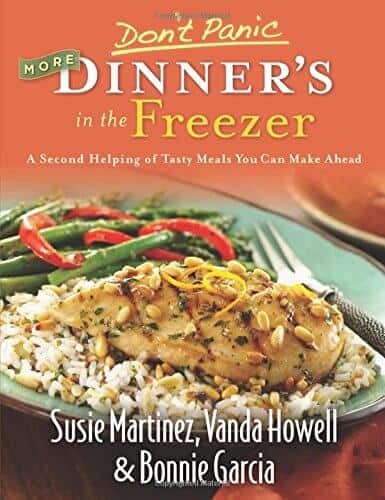 Don't Panic! Dinners in the Freezer: Great Tasting Meals You Can Make Ahead and Don't Panic! More Dinner's in the Freezer – A Second Helping of Tasty Meals You Can Make Ahead
Find it on Amazon here and the More! book here.
by Susie Martinez, Vanda Howell, Bonnie Garcia
This book is one of my favorites and what you won't find in this book is a bunch of casserole recipes. Been there, done that. (Don't get me wrong, we like casseroles but are always looking for some variety!)
What you WILL find are a huge selection of recipes that will leave you saying "I didn't know I could freeze that!" Some of my favorites are the Buttermilk Herb Chicken Breasts, North Woods Wild Rice Soup, Lemony Flank Steak or Pecan Stuffed Chicken Breasts. Don't forget the breads and muffins that you can bake and freeze too…there are lots of options here! They authors have also included some side dish and dessert options to make the day of when you pull out your freezer meal.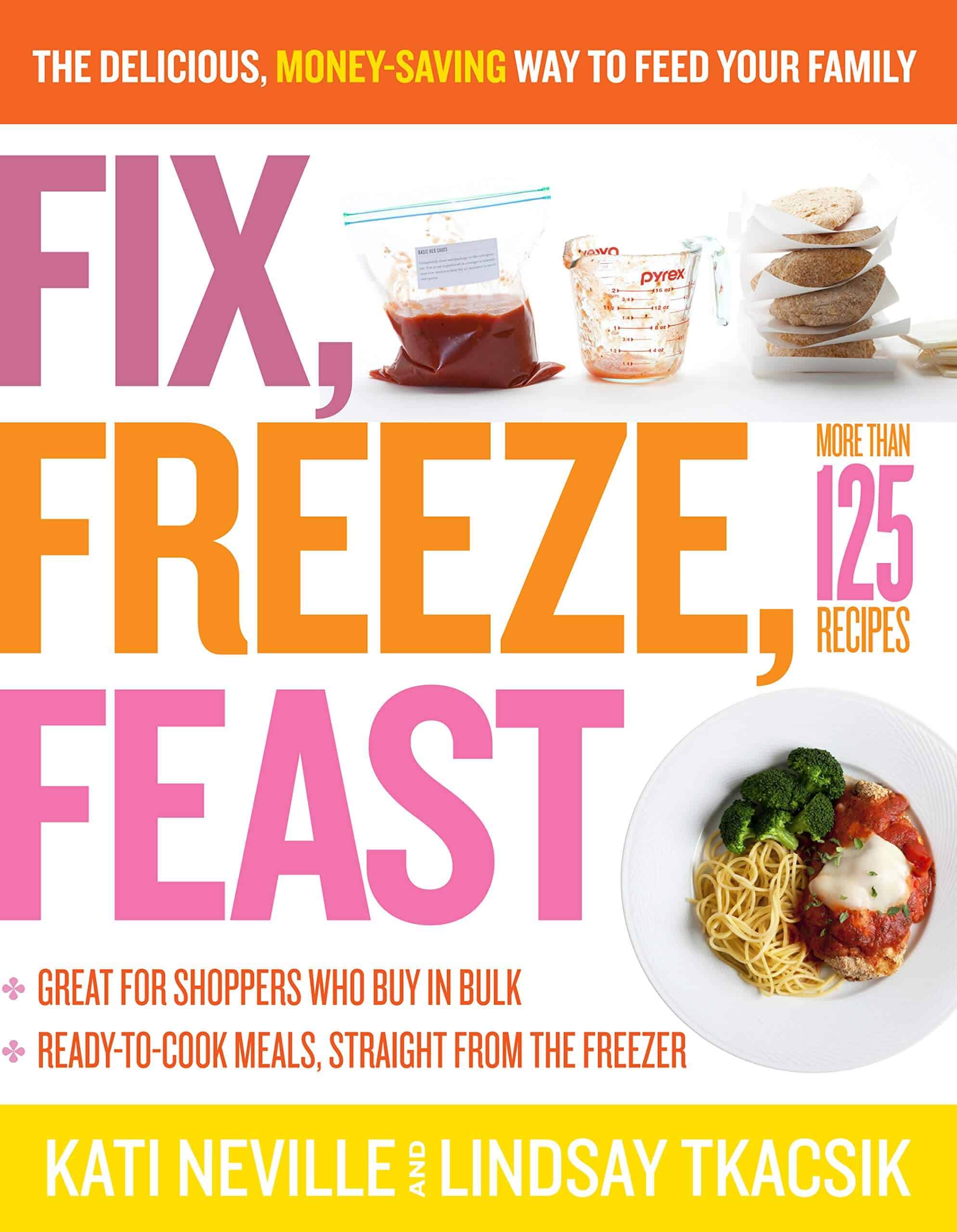 Fix, Freeze, Feast
by Kati Neville and Lindsay Tkacsik
Find it on Amazon here.
One thing I like about this book is the simplicity of the recipes. So many of them have just a handful of ingredients and that makes a freezer cooking session even that much more rewarding. Who doesn't like knowing that you've filled your freezer for so many busy nights with minimal effort on the front end? Some of our favorites are the Tequila Lime Chicken, Pecan Crusted Chicken Strips, Mozzarella Meatballs and Seafood Creole. What's extra great about this cookbook is that in the back of the book, there is a whole section of freezer labels that you can copy and print to include with your froze food packages. The freezer labels have all the cooking instructions for each meal so that anyone can help make the dinner after it's thawed. Love it!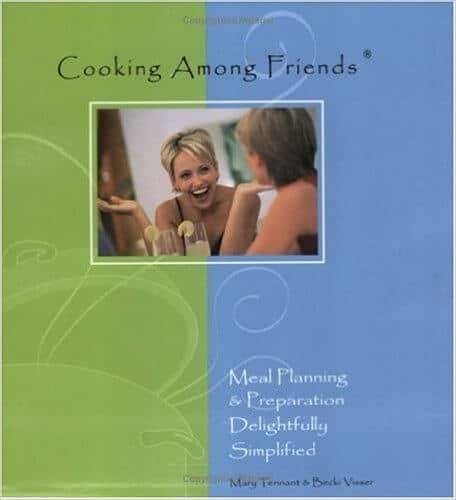 Cooking Among Friends: Meal Planning and Preparation Delightfully Simplified
by Mary Tennant and Becki Visser
Find it on Amazon here.
This was one of my first freezer cooking books. I had read an article in a magazine about a freezer swap group and loved the concept. I've since started two different groups (now defunct due to people moving/dietary changes) and it was great!
This book is the perfect guide if you'd like to start your own freezer meal exchange group. It's not really meant for individual family meals as the smallest portions on the recipes start with six meals (24 servings) each. The nice thing is if you ARE making multiples of one recipe—say for your exchange group—the authors have done all the math for you on the quantities.
The authors start off with a Q&A section to help answer questions about freezer cooking in general and how doing it with friends will work. Next up are tips on forming your club with things to consider like the size of the group, the size of the families in your group (you want your appetites to be similar), dietary restrictions and more. They also include a great survey to help your group get started. By taking the simple quiz you'll learn if buying store brands is ok with the majority, who prefers white meat for their chicken and what to consider a serving size (for example, a family with toddlers or preschoolers will expect different serving sizes than a family with growing teenagers). Tips on what types of containers to use and logistics for setting up your first cookbook round out the handy guide.
Next up are the recipes! And this isn't just your general casserole frozen fare. Chicken Breasts in Phyllo, Pizza Kits or extras like Buttermilk Pancake Mix. Little tips throughout with suggestions for finding supplies, shortcuts on recipes and general hints for making the group experience better add a nice touch. Every recipe is set up to make either six, twelve or eighteen meals and has done the math for you so that when you head to the grocery store you already know how much to buy. Each also suggests the recommended packaging and provides reheating instructions so you can label each meal accordingly for easy prep on serving night.
This book will get you started freezer cooking and have a little fun with your friends too. You can read more about how I started my freezer meal group by clicking here.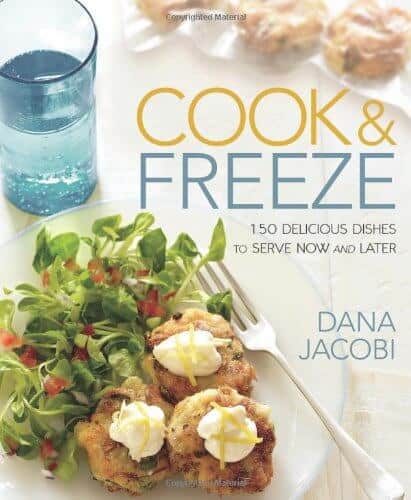 Cook & Freeze
by Dana Jacobi
Find it on Amazon here.
I like this book because it not only includes instructions for cooking for the freezer but if you want to make something to serve now, it includes those instructions too. Each recipe shares a "For Serving Now", "To Freeze" and "To Defrost and Serve" section so you have lots of options!
Some of our favorites are the Creamy Mushroom Sauce (yep, homemade cream of mushroom sauce that you can FREEZE!), Southern Pork Chop Casserole, California Meatloaf Burgers and Pizza Noodle Casserole. What I especially like about this book is the variety of freezable side dishes the author includes like the Maple Baked Beans and Frozen Coleslaw (yep, you can freeze it!) and Upside-Down Pineapple Sweet Potatoes. There are a decent number of desserts and breakfasts included also which is great for having on hand when company stops by.
I hope these books will inspire you to get going with freezer cooking if you're just getting started or maybe to expand your repertoire if you've already got a few recipes that are family favorites. I'd love to know any other freezer cooking cookbooks that you like too–feel free to leave your suggestions in the comments below.
Disclaimer: I have received no compensation from the companies who make the products in this post. They are simply products I use and recommend myself. I am, however, an Amazon Affiliate. That means if you make any purchases from following the links in this post, I'll receive a small commission (at no additional cost to you) as a thank you for the referral. And thank YOU for supporting Meal Planning Magic blog thorough your purchases. All photos in the post are from Amazon.com.