This post may contain affiliate links. Please read my disclosure policy.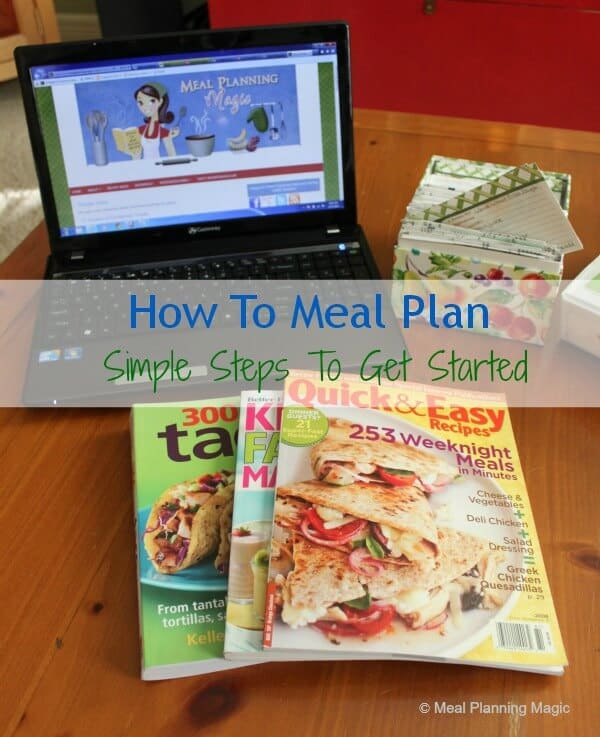 Learning how to meal plan is the one question I seem to get over and over again. And even though I've done blog posts before on the basics, it has been awhile so I'm doing a little update now. I started meal planning years ago as a way to try and save my sanity. You can read more about how I began HERE.
When I used to teach my meal planning workshops, I always started out with the WHYS of meal planning. It's important to understand why you should meal plan to help you get started!
Why Meal Plan?
To save money! When you have a plan, you know what you need and you (hopefully) buy just what you need for that week's menu. Without a plan, you're more likely to make impulse buys and that means spending more money! You can also work leftovers into the plan which will save you even more money.
To save time—in the kitchen and at the store. How many times have you opened the refrigerator or pantry and stared blankly into them trying to figure out what you have on hand to make for dinner? Or are you one to wander aimlessly at the grocery store hoping that going up and down the aisles will inspire you to think of what you need or want to buy? And if you bring your kids shopping with you (which I DO like to do—read here why) all that wandering can mean you might walk out with something you forgot and something you did not mean to buy.
Staring and wandering wastes time. Don't do it! Have a plan and you'll be more efficient on both fronts. Plus, you're more likely to be able to just make one trip to the grocery store because you can buy all that you need.
Eat Healthier and More ConsciouslyMeal planning helps you be a conscious cook. You're less likely to make impulse buys and can think about what you are making and serving your family. Will that be less-processed, organic, local, more budget friendly? The choice is yours, but when you have a plan, YOU can decide.
Less stressful.
When the end of the day comes and you realize you're hungry and it's time to make dinner for your family, you'll feel better knowing that you've got a plan! Maybe that means a quick and easy recipe, having something ready to go in the slowcooker or pulling something from the freezer, but just knowing ahead of time what's for dinner equals less stress. Or maybe it's in the morning…having a breakfast plan means you won't have to feel bad about serving cereal day after day after day and can mix things up a bit with some variety in your plan.
What Tools Do You Need?
There are a number of things I gather to help make the meal planning process go more smoothly. They are: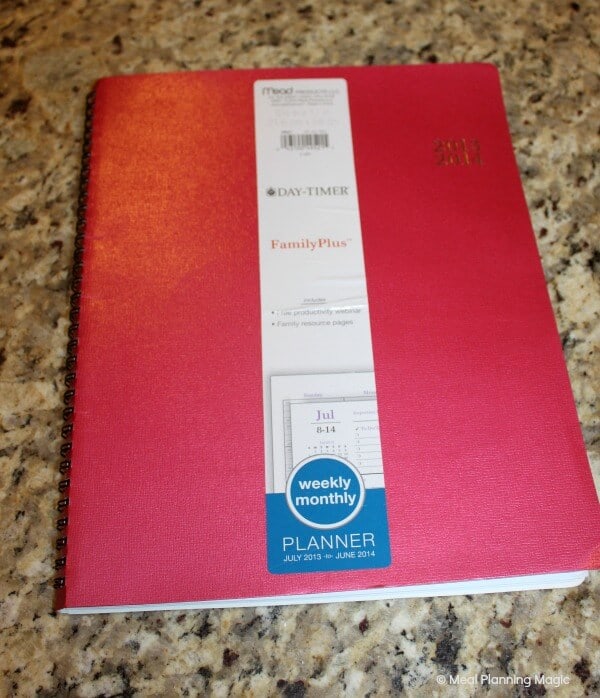 A Calendar/Planner: A paper calendar/planner, computer calendar or whatever works for you is it. Discover what I like about my current family planner in the post and video HERE. If you use a computer calendar (such as Google calendar), I suggest you print it out for the month as it's easier to see and write on it as you are planning.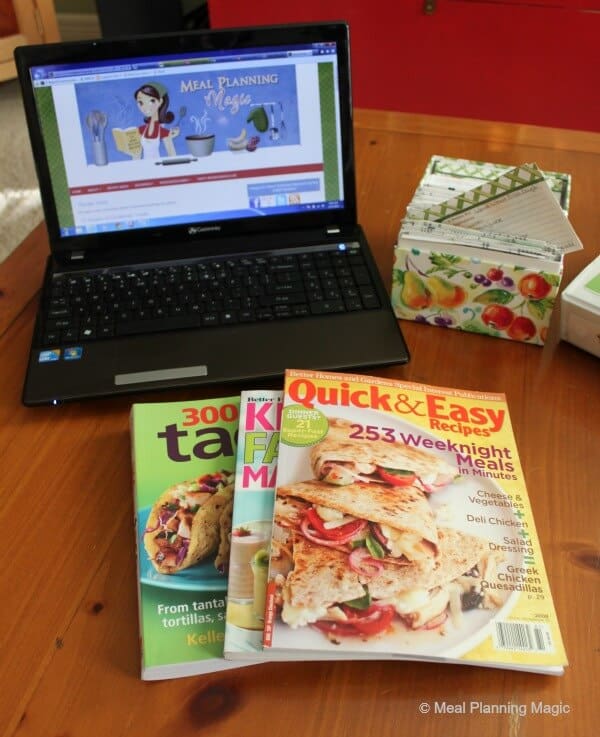 Recipes! These will come from a variety of sources. I like to have my laptop handy so I can check my website's Recipe Index, Pinterest boards, or other online recipe boxes. I also pull out my family recipe box, magazines, cookbooks or recipe clippings I've collected. Of course I'm not pulling them ALL, just a few that I maybe haven't used in awhile to give me some inspiration. You might recall, I have quite a collection!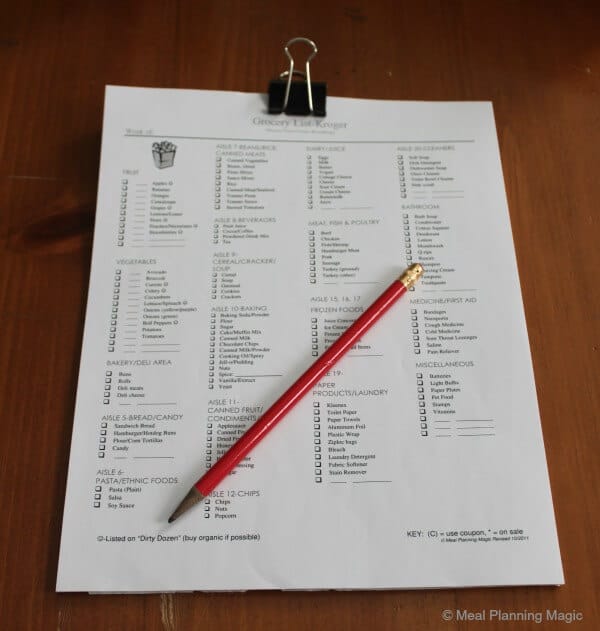 Shopping List printout
Years ago I came up with a grocery store list that was customized to the grocery store I shop at most often (this blog post that talks about it is REALLY old—I need to do an update! But it will give you an idea of what I'm talking about). It is so handy because everything is organized by aisle so I can get in and out of the store more quickly. I also keep copies of it inside the door of my pantry so that anyone in our family can add something to the list when we run out of an item. Of course having a printed out list is not necessary. But I do suggest you go into the store with some sort of list for sure! It will help you stay on task and avoid those impulse buys!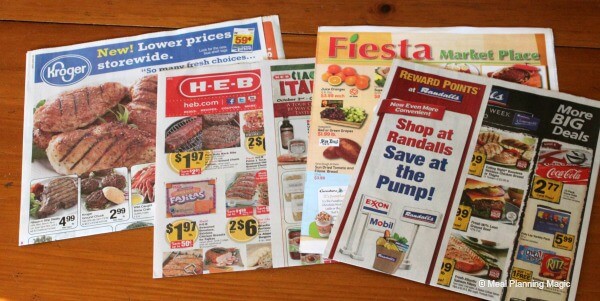 Grocery Store Flyers and Coupons
Using the flyers that come in the mail or newspaper for your local grocery stores helps with meal planning goal number one—to save money! You can look through the ads to see what is on sale and plan accordingly. I don't use coupons too much, but if you do, have them handy so you can add up even more savings and include those items in your meal plan. Why don't I used coupons? I prefer to buy store brands which for me, saves me more than coupons do. Plus, the coupons available are often for items our family does not really eat.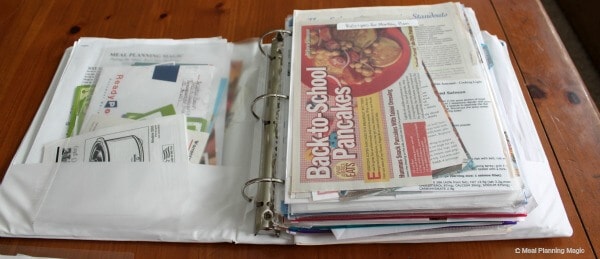 Meal Planning Binder
I developed a meal planning binder years ago to collect all things meal planning related. Really many of the things I've already mentioned here. It is kind of an evolving thing and while it's not necessary, it is handy when you're getting started to have a place to keep all your meal planning tools together in one place.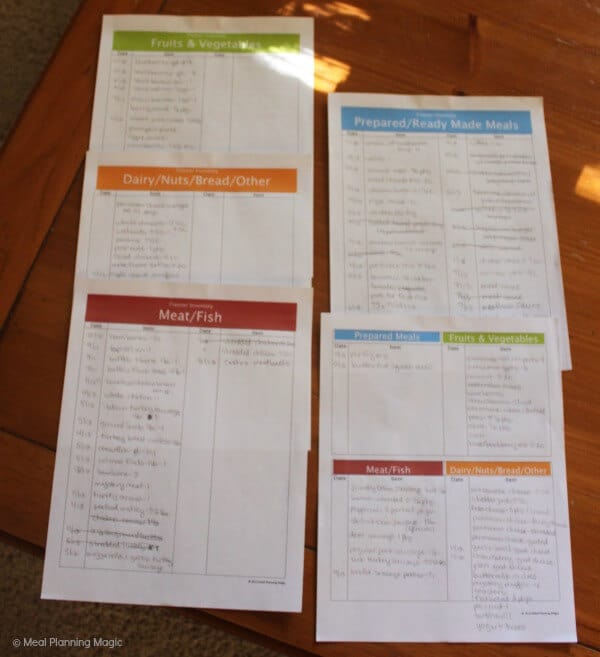 Freezer Inventory List
If you're not keeping an inventory of what you have in the freezer (or pantry or refrigerator even!), you need to start now. Once you've got your inventory, pull it out when you're ready to meal plan so you can use up what's in the freezer. Maybe you got a really good deal on ground beef and need to use some of it up. Check the inventory! Or maybe you made a double batch of that lasagna last time you made it. Check the inventory and use it up! You can download my free Freezer Inventory sheet by CLICKING HERE to help you get started.
Making the Menu Plan!
Schedule a time to meal plan. Just like exercise, meal planning doesn't just "happen". You have to set a time to get it done. But with practice, you should be able to get a week's menu plan done in less than 15 minutes and you'll be oh so much happier for it. I personally like to meal plan on Sundays and shop on Mondays. Schedule your planning day based on the day you like to shop. That might mean every Thursday to shop on Friday or Saturday or maybe every other week when the paycheck comes in. I usually put on a favorite television show and sit down after the kids are in bed. I can have all my meal planning tools laid out and enjoy a favorite show at the same time as being productive. Win-win!
Plan Your Meals to the Calendar
Now comes the fun part. It's kind of like a puzzle. Look at what activities you and your family have going on for the week. Is one day an extra crazy day with lots of evening activities? Make that a slow cooker meal kind of day! Maybe another day is not so busy and you can try out a new recipe. Or how about those days that you're just too worn out at the end of the day but want to avoid the drive through? A meal pulled from the freezer (made ahead) is perfect to just heat, serve and eat!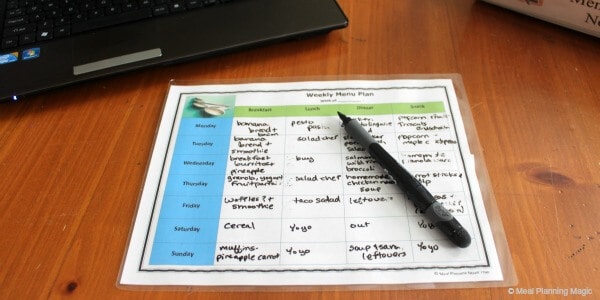 Write It Down
So now you've got an idea of what you want to make you've got to write it down. That might be in your planner or on your calendar or added to your computer calendar. That way when each day comes, you can refer to the plan you've already made and see what you need to make or do to get dinner on the table more easily. As you are going through the
Now Go Forth and Meal Plan!
I hope some of these ideas will help you get started meal planning. And remember, as with anything new, it takes practice and dedication. Over time, it will become easier for you to get a meal plan together and you'll wonder why it took you so long to get started! As always I'm available to answer your questions. Just leave a comment below and I'll get back to you!
Don't want to miss an update? Besides sharing tips like these, I also share all kinds of meal planning and kitchen organization ideas and recipes. Be sure to SIGN UP HERE to receive updates via email or RSS feed (you can choose the reader you prefer!) And don't forget you can always follow me on Facebook, Twitter, Pinterest or Instagram. They all offer a little something different and are a great way to stay in the loop on new menu plans, recipe ideas, giveaways, organizing tips and more!