This post may contain affiliate links. Please read my disclosure policy.
Jalapeno salmon burgers are a delicious and easy way to enjoy fresh salmon. This family friendly dinner recipe uses fresh salmon, jalapenos, garden tomatoes, and crispy panko bread crumbs to form fresh fish burgers that are flavorful and filling!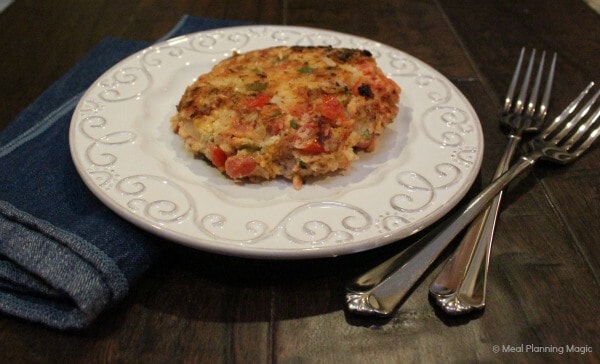 Jalapeno salmon burgers are a combination of flavors we discovered last summer. Actually, it was during Hatch chiles season that our local grocery store seemed to be all about putting hot peppers into everything! We tried the salmon burgers when they were on sale and we have been hooked ever since. My daughter especially loves to take fresh grilled jalapeno salmon burgers in in her lunch to school.
But even when they're on sale for $3.00 per patty, they can get a little pricey to have too regularly. So this month when the Eating the Alphabet series this month featured the letters I & J, I knew I wanted to use jalapenos. Here in southeast Texas, jalapenos are pretty much a year-round staple!
And even though salmon can seem pricey on it's own, making my own Jalapeno Salmon Burgers is still cheaper than buying the premade version from the fish counter. I can make four burgers for about $10 total, and that's with salmon at $7.99/pound! Finding salmon on sale makes it an even better deal! I used tomatoes from our garden too!
Jalapenos Are Full of Nutritional Benefits!
You may know that jalapenos contain capsaicin, the compound that gives them a strong spicy pungent character. But that capsaicin has been found to have anti-bacterial, anti-carcinogenic and analgesic properties. They are also a rich source of Vitamin C and other antioxidants like Vitamin A, beta-carotene and Vitamin K. Who knew these little peppers were a powerhouse of health? Combined with fresh salmon (full of healthy Omega-3s) and tomatoes and onions, it's easy to make a healthy meal.
These fresh salmon burgers come together quickly and cook up fast. We normally just eat them as is with a side salad but you can also serve them on a whole wheat bun if you want more of a sandwich burger.
I hope you'll give the jalapeno salmon burgers a try!
Jalapeno Salmon Burgers
Ingredients
1 lb. fresh salmon (wild-caught will have a more intense flavor)
2 medium jalapenos, diced
1 cup chopped tomato, diced
1 cup finely diced onion
1 cup shredded cheddar cheese
½ cup panko breadcrumb
1 teaspoon all-purpose season salt blend
Instructions
Remove skin from salmon and finely chop. Set aside. Dice tomatoes and drain off liquid. In a large bowl, combine salmon, jalapenos, tomato, onion, cheese, breadcrumbs and season-salt.
Form mixture into four patties.
In non-stick skillet, cook patties one or two at a time over medium high heat approximately 5-6 minutes on each side until cooked through and outside is crispy.
Serve warm on bun or with a side salad, if preferred.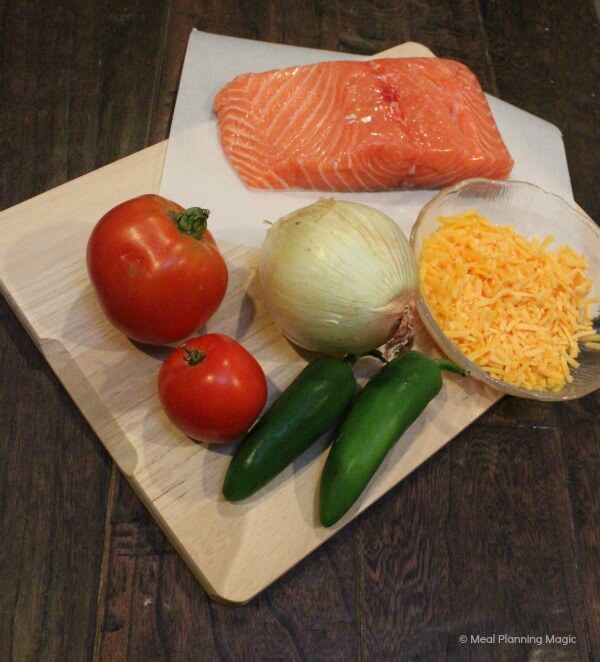 Just a few simple ingredients is all it takes to make the jalapeno salmon burgers.  (I forgot to include panko and season salt in picture)
Eating the Alphabet Recipe Challenge Details
For all the details about the Eating the Alphabet Recipe Challenge check out my post from earlier this year (or if you are a blogger and want to join in, there is a sign-up form to complete).
Don't forget to check out the Pinterest board. There you can keep track of all the recipes that are added month-to-month but also find new recipes from last year too. What's your favorite fruit, vegetable, grain or legume that starts with the letter I or J?
Be sure to check out all the other blogs shown below to discover new recipes and ideas!