This post may contain affiliate links. Please read my disclosure policy.
White bean dip, made with Great Northern white beans and edamame (young soybeans), makes a healthy snacking option or a delicious sandwich spread in this unique, delicious, easy recipe!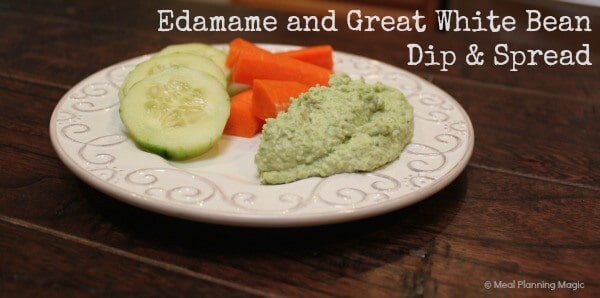 It may seem like an unlikely pairing, but it's something I've been thinking about trying ever since coming across similar recipes online (was it Pinterest, another blog? I can't remember, but I know I saw it!)
These last few weeks have been crazy busy for me. I have been gone somewhere every weekend for the last month and a half! That means less time in the kitchen for me so this month's Eating the Alphabet post is a few days behind. Oh well..better late than never!
Healthy Family Ingredients
When trying to decide what ingredient I wanted to feature this month, I knew I wanted to use edamame. My whole family loves to eat steamed edamame in the pods, but I have seen lots of recipes here and there using this soybean in salads, dips or other dishes. I decided I wanted to make a dip sort of like hummus, but also using Great Northern white beans instead of the traditional cannellini beans. In searching the web, I never really found a recipe exactly like what I was looking for so I created my own!
This is such an easy dip recipe, you will ask yourself why you don't make it more often. It is delicious served with cut up vegetables like carrots or cucumber, but also tastes great with pita chips. Not only can you enjoy it as a dip, but it is also delicious as a spread on a sandwich or wrap. Best of all it can be made ahead and will store in the refrigerator for two days.
A Nutritious Snack – Edamame White Bean Dip
Edamame has been around for centuries and is popular in many Asian cuisines. This legume is packed with fiber, protein and antioxidants such as vitamins C and A as well as being high in iron. A half cup serving of edamame has 9 grams of fiber—as much as four slices of whole-wheat bread and as much iron as a 4-ounce roasted chicken breast. Great Northern Beans are also full of fiber and iron as well as potassium. These legumes and beans are a powerhouse of nutrition and taste great together too!
I hope you enjoy this delicious and easy white bean dip recipe!
Edamame and Great Northern White Bean Dip & Sandwich Spread
Author:
Ingredients
1 15 oz. can Great Northern White beans, drained and rinsed
1 ½ cups edamame, unshelled and cooked per package directions
1 medium garlic clove, minced
¾ tsp. salt
Pinch cayenne pepper
¼ cup fresh lemon juice
¼ cup tahini
¼ cup extra-virgin olive oil
¼ cup water
¼ cup cilantro
Instructions
In a food processor, blend all ingredients together until smooth, about one minute. Transfer the dip/spread to a bowl or storage container. Cover and chill until the flavors are blended, at least 30 minutes. Serve cold. This dip/spread can be refrigerated up to two days.
Notes
Add more cilantro if you'd like a little more zip!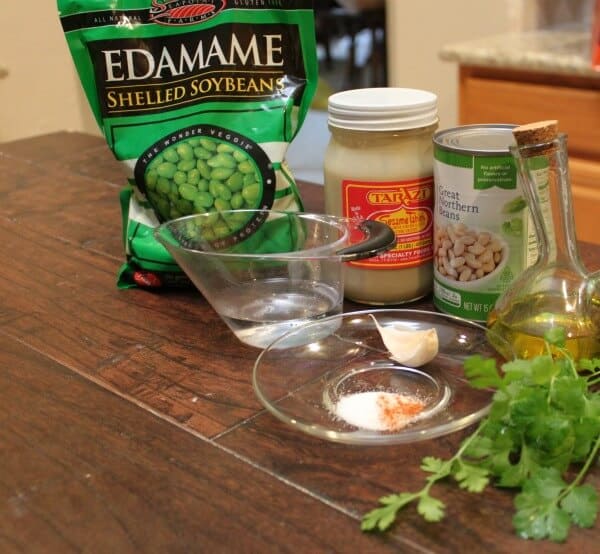 Simple ingredients and SO easy to make!
Bloggers, Join the Eating The Alphabet Healthy Recipe Challenge!
For all the details check out my post from earlier this year (or if you are a blogger and want to join in, there is a sign-up form to complete which you can find here).
Don't forget to check out the Eating the Alphabet Pinterest board. There you can keep track of all the recipes that are added month-to-month but also find new recipes from last year too. What's your favorite fruit, vegetable, grain or legume that starts with the letter E or F?
Be sure to check out all the other blogs shown below to discover new recipes and ideas!