This post may contain affiliate links. Please read my disclosure policy.
Who says the holidays can't be healthier? This festive Holiday Fruit Salad takes just minutes to make and is full of delicious grapes, apples, cherries and more! A perfect addition to your holiday menus.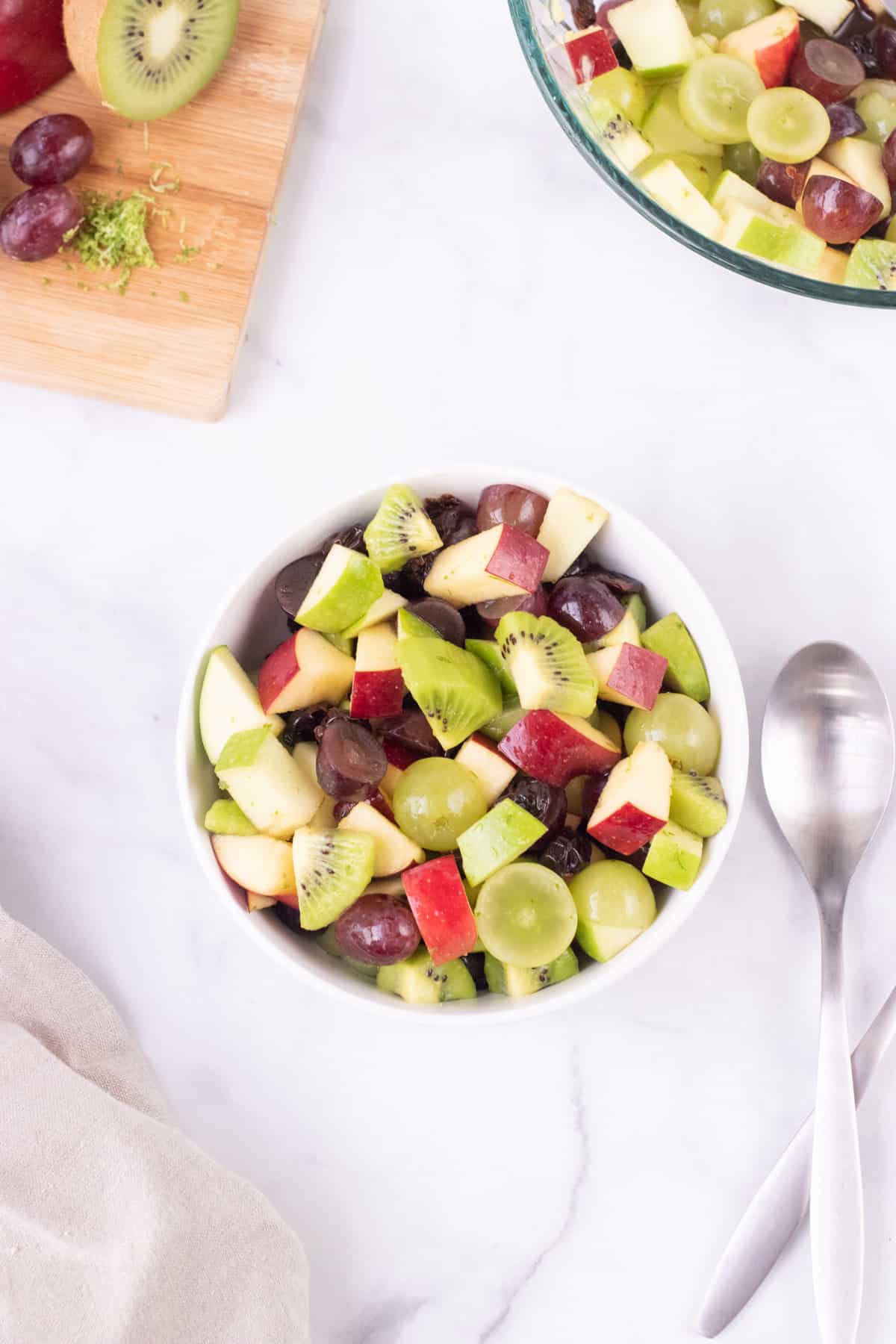 Why We Love This Recipe
The holidays are filled with lots of rich and sweet, tempting foods so when I came across this Holiday Fruit Salad recipe several years ago, I couldn't wait to try it! I tested it with my book club friends and it was an instant hit.
I've since made it more often, even for Christmas morning as it is a perfect addition with the red and green colored fruit like apples, grapes and kiwi. I sometimes call it Christmas Fruit Salad because of that!
What I especially like about this fruit salad recipe is how easy it is and that it can be made ahead making it a perfect addition to your holiday menus. The chopping of the apples and kiwi does take a bit of time but the salad is made in under 15 minutes so that's a win in my book!
Ingredient Tips and Notes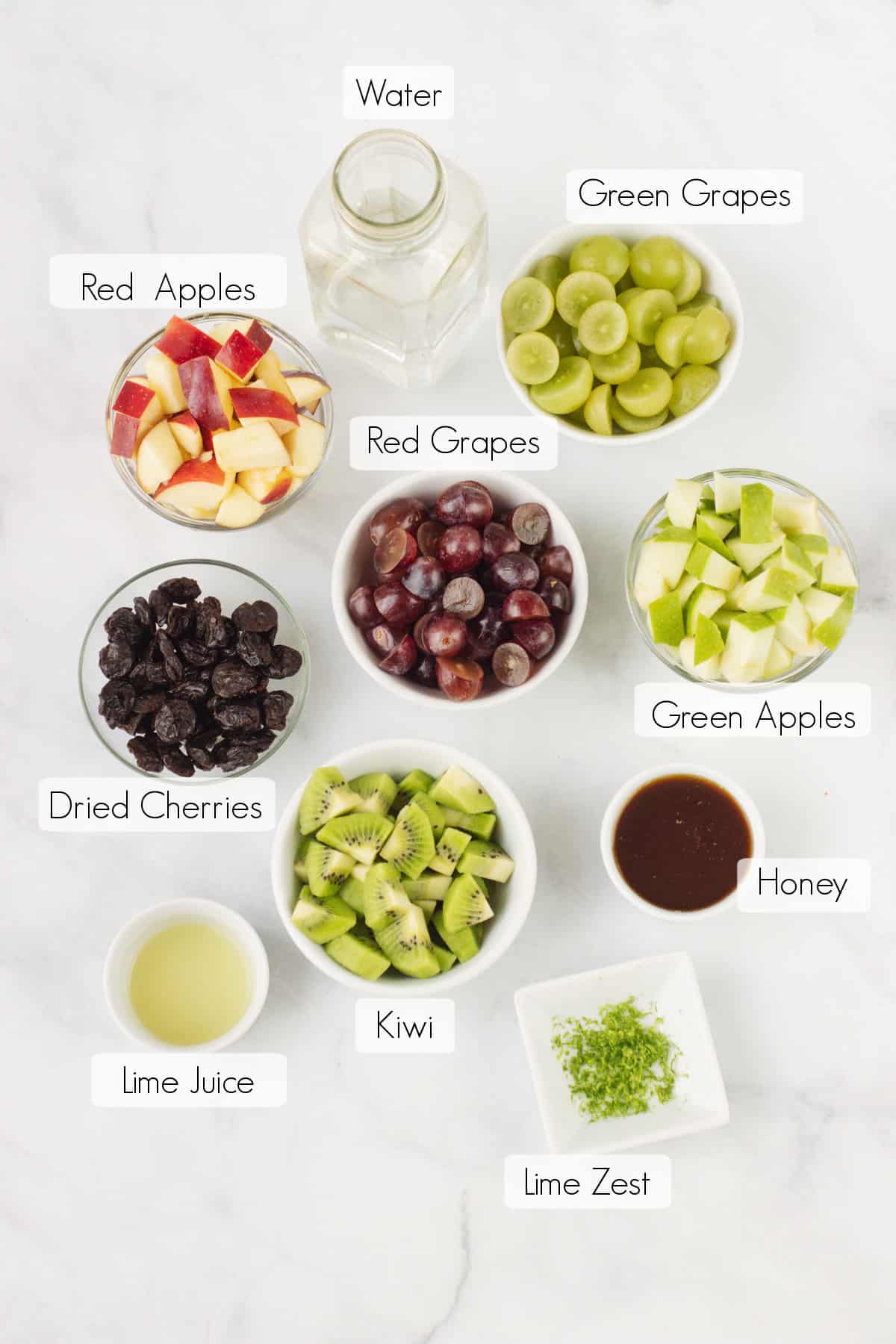 Most of the ingredients can easily be found at the grocery store. I have a few tips for them though.
Apples – For the apples, this recipe calls for Granny Smith green apples and Red Delicious apples. These have the most vibrant green and red coloring although sometimes we will substitute a Gala or other lighter red colored apple.
Grapes – I like to look for firm grapes as they provide a softer crunch with the apples.
Dried Cherries – I buy dried cherries in bulk at Costco but you can usually find them near the raisins at the grocery store. Sometimes Aldi's has them too for a lower price so if you have an Aldi's nearby, look for dried cherries (and other dried fruit) there!
I like to use dried cherries in other recipes too like this Dark Chocolate Cherry Trailmix.
Change things up with the fruit by substituting or adding other fruit like sliced strawberries or pomegranate arils.
Honey – You might notice that the honey in my photo is pretty dark. We buy our honey from a local farmer. Did you know that the color changes depending on the time of year and the type of flowers bees collect pollen from? Yep, it's true!
Lime Zest – I find that just one small lime is all I need for this recipe. I like to use this zester (affiliate link) to make it easier to zest and avoid the bitter white pith from the peel. The acidity from the lime juice helps keep the apples from turning brown.
The original recipe called for a half cup of honey. We found that to be way too sweet so I reduced it to a quarter cup. But I find even that can be a bit too sweet so definitely tweak the amount of honey to your own preference.
How to Make This Fruit Salad
The steps to make this fruit salad are so easy!
Start by chopping up the kiwi and apples. I like to do the apples last so that they're less likely to turn brown due to exposure to the air.
The dried cherries will be rehydrated in the boiling water (1).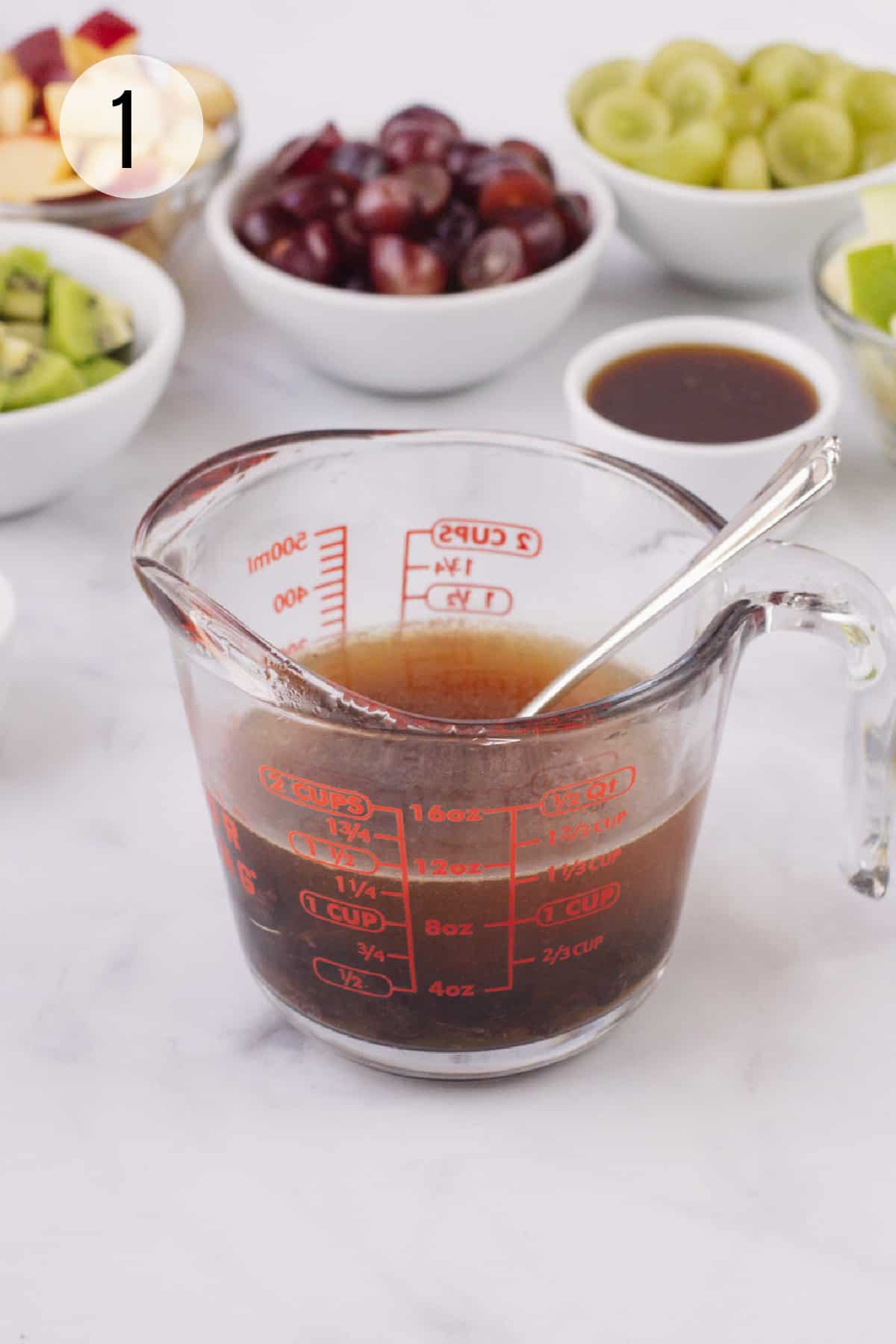 In a large bowl, combine all the ingredients and stir together (2).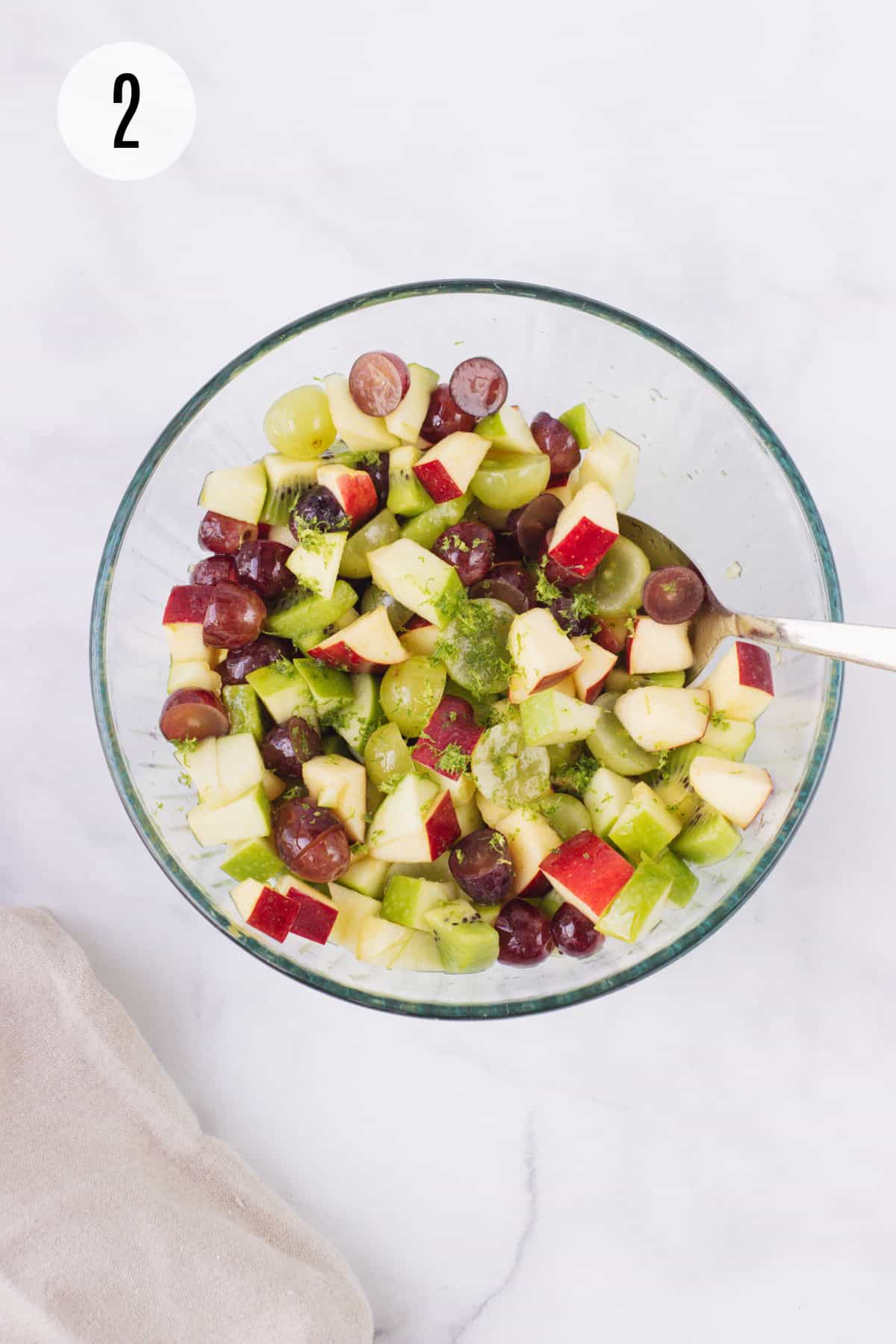 Chill for at least two hours and up to 12 hours and serve cold. A perfect addition to your holiday table!
Make Ahead Preparation Tips
This fruit salad is naturally make ahead and can be made up to a day in advance. If you want to prep just part of it ahead, taking the grapes off the stem and wash them the day before. This helps saves just a little bit of time before assembling all of the ingredients.
I like to make it directly in the bowl that I will serve it in. These bowls (affiliate link) are pretty and also come with lids which make it easy to chill in the refrigerator.
As you may guess, with all the fresh fruit, it doesn't freeze well so I don't recommend it.
More Recipes Using Fruit
I love including fruit in our menus whenever I can! My family loves fruit so that makes it easier. Here are a few other recipes that include fruit that you might like to check out too:
Originally published December 2016 and updated in December 2020 with new photos, content and video.
Be sure to check out my Amazon Shop to discover the many items I use in my own kitchen. Meal Planning Magic is a participant in the Amazon Services LLC Associates Program, an affiliate advertising program designed to provide a means for sites to earn advertising fees by advertising and linking to Amazon.com. Ordering products mentioned here are at no extra cost to you. Thank you for your support.