It's been a couple of months since I last participated in the Crazy Cooking Challenge hosted by Tina at Mom's Crazy Cooking. But I'm back in the game this month and the theme is Spaghetti With Red Sauce.
I LOVE spaghetti with red sauce. As in I could probably eat it every day for a month and still not tire of it! For real. My family is not as big fan as I am but they do like it. And I like that I can make the sauce ahead and freeze it for a quick and easy meal.
In case you missed it before, you may be asking how does this Crazy Cooking Challenge work you ask? Well, once month (on the 7th specifically), a group of food bloggers get together to feature one food item for that month. We all make that item, in our own kitchens and in our own way, but add our own special touches.
The other unique twist on the Challenge is that we don't just make a recipe from our personal files. We are to choose an all-new recipe found on another blogger's blog! This was a bit of a challenge because there are LOTS of recipes out there. But I found this one on the In Between Laundry blog. What attracted me to this recipe in particular was the extra veggies like the shredded carrots and chopped celery. Those are new additions that I don't normally have in my usual sauce. This is a chunky sauce so I ended up taking about half of it and pulsing it a few times in the food processor to make it a little "smoother". Then I added that back to the rest of the chunky sauce and it was perfect!
I served it with a garden salad and homemade garlic bread on the side and my whole family gobbled it up! And like Erin suggests, it DOES taste even better the next day. I ended up doubling this recipe so I could have some to fill my freezer.
So read on for the recipe and to find out how it turned out:
Mom's Meaty Italian Pasta Sauce
From In Between Laundry Blog

Ingredients
1/4 c. extra virgin olive oil
1 medium onion, chopped
1 lb. ground beef
4 chopped cloves of garlic
3 T. chopped parsley
1 T. dried oregano
1/2 c. tomato puree
1 28-oz can diced tomatoes
2 T tomato paste
3/4 c. grated carrots (or use matchstick)
2 stalks celery, chopped
salt and pepper to taste

In a saucepan, heat olive oil. Add onion and ground beef; saute until browned, stirring occasionally. Add garlic, parsley and oregano. Cook over low heat for 10 minutes. Add puree, tomatoes and paste. Bring to a boil and add celery and carrots, salt and pepper. Cover and cook over low heat for 1 hour, stirring occasionally. Best the next day.
So, if you're looking for a tasty HOMEMADE spaghetti with red sauce recipe, give this one a try! You can also enjoy visiting the other Crazy Cooking Challenge participants through the links below. And the extra twist? If you like my recipe, please click the 'like' by my entry to vote for me. Enjoy!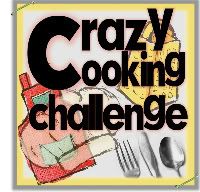 HELP US VOTE: Yep, this is how we will find the ULTIMATE RECIPE. There is a "LIKE" button on the blog-hop linky party and we want you to help us VOTE for the recipe that you think is the ULTIMATE SPAGHETTI WITH RED SAUCE RECIPE. Next Wednesday, Mom's Crazy Cooking will be featuring the ULTIMATE RECIPE voted on by all the readers.