This post may contain affiliate links. Please read my disclosure policy.
Delicious, light and moist pound cake recipe is perfect to pair with fresh seasonal berries and cream or whatever you like! An easy recipe that can also be made ahead and freezes well.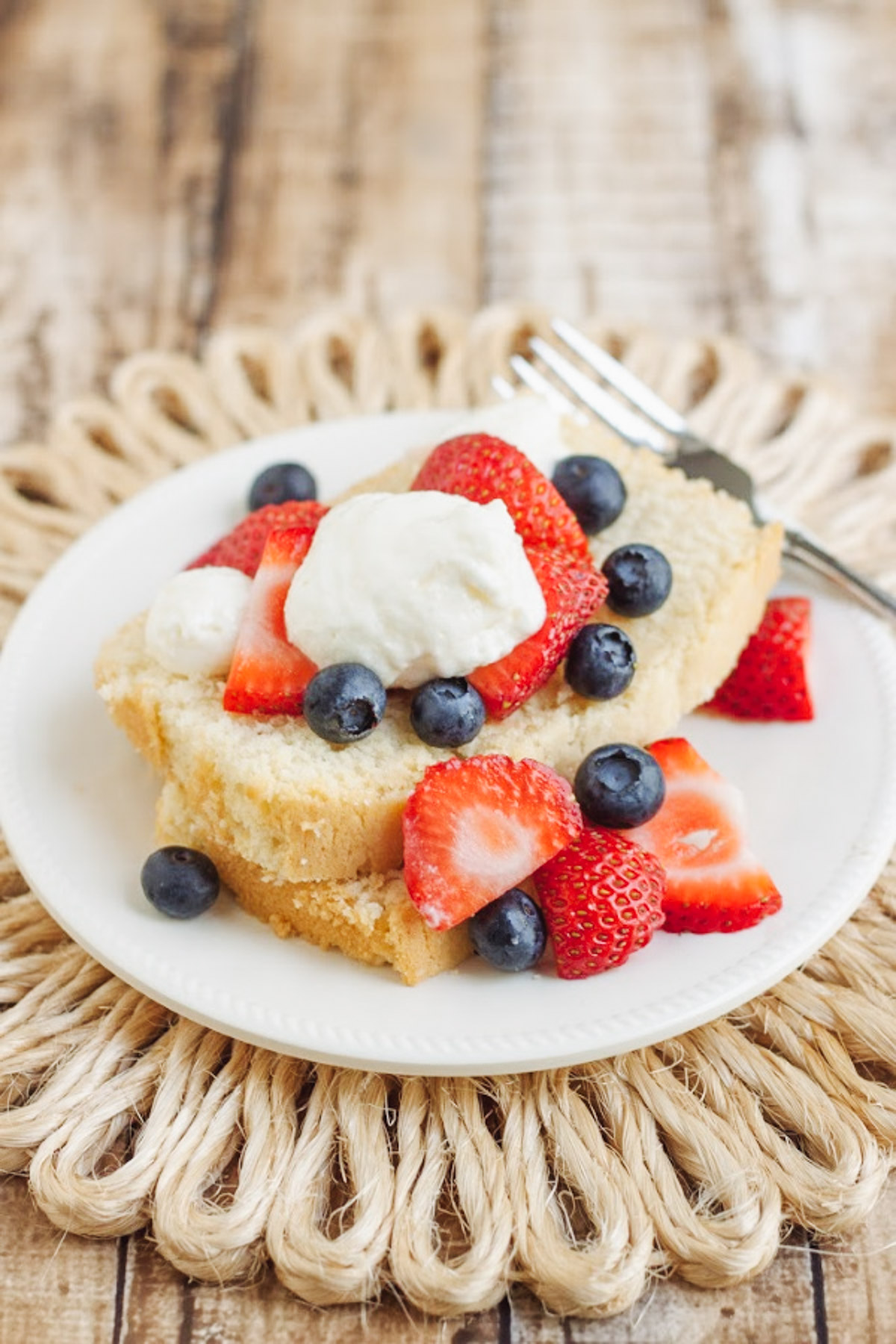 Why We Love This Recipe
Blueberries, strawberries, raspberries! If it's got berry at the end, I love it. So a couple of years ago I was searching for a simple pound cake recipe that I could make to go along with peak berry season.
I came across this Moist Pound Cake Recipe in an old Better Homes & Gardens cookbook that originally belonged to my grandmother, so you know it's got to be good. I'd say it's one of the best pound cake recipes around!
The original title of this recipe from that cookbook was Wonderful Pound Cake and indeed it is just that–wonderful! When I went on that search for an easy pound cake recipe, I realized that I had never made a pound cake from scratch before.
Traditionally, pound cakes get their names from the fact that originally the recipe called for one pound each of flour, sugar, butter, and eggs.
What appealed to me about this recipe is that it is actually a light pound cake recipe because it doesn't have all that butter! No worries though because it's still full of flavor.
This recipe does call for heavy whipping cream as a topping so maybe that cancels out the lacking butter. Who knows, right? It's probably worth it!
What Ingredients Are Needed To Make This Recipe?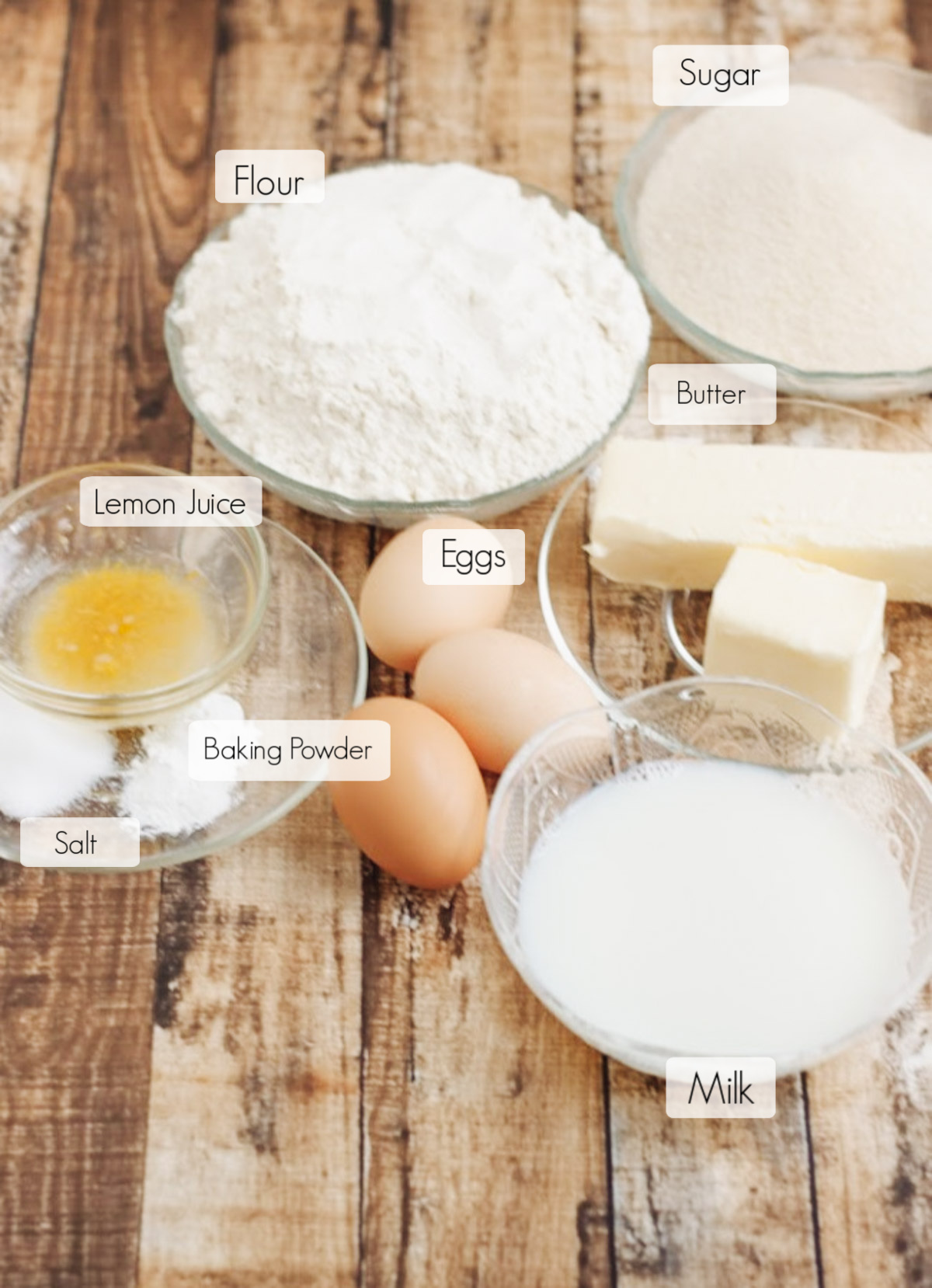 Eight ingredients are all you need to make this moist pound cake recipe! You may even have most of them on hand already, so what are you waiting for?
The recipe calls for cake flour but it's easy to substitute all-purpose flour. The recipe card here has the details but basically you replace two tablespoons of the specified flour amount with cornstarch. It's quite easy!
I sometimes find it difficult to find cake flour in my grocery store so use this substation often. I've left the recipe with the original cake flour as an ingredient though.
This light pound cake recipe also calls for lemon juice and lemon zest. And while it's not enough so that I would call it a lemon pound cake, it's adds just enough flavor to make this cake interesting. As the lemon juice is acidic, it reacts with the baking powder so that it acts as a leavening agent to make this cake light and not too dense.
I mentioned at the beginning of this post that I was inspired to make this recipe because I wanted to use fresh berries like strawberries and blueberries.
Preparation Pro Tips to Make This Cake
You'll notice that the recipe instructions specify a certain amount of time for mixing the ingredients such as two minutes to cream together the butter and sugar and another two minutes to mix in the dry ingredients.
It's important that you follow these guidelines so that your pound cake turns out light and fluffy. I use my stand mixer (affiliate link) but you can also use an electric hand mixer (affiliate link)
I like to use the timer on my oven, a little battery operated one that has a magnet and is on my fridge or even the timer on my phone. It doesn't have to be exact as in, it's ok if you go over or under a few seconds but I find without my timer, I'm a terrible judge of how long things take (I usually underestimate). So if this sounds like you, too, hopefully these tips will help you!
Start first by creaming the butter and sugar together (1). Sometime I like to cream the butter on it's own until it's just mixed and broken down first as I feel like that incorporates the sugar a bit more easily.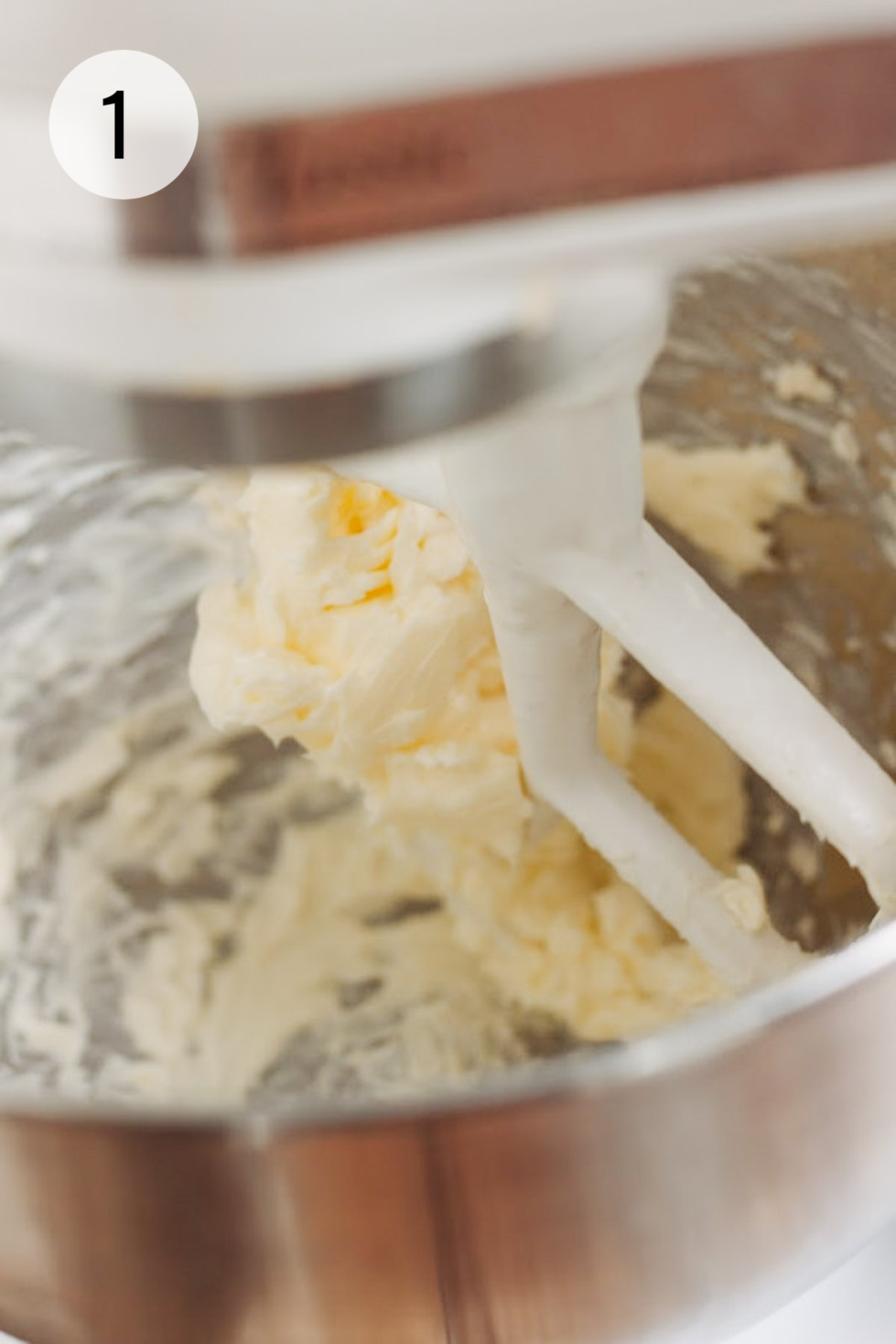 Once you've added the eggs, lemon juice and dry ingredients, the batter will be light and fluffy (2).
Spread the batter into a 9-inch x 5-inch loaf pan (affiliate link) that has been sprayed with non-stick spray (3).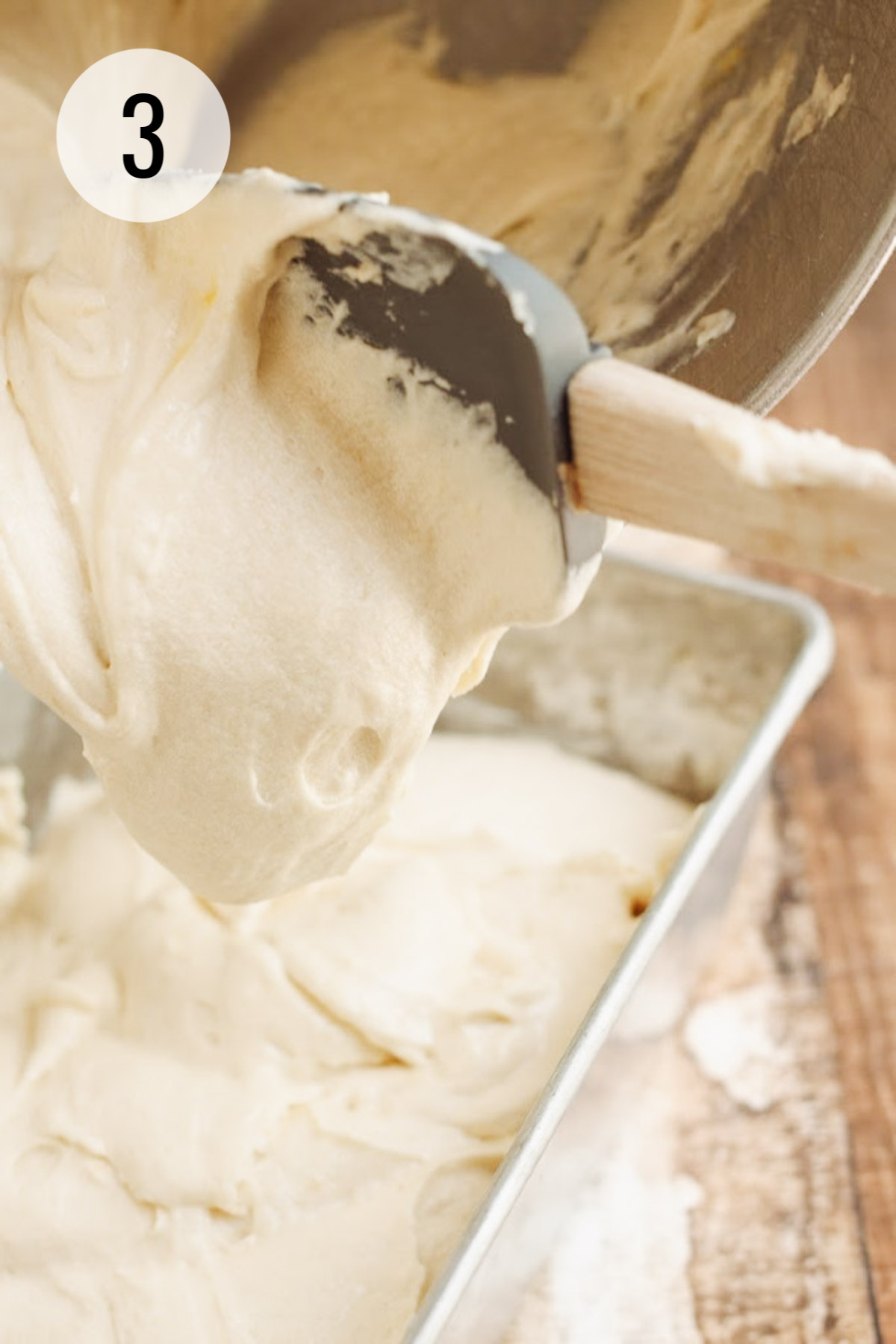 Also, you may notice that the temperature that this cake bakes at may seem lower than usual as it bakes at 300°F (many baked goods bake at 350°F or higher). That's ok! It totally works so trust me on this one.
While the cake is baking, add your fresh berries to a small bowl (4) and add the 3 tablespoons of sugar. This will allow the berries to macerate which means it will make the fruit form it's own juice, making it kind of like a berry sauce.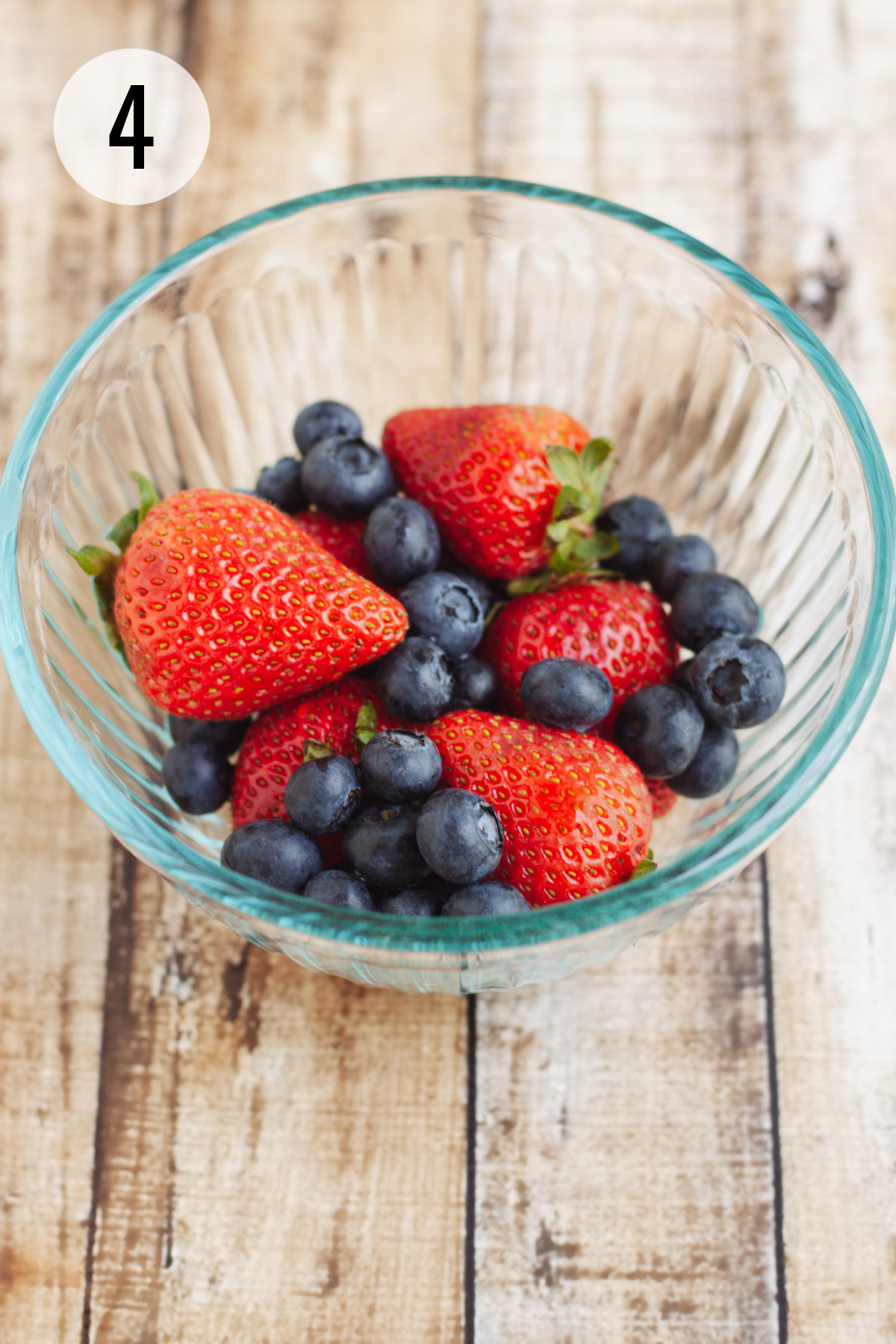 Make Ahead Preparation Tips
While there's not a lot of pre-prep that you can do before making this recipe you can save a little bit of time by gathering up all the ingredients and putting them in the same spot as each other so they're handy to pull out when you are ready to make it.
For example, gather up all the dry ingredients in their containers or boxes and store in the pantry, a cabinet or on your counter. For the perishable ingredients like the butter or eggs, just put them together on the same shelf in your refrigerator. Easy!
This is also a good way to double check that you have everything on hand before you get started!
Is this pound cake make ahead?
Yes, you can bake this cake ahead of time and store it at room temperature in a cool, dark place for up to three days.
Can you freeze it?
This moist pound cake freezes really well! Just wrap it in an airtight container or wrapped in plastic wrap, foil or a freezer safe bag making sure to squeeze out as much air as possible to avoid freezer burn. Be sure to label (affiliate link) it with the name and date of what it is.
What are some other related recipes?
Take advantage of berry season and check out some of these other recipes featuring berries, like:
5 Ingredient Strawberry Fudge Truffles
Triple Berry Banana Green Smoothie
Or looking for an indulgent cake recipe? Then give this Peanut Butter Pretzel Cake a try!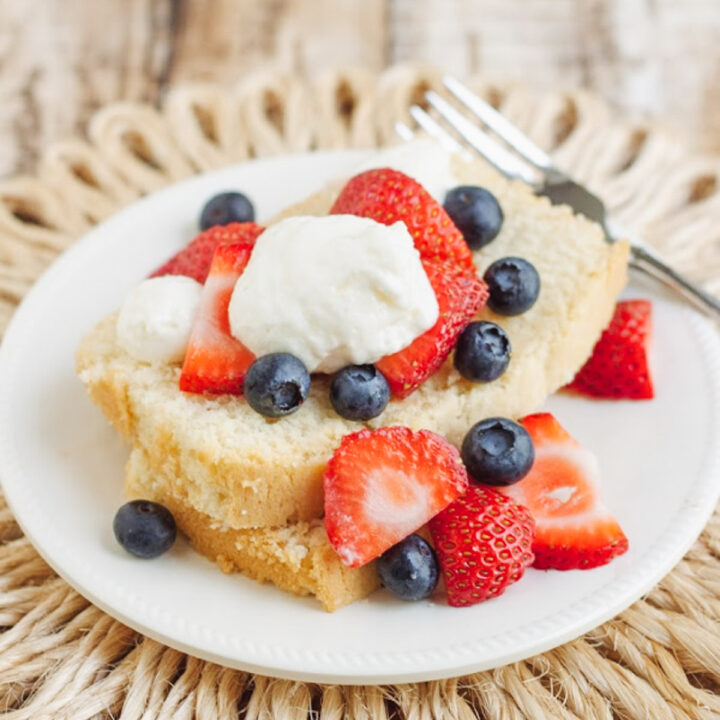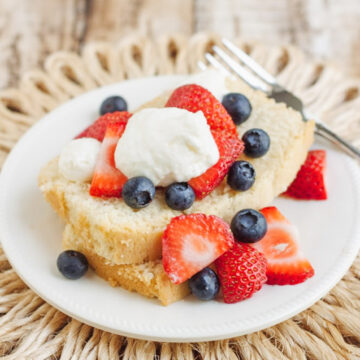 Moist Pound Cake Recipe with Fresh Berries and Cream
Delicious, light and moist pound cake recipe is perfect to pair with fresh seasonal berries and cream or whatever you like! An easy recipe that can also be made ahead and freezes well.
Rate this Recipe
Print Recipe
Pin Recipe
Ingredients
⅔

cup

butter

softened

1 ¼

cups

sugar

1

teaspoon

lemon zest

1

tablespoon

lemon juice

½

cup

low-fat milk

2 ¼

cups

cake flour

sifted (optional!) *see Recipe Notes for substitution for cake flour

1 ¼

teaspoon

salt

1

teaspoon

baking powder

3

large

eggs

1 ½

cups

fresh strawberries

washed, stems removed and sliced

1 ½

cups

fresh blueberries

washed

1

pint

heavy whipping cream

3

tablespoons

sugar

Note: you may use granulated or powdered sugar–your preference
Instructions
Preheat oven to 300 degrees.

Grease 9 x 5 x 3-inch loaf pan and set aside.

In a large mixing bowl, cream butter on low speed of mixer. Gradually add sugar and cream together until light and fluffy, about two minutes.

Add lemon zest and lemon juice. Add milk and mix enough to break up the creamed mixture. It will look like it has separated a bit.

Sift together flour, salt and baking powder; add to creamed mixture and mix on medium speed of mixer until smooth, about two minutes. Scrape sides of bowl frequently.

One at a time, add eggs, beating for on low speed of mixer one minute after each egg is added. Beat an additional one minute, scraping sides and bottom of mixing bowl.

Spread mixture in prepared pan and bake at 300 degrees for about 1 hour and 20 minutes until light golden brown. Let cool in pan for 15 or so minutes then remove from pan to rack to cool completely.
FOR BERRIES
When ready to serve the cake, add berries to small bowl and add the remaining 3 tablespoons of sugar. Stir to combine and set aside while cake bakes.
FOR WHIPPING CREAM
When ready to serve the cake, add cold whipping cream to a large bowl. Using the whisk attachment for electric mixer, whip cream on high.

As soft peaks begin to form, gradually add the sugar while mixer is mixing.

Fresh whipped cream is best served immediately but you can also make it up to an hour before serving. Just realize that some of it may settle and not be as fluffy.
Notes
If you don't have cake flour, you can substitute all-purpose flour and remove two tablespoons per cup and add two tablespoons of cornstarch.
MAKE AHEAD TIP:
This cake freezes very well! Just wrap in freezer safe wrap (foil or ziptop bag) and store in a cool, dry place at room temperature for up to three days or in freezer for up to three months. I like to use these labels because they're reusable!
MONEY SAVING TIP:
Purchase produce when it's in season as it's most likely to be on sale. I also like to use store brand baking good like the flour and whipping cream. Your choice!
Nutrition
Serving:
1
slice
|
Calories:
332
kcal
|
Carbohydrates:
35
g
|
Protein:
4
g
|
Fat:
20
g
|
Saturated Fat:
12
g
|
Cholesterol:
96
mg
|
Sodium:
212
mg
|
Potassium:
123
mg
|
Fiber:
1
g
|
Sugar:
20
g
|
Vitamin A:
744
IU
|
Vitamin C:
10
mg
|
Calcium:
52
mg
|
Iron:
1
mg
This post was originally published in July 2017 and updated in June 2020 with new photos, video and content.