-
Friends, today, I'm bringing you an amazing Peanut Butter Pretzel Cake with Salted Caramel Frosting. Why is it so amazing? Well, first off there's the flavor. If you think a cake cannot possibly have all these tasty flavors all in one cake AND have it work, you'd be wrong. This cake is SO delicious! I made it for a teacher luncheon recently and it was devoured in minutes!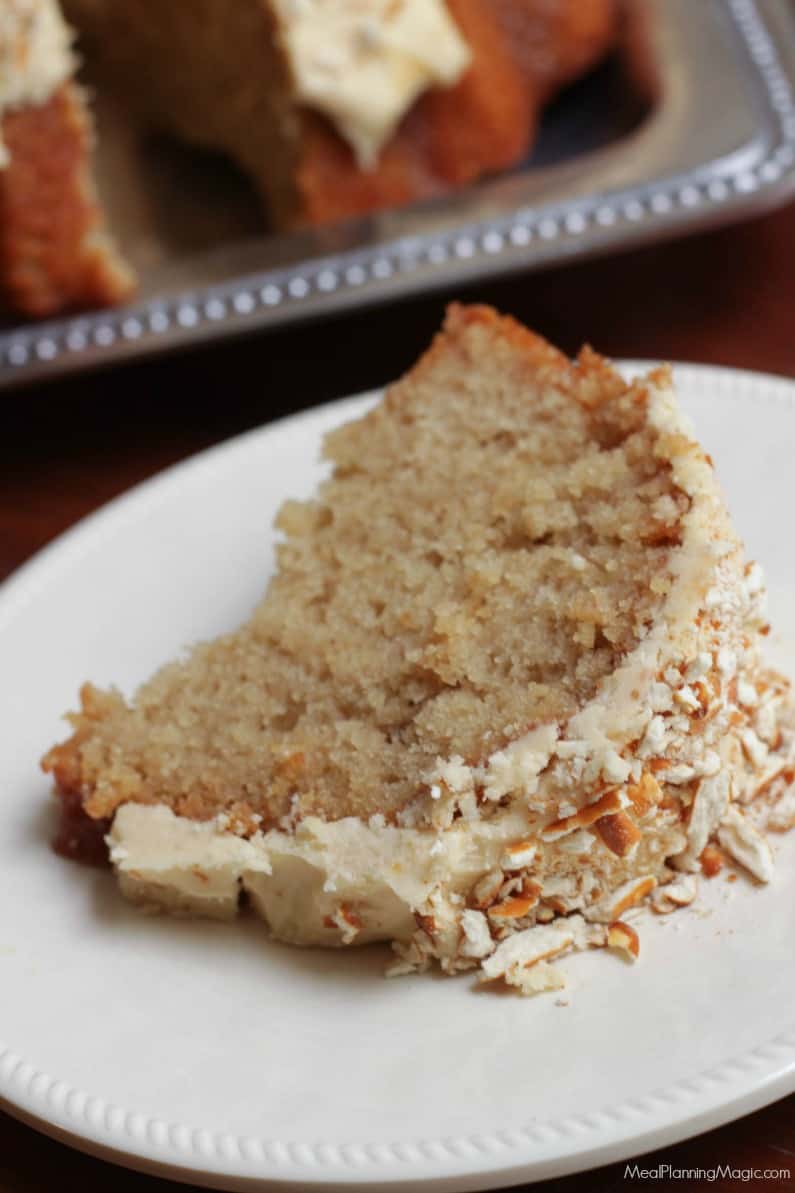 But what's even better is that all the parts (cake, syrup and frosting) can be made ahead. You see, author Caroline Wright has discovered the true magic in her new cookbook, Cake Magic! Her approach is that it's easy to create everyday magic with family and friends through delicious cakes like these.
Each recipe starts with a basic homemade cake mix (only 5 ingredients!), then you add different flavors such as chocolate, peanut butter, citrus and more. Then, each cake uses a flavored syrup that you can (and should) make ahead. Pierce the cake with the flavored syrup to boost the cake's flavor then top it with the customized frosting to bring it all together. I LOVE the fact that most of the syrups and frostings can be made a week or more ahead of time and stored in the refrigerator. You can even make the cake ahead of time and freeze it if you like. I can already see lots of cakes in our future for the holidays but also just because! The versatility of each recipe lends itself to just about any occasion. I may have to tread my book club friends to one of these cakes when I host our next meeting!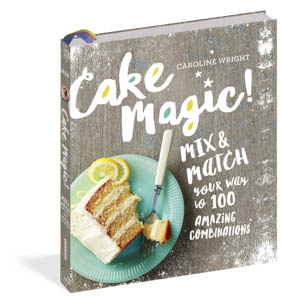 With 100 recipes, think of it like a "Choose Your Own Adventure" approach to baking cakes because the combinations are seemingly limitless. I've already got my eye on several other cakes to make like the School Lunch Cake (a peanut butter cake filled with rasberries and topped with malted vanilla frosting), the Lemon Pucker Cake (you guessed it—lemon cake with lemon syrup topped with lemon pudding cake) or Mocha Caramel Cake (Mocha Cake with Milky Caramel Syrup and Salted Caramel Frosting).
The recipes in Cake Magic! are so versatile! Not only are there tons of different combinations of flavors, but the author has included gluten-free and vegan options on EVERY recipe! And the nutty recipes include alternatives too—say substituting almond butter for peanut butter. Such versatility in these recipes to suit just about anyone who loves a good cake! The cookbook itself has three colored ribbons so you can keep track of where the different recipes for each part are in the book, making it easier to make each recipe. You can read more about author Caroline Wright in this interview.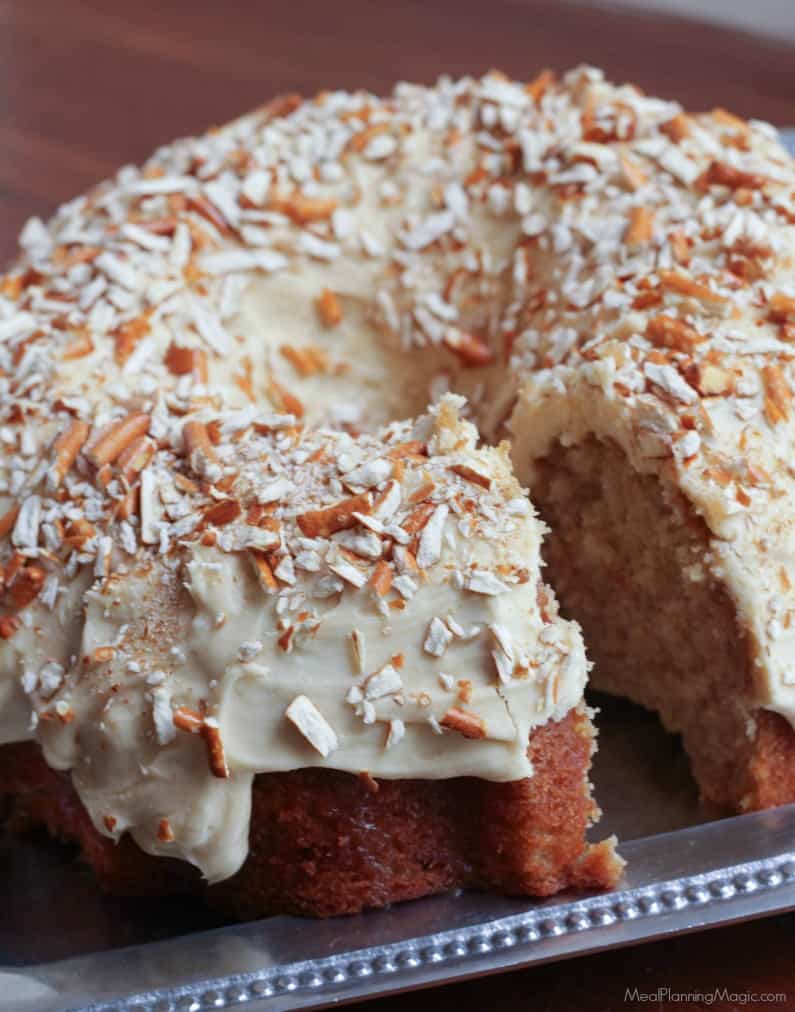 Now to the cake! Here's the recipe for the Peanut Butter Pretzel Cake so you can give it a try for yourself.
Peanut Butter Pretzel Cake #WeekdaySupper
Ingredients
INGREDIENTS

For the Cake

Unsalted butter

at room temperature, for greasing the pans

All-purpose flour

for dusting the pans

4

cups

dry Cake Magic! Cake Mix

see below, whisked well before measuring

¾

cup

full-fat plain yogurt

preferably not Greek yogurt

½

cup

smooth peanut butter

4

large eggs

at room temperature

1

cup

2 sticks unsalted butter, melted and cooled, or 1 cup vegetable oil

1

cup

water

For the Vanilla Syrup

½

cup

sugar

½

cup

heavy

whipping cream

Pinch

of salt

½

teaspoon

pure vanilla extract

Stir ¼ cup Salted Caramel

see below for ingredients into the Sweet Cream Syrup until combined.

Salted Caramel

½

cup

sugar

½

teaspoon

kosher salt

2

tablespoons

unsalted butter

2

tablespoons

pure vanilla extract

½

cup

heavy

whipping cream

For the Salted Caramel Frosting + Topping

1½

cups

3 sticks unsalted butter, at room temperature

½

cup

Salted Caramel

plus extra for swirling, if desired

½

teaspoon

kosher salt

4

cups

(one 16-ounce box confectioners' sugar

2

teaspoons

pure vanilla extract

2

cups

crushed pretzels
Instructions
INSTRUCTIONS

Preheat the oven to 350°F. Butter the bottom and side of the pan(s). Dust with flour to coat, then invert and tap out any excess. (If making cupcakes, use liners instead of greasing and coating the tins.)

Place the cake mix in a large bowl. Whisk together the yogurt, peanut butter, and eggs in a small bowl. Add the peanut butter mixture, butter, and water to the cake mix and stir until moistened and no lumps remain (be careful not to overmix). Divide the batter between the prepared pans.

Bake until the layers are domed and a few moist crumbs cling to a skewer inserted in the center of the cake, 32 to 36 minutes (40 to 50 minutes for a Bundt, 25 to 35 minutes for a 13 by 9-inch cake, and 20 to 25 minutes for cupcakes). (At this point, coat the layers with syrup as directed and let them cool completely in the pans.)

Bake until the layers are domed and golden brown, and a few moist crumbs cling to a skewer inserted in the center of the cake, 35 to 40 minutes (40 to 50 minutes for a Bundt, 25 to 30 minutes for a 13 by 9-inch cake, and 20 to 25 minutes for cupcakes).

While the cake is baking, prepare the syrup: Combine the sugar, cream, and salt in a small saucepan and bring to a boil over medium-high heat. Stir to dissolve the sugar. Remove from the heat, stir in the vanilla, and set aside to cool. Use the syrup warm or let it stand, covered, until it reaches room temperature.

a) For the Salted Caramel:

Combine the sugar and salt in a heavy medium-size saucepan over medium to medium-high heat. Cook, without stirring, until the sugar dissolves, about 2 minutes. Continue to cook, swirling the pan occasionally, until the caramel is deep amber and smells of toasted nuts but has not begun to smoke, 5 to 8 minutes.

Tilt the pan away from you and stir in the butter and vanilla. Add the heavy cream in a thin stream (the caramel will swell, bubble, and possibly splatter, so be careful and don't rush). Stir until the cream is incorporated, about 1 minute.

Remove the pan from the heat and let the caramel cool completely before using (it will thicken significantly as it cools).

After removing the cake layers from the oven, pierce them (still in the pans) at 1-inch intervals with a skewer or paring knife. Pour or brush the syrup over the layers, dividing it evenly. Set the layers aside, in the pans, on a wire rack to cool completely. (The syrup will soak into the cakes.)

When the cakes are cool and no longer wet to the touch, 1 to 2 hours, make the frosting: Combine the butter, caramel, salt, and 2 cups of the sugar in a large bowl and beat with an electric mixer on low speed until incorporated, about 1 minute. Add the remaining sugar and beat on medium speed until the frosting is pale and no longer grainy, about 2 minutes. Add the vanilla and beat until the frosting is very light and fluffy, about 2 minutes.

Run a knife, or an offset spatula, around the edge of one of the cake layers to loosen it. (Turn the layers out of their pans 1 by 1, as you frost them.) Place the layer on a cake plate with strips of waxed, or parchment, paper underneath; these will catch any drips and keep your cake plate clean. Spread the layer with about a third of the frosting on top.

Frost the rest. Run a knife, or an offset spatula, around the edge of the remaining cake layer. Invert it onto the frosted layer. Frost the sides and top of the cake with the remaining frosting.

Sprinkle with crushed pretzels.

Cake Magic! Cake Mix

INGREDIENTS

½ cups all-purpose flour

½ cups sugar

¾ teaspoon baking soda

¾ teaspoon baking powder

teaspoon table salt (see Note)

INSTRUCTIONS

Place all of the ingredients in a large bowl and whisk together well to combine. Whisk the mix again before measuring.

NOTE: It's important to use table salt in the cake mix; other types will eventually settle out of the mix.
Tried this recipe?
Mention @mealplanmom or tag #mealplanningmagic on Instagram when you share your photos!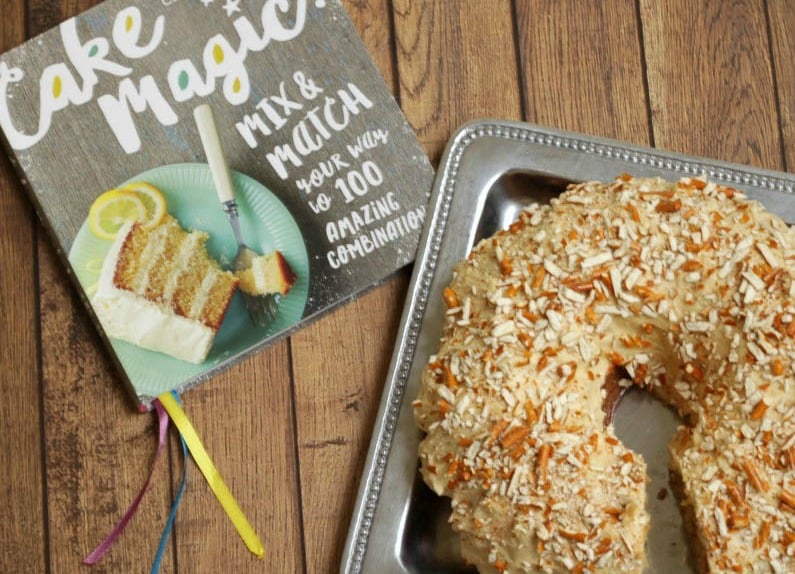 I hope you give it a try!
Now here's an extra bonus—a giveaway with a chance to win a copy of Cake Magic! yourself.
GIVEAWAY!
Want to spread some magic and give your own friends and family a taste of one of these delicious cakes? Enter via Rafflecopter below for your chance to win your very own copy courtesy of Sunday Supper Movement and Workman Publishing Company! (Rules and terms of giveaway stated in Rafflecopter widget below.)
THIS GIVEAWAY WILL END AT 11:59 PM CST on SATURDAY, SEPTEMBER 3, 2016.
Good luck!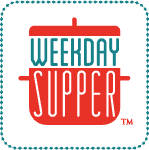 Let Everyone Eat Cake!
Especially on a magical weeknight. Be sure to check out all the other recipes being shared this week for #WeekdaySupper from Caroline Wright's Cake Magic! Cookbook:
Week 1:
Week 2:
And there's a fabulous Pinterest board with even more Cake Magic recipe ideas!
And be sure to follow Workman Publishing and Caroline Wright on social media to keep up with all the latest on new cookbooks and more!
Workman Publishing
Facebook
Twitter
Pinterest
Instagram
Caroline Wright
Facebook
Twitter
Pinterest
Instagram
This post is sponsored by Workman Publishing Company in conjunction with a social media campaign through Sunday Supper LLC. All opinions are my own.