This post may contain affiliate links. Please read my disclosure policy.
Pizza, fruits, desserts and even beverages are just a few of the 50+ Unexpected Foods You Can Grill you'll find in this round up of recipes!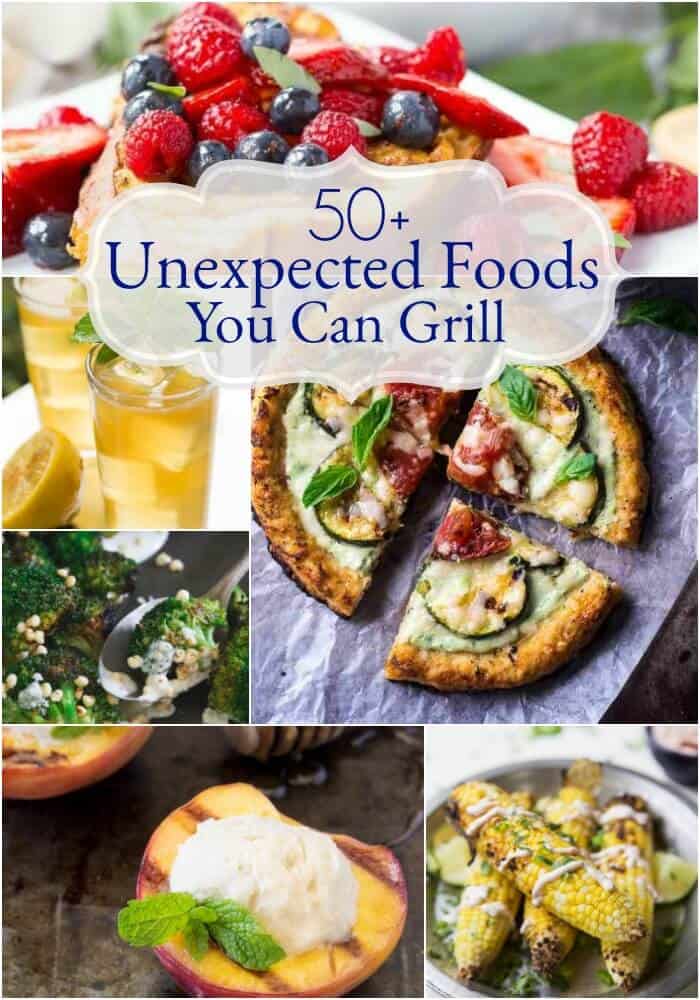 Living in southeast Texas, we can grill outdoors pretty much year round. I kind of go in spurts with grilling meaning I'll grill a lot for awhile then kind of take an unintentional break. But I do especially like to grill in the warmer months to keep the heat out of the kitchen! But I will say that I can often get stuck in a rut and grill only a handful of the same things over and over. I've grilled vegetables before here and there but I had seen online that people grill pizzas, fruit and even desserts on the grill. Did you know you can even grill beverages? (ok, you don't actually grill the liquid but some of the ingredients for the drink). I was intrigued and want to branch out to even more Unexpected Foods You Can Grill to try new things.
So I asked some of my blogger friends for their recipe ideas to use as inspiration to get grilling and getting the heat out of the kitchen a little more often.
What other Unexpected Foods You Can Grill have you tried? I'd love to hear about them!
I've sorted the recipes by category–I hope you'll give some of these a try too!
Grilled Appetizers
Grilled Mango and Poblano Pepper Quesadillas ~ Meal Planning Magic
Grilled Beer Cheese Fondue ~ Frugal Foodie Mama
Sweet & Spicy BBQ Stuffed Jalapenos ~ Frugal Foodie Mama
Grilled Zucchini Caprese Steaks with Basil Vinaigrette ~ Kalyn's Kitchen
Grilled Tomatos with Pepperoni ~ Daily Appetite
Grilled Beverages
Brown Sugar Grilled Lemonade ~ Recipe for Perfection
Grilled Peach and Pineapple Sangria ~ Hezzi-D Books and Cooks
Grilled Desserts & Breakfast
Banana Split Grilled Dessert Nachos ~ Two Healthy Kitchens
Grilled Banana Sundaes with Chocolate Hazelnut Sauce ~ Delish Knowledge
Easy Grilled Banana Dessert Bar Idea for Cookouts & Camping ~ Homecooking Memories
Grilled French Toast Stuffed with Strawberry and Basil Cream Cheese ~ Rachel Cooks
Strawberry Shortcake Cobbler with Honey Whipped Cream Chocolate Moosey
Easy Gluten Free Grilled Banana Whoopie Pies ~ Fearless Dining
Grilled Peaches on Pound Cake~ Pint Sized Baker
Grilled Fruits
Grilled Fruit Skewers with Easy Yogurt Dip ~ Yummy Healthy Easy
Grilled Fruit Kabobs with Brown Sugar Whipped Cream ~ Big Bear's Wife
Grilled Peaches with Honey ~ Cooking on the Front Burners
Chile Lime Grilled Watermelon ~ Cooking on the Weekends
Grilled Brie Stuffed Figs with Honey Fearless Dining
Grilled Apricots Pint Sized Baker
Grilled Peaches with Yogurt & Brown Sugar ~ Yummy Healthy Easy
Grilled Pizza, Salads and Sandwiches
Making Pizza on the Grill ~ Amanda's Cooking
Cauliflower Pizza with Greek Yogurt ~ Food Faith Fitness
Grlled Nectarine Salad ~ Nutmeg Nanny
Grilled Veggie and Pesto Flatbread ~ Wholefully
Spicy Grilled Potato Salad ~ Unsophisticook
Portobello Burgers with Blue Cheese and Onions Saving ~ Room for Dessert
Grilled Fontina Cheese Sandwich with Bacon & Arugula ~ Organized Island
Spicy Grilled Eggplant with Red Pepper, Parsley and Mint ~ Kalyn's Kitchen
Grilled Vegetables
Grilled Cabbage With Asian Lime Dressing ~ Tasting Page
Smoky Grilled Sweet Potatoes with Cilantro & Lime ~ Kitchen Treaty
Grilled Sweet Potato Fries with Southwest Roasted Red Pepper Dip Plaid and Paleo
Vegan Grilled Avocado Stuffed With Chickpeas ~ Food Faith Fitness
Grilled Chile Lime Corn on the Cob ~ Cooking on the Weekends
Grilled Brussels Sprouts with Balsamic Reduction ~ Unsophisticook
Balsamic Grilled Vegetables with Goat Cheese ~ Neighbor Food Blog
Za'atar Crusted Cauliflower Steaks ~ The Lemon Bowl
Grilled Chicken Sausage Pizza ~ Nutmeg Nanny
Asian Steak Stuffed Grilled Avocados ~ Running to the Kitchen
Avocado and Charred Corn Salad ~ Certified Pastry Aficionado
Easy Grilled Polenta with Fresh Mozzarella ~ Two Healthy Kitchens
Vegetable Polenta Kebobs with Chimichurri Sauce ~ Delish Knowledge
Grilled Caprese Zucchini Boats ~ Homecooking Memories
Grilled Corn on the Cob in Foil ~ Penny Pincher Jenny
Grilled Portobella Mushrooms with Spinach and Cheese ~ Rachel Cooks
Charred Corn Caprese Flatbread ~ Joyful Healthy Eats
Grilled Vegetable Gazpacho (Greek Style) ~ Pastry Chef Online
Grilled Zucchini with Feta ~ Farm Fresh Feasts
Grilled Eggplan Parmigiana ~ The Lemon Bowl
Grilled Green Vegetable Salad ~ Tasting Page
Grilled Baby Potatoes with Mojo Verde Sauce ~ Kitchen Treaty
Girl and the Goat Grilled Broccoli ~ Running to the Kitchen
Grilled Corn on the Cob with Creamy Roasted Jalapeno Sauce Joyful Healthy Eats
Grilled Green Beans with Garlic Scape Pesto ~ Farm Fresh Feasts