This post may contain affiliate links. Please read my disclosure policy.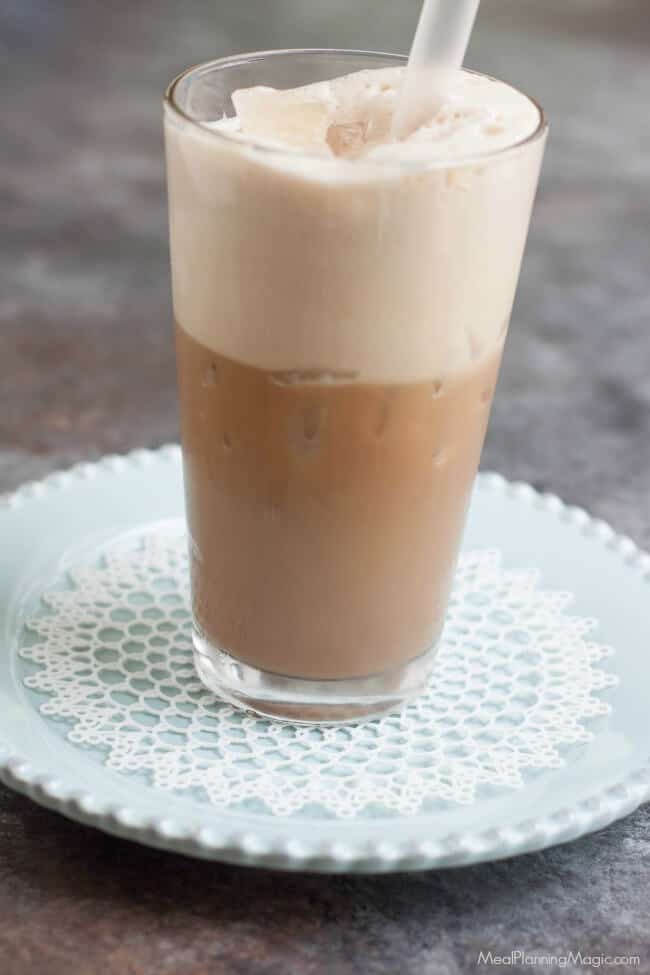 For the longest time I was a purest when it came to tea and coffee—I only wanted it hot. I'm not sure if that actually makes me a purest because in Texas, ice cold sweet tea is a staple just about everywhere you go. The whole iced coffee thing though? I just couldn't get into that—until recently that is. Since I shared my Hot Chai Tea Latte recipe a few years ago, I've been wanting to share my Homemade Iced Chai Latte with you all because it's just as easy and a super delicious way to cool off any time of the year.
Chai tea is a blend of black tea and spices, most often including cinnamon, cloves, cardamom and ginger. I love chai tea flavors of it's unique blend of flavors that I love on their own. I even made a Vanilla Chai Cookies that remains one of my all time most pinned posts on Pinterest!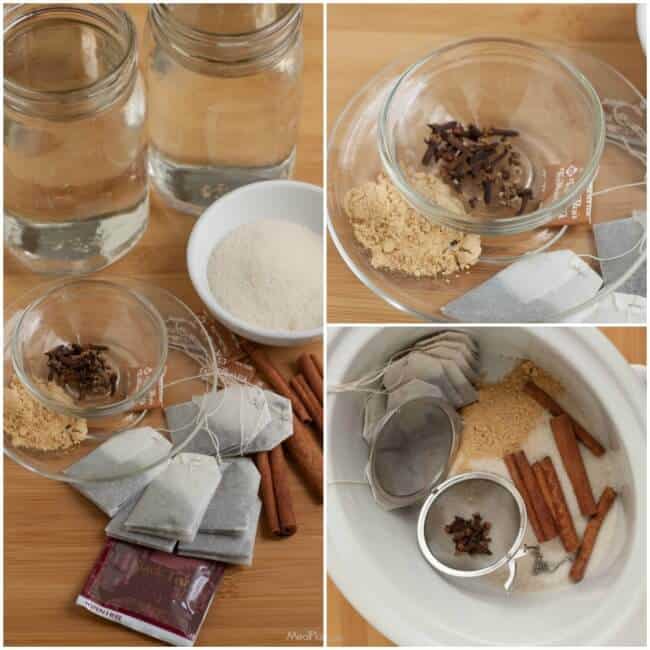 This recipe is super easy because you throw all the ingredients into a slowcooker and set it to "brew" for a few hours then you can enjoy the tea all week long.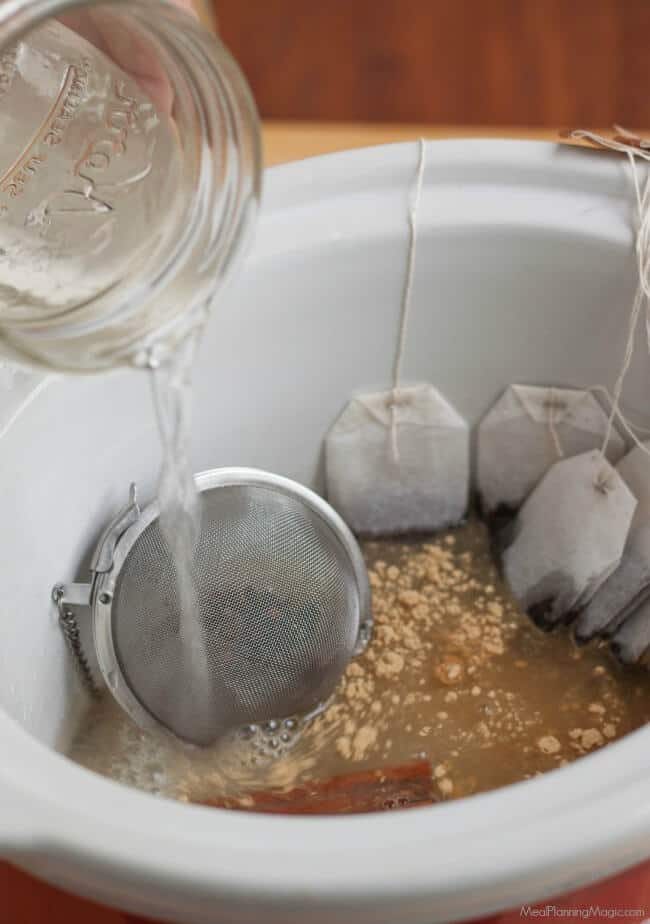 I've taken it to another level of make-ahead though by freezing the brewed tea into cubes that I then use in my Homemade Iced Chai Latte. By freezing the tea, the tea does not become diluted. I add a bit of crushed ice depending on my mood as it's not totally necessary if you're using the tea ice cubes.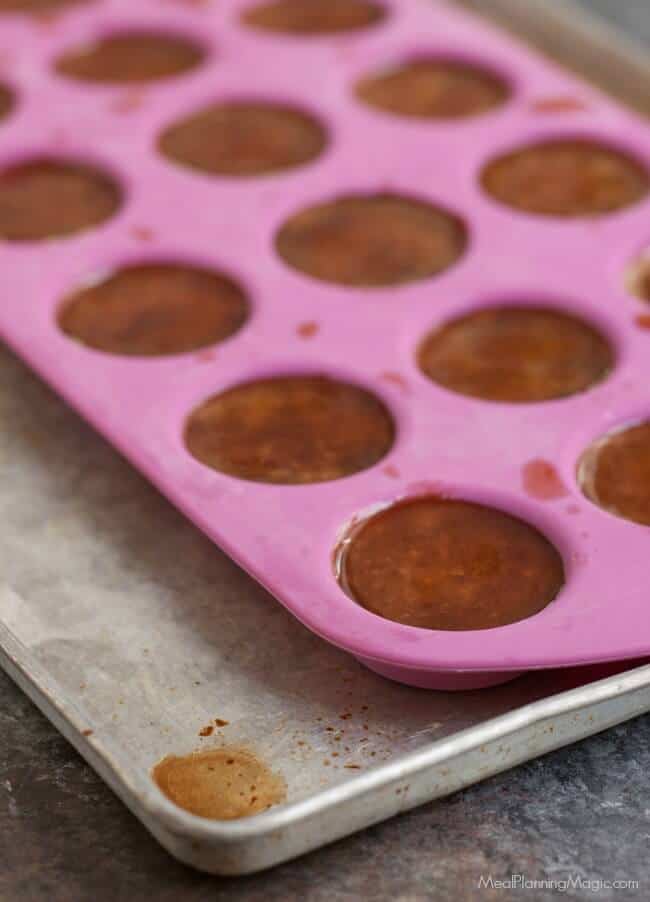 Making this drink is so easy–just throw a handful of cubes in your blender, add some milk, blend and voila! You've got your Homemade Iced Chai Latte!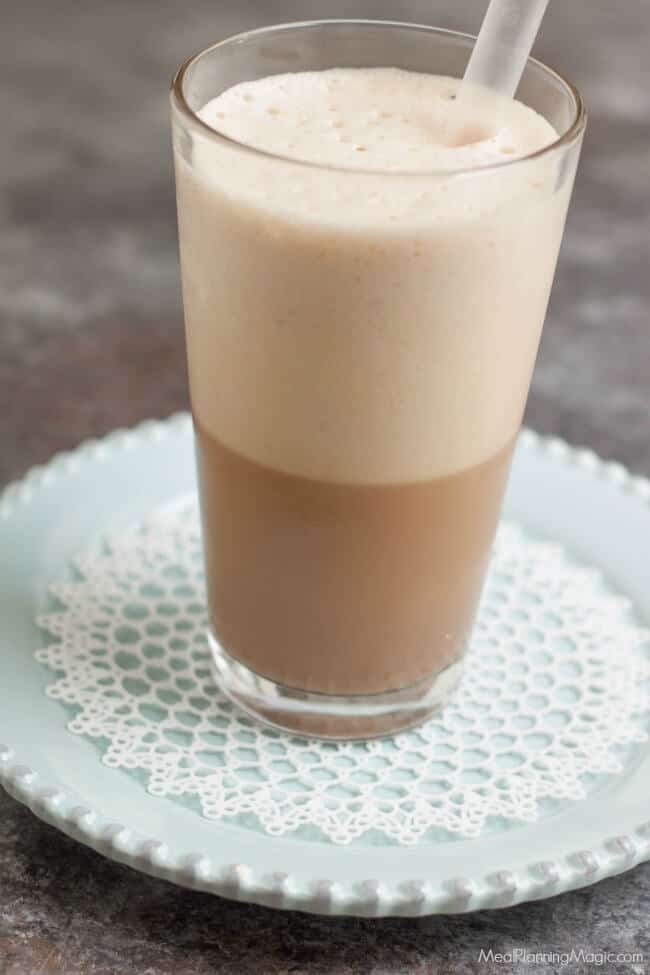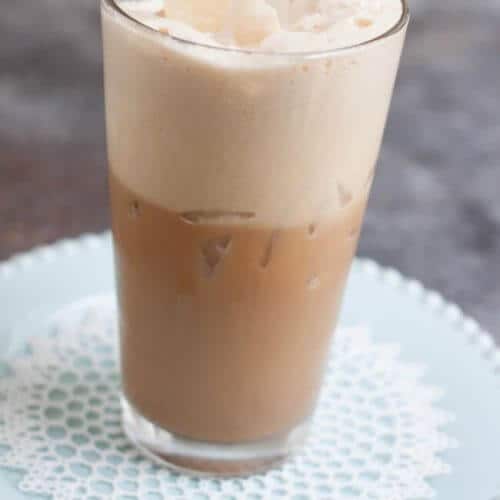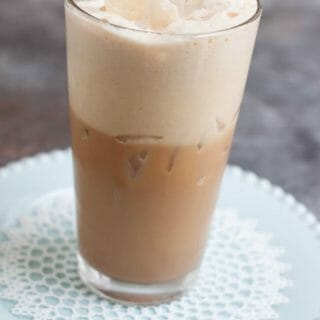 Homemade Iced Chai Latte
Cool off with a Homemade Iced Chai Latte and it's blend of subtly sweet and delicious spices. My recipe is easy to make and can be made ahead!
Print
Pin
Rate
Ingredients
8

cups

water

8

bags

black tea

½

cup

granulated sugar

this is reduced from original recipe but I found I could probably reduce it even more and it would still have a hint of sweetness without being too sweet

16

whole cloves

16

whole cardamom

I bought mine from the bulk food spice section at Whole Foods so I only bought a little more than I needed but you can find it in jars, too, in the spice aisle of most grocery stores. Mine were already just the seeds and not in pods.

5

cinnamon sticks

1

teaspoon

ground ginger
For Serving:
1

cup

milk

or use foamed milk for hot tea
Instructions
Combine all ingredients except milk in 3-4 quart slow cooker.

Cover and cook on HIGH 2 ½ hours.

When done, strain mixture and discard solids.

Cool to room temperature then pour into freezer cube trays. Transfer to freezer and freeze until solid (about 3 hours)

Transfer "tea cubes" to labeled freezer safe zip top bag.

For each serving, pull out enough cubes to measure a loose one cup (meaning, you just pile them up casually in a measuring cup--it doesn't need to be exact).

Put cubes in blender jar and add one cup of milk. Blend just until combine and still slushie.

Transfer to drinking glass and enjoy! Repeat for additional servings.
Notes
MAKE AHEAD TIP:
This recipe is naturally make ahead because you use the slow cooker to make the tea mixture then freeze cubes to have on hand any time your ready for a serving of this refreshing drink. 
MONEY SAVING TIP:
I purchase the harder to find spices like cardamom pods and cinnamon sticks from the bulk food section of my local grocery store. That way I only buy what I need and don't have a lot leftover. The price per pound may seem like a lot but spices are usually so lightweight you are only paying pennies for what you need and avoiding food waste!
Nutrition
Calories:
87
kcal
|
Carbohydrates:
19
g
|
Protein:
2
g
|
Fat:
1
g
|
Saturated Fat:
1
g
|
Cholesterol:
3
mg
|
Sodium:
28
mg
|
Potassium:
94
mg
|
Fiber:
2
g
|
Sugar:
14
g
|
Vitamin A:
55
IU
|
Vitamin C:
0.8
mg
|
Calcium:
82
mg
|
Iron:
0.8
mg