This post may contain affiliate links. Please read my disclosure policy.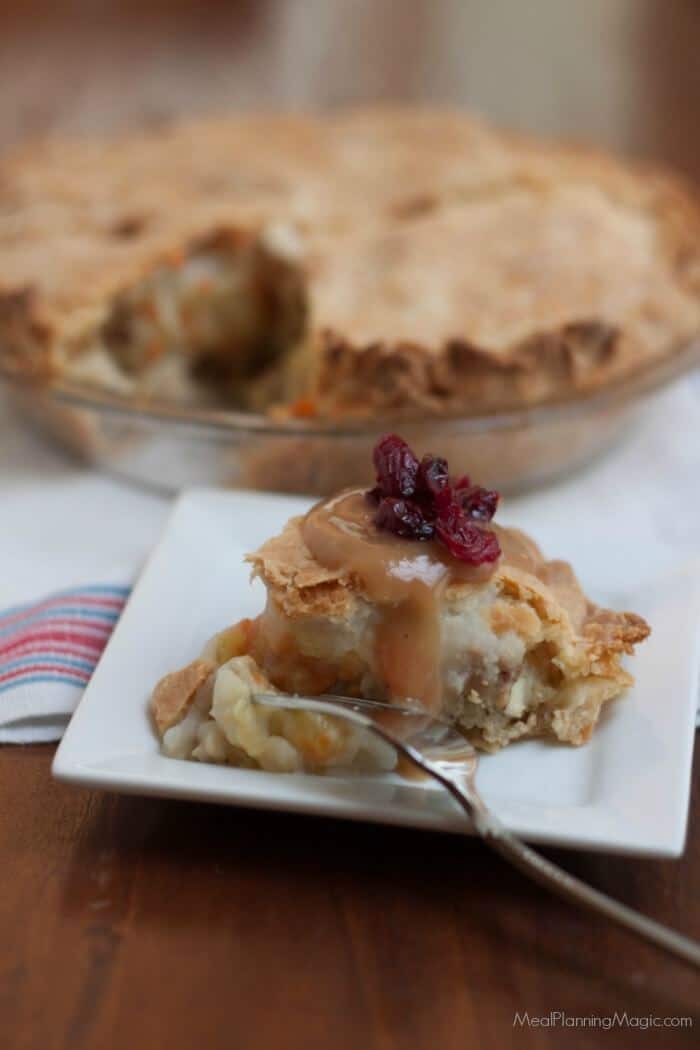 Thanksgiving has to be one of my most favorite holidays of the year—food wise for sure! I grew up enjoying many of the traditional Thanksgiving dishes like roasted turkey, homemade stuffing, mashed potatoes and gravy and cranberry sauce and definitely pumpkin pie! I've come to love the stuffing and cranberry sauce even more as an adult.
Although we don't typically host Thanksgiving at our house, I usually contribute a dish or two and often go home with leftovers too. I could eat those leftovers as is but this Thanksgiving Leftover Pie recipe from Lucinda Scala Quinn's new book, Mad Hungry:Family is genius! Quinn is the former director at Martha Stewart Living Omnimedia and author of four cookbooks is also a leading advocate for family meals—something I can totally get behind myself! She is the mother of three boys and she and I share a love of home cooking for our families. She's rounded up her tried and true favorites to share with us in this latest cookbook. She even hosts her own television show, Mad Hungry: Bringing Back the Family Meal.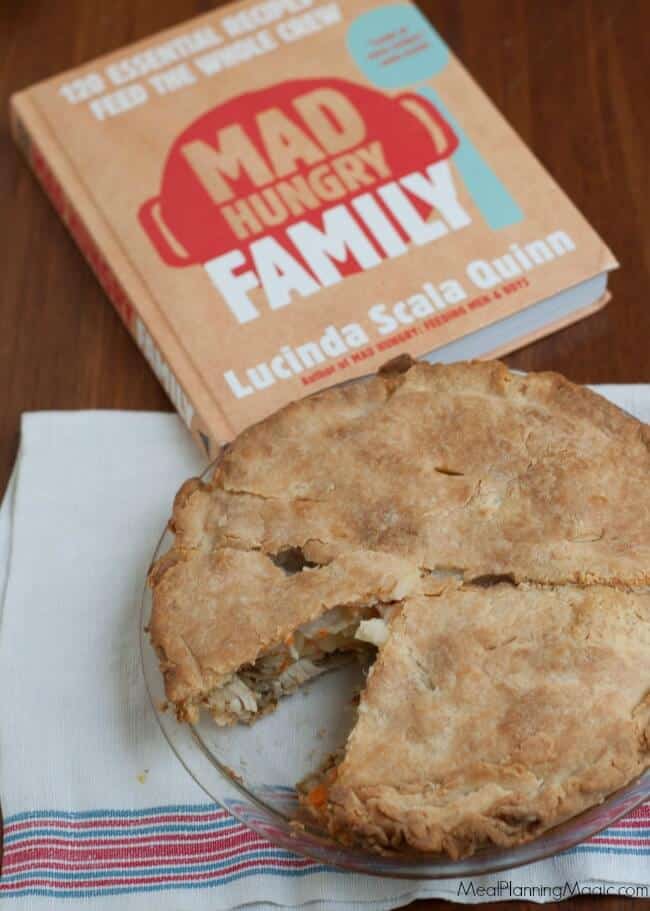 From the flat roast chicken to second-day spaghetti—Quinn shares tips, tricks and solutions she has learned over a lifetime of cooking both professionally and for her family. Her strategies take on all kinds of kitchen challenges from how to feed unexpected guests, prepping for Thanksgiving and more. Mad Hungry Family really is the "you-can-do-this" handbook every home cook needs. I love how Quinn sprinkles other tips throughout the book sharing ideas how to choose and use some of the ingredients for more than just the recipe where it's featured. Also included are stories about how the recipes came to be and ideas for getting food to the table quickly and easily. Some other recipes I have my eye on are several of her side dishes like Ginger Rice, Zucchini Fritters and the Sunday Gravy Pocket Pies. You can read more about author Lucinda Scala Quinn in this interview here.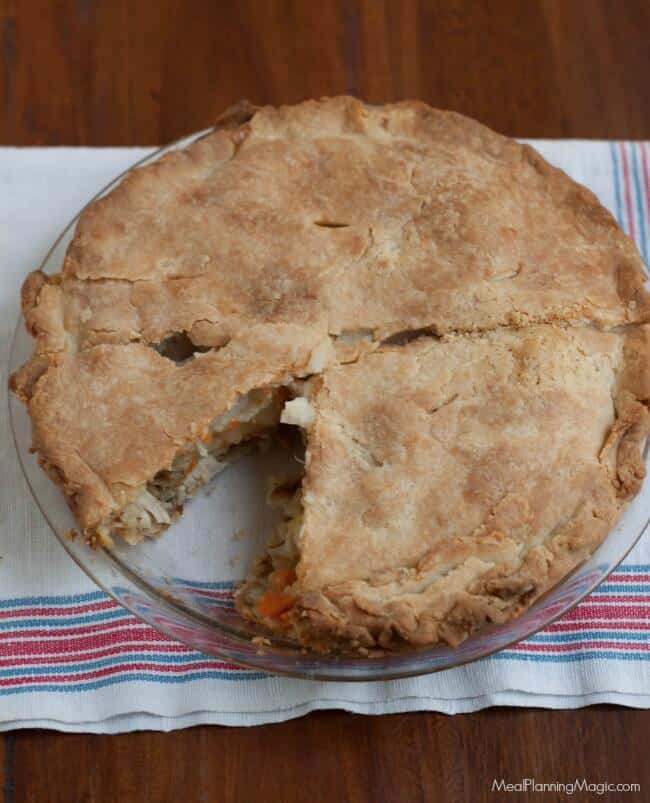 Now, back to the Thanksgiving Leftover Pie. My family LOVED it. And I mean loved it! My daughter took leftovers to school and we fought over the last pieces.
It's comfort food times two in my opinion—all your favorite Thanksgiving comfort foods layered in a delicious pot pie style dish. Yum, yum yum! This Homemade Chicken Pot Pie is one of my most popular dishes on my blog and I'm sure this Thanksgiving Leftover Pie will soon become a new favorite as well for many of you all.
The best part about this dish is that since it's made with leftovers, much of it is cooked ahead of time so assembly is super easy! I hope you give it a try!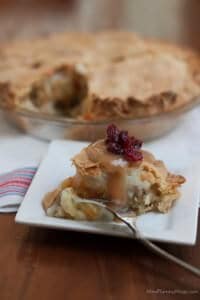 Thanksgiving Leftover Pie (ad)
Otherwise known as Danksgiving Leftover Pie (from the slang word "dank," which my sons use to describe all things awe-inspiring), this idea came from my savory pie–loving firstborn son on the day after Thanksgiving. There is only enough for one pie, and one slice per person—a teaser that leaves you longing to make it again the next year. And yes, it even one-ups the deliciousness of a leftover sandwich.
Rate this Recipe
Print Recipe
Pin Recipe
Ingredients
4

tablespoons

1⁄2 stick unsalted butter

2

carrots

chopped

2

celery stalks

chopped

1

small onion

chopped

1

⁄4 cup all-purpose flour

or 2 tablespoons cornstarch

Coarse salt and freshly ground black pepper

2

cups

Turkey Broth

see below or chicken broth

3 to 4

cups

shredded leftover cooked turkey

1

recipe Cream Cheese Pastry Dough

see below

Leftover stuffing

Leftover mashed potatoes

Leftover vegetables

Leftover gravy

1

large egg yolk

beaten with a little milk or cream

Leftover cranberry sauce

How to Make Turkey Broth

To make turkey stock from the picked-over carcass

put it in a large pot and add water to cover the bones. Throw in an onion and bring to a boil. Simmer for about 45 minutes (not too long because spent bones have little flavor). Strain the broth through a cheesecloth-lined sieve (you can use a clean dishcloth instead of cheesecloth). Return the strained broth to the pot and boil until reduced by a quarter to concentrate the flavor. Season with salt at the end.

Cream Cheese Pastry Dough

makes enough dough for two 9- or 10-inch pies

This is

hands down, the most forgiving and easy pastry dough you'll ever use. As long as you're gathering the ingredients, you might as well make enough dough for more than one pie. If making just one, the dough can be frozen, well-sealed, for up to 6 months.

8

tablespoons

unsalted butter

at room temperature

4

ounces

cream cheese

at room temperature

1

⁄4 cup heavy cream

11

⁄2 cups plus 2 tablespoons

all-purpose flour

plus more for rolling out the dough

1

⁄2 teaspoon coarse salt
Instructions
FOR THE FILLING:

Melt the butter in a large skillet over medium heat. Add the carrots, celery, and onions and sauté to soften, about 2 minutes. Sprinkle the flour over the vegetables and cook, stirring, for 2 minutes. Whisk in the stock and cook until slightly thickened, 3 to 4 minutes. Remove from the heat, fold in the turkey meat, and set aside to cool.

Roll out 1 disc of dough and place it in a 9-inch pie plate. Trim the dough so it's flush with the edge of the dish. Spread a layer of stuffing over the bottom of the dough. Pile on the turkey mixture and smooth to a dome shape. Spread the mashed potatoes on top. Distribute any leftover vegetables over the potatoes. Poke three or four holes in the filling mixture and spoon some gravy into the holes.

Roll out the remaining dough and place it on top of the filled pie. Trim it so it drapes about 1⁄2 inch over the lower crust. Slightly lift up the bottom edge of the lower crust and tuck the top crust of dough underneath it. Press the dough with your fingertips or a fork to seal. Chill the pie in the refrigerator for 15 minutes to firm the dough.

Preheat the oven to 400°F. Brush the egg wash over the dough and make four slits on the top. Place the pie on a baking sheet and bake for 15 minutes, then reduce the heat to 375°F. Bake for 45 to 55 minutes more (check the pie after 45 minutes). The top should be golden brown and the bottom a light golden brown. Remove the pie from the oven and transfer it to a cooling rack. Let it rest for at least 30 minutes and up to 1 hour (the longer the pie rests, the easier it will be to slice). Cut into pieces. Serve with warm gravy on one side and a dollop of cool leftover cranberry sauce on the other.

FOR THE PIE CRUST

Process the butter, cream cheese, and cream in a food processor, stand mixer, or by hand to thoroughly combine. Add the flour and salt. Process just until combined and the dough holds together in a ball. Turn the dough out onto a well-floured surface and divide into 2 pieces.

Flatten into discs and wrap each in plastic wrap. Refrigerate for at least 30 minutes before rolling out. If the dough is chilled overnight, take it out 15 minutes before rolling out.

Rub flour on a rolling pin. Working with one disc of dough at a time, roll them out on a well-floured surface. Apply some pressure to the rolling pin and roll gently from the center of the dough to the top and bottom edges. Rotate the disc and roll to the top and bottom edges again. Re-flour the work surface and rolling pin, turn the dough over, and continue to roll the dough from the center out to the edges. Turn over and roll again, rotating the disc to ensure even rolling until the dough is about 12 inches in diameter, thin but not transparent.
Recipe used with permission from Workman Publishing Company.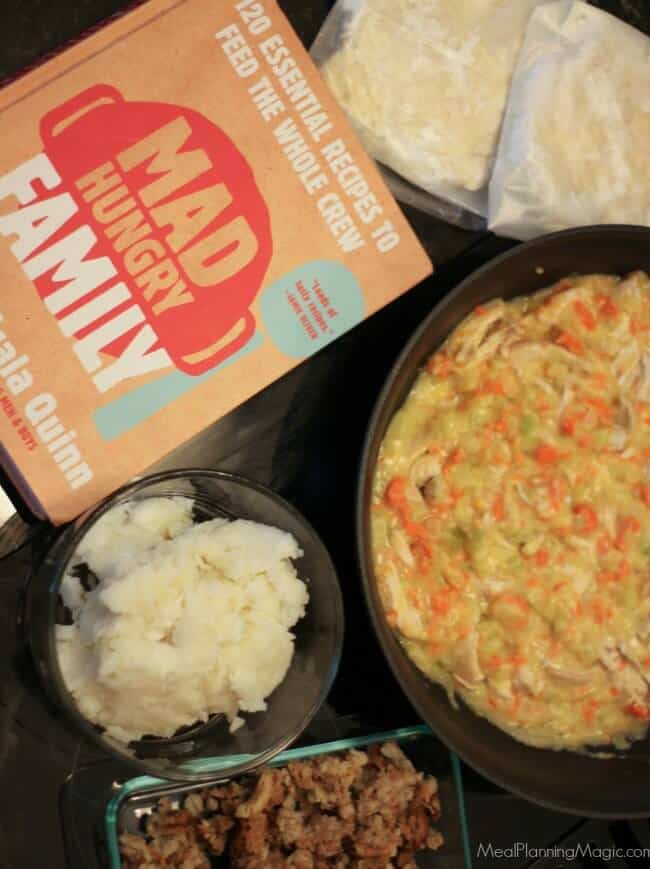 Now here's an extra bonus—a giveaway with a chance to win your own copy of Mad Hungry Family for yourself!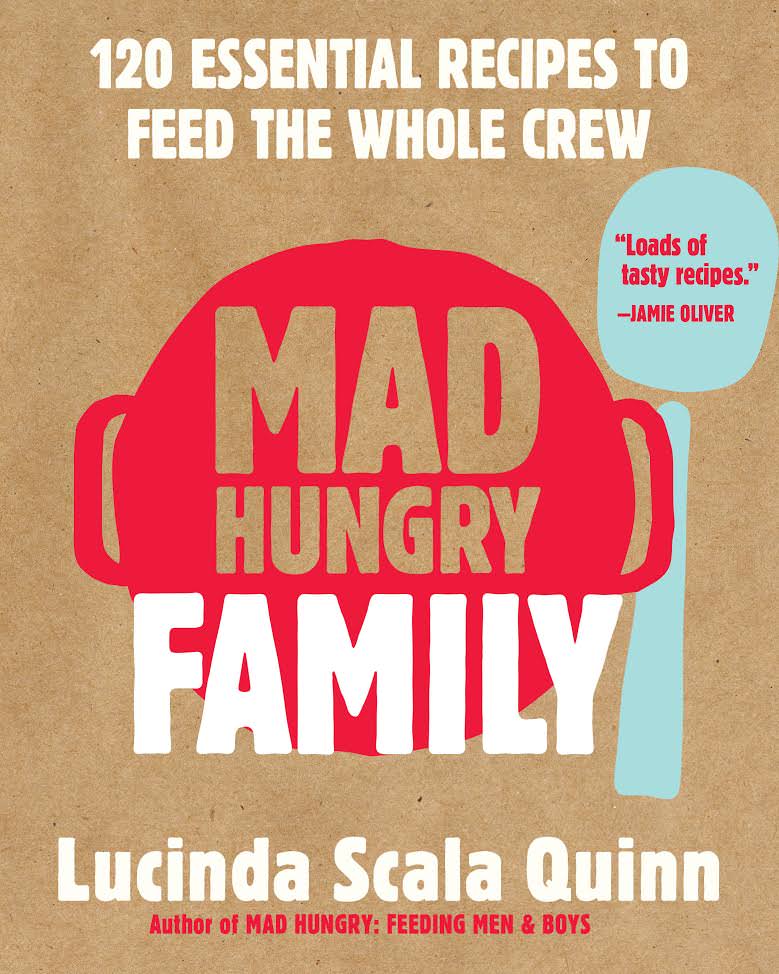 This post is sponsored by Workman Publishing Company in conjunction with a social media campaign through Sunday Supper LLC. All opinions are my own.
It also includes affiliate links to the book. Should you choose to purchase a copy of the book through my site, I will receive a small percentage of the sale—at no additional cost to you—as a thank you for the referral.