This post may contain affiliate links. Please read my disclosure policy.
Spicy cocoa almonds are a delicious and easy snack idea any time of the day. Roasted almonds with a coating of chocolate and a dusting of cayenne-spiked cocoa.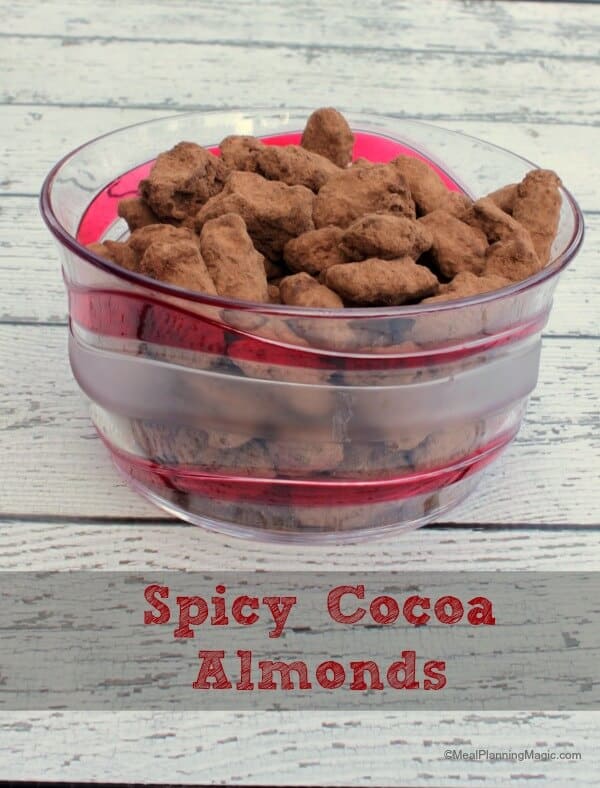 I love discovering new cookbooks at my library. Even though I have a pretty large collection of my own, there are so many unique books out there to be inspired by!
Can you believe we're already at the fifth week of the 12 Weeks of Christmas Treats?! Christmas will be here before we know it! Today, I'm sharing an adapted recipe from The Flying Brownie. What's neat about this book is that the recipes are all great to be made and shipped so they're perfect for the holidays. But they're also great for other occasions like for students who are away at school or friends and family who live far away that you want to share your kitchen creations with. The book includes some tips on how to pack for optimum freshness and minimum breakage and much more.
I chose to make these Spicy Cocoa Almonds (a variation on a recipe in the book) because I'm a big fan of making a big batch of specialty nuts, giving them away as gifts over the holidays. They're great for hostess gifts, teacher gifts and more.
Like these Spiced Caramel Nuts or Gourmet Pecans.
I made these with white chocolate chips which give them a bit creamier feel to the chocolate coating but then the cocoa gives them a delicious chocolaty taste. They are pretty easy to make up but one thing to note is that you do need to watch them when they are on the stove so you don't burn the nuts in the sugar mixture. The cayenne pepper adds just a little kick to the otherwise sweet chocolate flavor. I reduced the amount of cayenne but you can increase it up to ½ a teaspoon if you like a little more heat with your sweet!
These were a hit a recent family gathering and I know I'll be making up more of them to keep in the freezer so I can have them on hand during the holidays.
I hope you enjoy the spicy cocoa almonds, too! Here's the recipe:
Spicy Cocoa Almonds
Author:
Ingredients
⅔ cup sugar
¼ cup water
1 teaspoon ground cinnamon
¼ teaspoon cayenne pepper
2 1/ 2 cups whole roasted almonds (unsalted preferred but I used salted and they were still yummy!)
12 ounces white chocolate chips
½ cup cocoa powder, sifted
Instructions
Over medium heat, stir together sugar, water, cinnamon and cayenne pepper in a medium size saucepan. Add the nuts and continue to stir until the sugar begins to crystalize and harden. For me, this was about 10 minutes. Be sure you stir constantly because the point at which it starts to change happens really quickly when it does start to happen!
Remove pan from heat and spread mixture evenly on baking sheet lined with parchment paper or silicone baking mat. Cool completely.
Meanwhile, melt chocolate in medium size microwave safe bowl. Heat for one minute on high. Stir chocolate and return to microwave if not completely melted. Melt for an additional 15-30 seconds on high until chocolate is smooth. Add cooled nuts to chocolate and stir to coat.
Line another baking sheet with parchment paper or silicone mat. Using a fork, pull the nuts out of the mixture and spread on baking sheet, separating as necessary. Place sheet to the freezer and let the chocolate set, about 15 minutes.
Put cocoa powder in medium-sized bowl. In small batches, toss chocolate-covered nuts in cocoa. I actually used my hands for this. Put the nuts in a colander with decent size holes and then shake excess off over the sink. Store nuts in an airtight container. You can also make a big batch of these ahead of time and freeze so you can bag them up and give as gifts.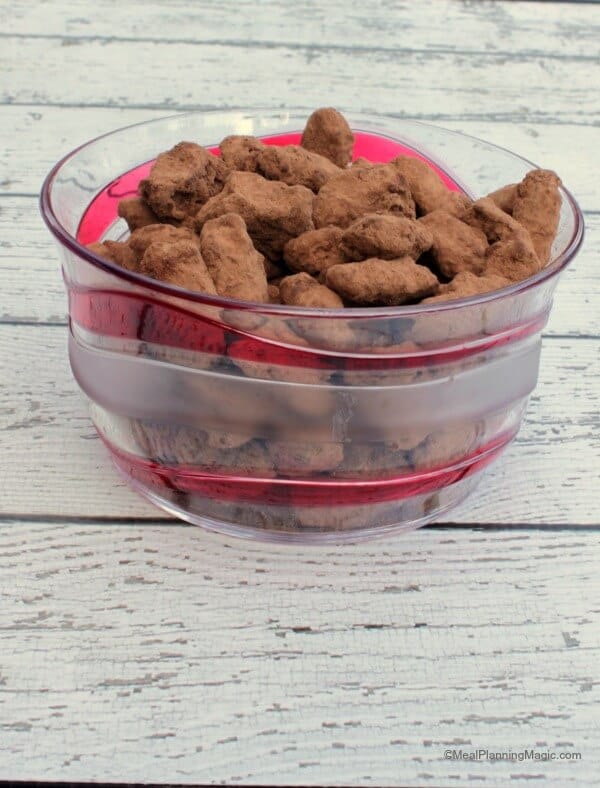 What are some of your favorite sweet treats to ship to family and friends?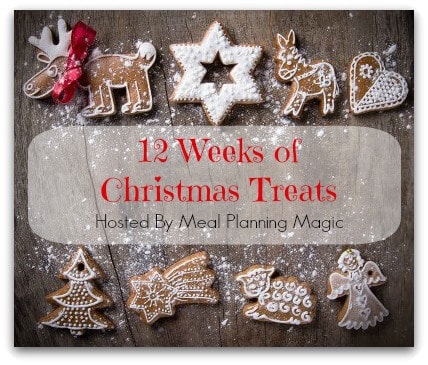 You can find out all about the 12 Weeks of Christmas Treats by clicking here for more information an details about joining in.
If you're a blogger, be sure to check the guidelines, join the challenge and then link up your own post each week.
Disclaimer: This post contains affiliate links. That means, if you choose to purchase the book mentioned in this post through my site, then I will receive a small portion of the sale as a thank you from Amazon Associates. But there is no extra charge to you! Thanks for your support.