This post may contain affiliate links. Please read my disclosure policy.
Banana cream filled chocolate cupcakes, decorated in black and white icing, are fun cupcakes, inspired by the movie, Beetlejuice!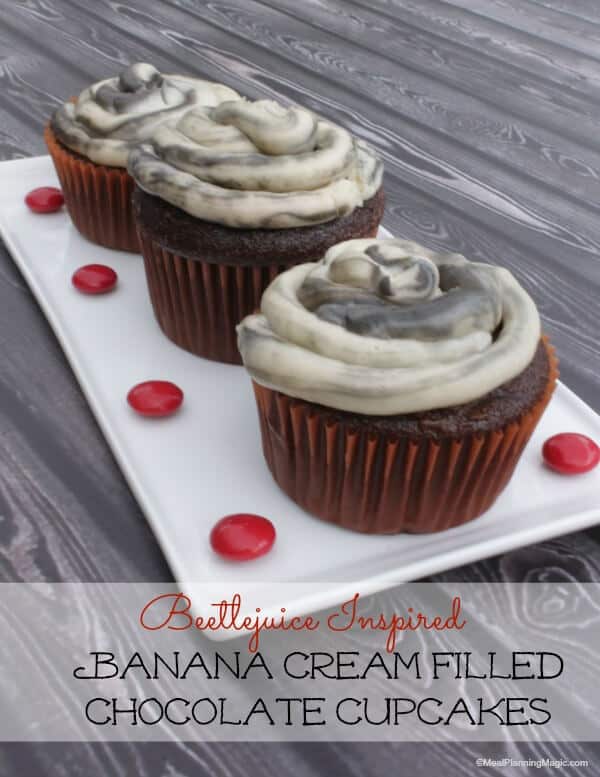 I don't exactly remember the first time I saw the movie Beetlejuice, but what I do remember is how it it's quirkiness has stuck with me through the years. Michael Keeton really became Beetlejuice and is one crazy dude! There are so many memorable moments from the film like the waiting room scene, or the wedding scene with Winona Ryder. But one scene that really stands out for me is the dinner party scene where the homeowners are all thrown into an uncontrollable rendition of Harry Belafonte's Banana Boat song.
It's this scene that inspired me to create this month's dish for our October #BlogFilmFood event. Kristi with Mom's Confession is hosting and I was so excited when she chose this movie. She wanted something with a Halloween theme, but not too scary, and full of fun! I think Beetlejuice delivers. Note: when I rewatched some scenes online I realized the language and content is a little more grown up than I remember, so if you're planning to watch this with your kids, check some reviews online first. The good news is that it is showing a few more times before Halloween on the ABC Family Channel if you have a cable provider.
This month I've created a recipe for Banana Cream Filled Chocolate Cupcakes, decorated with black and white icing. I'm not usually a fan of using too much food coloring so my tip to you when you want a dark color like black is to make chocolate icing. Then you won't need to add as much tinting to get that dark color. Of course, Beetlejuice is pretty much always wearing clothes in variations of black and white, which inspires the striped effect of my cupcakes' icing. But in rewatching the movie, I realized that many of the characters wear variations of those colors as well! Want to know how I got the striped effect? In an icing (decorator's) bag, just put half of the white icing on one side and kind of flop it over so it sticks. Then on the other half, add your black icing. You may need to squeeze some of it out before you start to see the striping effect but it works!
I've added some red candies to the plate of banana cream filled chocolate cupcakes as a nod to the wedding scene between Winona Ryder's character (who wears a red wedding dress) and Beetlejuice. They're totally optional though!
Y'all, the banana filling in these cupcakes is SO yummy! Bananas and chocolate? Yes, please!
Here's are the details on how to make the banana cream filled chocolate cupcakes for yourself!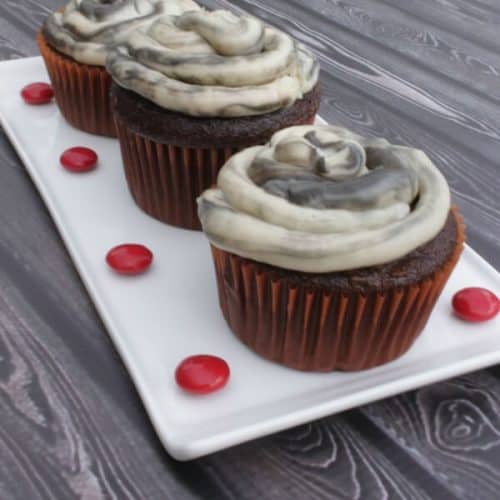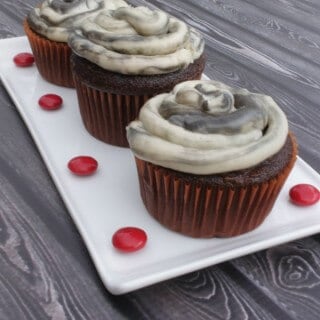 Ingredients
For Cupcakes
15.25

ounce

chocolate cake mix

3

large

eggs

½

vegetable oil

1 ¼

cups

water
For Banana Cream Filling
2

ripe bananas

broken in half

½

cup

milk

1 ½

cups

heavy cream

¼

cup

corn starch

½

cup

sugar

1

tablespoon

vanilla

¼

teaspoon

salt
For Frosting
1

cup

unsalted butter

softened

1

teaspoon

vanilla extract

3

cups

powdered sugar
Instructions
Put all ingredients for banana cream in a blender and blend until smooth.

Then, in a medium saucepan, heat mixture over medium heat, stirring often so the mixture does not burn. Continue stirring until mixture has thickened, almost like a pudding.

Remove from heat and cool completely.

Meanwhile, remove center from cupcakes. I used a handy tool that pops the centers out (you can find them the in cake decorating aisle of many craft stores) but you can also just use a teaspoon. You want only about a teaspoon or a little more out. Save the popped out cake for another use (or eat them, like we did!)

Prepare icing. Divide in half and add ½ cup cocoa powder to one portion to make chocolate icing.

Add a couple of drops of black food coloring to chocolate icing and blend until you achieve desired shade.

Add to decorator's bag and pipe out using #4 size tip to frost top of cupcakes.

Store in refrigerator until ready to serve.
Nutrition
Serving:
1
cupcake
|
Calories:
595
kcal
|
Carbohydrates:
73
g
|
Protein:
5
g
|
Fat:
33
g
|
Saturated Fat:
18
g
|
Trans Fat:
1
g
|
Cholesterol:
128
mg
|
Sodium:
384
mg
|
Potassium:
252
mg
|
Fiber:
1
g
|
Sugar:
55
g
|
Vitamin A:
1012
IU
|
Vitamin C:
2
mg
|
Calcium:
100
mg
|
Iron:
2
mg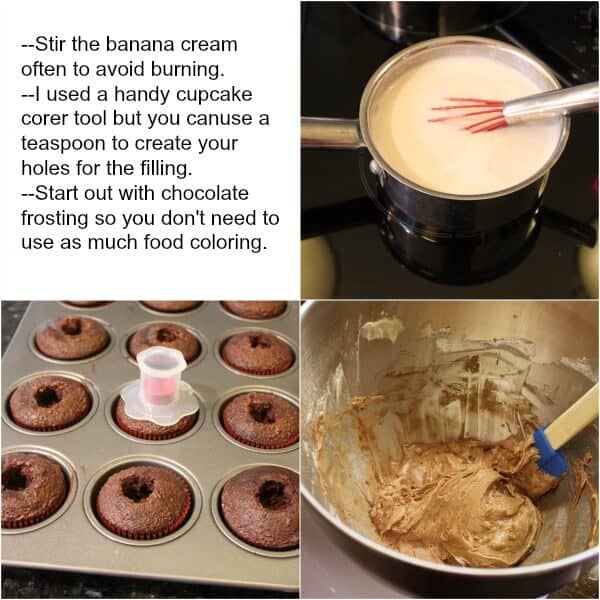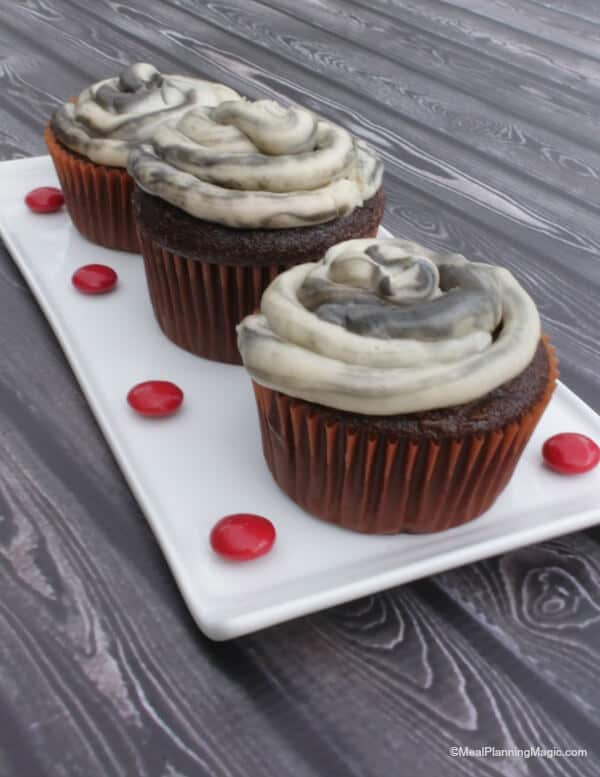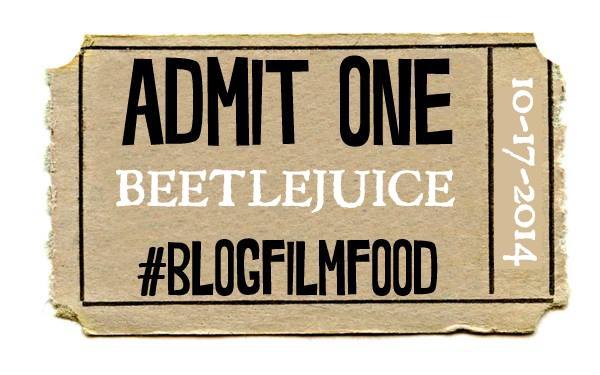 Don't forget to check out everyone else's recipes this month's #BlogFilmFood so you can start planning your own Film and Food Night Out!
◦Kelley from The Grant Life: Mixing food and family.
◦Kelli from Eat Pray Read Love
◦Kirsten from Kirsten Oliphant
Kristi from Mom's Confession
◦Miranda from Involuntary Housewife shares her Breakfast Casserole