This post may contain affiliate links. Please read my disclosure policy.
Disclaimer: I have partnered with Plan To Eat, the online meal planning service, for this blog post but all opinions are my own.
I realize we're nearly at the end of January but if you've made a goal this year to begin or regularly creating meal plan, then it's never too late to start. As you may know, meal planning can save you time and money and let you eat well. With a meal plan, you can:
• Save time in the grocery store when you shop from a list and not aimlessly wander the aisles
• Save money by avoiding impulse purchases and eat out less
• Eat better food that fits your dietary preferences because you'll know what to shop for
• Have less stress in the kitchen because you'll have a plan
• Eat more meals together as a household and you can even cook together too!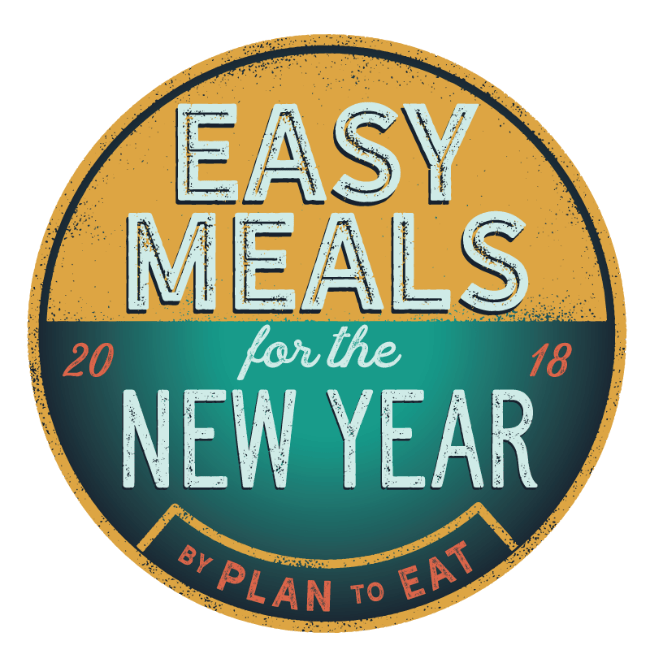 This year I'm excited to be partnering with the online meal planning service for the , Plan to Eat Easy Meals for the New Year Challenge! The challenge will teach you how to make head freezer meals and quick and easy meals to enjoy in the coming weeks.
Plan to Eat is an online meal planning software program that allows you to collect and organize your recipes (from the web, cookbooks, or your own collection) and drag them onto a meal planning calendar on the days when you would like to eat them. Based on the meals you choose, Plan to Eat can automatically create a grocery list for you (organized by store department!). If you don't already have an account, you can create a free 30-day trial and you'll be automatically linked to all the recipes needed for this challenge.
Check out the video below to find out more about how Plan To Eat works.

Easy Meals for the New Year from Plan to Eat on Vimeo.
So basically, Plan to Eat is a meal planning services that uses new recipes you want to try but your own recipes that your family actually likes! Don't forget to join the Plan To Eat Facebook group to ask questions and find support as you begin the challenge!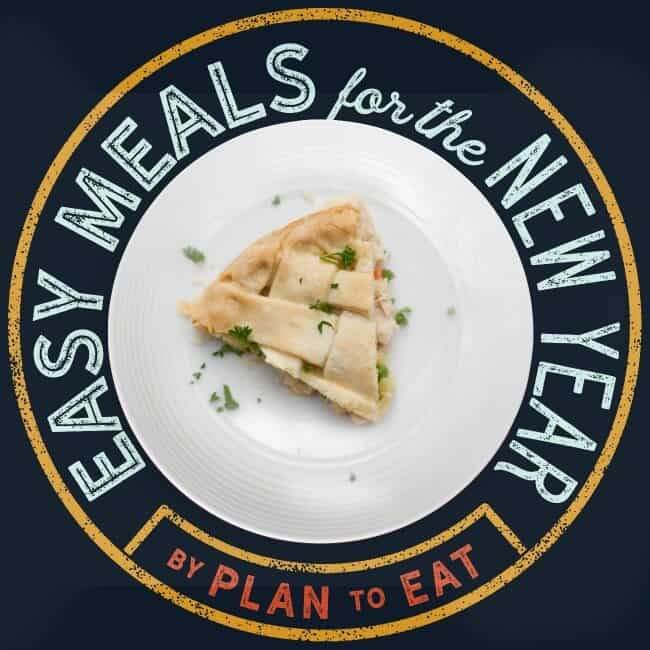 In the Plan to Eat Easy Meals for the New Year Challenge, you will be able to choose from a variety of recipes to suit your family's tastes. Included is my recipe for Homemade Chicken Pot Pie which is THE MOST POPULAR POST OF ALL TIME ON MY BLOG! I have had so many people contact me to tell me how easy it is to make the recipe and especially how much they love the flavor! Best of all? It's a freezer friendly recipe too so you can make one to eat right away and an extra to have in the freezer for later.
When you prepare meals for the freezer, you spend a few hours preparing several meals that you can pull out on busy days to thaw, cook and eat. I have been making freezer meals for years and I cannot tell how great it is knowing that I have a healthy meal ready for me to make on a day when time is short. There are several freezer meals but also quick and easy meal recipes that you'll have access to when you use Plan To Eat.
Click here to join the Plan to Eat Easy Meals for the New Year Challenge and see how 2018 can be your year to take the stress out of your kitchen and get your family eating healthy, home-cooked foods again! At the end of the 30-day trial you can subscribe to the service for $4.95 per month or $39/pear (that's only $3.25 per month!)
Have a question or want to share recipe ideas with others? Then join my private Facebook group, Meal Planning Magic Community Table here.
And don't forget you can always follow me on Facebook, Twitter, Pinterest , Instagram or Google+. They all offer a little something different and are a great way to stay in the loop on new menu plans, recipe ideas, giveaways, organizing tips and more!