This post may contain affiliate links. Please read my disclosure policy.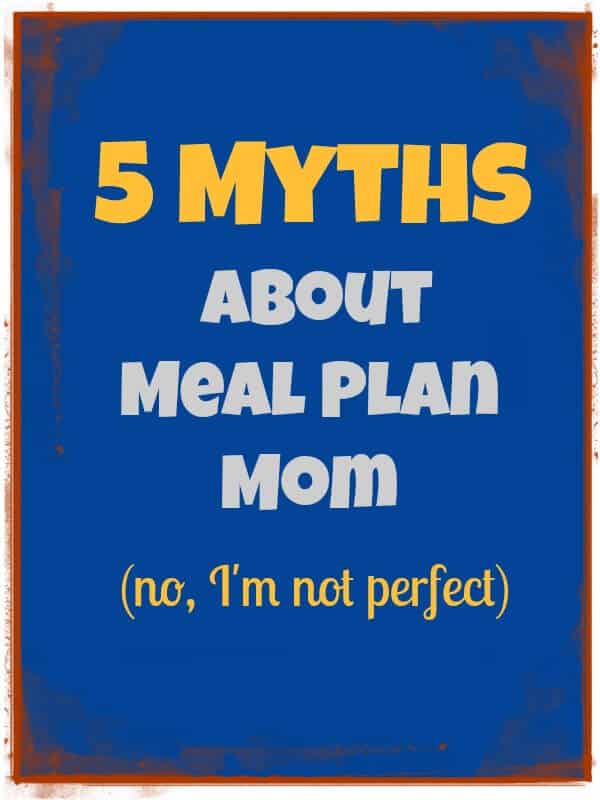 If you follow me on social media like Pinterest or Instagram or Twitter, you might know that my online persona is also known as the Meal Plan Mom. Yesterday I read a post by blogging friend, Bettina, from The Lunch Tray. There, she tackled the latest in the debate over family dinner. It got me thinking that as with much of what we read on the internet, sometimes what we read can make us feel like we're never doing enough. Or doing it the "right" way. So as it relates to meal planning and such, today I'm sharing with you 5 Myths About Meal Plan Mom (me) that let you know I'm not always what I may seem to be–at least online. Here are my 5 Myths about how mealtimes happen at our house:
MYTH 1: Every meal has a fruit and vegetable with it.
Over the weekend, we went out to eat and got fried fish and potatoes everything. Yes we did. And we liked it. But this is a rare occasion and was at a relatively well-known seafood restaurant in Houston that we wanted to try out. I realized later there was not a vegetable in sight unless you count the shredded iceberg lettuce that was on my po'boy. Not every meal is going to have a fruit or veggie but if you include them a bunch of the other times that's a win in my book. It's all about the bigger picture to me.
MYTH 2: We never go out to eat.
Actually, we go out to eat or order in once a week, on average. It's a nice break for all of us (me especially!) and no one has to cook and clean. We go to places that are sit-down or quick server restaurants (vs. fast food) and often use websites like Healthy Dining Finder to find restaurants that won't be so bad for our waistlines. I look for coupons. I join loyalty clubs to get discounts emailed to me. We go during lunch specials (some restaurants offer these even on weekends). We take advantage of special offers from websites like Groupon or Living Social. We cut back in other areas of our budget so that we can afford to go out. Going out to eat is doable and not as cost prohibitive as some people think with a little up front intentional planning.
MYTH 3: Every meal has a flavorful vegetable side dish paired for the flavors of that meal.
Usually, the sides, particularly vegetables are a total last minute thought for me. Sometimes, when I find something on Pinterest or think about it hard, I'll come up with something new to try. When I actually cook a side vegetable, usually it's the same old standbys: roasted broccoli, roasted rosemary potatoes or baked sweet potato fries. This is something I'm working on and I believe will be a continual work in progress for a long time. But very often it's just a sliced banana or apple or carrot sticks on the side.
MYTH 4: Every week's meal plan is done well in advance and corresponding grocery list logged and ready.
Let me tell you, there are many weeks where I'm winging it on the meal plan, scratching down something for the week and adding items to my grocery list just minutes before I head into the grocery store. Sometimes in my car in the grocery store parking lot! Those occasions are rare, but they do happen. But since I've been meal planning for so long, it's somewhat second nature to me so it makes it a little bit easier.
MYTH 5: Breakfasts and lunches are cute and have a theme.
Can I make a confession? When my son was in preschool, he had a peanut butter and honey sandwich every day.
Every. Day. Y'all.
Not much has changed as he has gotten older although there is a bit more variety these days. The boy is a creature of habit when it comes to school lunch. I'm ok with that because I know at home, for breakfast and dinners, he's eating a wide variety of things that maybe don't travel well or he doesn't want to bother with at school because maybe they're messier than it's worth at school. As much as I try to introduce exciting, new foods into my kids' lunches, they don't always happen. Again, I consider this a work in progress and I'm still a serious collector of ideas (my Pinterest boards are proof!)
(Bonus) MYTH 6: Dinner is served at 6:00 pm. Every night.
I almost laughed while typing that. Because it's SO not true. When I read Betttina's post, the naysayers she refers that argue how difficult it is to get dinner to the table doesn't hold up much for me. I shared Bettina's post on my Facebook page and I love what one reader said. "From a sociological point of view what is on the table is not as important as who is around it." Right on! So what do we do to eat dinner together most nights? We move it around. Some days we eat at 5:30. Other day we eat at 7:00. And gasp! Yes, some days we might even eat later. Sure, health professionals will tell you that that may not be the best thing for our bodies but if we get hung up on the fact that dinner is not served at the same time every day and give up altogether and run through the drive thru just to make some sort of artificial deadline, how much better off are we anyway?
I know this time of year can be stressful enough with getting back to routine for kids going back to school without us trying to live up to someone else's idea for what makes sense for our own families. Sure, I'll keep trying new things and collecting new ideas and even getting organized. But when I fall off the wagon, I know that it won't be for long. And I know that when I do, it will all be ok. I just wanted to let you all know that despite what bloggers like myself write about to provide that inspiration to make the changes that you want for your families, it's all a journey that needs to happen in our own time. But as long as something is happening, it's all good, right?
Because there are still days like this photo that I shared yesterday on my Facebook page of my kitchen at 5:00 p.m. Breakfast dishes still on the counter, clean dishes yet to be put away (and from the dishwasher too) and groceries still in the bags yet to be unpacked (the cold stuff had at least made it to the fridge and freezer). It had been a LONG day. But sometimes that's how life goes.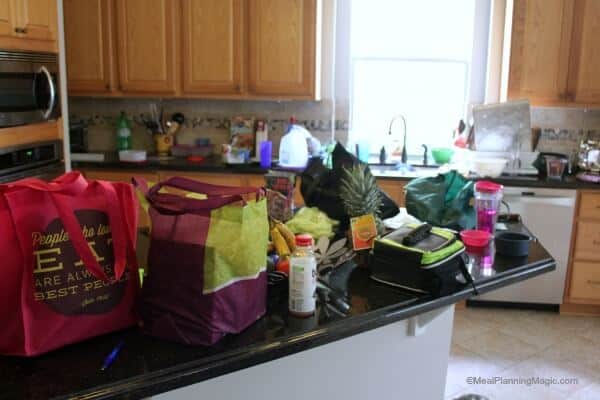 How do you make the most of trying to do what's most important to you for your family when it comes to mealtimes without trying to make it all "perfect"?