This post may contain affiliate links. Please read my disclosure policy.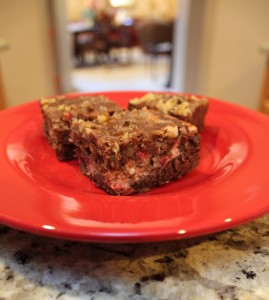 I can't believe we're already at the fourth week of the 12 Weeks of Christmas Cookies blog hop! So many wonderful, tasty looking treats being shared by all the bloggers. Have you been baking along with us? If not, I hope you will begin soon so you'll be organized for the holidays and fill your freezer with yummy treats to pull out during that busy time of year. Remember, if you're telling yourself, there's no way I can eat or serve all those cookies, then consider hosting a bake sale to help out a great organization in your area or one that I support, Cookies for Kids Cancer.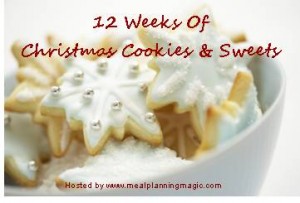 This week I chose another selection from a seasonal grocery store recipe books (I buy them every year—like I need any more recipes! These Merry Cherry Swirl Bars from a Gold Medal/Betty Crocker cookbook. It's another new recipe for me! I LOVE bar cookies and treats. They are so easy to whip up and just as tasty as an individual cookie. https://www.mealplanningmagic.com/2008/11/meal-plan-magic-holiday-style-baking.html
I actually made these last week, two days in advance of a weekend gathering and they became a little fudge-like. Still edible (and some people LOVED them that way!) but wanted to give the heads up to you all that even though they're stored in the refrigerator, the cream cheese might make them a little fudgy.
Also, on the afternoon I made these, I had an incredible amount of interruptions! I realized after they were in the pan that I had forgotten the nuts. And I like nuts! So I added them on top and kind of tried to swirl them in…that may have contributed to the more fudgy texture because the cream cheese was blended in a bit more. Oh well! Live & learn!
Now on to the recipe:
MERRY CHERY SWIRL BROWNIES
Brownies
4 ounces unsweetened baking chocolate
1 cup butter or margarine
2 cups sugar
2 teaspoons vanilla
4 eggs
1 ½ cups Gold Medal® all-purpose flour
½ teaspoon salt
1 cup coarsely chopped nuts

Cherry Cream Cheese Filling
2 packages (8 ounces each) cream cheese, softened
½ cup sugar
½ cup chopped red or green maraschino cherries
2 teaspoons red or green maraschino cherry juice
1 egg

Directions:
Heat oven to 350ºF. Grease rectangular pan, 13x9x2 inches. In 1-quart saucepan, melt chocolate and butter over low heat, stirring frequently, until smooth; remove from heat.

Cool 5 minutes. Meanwhile, in medium bowl, beat all Cherry Cream Cheese Filling ingredients with spoon until smooth, set aside.

In large bowl, beat chocolate mixture, 2 cups sugar, the vanilla and eggs with electric mixer on medium speed 1 minute, scraping bowl occasionally. Beat in flour and salt on low speed 30 seconds, scraping bowl occasionally. Beat on medium speed 1 minute. Stir in nuts.

Spread half of the batter (about 2 ½ cups) in pan. Spread filling over batter. Carefully spread remaining batter over filling. Gently swirl through batters with knife for marbled design.

Bake 45 to 50 minutes or until toothpick inserted in center comes out clean. Cool completely, about 1 hour. For brownies, cut into 8 rows by 6 rows. Store covered in refrigerator.

NOTES: Obviously I made mine with red cherries but green ones would be fun too! How about a combo platter of both?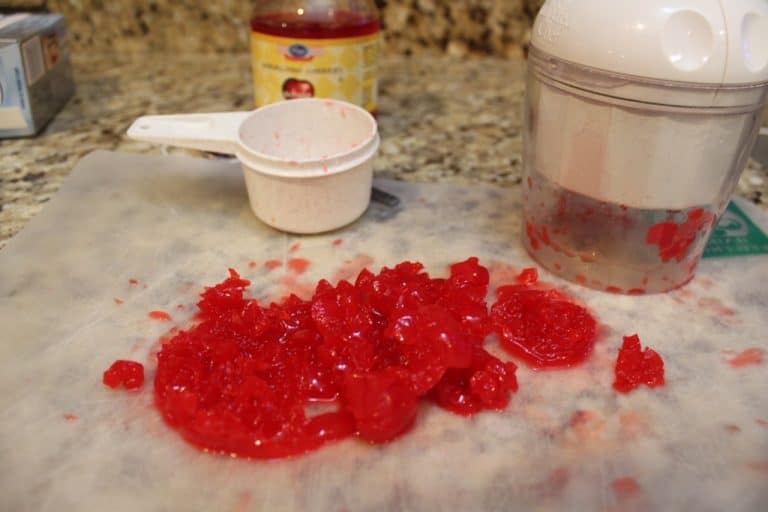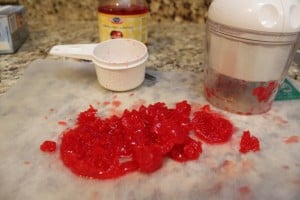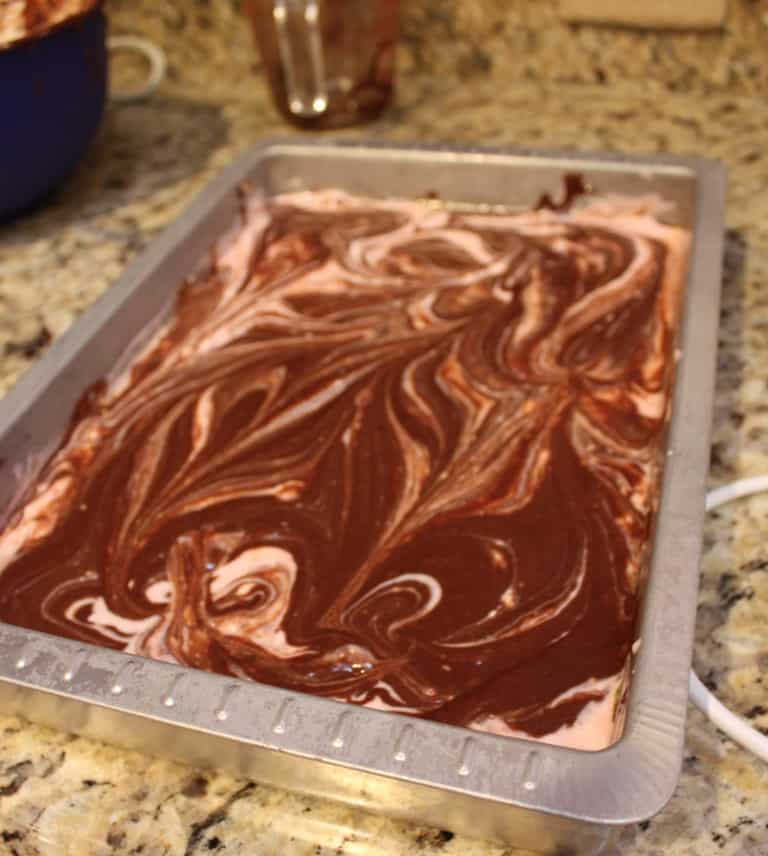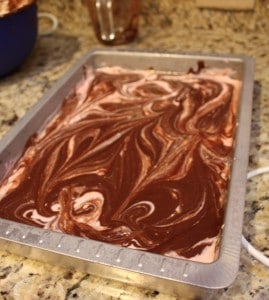 Are you a blogger that would like to join our blog hop? Then join us every Thursday (or any Thursday you can make it!) from now until December 15th. And if you're not a blogger or just not up for blogging about it, then join us anyway and fill your freezer. Each week we'll be bringing you lots of new inspiring recipes. Put on your baking cap and collect all those recipes from your recipe box, magazine cuttings, cookbooks or online. Now is the time to make those cookies you've always wanted to. And feel free to make a bar or even a candy—any sort of sweet treat will do!
TO JOIN/LINK UP: Add your link using the linky tool below. Link-ups require approval so if you don't see your link appear right away, that is why. When adding a link it MUST be a post dated 2011 and your post must mention the 12 Weeks of Christmas Cookies blog hop within the body of the post. No links from previous years to any old random Christmas cookie recipe just to get extra traffic to your blog, sorry! If you want to join the blog hop for future weeks and add the thumbnails to your blog for future weeks, please email me and I will send you the code and .jpg image to use. Thanks so much!
Be sure to visit all the other bloggers shown below to see what they've baked up today!