This post may contain affiliate links. Please read my disclosure policy.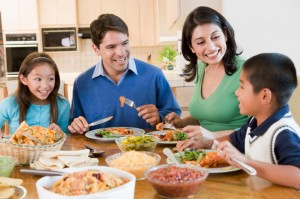 It seems that from the time my children started eating solid foods and joining us at the table, we have made it a priority to eat our meals together. That meant breakfast, lunch and dinner. Even if they were having pureed baby food, I would prepare our meal and we'd all sit at the table together to eat.
But now that my children are school-age, life seems to be moving at lightning speed. Between homework, Scouts, piano lessons and sometimes sports, my husband working overtime or the evening meetings I have occasionally, life is just plain BUSY.
But I still try to make sure that we make time for family meals. Sometimes that might just mean breakfast. Of course lunch is now together on weekends and holidays but we all try to sit together. And dinner time might need to be adjusted but it's usually going to happen together. We're not a "must eat at 6 p.m." kind of people. Depending on what we have going on it may mean one night we eat at 5:00 p.m. and the next night it's closer to 7 p.m. But we do everything we can to make it together. And we always turn off the television, computer and MP3 players, put down the phones and game players and set aside an electronic-free time to gather around the table.
Now I know you may be thinking, yeah right Brenda, it sounds good but I just don't know how to make it work! Just find the time that's right for you. For example, for my sister and her family, eating breakfast together is sometimes easier for them because my brother-in-law goes into work later but he also works later into the evening. Mornings are their time to connect. Or perhaps it will just happen for your family once a week. How about a weekend family night–Fridays and Sundays are popular days for many families. The point is that you need to start small and look outside the box to find what works for your family.
I don't think I set out with a clear motivation in mind, but over the years I can certainly see the benefits that have come from having family meals together. For our family that means lots of things but a few of my favorite reasons include:
It's a great way to reconnect after a busy day. We share what happened for each of us that day whether it was at work, school or play. It's the time we share our successes, talk about friends and just generally have fun at the table. We try to keep mealtimes positive at our house. Back in January we also started a Thankful Journal where we write something we're thankful for most recently. Sometimes it's daily, maybe every-other-day or even weekly. But the point is it makes us stop and recognize the good in our lives. While prayers before meals often serve the same purpose, our Thankful Journal is a tangible way for us to each reflect. And it's been fun to reread the entries and realize that what I might be thankful is quite different from my seven-year-old!
Table manners are reinforced. Not only sitting still at the table but learning to chew with your mouth closed or not talk with a mouthful. Or maybe it's using a napkin or how to properly use a knife and fork. And those manners transfer to outside the home. I remember running into an acquaintance not too long ago who commented how well behaved our children were at the upscale sushi restaurant where we both were dining. I took that as a huge compliment because ours were the only children in there—and we knew it would be okay because they had had plenty of practice!
Teaches that food is meant to be enjoyed not just consumed. By adjusting our dinner time, we choose a time that means we're not just squeezing in dinner in the 15 minutes we have between activities and the food is actually tasted and not just inhaled. Plus, we can talk about new and different foods and also model the behavior we hope to instill in our children by eating the same foods we want them to eat.
Sets children up for positive eating habits. I have been with many families who let their children come and go to the table during meal times. Their thinking? "They won't sit still long enough to eat so as long as they're eating something we're good with that." Um, ok, first I have to ask who's in charge here and second, how do you expect a child to sit still at the table if they don't get a chance to practice it? This, of course, is just my opinion and certainly different ages can sit longer than other but you get the point. If you don't set them up for success they will most often fail. Is it more work on your part? Maybe. But in the end it will be worth it. I promise, wrestling a two-year-old is a lot easier than wrestling a seven-year-old!


Those are just a few of the reasons why family dinners are important to our family. But tomorrow, Monday, September 26th marks the 11th annual Family Day-A Day To Eat Dinner with Your Children. Launched in 2001 by The National Center on Addiction and Substance Abuse (CASA) at Columbia University, Family Day is a national movement geared towards informing parents about the benefits of family dinners. There are numerous other benefits including:
*Families who have frequent family meals together are more likely to:
● have healthier diets
● consume more fruits and vegetables
● feel more satisfied and connected in relationships.
Children and teens who have frequent family meals are more likely to:
● do well in school
● be of healthy weight,
● report having a good relationship with their parents
They are also less likely to use drugs and alcohol and they are less likely to have disordered eating or depressive thoughts.
Still not convinced? Some statistics about Family Dinner/Family Meal Frequency include:
● Only 35% of American families have five or more family meals per week. (Reader's Digest Survey, May 2011)
● According to Pew Research (2010), only about half of families make dinner a daily ritual and another third eat together a few times a week. Roughly one in 5 families eat together only occasionally or never.
● There has been an increase in family meals eaten at home since 2003, but there has also been an increase of children "doing other activities" while eating, such as watching TV or using the computer. (American Dietetic Association Family Nutrition and Physical Activity Survey 2010.)
And remember, eating family dinner together doesn't have to mean the meal is home-cooked (although that's another way to spend time together—cooking!)—ordering take-out is ok too! What is important is to be together, not who prepares the meal or what is being served.
I hope you will join me and many others around the nation on September 26th as they sit down down to a nice family dinner and make dinner together a family tradition. For more information on Family Day www.casafamilyday.org. And today kicks off a month long campaign by other bloggers who share their inspiring stories for family dinner at the Blog4Family Dinner Site!
*Facts provided and complied by the Blog4Family Dinner site. Thanks!