This post may contain affiliate links. Please read my disclosure policy.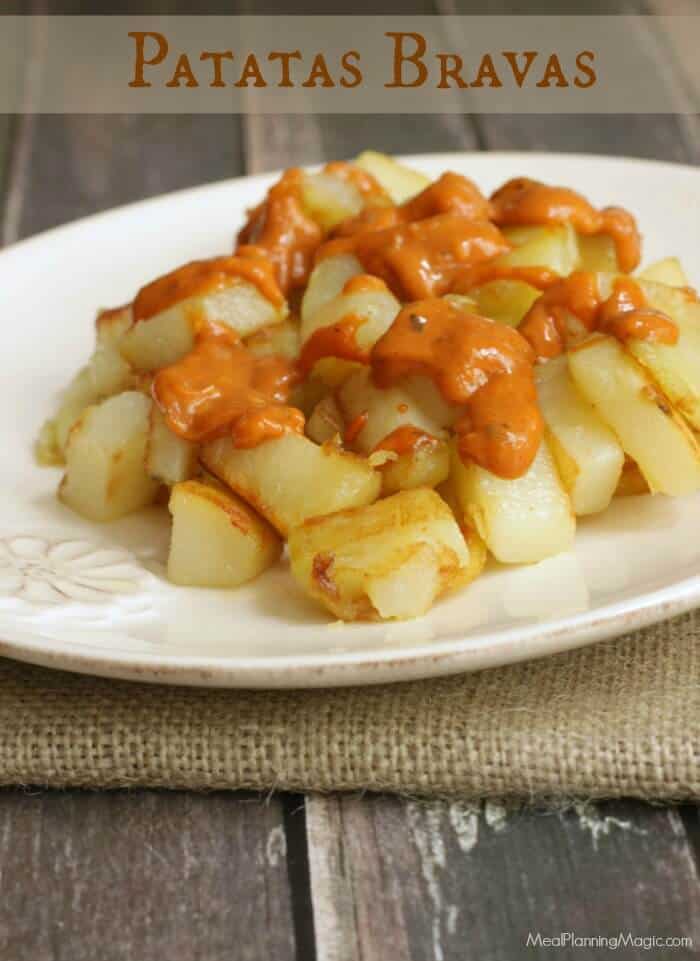 Thank you to Kroger for inviting me to be part of the #TasteOfSpain campaign. I've been eating Spanish food for more than half my life! When I married my husband, I also married into his family and with a Spanish mother-in-law, I've been introduced and come to love lots of Spanish foods over the years. A few years ago, we went to Spain to visit the majority of my husband's extended family and we got to experience all the sights, sounds and delicious foods of many regions in Spain. I have to say though, that even in the birthplace of paella, Valencia, the paella my mother-in-law makes is still the best! Today, I'm excited to share with you another Spanish favorite, patatas bravas. These are fried potatoes with a spicy sauce. They are normally enjoyed along side several other small plate type meals called tapas. Think of them like a meal made out of appetizers. The recipe I made is from teh Kroger Taste of Spain website and despite the fancy name, they are so easy! And delicious too.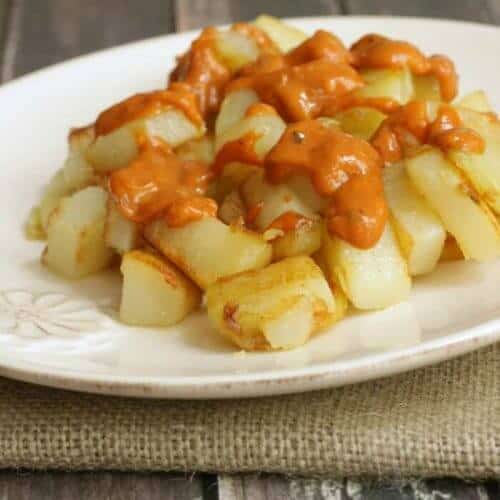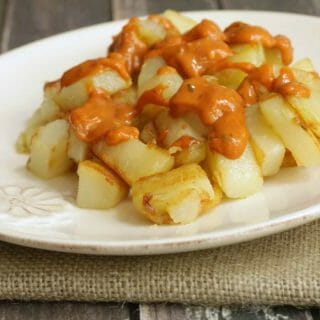 Easy Patatas Bravas Recipe and #TasteOfSpain
Making Spanish Patatas Bravas are much easier than you think! This classic tapas dish combines pan-fried crispy potato wedges and a spicy tomato sauce--yum!
Rate this Recipe
Print Recipe
Pin Recipe
Ingredients
3

tablespoon

olive oil

4

large

potatoes

peeled and cut into 1" cubes

2

tablespoon

onion

minced

2

cloves

garlic

⅛

teaspoon

salt

⅛

teaspoon

ground black pepper

1 ½

tablespoon

ground paprika

½

teaspoon

hot sauce

such as Tabasco or Cholula Hot Sauce

¼

teaspoon

ground thyme

½

cup

ketchup

½

cup

mayonnaise

4

tablespoons

fresh parsley

chopped, to garnish

1

cup

cooking oil
Instructions
Prepare the bravas sauce by heating 3 tablespoons olive oil in a saucepan over medium heat. Add the onion and garlic and sauté until the onion is soft. Turn off the heat and add the paprika, hot sauce and thyme, stirring well. Transfer to a bowl and add the ketchup and mayonnaise. Season with salt and pepper to taste.

Sprinkle potatoes lightly with salt and pepper. In a large skillet, fry the potatoes in oil until cooked and golden brown. Drain the potatoes on paper towels. Mix the potatoes with the sauce immediately before serving to ensure potatoes retain their crispness. Garnish with chopped parsley and serve warm.
You can find more Spanish recipes on their website by clicking here.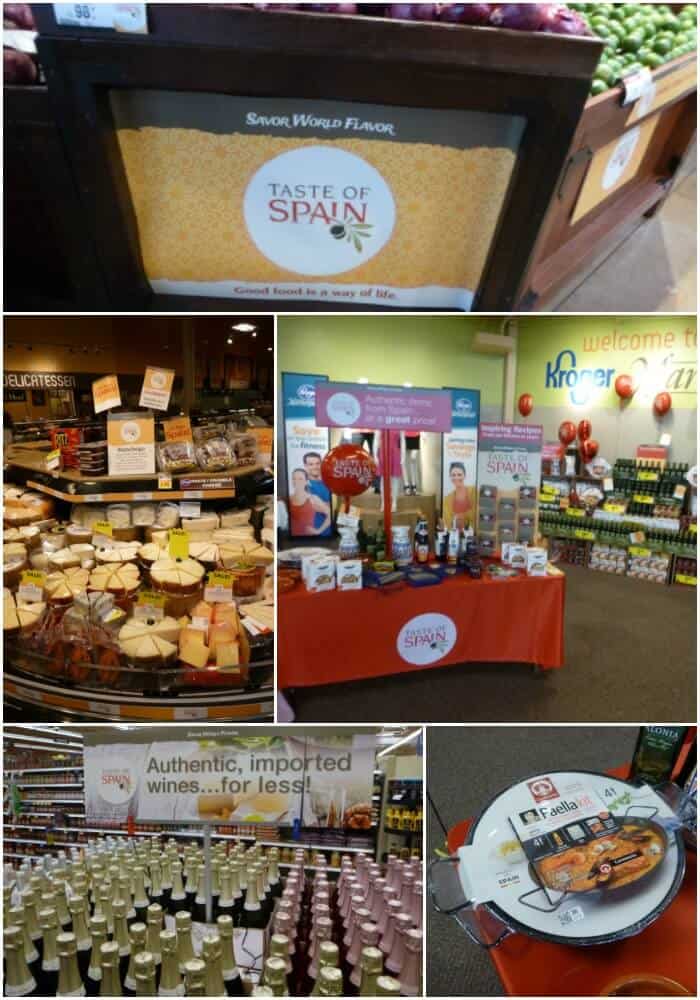 Right now and through April 19th, the Kroger family of stores is hosting at #TasteOfSpain adventure for your taste buds. They have a large variety of foods to enjoy from Spanish olives and olive oils to Spanish wines and cheese and sausages. When we were in Spain, we enjoyed many a meal of good cheese and sausages, or chorizo. The varieties are so flavorful and Kroger has a great selection to choose from you'll get to experience Spain in your own home.
When I was in my local Kroger, the employees there were so excited to tell me about all the different cheese varieties. I ended up taking some of the manchego home–it makes a great afternoon snack too! Just sayin'! Manchego is what I'd call a soft-hard cheese (not a technical term!) because it is firm like a Parmesan but has a creamier texture when you eat it. We like to slice it and serve with plain crackers or chorizo sausage or jamon serrano (a Spanish specialty!) Did you know that Manchego gets it's name because it is produce in the La Mancha region of Spain (also home to Don Quixote)
The Taste Of Spain won't be here forever, so hurry on into your local Kroger/Fred Meyer or ??? store to pick up some of their yummy Spanish foods. You'll be able to enjoy all the flavors of Spain in your own home. And maybe it will inspire you to add a trip to Spain to your bucket list! Enjoy!
Disclaimer: I was compensated for this post however all opinions are my own. And the recipes really are easy and tasty!