This post may contain affiliate links. Please read my disclosure policy.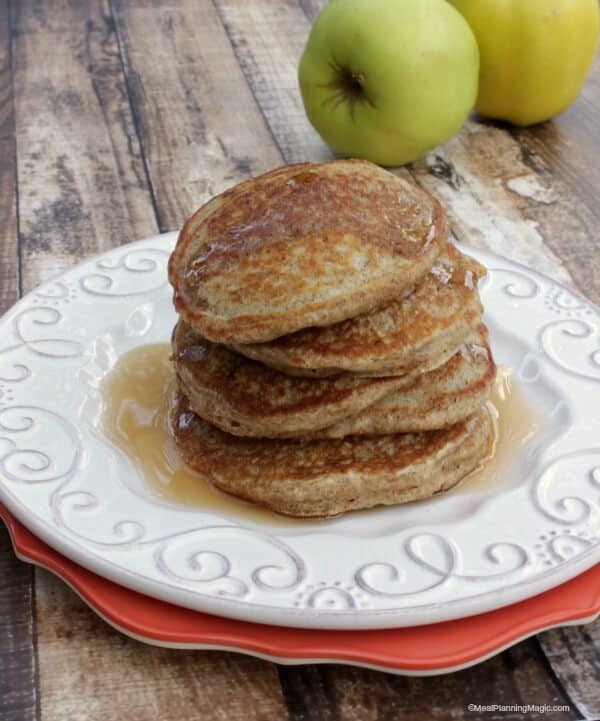 I am so excited today to tell you about a new book that's coming out next month! The 52 New Foods Challenge by Jennifer Tyler Lee is the culmination of a lot of work and a lot of love!
As the creator of the Crunch a Color game (which we love by the way), Jennifer is all about finding ways to help the whole family eat well AND have fun along the way. Her new book is an extension of the 52 New Foods Challenge she started on her blog a couple of years ago. The idea is simple: Try a new food every week for a whole year and in the process, teach your kids and family that eating can be a delicious adventure!
In the book, Jennifer first introduces us to her story and how the challenge came to be. She offers tons of ideas on how to introduce the concept to your family and yes, talks about the challenges and gives tips on how to overcome those challenges. In this video, Jennifer tells more of her story:
Now on to The 52 New Foods Challenge cookbook! The first part of the book explains the challenge and each chapter focuses on expanding the ideas. They include: Eat Your Colors, Cook Together, Buy In Season, Grow It, Let Kids Lead, Keep Trying, Together. Jennifer has filled these chapters with all kinds of ideas that have worked for her family and friends.
The second part of the book is filled with tons of recipes. What I especially like about the way this book is organized, is that the recipes are in sections by season which makes it easier to focus on eating seasonally, too! Sprinkled throughout the recipe section are lots of tips that tie back to the ways to involve your family in preparation of the dishes.
She's also included an overview of the challenge and a variation on the Crunch A Color game that includes points for different colors of food so that your family can make it a game and see how quickly and easily it can be to eat a variety of foods and try new flavors too!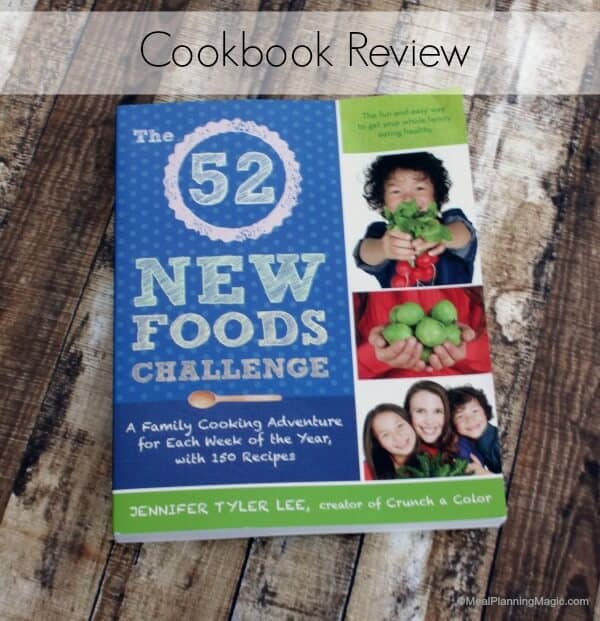 Today, I'm sharing a variation on the Banana Pancakes recipe included in the book. My version is Apple Pancakes and it's oh, so easy! This recipe contains whole wheat and of course, apples which both help make it a healthier breakfast (or anytime!) option. My family especially liked these pancakes with a drizzle of all natural maple syrup on top. Talk about yum!
Whole Wheat Apple Pancakes
Author:
Ingredients
<blockquote><strong>Whole Wheat Apple Pancakes</strong>
1 cup whole wheat all-purpose flour
1 teaspoon baking powder
½ teaspoon baking soda
¼ teaspoon salt
1 cup low-fat milk
1 large egg, beaten
1 tablespoon unsalted butter, melted and slightly cooled
1 cup peeled, diced apple (any variety)
1 teaspoon cinnamon
Instructions
Preheat griddle or electric fry pan to 350°F.
In a small bowl, mix together flour, baking powder, baking soda and salt. Set aside.
In medium size bowl, beat together milk, egg and melted butter. Slowly add flour mixture to egg mixture and stir gently until combined. Do not overstir!
Spray griddle with olive oil. Using a medium size scoop (or measuring cup), pour batter onto heated griddle. Pancakes should be about 3-4-inches across.
Add one to two tablespoons of diced apples to each pancake.
Cook for 2 to 3 minutes and when bubble appear around edges, flip pancakes and cook for 2 to 3 more minutes.
Serve warm. We like ours with a small drizzle of maple syrup.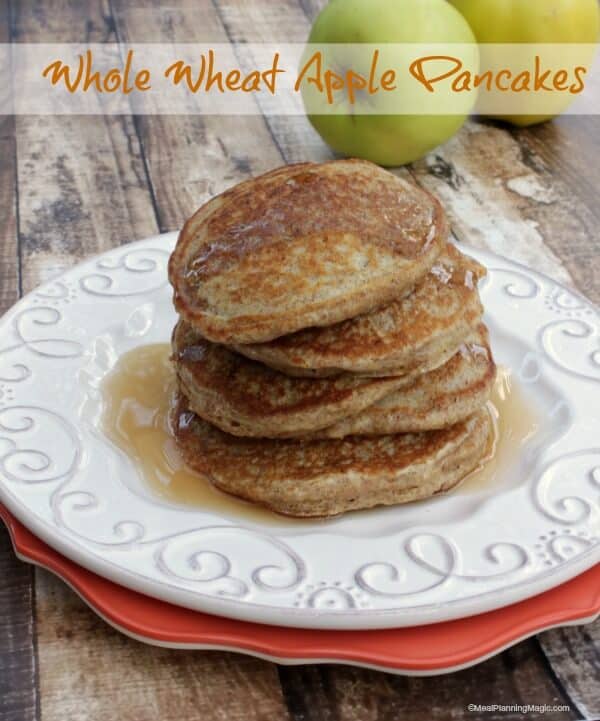 I am excited to have been a supporter from the beginning of the challenge and its variations. Jennifer and I first got acquainted online through Jamie Oliver's Food Revolution Twitter chats a few years ago. We've kept in touch over the years and collaborated on a few different projects including when I shared my own recipes like this BLT Chicken Salad or this Trailmix Coleslaw. For The 52 New Foods Challenge, I was also a recipe tester!
As a thank you to everyone who preorders The 52 New Foods Challenge , Jennifer is offering a bonus 16-page cookbook packed with 9 new, never published, full color recipes. The Brussels sprouts chips are one of her family's current favorites—they're like potato chips only 500X better. (I think I'm going to have to add Brussels sprouts to my grocery list this week now!) And the homemade Nutella will rock your world–I cannot wait to give this a try too!
Be on the lookout for a giveaway for the book coming up this week! One lucky winner will win a copy of the book but either way, I hope you'll take the 52 New Foods Challenge and see how it can transform the way your family eats. Perhaps it will help your family's tastebuds go from saying ho-hum to hooray at mealtime!
Disclaimer: This post includes affiliate links. That means if you choose to purchase any of the products or books mentioned in this post via the links provided, I will receive a small percentage of that sale as a thank you from AmazonAssociates. But there is no extra cost to you! Thanks for your support.