This post may contain affiliate links. Please read my disclosure policy.
These Six Tips for Kitchen Spring Cleaning will help you make one of the most-used rooms in your home clean and organized!
Be sure to sign up for my email list to get new recipes and ideas in your inbox!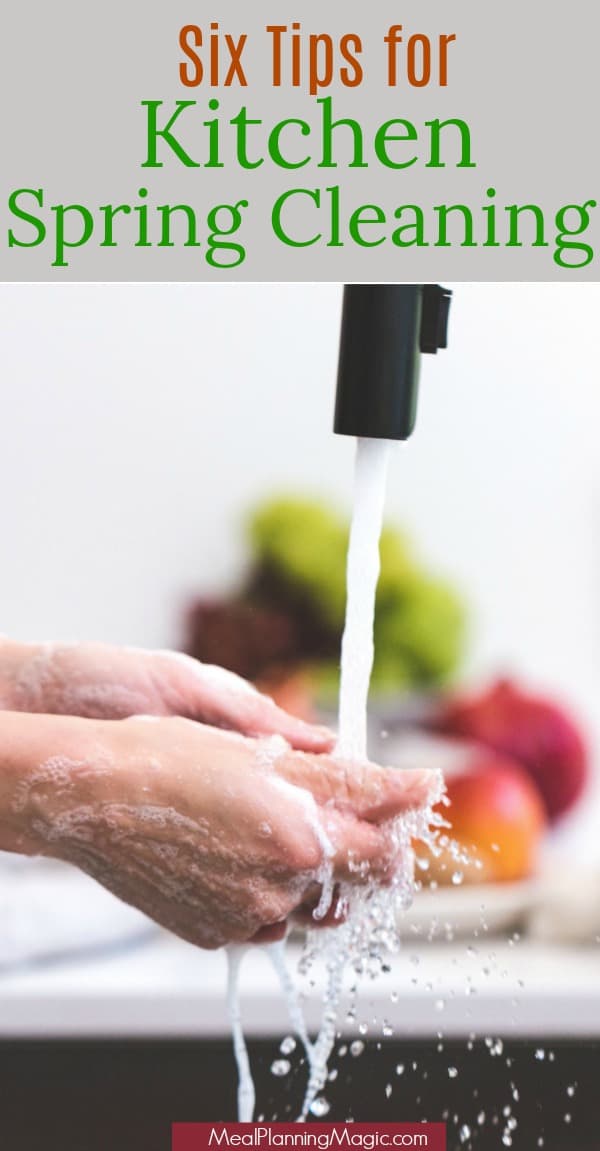 It's spring time and that means it's time for some spring cleaning! I originally shared this post years ago on Produce For Kids but I'm sharing it here for all of you that may not have seen it before.
When most people think of spring cleaning, they quickly turn to ideas of tackling the garage or maybe an overstuffed closet. But the kitchen is an area not to be forgotten. The pantry, refrigerator, freezer and even cabinets are easy to overlook in our day-to-day use. No matter where you choose to start, these tips should get you off in the right direction.
Six Tips for Kitchen Spring Cleaning
Take everything out, shelf by shelf. As you go, decide if the food is still edible and toss the rest. Compost what you can if it's fresh produce. If it's the cabinets you're cleaning out, decide what needs to stay and what can be sold or donated if it hasn't been used in awhile. Take note of the height of your items that will go back in so that you can adjust shelf heights if necessary.
Check dates and decide what stays and what goes. If a food item is past its expiration, it's best to throw it out. Do you know how old that jar of pickles is? How about the coffee creamer you bought when you planned to become your own barista (but never followed through)? Now's a good time to start a new habit by writing the date on the label that you opened a new item so you can see for next time how long it takes you to use it up. Maybe you can get away with a smaller quantity in the future.
Wipe down the shelves with warm soapy water and dry. No matter how careful you are, there always seems to be a bit of food here and there that drizzles out or spills down the side of a container. Clean it all up so it's fresh and ready. Kitchen cabinets can get surprisingly dusty so a good wipe down is in order there too.
Begin putting the items back in and create food zones. Keeping like items together just makes sense when it comes to maintaining an efficient kitchen. I've actually labeled shelves in my refrigerator and pantry. This helps me not only remember where things belong, but it's helpful to other family members and guests who are helping out in the kitchen.
Write down what you plan to keep and put back. To avoid excess food waste moving forward, make an inventory to keep track of what you're keeping so you can work those ingredients into your meal plan in the coming weeks.
Mark your calendar to make kitchen area cleaning a regular task. I like to clean out my refrigerator weekly, before garbage collection day. Keeping an inventory is the most helpful way to avoid food waste in the pantry and freezer but it's still a good idea to do a check every few months or so as we all get busy and sometimes forget to add items to the list.
With these Six Tips for Kitchen Spring Cleaning, you'll have your kitchen in great shape to more efficiently cook up some delicious meals for your family.
More Kitchen Organization Tips
Check out these other posts for even deeper cleaning ideas and resources:
Six Tips to Organize Your Refrigerator
Five Tips to An Organized Pantry
Organize Your Freezer In 5 Easy Steps
8 Meal Planning Board Tutorials
Sign up to receive an email in your inbox for each new recipe and get a FREE menu plan printable: FREE EMAIL SUBSCRIPTION

Have a question or want to share recipe ideas with others? Then join my private Facebook group, Meal Planning Magic Community Table here. If you've already joined, be sure to add your friends that may find it helpful too!
And don't forget you can always follow me on Facebook, Twitter, Pinterest , or Instagram. And don't forget to sign up for my email list here so you never miss a new post! Each of these ways to connect all offer a little something different and are a great way to stay in the loop on new menu plans, recipe ideas, giveaways, organizing tips and more! Want to know what items I'm using in my own kitchen to help streamline my time there? Then check out my Amazon Shop (see disclaimer in footer below this post).
Click on the photo below to browse my simple, delicious recipes!