This post may contain affiliate links. Please read my disclosure policy.
Garlic green beans with Parmesan is a quick and easy side dish recipe. It pairs well with many proteins and the addition of Parmesan helps to make it a kid friendly favorite.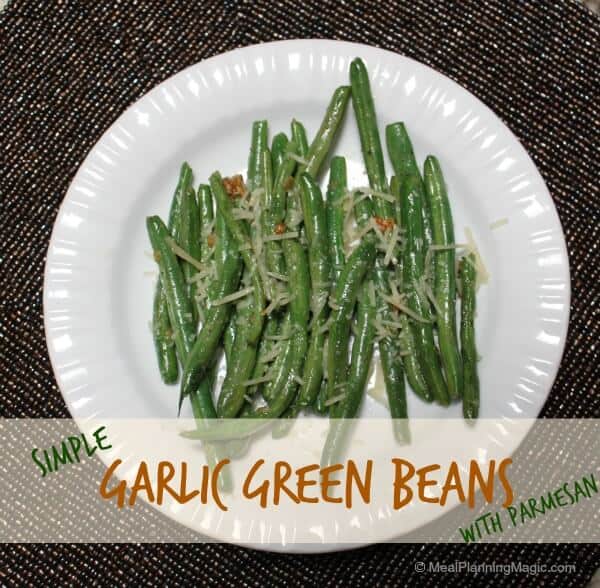 In general, my family is not a fan of green beans. Not even in the famous green bean casserole that makes an appearance at holiday tables every year (which is fine with me because that means more for me, right?!) But I like green beans so I wanted to find a recipe that would hopefully appeal to them since I am feeling like we need to expand our repertoire of vegetable side dishes. I also wanted to find something that was easy because for me, it seems as though vegetable side dishes are often an afterthought when it comes to dinner time. When searching for a recipe I thought about garlic since we all seem to love garlic too!
So I was glad to come upon a recipe for Garlic Green Beans at Allrecipes which inspired me to give green beans a try! With the addition of Parmesan cheese (who can go wrong when you add cheese?) and a few other changes, I tweaked it a bit to fit our family's tastes and guess what? It was a hit and everyone liked it! I had our green beans cleaned, cooked and on the plate in less than 15 minutes! Extra win!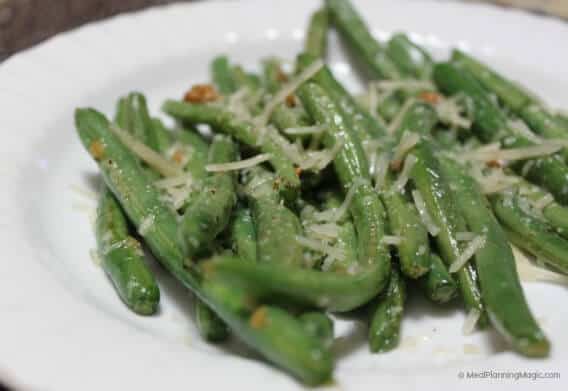 I'm sharing this recipe for Garlic Green Beans today for our monthly Eating A to Z Healthy Recipe Challenge. Each month, I challenge you and other bloggers to try new recipes that feature a fruit, vegetable, grain or legume. This month we're featuring ingredients that start with the letters G or H. It's been fun trying out new things or rediscovering old favorites.
This month I bring you TWO ingredients that start with the letter G: Green Beans and Garlic. Green beans are great source of dietary fiber and an excellent source of vitamin A and a good source of folate and many other antioxidants and minerals.
I hope you will try this simple garlic green beans recipe!
Simple Garlic Green Beans Recipe
Author:
Ingredients
2 tablespoons butter
3 large cloves garlic, minced
2 cups fresh green beans, washed and ends trimmed
salt and pepper to taste
¼ cup to ⅓ cup fresh grated parmesan cheese
Instructions
in a large sauté pan, melt butter.
Saute minced garlic until slightly brown.
Add green beans to pan.
Saute mixture, stirring frequently, for about 10 minutes or until beans are tender.
Add salt and pepper to taste.
Remove from heat and add shredded parmesan cheese.
Serve warm.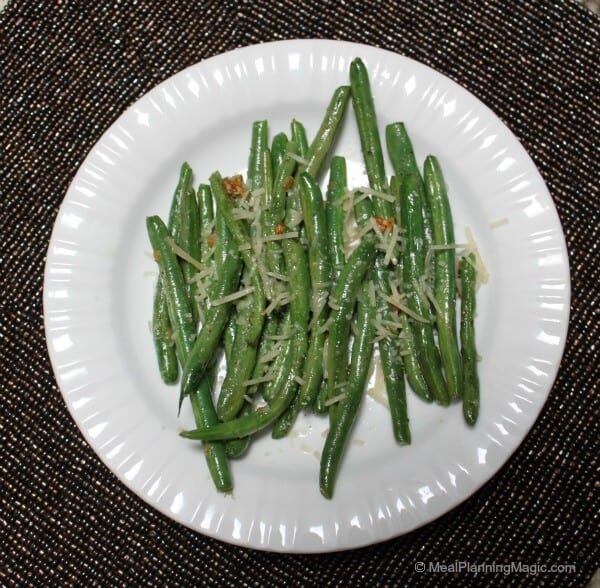 I hope you'll give these Garlic and Green Beans with Parmesan a try!
Don't forget to check out the Eat A to Z Pinterest board. There you can keep track of all the recipes that are added month-to-month but also find new recipes from last year too. What's your favorite fruit, vegetable, grain or legume that starts with the letter E or F?
Be sure to check out all the other blogs shown in the link up below to discover new recipes and ideas! If you're a blogger and have a recipe to link up, I can't wait to see what you share!