This post may contain affiliate links. Please read my disclosure policy.
Shrimp and pork spring rolls are a simple twist on traditional Vietnamese spring rolls. Filled with pork, shrimp, pickled vegetables, and vermicelli.
Hey y'all! Remember, last month when I introduced you to the #BlogFilmFood series featuring some of my favorite bloggers' recipes and the movie Steel Magnolias? Well, this month (the third Friday of each month), it's my turn to host!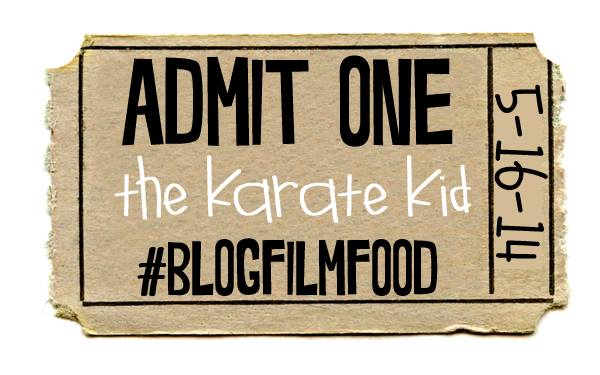 There are SO many great movies out there to choose from! Last year, I got on a kick of sharing some of my favorite movies that I watched when I was a kid with my own kids for our family movie nights. We watched E.T., The Sound of Music , Shaggy Dog and even That Darn Cat (which they thought was hilarious!) They were all hits but one of our favorites was The Karate Kid (original version, although we did like the remake a lot too!)
Not only is this just a great movie all around what we like about it is how Mr. Miyagi teaches Daniel how to set a goal overcome adversity and how to work hard to make it happen. As a parent, what I like about it is how sometimes Daniel does not understand Mr. Miyagi's methods, but in the end he recognizes that he really does know what he's doing. Sometimes I feel like my kids may think that about my husband and I and I hope that someday they will realize the lessons we teach them really do have a purpose.
So in keeping with the theme of #BlogFilmFood, I'm bringing you easy shrimp and pork spring rolls.
This dish fits in with the theme of the movie's setting: Asian (martial arts) and California (where Daniel and his mom move). Remember the idea of our #BlogFilmFood is to create a virtual potluck so that you can hopefully be inspired to host one of your own with your own friends!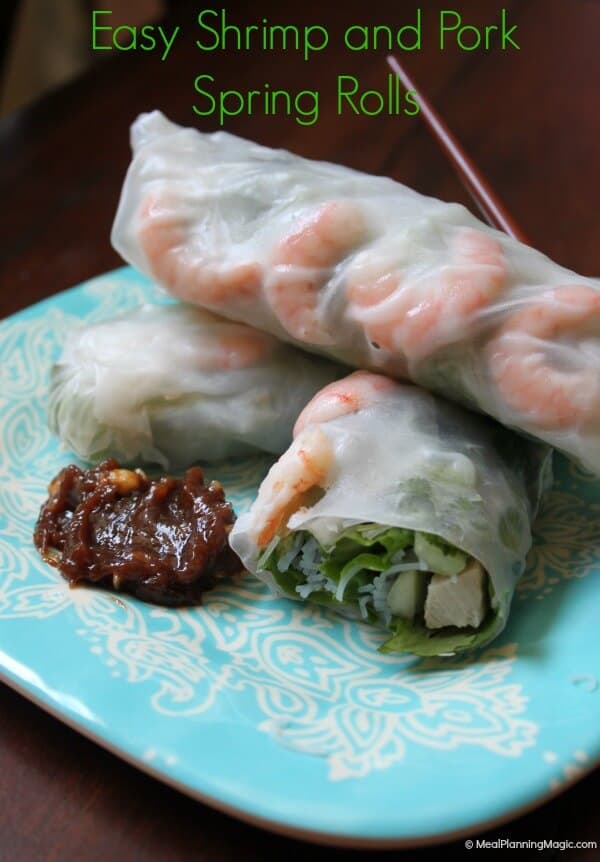 As I've mentioned before, we're big fans of Asian food and my kids have learned to make homemade pad thai and make it often enough they can practically do it on their own!
My husband and kids actually make these Easy Shrimp and Pork Spring Rolls more often than I do! They've modified them just a bit from traditional rolls. The ingredients (pork mainly) are simpler than some other versions and with just a little bit of practice, they've gotten really good at rolling the rolls. You'll probably be surprised how easy they are to make!
Sorry, I don't have any step-by-step photos of how to roll them. I was in a bit of a rush to get the photos taken and didn't have time to do that but you can check on YouTube for some videos. Just search for "Vietnamse Spring Rolls" and you'll find a few!
I hope you will enjoy these shrimp and pork spring rolls. Here's the recipe:
Easy Shrimp and Pork Spring Rolls
Ingredients
For Spring Rolls:
½ lb. boneless pork chops, cooked and thinly sliced
1 lb. medium shrimp, cooked, peeled and deveined
1 package fresh rice vermicelli (you can find this in Asian food stores, if you can't find fresh, you can get the dry version and cook according to package instructions. Most major grocery stores carry the dry vermicelli in the international aisle)
1 head green leaf lettuce (or red tip or romaine may be used), torn into 3-4-inch pieces
1 ½ cups cilantro
1 cucumber, thinly sliced, about 2-3 inches long
1-3 pickled carrots, sliced into matchsticks size
Rice paper (found in the international aisle at most major supermarkets)
To Pickle Carrots:
½ lb carrot, cut into long strips/sticks
1/3 cup water
½ cup vinegar (plain or cider)
2 tablespoons sugar
¾ cup salt
For Dipping Sauce:
½ cup hoisin sauce
¼ cup peanut butter
1/3 – ½ can coconut milk
1 tablespoon oil
1 tablespoon sugar
1 tablespoon minced fresh garlic
¼ cup crushed or finely chopped peanuts
Instructions
For Pickled Carrots:
Place carrots in a glass bowl. In a small saucepan, bring remaining ingredients to a boil, then reduce heat and simmer 2 minutes. Pour liquid over carrots and cool. Chill carrots, covered, for 4-6 hours or up to one day. May be stored in refrigerator in an airtight container for up to one month.
For Spring Rolls:
Cut shrimp in half lengthwise.
Cook rice vermicelli according to package instruction. Drain and rinse with cold water.
Prepare a low, flat bowl or pie plate with hot water. Working quickly, dip one rice paper in the hot water (only do one at time).
Lay rice paper on flat surface (we use a cutting mat). On one side of circle, layer lettuce, cilantro, cucumber and carrots.
Add cooked rice vermicelli.
Layer sliced pork and sliced shrimp, with pink/orange side facing down.
Fold two ends over vegetables and meat combo. Then roll from filled end towards plain side until your roll is all the way rolled.
Repeat with remaining ingredients.
Your finished roll will be about five or six inches long.
To make sauce:
In a heated pan, add oil and garlic and sauté until golden brown.
Add hoisin sauce, coconut milk, peanut butter and sugar. Stir until smooth.
Simmer for 1-2 minutes until thickened. Top with crushed peanuts if desired.
Notes
These may be made ahead and kept in an airtight container in the refrigerator.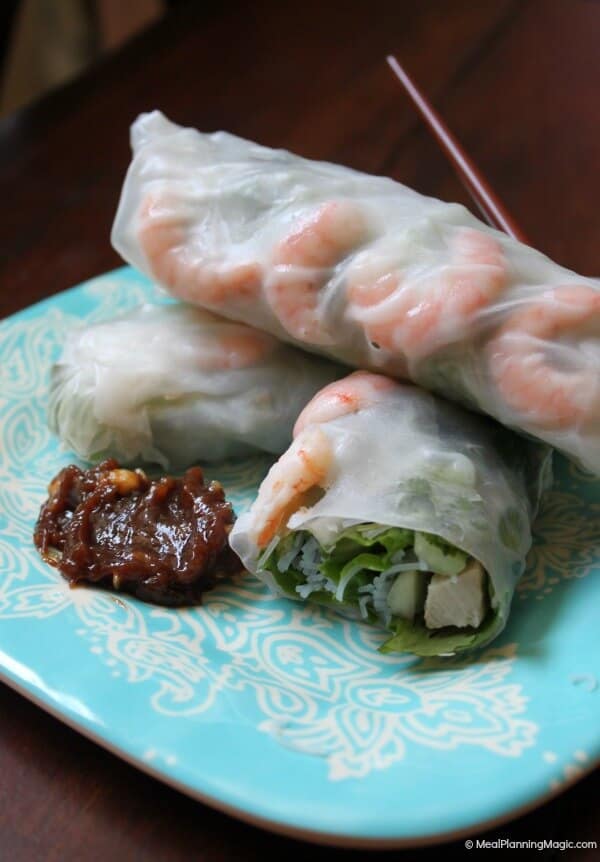 I hope you're enjoying this #blogfilmfood series! What movie would you choose for your own Film and Food Night Out?
In addition to my shrimp and pork spring rolls recipe, here is some inspiration from my fellow #BlogFilmFood bloggers:
◦Kathy from Penney Lane Kitchen is sharing her Flank Steak Kabobs recipe.
◦Kelley from The Grant Life is bringing Caramel Banana Wontons.
◦Kirsten from Kirsten Oliphant shares her Lettuce Wraps recipe.
◦Jessica from Family Fun Journal is bringing Homemade Sesame Candy.
◦Kristi from Mom's Confession is sharing her Chicken Lo Mein.
◦Miranda from Involuntary Housewife is dishing up her Blueberry Cheesecake Egg Rolls.