This post may contain affiliate links. Please read my disclosure policy.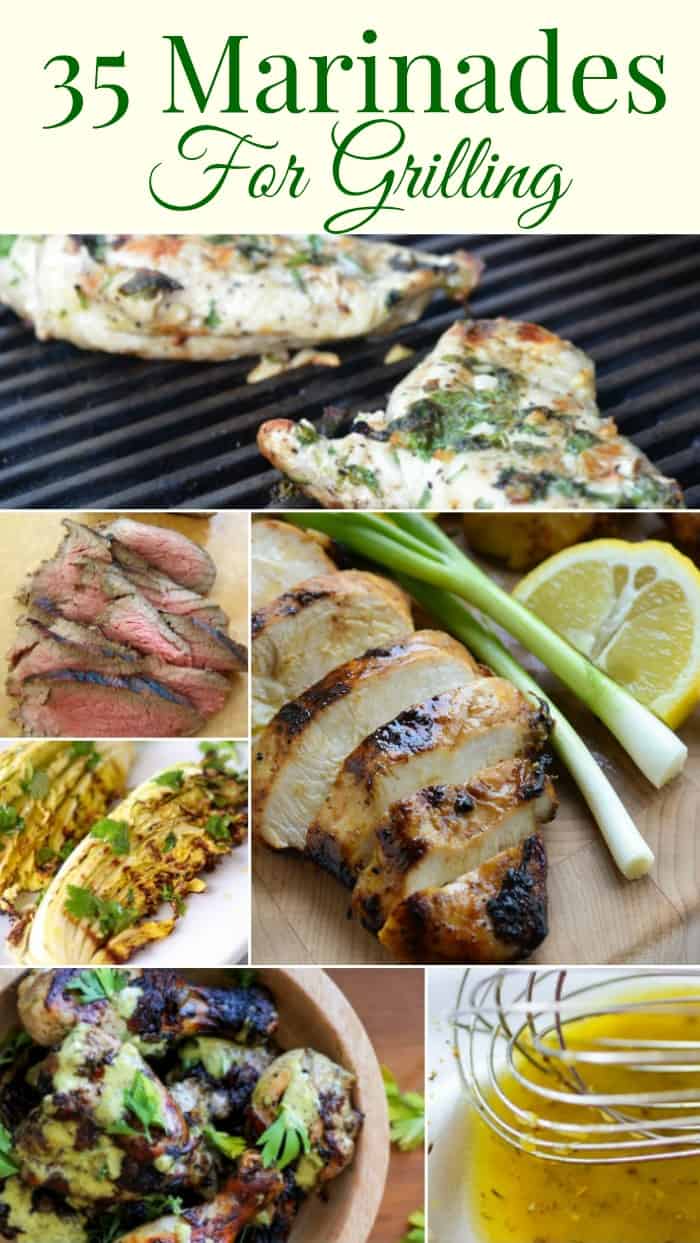 Y'all, I have recently fallen back in love with my grill. I'm not sure why I kind of got away from it but this summer, I turned to it more and more often to make dinner on hot nights. It's great to be able to keep the heat out of the kitchen and outside where it stayed much of this summer. Luckily, in Texas, we can grill out nearly year round. I know that may not be the case for some of you but while it's not totally the same, most of these grilling recipes can be adapted and broiled in the oven.
What I love about a good marinade is that you can make it ahead (and most times you SHOULD make it ahead). You can even assemble all the ingredients, including your meat of choice, add them to a zip top bag, seal and store in the freezer. Then, when you're ready to make something, just pull it out the night before to thaw in the refrigerator and the marinade will do it's job marinating while it thaws. Then, dinner can usually be on the table in under a half hour! So easy!
Today, I'm sharing with you 35 Simple Marinades for Grilling Out that I've collected from some other bloggers. I can't wait to try many of them out. I hope you will too. Enjoy!
Bourbon Flank Steak ~ Meal Planning Magic
Chimichurri Sauce ~ Cook At Paleo
Easy Chicken Marinade ~ 365 Days of Baking and More
Grilled Chicken Marinade with Lemon and Garlic ~ Two Healthy Kitchens
Grilled Marinated Chicken with Cucumber Watermelon Salsa ~ Iowa Girl Eats
Best Lemon Grilled Chicken ~ Allergy Awesomeness
Vietnamese Pork Chops ~ Manu's Menu
Fajita Chicken Marinade ~ My Wife Can Cook
Grilled Ginger Soy Pork Chops (or World's Best Pork Chops) ~ Kalyn's Kitchen
Grilled Tequila Marinated Chicken Wraps ~ The Roasted Root
Grilled Vietnamese Lemongrass Cilantro Chicken ~ Jeanettes Healthy Living
Strawberry Jalapeno Marinated Flank Steak Salad ~ The View From Great Island
Greek Style Chicken Marinade ~ Rachel Cooks
Cuban Grilled Chicken ~ Hola Jalapeno
Grilled Achiote Lime Chicken ~ Hola Jalapeno
Honey Sriarcha Coconut Grilled Chicken Fingers w/ Dipping Sauce ~ Iowa Girl Eats
Grilled Spicy Tomato Chicken Kebab w/ Yogurt Mint Sauce ~ Honey Lime Grilled Chicken http://www.acedarspoon.com/spiced-honey-lime-grilled-chicken/ A Cedar Spoon
Tandoori Grilled Chicken ~ A Cedar Spoon
Grilled Chicken with Balsamic Vinegar ~ Kalyn's Kitchen
Grilled Chinese Char Siu Chicken ~ Jeanettes Healthy Living
Grilled Chicken Pasta Salad ~ A Treats Affair
Chili Lime Grilled Pork Chops ~ Half Her Size
Soy Free Teriyaki Chicken ~ Half Her Size
Chipotle Lime Marinated Grilled Pork Chops ~ A Healthy Life For Me
Blueberry Grilled Pork Tenderloin ~ A Healthy Life For Me
Tex Mex Beef Fajitas ~ Flavor Mosaic
Ginger Teriyaki Grilled Chicken Breasts ~ The Lemon Bowl
Super Simple Lemon Dijon Marinade ~ Nutmeg Nanny
Grilled Chimichurri Chicken ~ The Roasted Root
Asian Grilled Tri Tip ~ Tasting Page
Grilled Cabbage with Asian Lime Dressing ~ Tasting Page
Grilled Lemon Pesto Chicken Kebabs ~ Flavor the Moments
Herb Grilled Chicken w/ Fresh Corn Salsa ~ Life Is But a Dish
Grilled Garlic Herb Pork Loin w/ Peach Salsa ~ A Treats Affair
Cilantro Garlic Marinade ~ Luci's Morsels