This post may contain affiliate links. Please read my disclosure policy.
Cherry oatmeal bars are an easy cookie bar recipe combining tart dried cherries with a sweet recipe for chewy oatmeal cookies.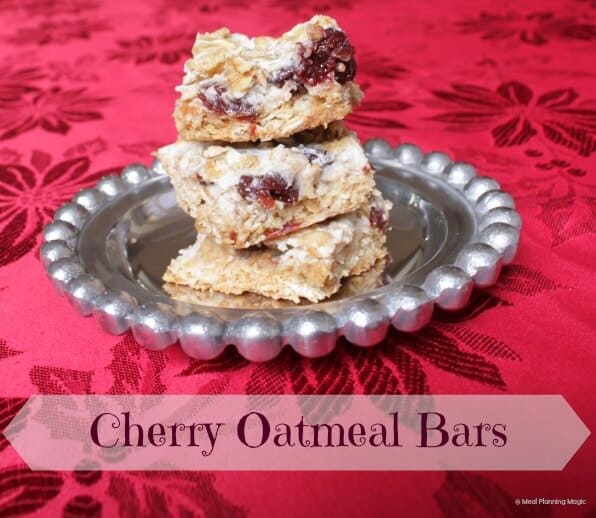 Better late than never on my 12 Weeks of Christmas Treats post. I'm not sure what it is but this school year seems busier than ever. I may have mentioned it before now, but I'm PTO President for our school and I guess I underestimated how much time it would take up. I'm enjoying it though!
Let's get to this week's treat. These Cherry Oatmeal Bars are a perfect blend of tart and sweet. They are so easy to make up and with the oatmeal and cherries, I guess I feel a little better about them being a little bit of a healthier treat. I discovered this recipe in a fun little kids cooking book from Cooking Light that I got free when I subscribed to their magazine last year. It's called Cooking Light The Ultimate Kid-Approved Cookbook: Delicious Food Kids Will Eat, Nutritious Meals Moms Will Love. Included in the book are lots of tips about how to include kids in the cooking and baking process and tons of great, healthier recipes. You can find this book in my Shop.
I love a good bar cookie, too. I feel like you get more bang for your buck them. Mix up the dough just like other cookie recipes, but there's no coming and going for all those batches of cookies. Perfect when you want a homemade treat but are short on time. These bars freeze well and are just fancy enough to grace your holiday table (although, I think they might be a great year-round treat too!). I bought a bag of the dried cherries at Costco so I know I'll be looking for more uses for them (well, they are good just for snacking on too!)
Can you believe we're already at the 9th week of our 12 Weeks of Christmas Treats blog hop? Thanksgiving and Hannukkah are next week and Christmas is just a few short, weeks away. I hope you've been baking along with us (or will be soon) so that you can have some homemade treats for the holiday season and not be too stressed trying to get them done at the last minute. What are your favorite holiday sweet treats? Let us know in the comments below.
I hope you'll give these cherry oatmeal bars or some of the other recipes in the series a try!
Cherry Oatmeal Bars
Ingredients
4.5 ounces all-purpose flour (about 1 cup)
1 cup quick-cooking oats
½ cup packed brown sugar
¼ teaspoon salt
¼ teaspoon baking soda
¼ teaspoon ground cinnamon
6 tablespoons butter, melted
3 tablespoons orange juice
Cooking spray
½ cup granulated sugar
2 tablespoons all-purpose flour
1 large egg white
1 (8-ounce) container sour cream
1 teaspoon vanilla extract
½ teaspoon grated lemon rind
1 (5-ounce) package dried cherries
Instructions
Preheat oven to 325°.
Weigh or lightly spoon 4.5 ounces flour (about 1 cup) into a dry measuring cup; level with a knife. Combine flour and next 5 ingredients in a medium bowl, stirring with a whisk. Drizzle butter and juice over flour mixture, stirring with a fork until moist (mixture will be crumbly). Reserve ½ cup oat mixture. Press remaining oat mixture into bottom of an 11 x 7?inch glass or ceramic baking dish coated with cooking spray.
Combine granulated sugar and 2 tablespoons flour in a medium bowl, stirring with a whisk. Add egg white and next 3 ingredients, stirring with a whisk until blended. Stir in cherries. Spread cherry mixture over prepared crust; sprinkle reserved oat mixture evenly over filling.
Bake at 325° for 40 minutes or until edges are golden. Cool completely in pan on a wire rack. Cut into bars.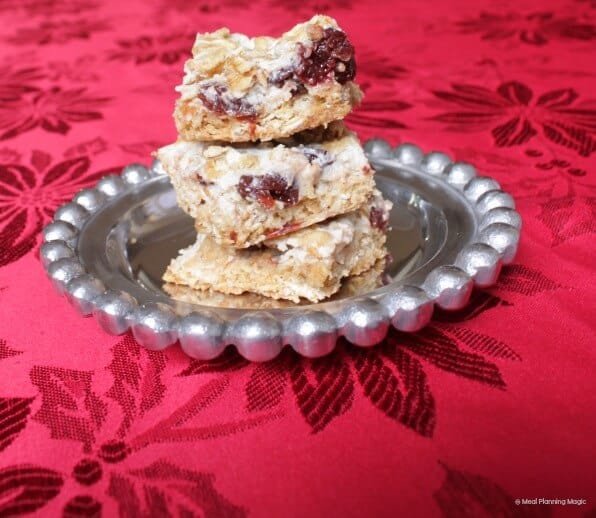 Don't want to miss a recipe? Then be sure to CLICK HERE so you can subscribe to all the updates. Besides sharing holiday recipes, I also share all kinds of meal planning and kitchen organization ideas. It's simple and you'll also receive weekly meal planning inspiration in you inbox!
And be sure to check out the links below for all the bloggers who are sharing their own recipes this week! If you're a blogger and want to join in the hop, you can find more details and SIGN UP HERE.