This post may contain affiliate links. Please read my disclosure policy.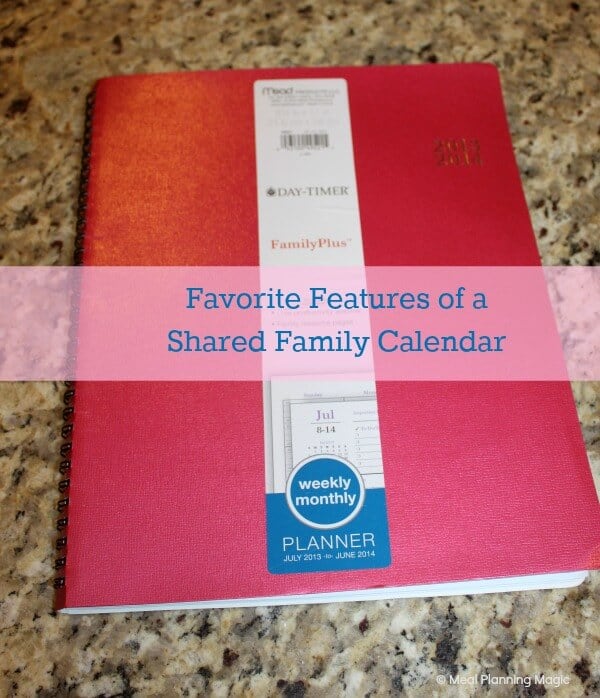 When it comes to meal planning, you need to have a calendar or planner that works for you. Because you have to know what's going on to make a plan, right? And when it comes to choosing a calendar/planner, I know everyone's a little different but today I'm telling you about my new favorite planner and pointing out some of the key features that I like so that hopefully, it will help you find the features that work for you when choosing one of your own. The Mead Day-Timer Family Plus calendar/planner is a great shared family calendar that helps me keep track of everything going on with my family.
Last year I tried going all digital. I told myself I was only going to use the calendar on my computer (I like Google calendar). After all, it could sync to my smartphone and I'd always know what was going on at the swipe of a finger, right? Well, I managed to make it through that year ok but I regularly felt like I was forgetting something. Rarely did but I decided that confirmed what I already knew and that is that I'm a visual person. I like to be able to see the big picture when making plans. So I decided to go back to paper and pencil and stumbled upon my new favorite planner. I say stumbled because we were actually looking for something my daughter could use to keep track of her school assignments. This planner, which never really worked for her, was available and I seized it! And boy, am I glad I did! I now keep this calendar open on one of my small counters in the kitchen so it's handy to glance at whenever.
Some of the great features like:
Calendar: Duh. It is a calendar. But what I like about this one is it has a weekly calendar with different columns for all the members in our family. That gives me enough space to write what each person has going on and still see at a glance what is happening on a particular day. Or since we have a family of four and there are six columns, I use the extras for keeping track of blog activities or community volunteering things. You can customize however you like!
To Do List: Here's where I keep track of errands I need to run, tasks I need to do, phone calls I need to make, etc. It's broken up into different sections, so I can keep track of school/community things separately.
Notes: Here's where I can make notes on things I might want to follow up on or keep track of someone's name and phone number.
Meal Planning: The pièce de résistance! Well, maybe not that much but it is a highlight for me! Because this section is on the same page as my weekly calendar, I can see at a glance what we've got going on so that when I'm planning my meals I can plan accordingly. Is Monday this week going to be extra busy? Then that might be a great slow cooker meal night? Is another night going to be filled with going from one practice or lesson to another? Maybe that's a night when simple sandwiches on the go are in order.
The back of the planner is expanded and includes a lot of extras like a ton of Notes pages, Important Numbers and even grocery lists.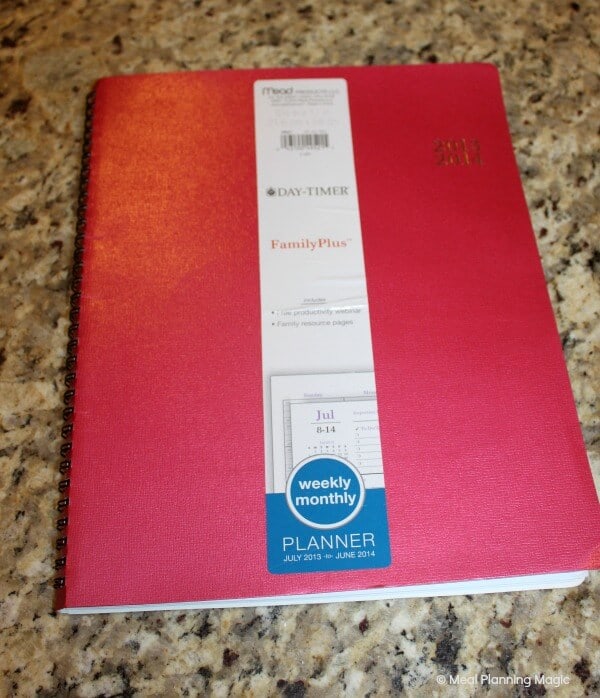 These are just a few features that I like about my planner that will hopefully help you think about what things will help make your life simpler. I purchased my planner at Target but you can also find them online (you can contact them to find out where to buy as they don't seem to have this style on their website–only the refill pack which may work for you!) Or contact Mead directly to find out where you can get a planner like this!
NOTE Updated August 2015: these planners are no longer available at Target but are available at Walmart. I contacted the company directly when I could not find them last year and they told me they were now selling them exclusively at Walmart. Hopefully that will stay the same for awhile!
Check out this (my first!) video I did showing you the features. I'd love your feedback on what you think and what you look for in a calendar/planner.
What's your favorite way to keep track of your family's busy lives?
Disclaimer: I have not been compensated in any way for this post. I just liked this planner enough I had to share!