This post may contain affiliate links. Please read my disclosure policy.
Chocolate peanut butter cheesecake bars are quick and easy bar desserts. Creamy baked cheesecake bars with plenty of chocolate chips and peanut butter chips.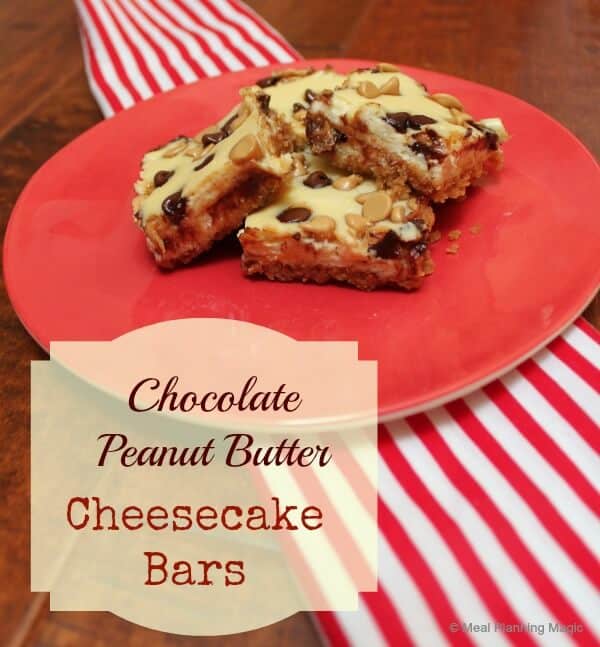 I was cleaning out my recipe collection recently and came across this recipe for Chocolate Peanut Butter Cheesecake Bars. If you ask me, chocolate and peanut butter are a match made in heaven. You might remember a couple of years ago, I shared the Buckeye Delights during the first year that I hosted the 12 Weeks of Christmas Treats. This is actually a recipe I received from a cookie exchange party years ago.
I call this easy cheesecake bars recipe a bit of a 'cheater' recipe, because usually, I go all out, making things totally from scratch. But sometimes, you need to have something quick and easy up your sleeve.
These chocolate peanut butter cheesecake bars fit the "quick and easy" bill just fine!
And they are delicious too. I do love a good cookie bar type treat. When I'm in a time crunch, bar cookies are the way to go. They are easy to make up in a hurry, so you don't have to spend a ton of time in the kitchen waiting for different batches to bake. These are no exception. They'd be a great addition to any holiday treat table!
Chocolate Peanut Butter Cheesecake Bars
Author:
Ingredients
2 ½ cups graham cracker crumb
¾ cup butter, melted
¼ cup granulated sugar, divided
¾ cup chocolate chips, divided
¾ up peanut butter baking chips, divided
2 8 oz. packages cream cheese, softened
¼ cup all-purpose flour
1 Tablespoon vanilla
4 large eggs
Instructions
Preheat oven to 325°
Combine baking chips in a bowl and set aside. Stir together graham cracker crumbs, butter and ¼ cup sugar in medium bowl. Remove 1 cup mixture and reserve for topping. Press remaining mixture on t bottom of ungreased 13 x 9 inch baking pan. Sprinkle ¼ cup morsels over crust.
Beat cream cheese, remaining sugar, flour and vanilla extract in large mixer bowl until smooth. Add eggs, one at a time, beating until smooth. Pour over crust and morsels in pan. Sprinkle with reserved crumb topping and remaining morsels.
Bake for 25-30 minute or until set. Cool complete in pan on wire rack. Refrigerate until firm. Cut into bars. Store in refrigerator for up to a week.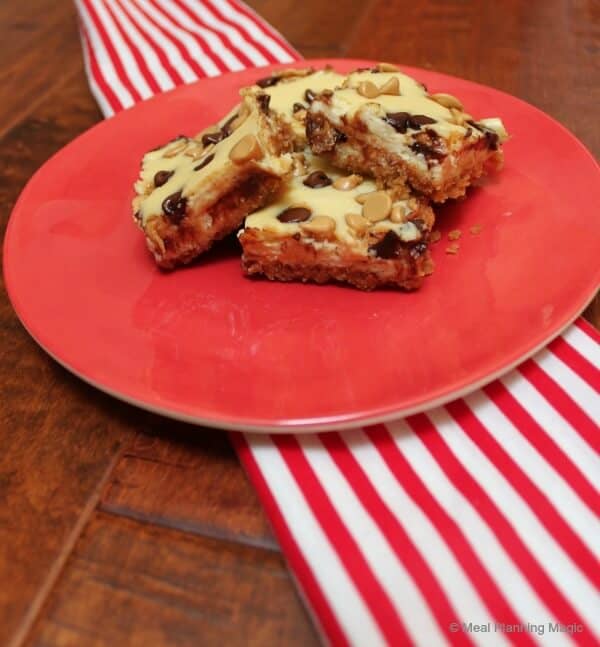 Be sure to check out our Pinterest board for all the great ideas too—it's a great way to keep track of your favorites.
Don't want to miss a recipe? Then be sure to CLICK HERE so you can subscribe to all the updates.
Besides sharing the recipe for creamy chocolate peanut butter cheesecake bars, I also share all kinds of meal planning and kitchen organization ideas.
It's simple and you'll also receive weekly meal planning inspiration in you inbox!
And be sure to check out the links below for all the bloggers who are sharing their own recipes this week! If you're a blogger and want to join in the hop, you can find more details and SIGN UP HERE.