This post may contain affiliate links. Please read my disclosure policy.
This slow cooker chicken tinga recipe can be used to create four different meals! Bulk cooking in a slow cooker will save you time and money!
Today I'm happy to welcome another guest post! Kristen from The Slender Kitchen is sharing her ideas on how to make the most of bulk cooking. There are so many things to love about bulk cooking: saving money, saving time and saving sanity on busy weeknights are just a few of my top favorites! And what's better, Kristen's recipe starts off in the slowcooker which means even more time doing the things you love while dinner cooks for you hands free! Welcome Kristen!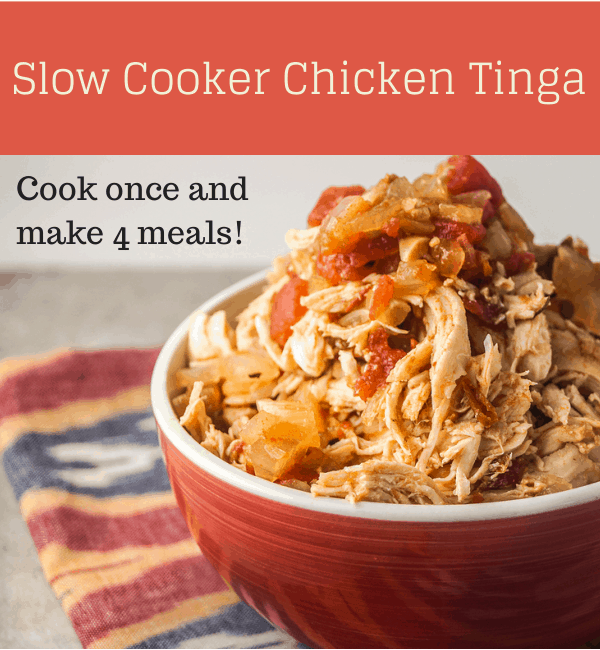 As it starts to warm up and summer hits, the last thing I want is to do it turn on a hot stove and spend Sundays inside prepping meals for the week. Luckily with the help of the slow cooker, Sunday can be spent outdoors enjoying the weather with family and friends. All the while a delicious recipe is hard at work in the slow cooker with leftovers that can be reimagined into new meals or frozen for quick meals in the future.
Slow cooker chicken tinga is one of my favorite bulk slow cooker recipes, with four ideas on how to stretch your dollars and time with additional meals!
Just remember to adjust the portion sizes depending on your family. These recipes should make enough for 4 meals for 4 people, assuming 1 lb. of meat per meal.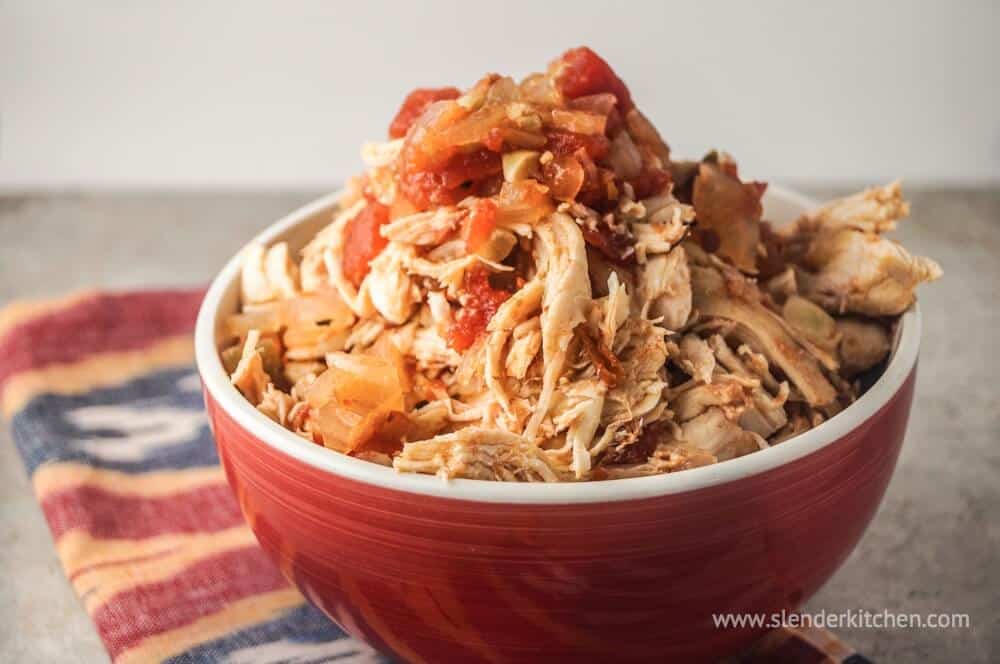 Bulk Cooking with the Slow Cooker: Cook Once, Eat Four Times!
Ingredients
4 lbs. chicken breasts, thighs, or a combination
1 large onion, minced
8 cloves garlic, minced
3 cups diced tomatoes with green chiles, like Rotel
6 tbsp. chipotle salsa or blended chipotles (adjust based on spice preference)
1 tsp. salt
Instructions
Combine everything in the slow cooker. Stir together.
Cook on high for 3-4 hours. Remove the chicken from the cooking liquid and shred. Return to slow cooker and cook for 15 minutes.
Here are the four meal ideas to create from the slow cooker chicken tinga:
Meal Idea #1 – Chicken Tinga Tostadas: Bake 8 corn tortillas in a 400 degree oven until crispy, about 10 minutes. Spread each with refried beans and top with corn, lettuce, tomato, cilantro, onion, cheese, and avocado. Top with the chicken tinga for a great meal, perfect for hot weather.
Meal Idea #2 – Chipotle BBQ Pulled Chicken Sandwiches: Believe it or not, adding barbecue sauce to the already shredded chicken creates a whole new flavor profile and no one will believe it's the same meal. Add 1 cup of your favorite BBQ sauce to the shredded chicken. Layer into soft buns and top with pickles and coleslaw for fantastic summer pulled chicken sandwiches.
Meal Idea #3 – Creamy Cajun Chicken Pasta: Sauté 1 diced red onion, 2 diced bell peppers, and 2 garlic cloves in 1 tbsp. butter or olive oil until softened, around 6-8 minutes. Add 1 tbsp. flour and stir until lightly brown. Add 1 cup milk and ½ cup chicken broth. Bring to a boil and then turn down to a simmer, stirring until it begins to thicken. Add 4 oz. reduced fat cream cheese and season with salt and pepper. Add 8 oz. cooked pasta and 4 servings leftover chicken tinga. Stir together and serve. If needed, add extra Cajun seasoning for more kick!
Meal Idea #4 – Chicken Tinga Enchiladas: This meal is great to prep and then freeze so you have a quick meal ready to go. Cover the bottom of a baking dish with a thin layer of your favorite store bought enchilada sauce. Then warm corn tortillas in the microwave until soft and pliable. Stuff around ¼ cup chicken into each tortilla and wrap, placing seam side down in the baking dish. (Consider sneaking extra veggies (corn, spinach, zucchini) in with the chicken.) Then top with remaining enchilada sauce and shredded cheese. Cover with foil and freeze. When ready to bake, preheat the oven to 350 degrees. Cook for 30 minutes with the foil. Then remove foil and cook for 15-20 minutes until everything is bubbling.
Other Meal Ideas: Breakfast burritos, burrito style bowls (like Chiptole's, quesadillas, salads, tortilla soup, or stuffed peppers!
Bio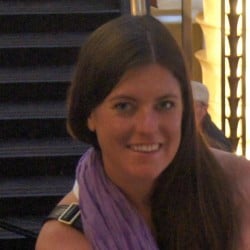 Slender Kitchen is a food and recipe website dedicated to helping people cook delicious, healthy meals at home using whole, nutritious foods that taste great. Focusing on healthy recipes as well as stress free meal planning for healthy eating and weight loss – Slender Kitchen offers hundreds of recipes as well as complete meal plans that include nutritional information, categorized shopping lists, Weight Watchers PointsPlus®, and more.
Kristen McCaffrey, the home-cook behind Slender Kitchen, lives in Santa Monica, California and grew up in New England. She believes that healthy eating should be easy, taste great, and be something that everyone can do.
For more slow cooker recipes that work great for bulk cooking, check out all of Kristen's slow cooker recipes.