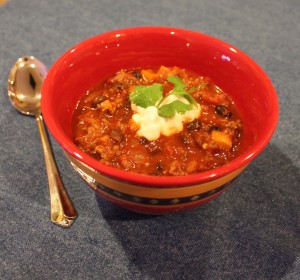 The holidays are a busy time of year that no one wants to think about making a complicated dinner once it comes down to just enjoying family and friends getting together. Whether it's for a casual get together before Christmas or for Hanukkah, getting together on New Year's Eve or sometime in between or even for a football party, this chili is easy to put together and makes a lot! And you know me, I love anything I can do ahead so when I made this I browned the beef up one day, made the chili the next and served it the third (it was one of THOSE weeks). I'm not sure about you but I think chili tastes better the second day anyway after all those spices have had a chance to settle in.
I'll tell you, I wasn't sure I'd find a chili that would top the one I've been making for years but I think this one just might have. Chili in Texas is a big deal. We have cookoffs and contests and all sorts of things centered around the best chili. It can get pretty serious to claim to have THE best chili in Texas!
What I loved about it is all the fresh veggies that go into as well. And the real surprise? The black beans. I'll admit, I was a bit skeptical but they were a welcome addition that we all loved and even better, my kids did not pick them out! Yay! A way for them to eat beans in chili! (I know, I know, not everyone puts beans in their chili, especially if they're from the south, but we like beans in our chili!)
Now, it is on the spicy side but that may have just been me. I'm a bit of a a spice wimp. If that's a concern for you, just choose a jalapeno that is on the smaller side. The rest of my family (including the kids) had no problems with the amount of spice though, including my sometimes picky 7-year-old. I like to top it with some sour cream and cheddar cheese sometimes to help cut the heat.
And while the recipe says it will serve eight, I think it made a lot and we had enough for leftovers later in the week AND some to put in the freezer for another meal. Maybe that eight means eight hearty grown-up eaters. This chili recipe is definitely going on the to-make-again list soon!
COWBOY BEEF & BLACK BEAN CHILI

Ingredients
2 lbs. lean ground beef (95% lean)
1 Tbsp. vegetable oil
1-1/2 cups chopped onion
2 Tbsp. minced garlic
2 medium yellow bell peppers, chopped
1 large jalapeno pepper, seeded, finely chopped
1/4 cup chili powder
1 Tbsp. ground cumin
1 tsp. dried oregano leaves, crushed
1 tsp. dried thyme leaves, crushed
1/8 tsp. ground red pepper
1 can (28 oz.) crushed tomatoes, undrained
1 can (14-1/2 oz.) chili-seasoned or zesty-style diced tomatoes, undrained
1 can (14 to 14-1/2 oz.) ready-to-serve beef broth
12 oz. dark beer
1/3 cup tomato paste
1 Tbsp. honey
2 cans (15 oz. each) black beans, rinsed, drained
chopped fresh cilantro (optional)

Instructions
Brown ground beef in stockpot over medium heat 8 to10 minutes or until beef is no longer pink, breaking up into 3/4-inch crumbles. Remove from stockpot with slotted spoon. Set aside. Pour off drippings.

Heat oil in same stockpot over medium heat until hot. Add onions and garlic; cook and stir 3 to 5 minutes or until onions are tender. Add bell peppers and jalapeño; cook and stir 4 to 5 minutes or until peppers are tender.

Return beef crumbles to stockpot. Add chili powder, cumin, oregano, thyme and red pepper; cook and stir for 2 to 3 minutes. Stir in crushed tomatoes, diced tomatoes, broth, beer, tomato paste and honey; bring to a boil. Reduce heat; cover and simmer 45 minutes. Uncover stockpot; continue simmering 30 minutes or until thickened to desired consistency, stirring occasionally. Stir in beans; cook 5 to 10 minutes or until beans are heated through. Season with salt and black pepper, as desired. Garnish with cilantro, if desired.

Nutritional Information
Nutrition information per serving: 364 calories; 10 g fat (3 g saturated fat; 4 g monounsaturated fat); 76 mg cholesterol; 1131 mg sodium; 39 g carbohydrate; 10.6 g fiber; 34 g protein; 8.1 mg niacin; 0.8 mg vitamin B6; 2.2 mcg vitamin B12; 7.3 mg iron; 19.3 mcg selenium; 6.5 mg zinc.

This is the fourth and final week of cooking that I'm doing along with nine other bloggers and the Texas Beef Council. I sure have enjoyed trying out new recipes and learning that I CAN prepare cuts of meat in different ways than I ever thought about before. I hope you've enjoyed this series. You can check out my previous posts by clicking on these links:
Beef Crostini with Balsamic Drizzle & Parmesan Crisps
Beef Sticky Buns
Classic Prime Rib Roast
And be sure to check out all the other bloggers shown below who are participating in this campaign!
Disclosure: I am participating in a four week campaign with the Texas Beef Council and am being compensated. All opinions are my own. Recipes are courtesy the Texas Beef Council.